Easy Eggs in a Basket Breakfast with an egg baked into a slice of bread. The perfect easy breakfast recipe everyone loves.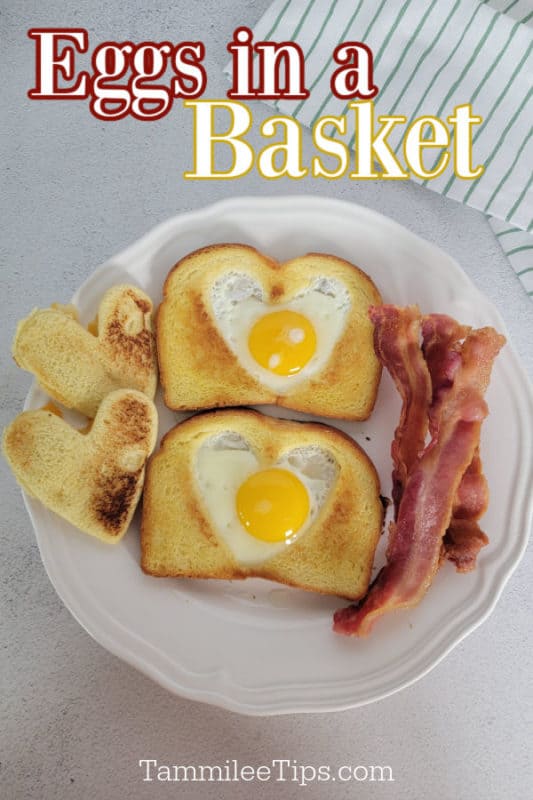 Eggs in a Basket
This dish is one of my favorite breakfast recipes to make. It is quick, easy, and only takes a few ingredients to taste amazing. I also love that you can customize them to make fun holiday breakfasts.
This Eggs in a Basket recipe is also called Eggs in a Hole, Eggs in a Nest, Toad in a Hole, Eggs in a Frame, or just yummy! I even heard that these are called one-eyed jack or gashouse eggs.
Did you know this breakfast egg dish has appeared in movies including Moon Over Miami, Moonstruck, and V for Vendetta?
Articles say this recipe has more than 66 names, if not more. WOAH! I do like that they are also known as sunshine eggs.
What a perfect way to start the morning. Some of the names I have seen are random and odd, so we are going to skip most of those.
No guests or family members want you to tell them that breakfast is called egg in a trashcan. LOL!
The first known mention of this breakfast recipe was in the Boston Cooking School Cookbook in the 1890s. Fannie Farmer called it "Egg with a Hat" for using the center cut-out as a hat for the eggs.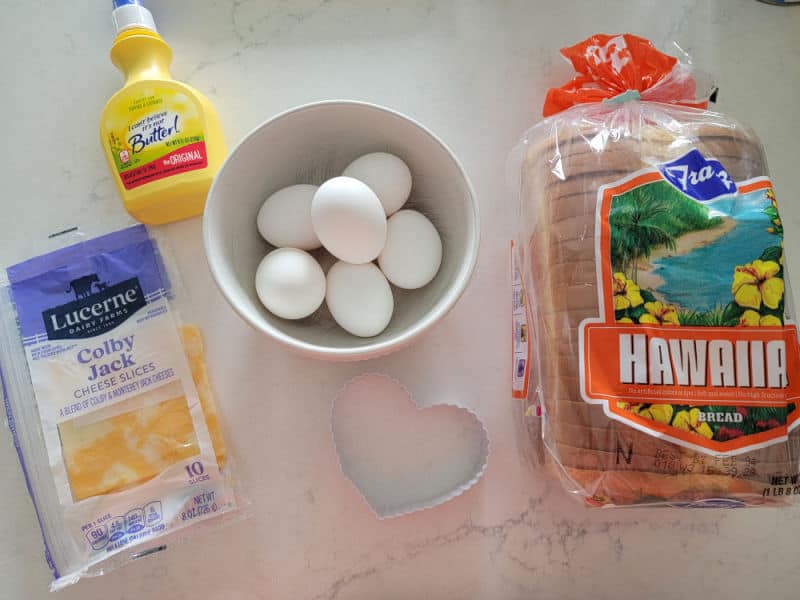 Ingredients
Here is a quick overview of the simple ingredients for making an epic Eggs in a Basket! The printable recipe card at the bottom of the post includes specific measurements and step-by-step instructions.
Eggs
Butter
Sliced bread
Cheese
Salt and Pepper
Depending on what else we make, we pair these eggs in a basket with some air fryer bacon or microwaved bacon. You can also serve them with air fryer hashbrowns for a quick and easy breakfast.
Toppings: Sprinkle a bit of Black Pepper, sriracha sauce, ketchup, paprika, herbs, chives, parsley, or anything you love with your eggs
Bread: You can use any type of bread that you have in the house. We love using sliced Hawaiian bread or a nice whole wheat bread
Butter: We use unsalted butter, but salted butter is great if you want the extra flavor.
Eggs: If you wonder if your eggs are good, you can use this test to tell if an egg is fresh.
Equipment Needed
Cookie Cutter

: The shape is completely up to you; infinite options exist! We use hearts for Valentine's Day, Christmas trees for Christmas, celebratory stars for the Fourth of July, and assorted fun shapes for the rest of the year.

For circle cuts, a 2 to 2.5-inch circle cutter works great for a standard large egg. You can also use the rim of a drinking glass if you don't have a biscuit cutter.

Nonstick Skillet/frying pan preferably with a lid, or a griddle

Spatula: You'll need one for turning your bread.

Knife - If you want to free hand cut a fun shape.
How to make eggs in a basket
I've included complete instructions in the printable recipe card at the bottom of the post, but here's a short version.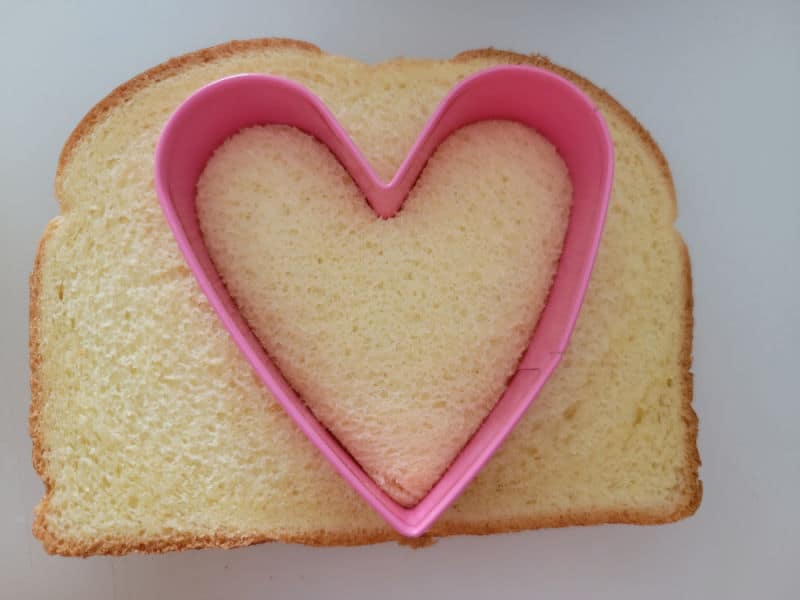 Step 1 - Use a cookie cutter to cut out the center of the of bread. Make sure to not cut the edges of the bread so the egg is contained.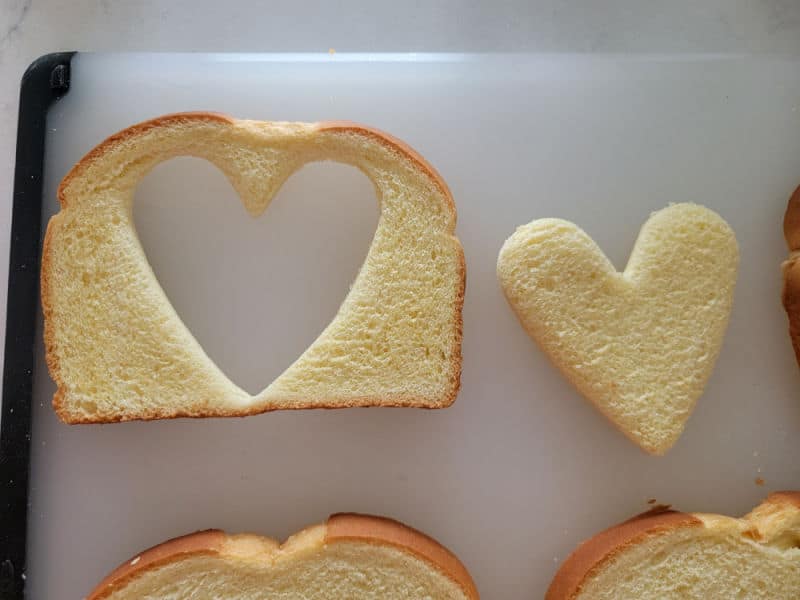 Step 2 - Butter each slice of bread and the cut out.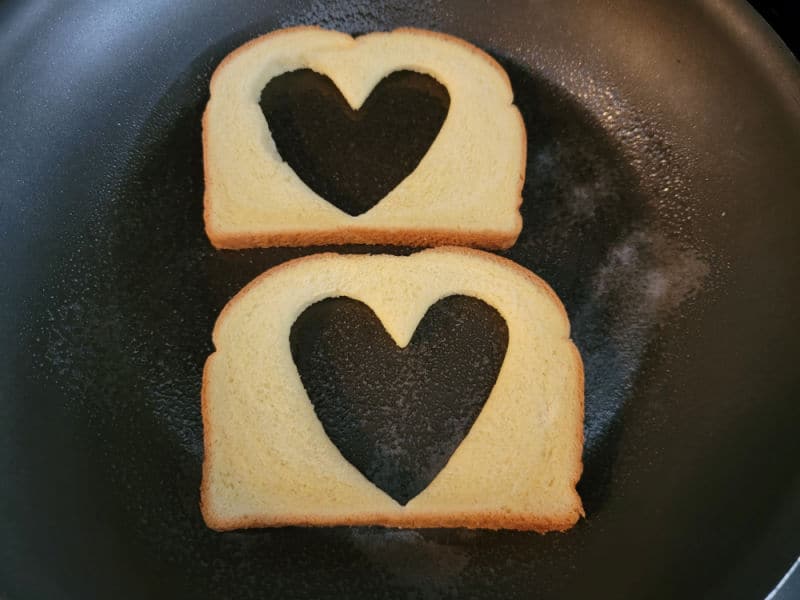 Step 3 - Cook the bread until golden brown on the bottom. This will take a minute or two.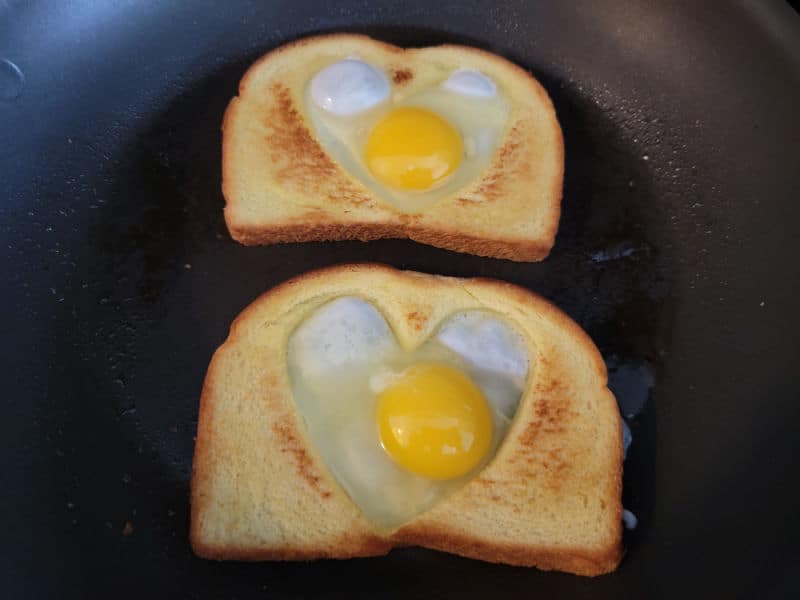 Step 4 - Flip the bread once you bread has reached the desired toastiness.
Add in one egg into the center cut out. Cover the skillet and cook until the egg whites are set. Approximately 2-4 minutes.
Don't move the egg toast until your egg is ready to be served, otherwise the yolk may break.
We like to turn the cut out pieces into mini grilled cheese sandwiches. You can cook them at the same time as the eggs in a hole or right afterwards.
You can also toast the center pieces and use them to soak up the runny yolks.
For a sweet treat turn the center cut pieces into mini cinnamon toast.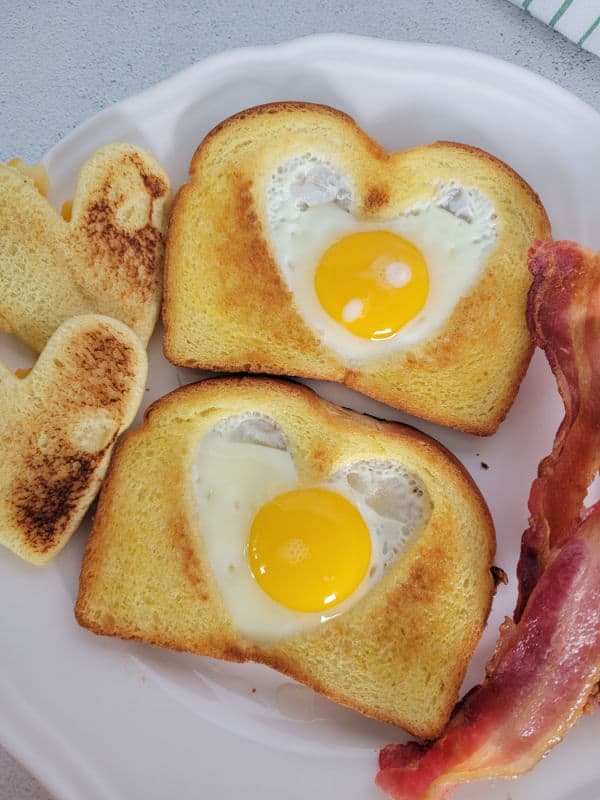 Enjoy your fun breakfast!
Preparation and Storage
Make Ahead: You could use pre-toasted bread for this recipe, but we have yet to try it.
Storage: According to the FDA, you should consume leftover cooked eggs within three to four days. Always refrigerate leftovers and store them in airtight containers.
Freezing/How to Freeze: Bread freezes exceptionally well! The UK site, Freeze It, features a guide on freezing fried eggs.
How to Reheat: We recommend reheating your frozen eggs in a basket on the skillet to get the bread crispy and keep the eggs from overcooking.
Recipe Variations
Substitutions: As long as your cookie cutter can safely cut a hole, you can make your egg in a hole with your favorite bread. If you are not a fan of fried eggs, you can add scrambled eggs to the toast if you don't mind changing the look of the dish.
Vegetarian Option: This recipe is vegetarian-friendly, as it contains no meat unless you choose to add some.
Vegan Option: Cadry's Kitchen has a clever vegan eggs-in-a-basket recipe made with tofu, an egg substitute, and kala namak, an Indian black salt known for its eggy flavor.
Gluten-Free: This recipe is gluten-free as long as your bread and other add-ins don't contain gluten.
Smaller Serving Size: We have these sausage breakfast biscuit cups and scotch eggs if you want a smaller bread and egg dish.
Make it Spicy: Use your favorite hot sauce, salsa, or spice blend to make this dish spicy - it's an egg dish, after all, and who hasn't enjoyed some amped-up eggs?
Larger Group/More Servings: Prepare your eggs in a basket on a baking sheet pan and bake them to make eggs in a hole for a group.
Sugar-Free: The sugar content of this dish will depend on how much sugar is in your bread and added ingredients.
Tips for the Best Eggs in a Toast
Don't move the egg toast until your egg is ready to be served; otherwise, the yolk may break.

We like to turn the cut-out pieces into mini grilled cheese sandwiches. You can cook them simultaneously as the eggs in a hole or afterward.

You can also toast the bread centers and use them to soak up the runny yolks.

Turn the center cut pieces into

mini cinnamon toast

for a sweet treat.

We use I Can't Believe It's Not Butter spray to make easy buttered bread for this recipe. You can also melt butter in the bottom of the pan. Smearing butter onto the piece of bread can cause it to rip apart.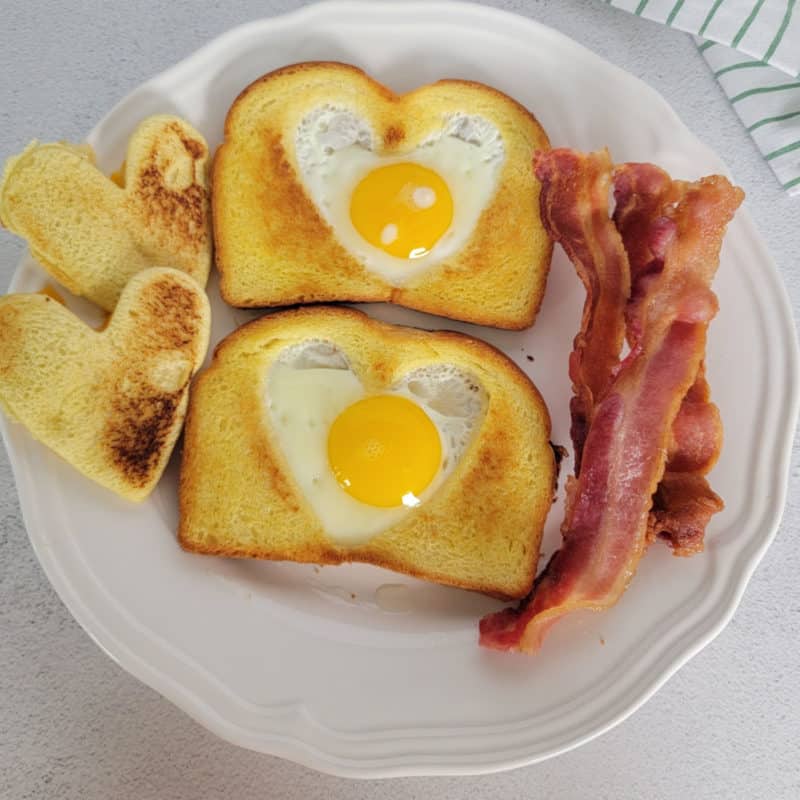 When to Serve + What to Serve With Eggs in a Basket
Whether you eat it in the AM or PM hours, eggs in a basket make the perfect easy anytime breakfast. Here are some breakfast ideas to make it a complete meal of champions.
Kids will love this fun breakfast!
Sides: Cracker Barrel Hashbrown Casserole, Easy Pancake Muffins, Muffin Mix Pancakes, Air Fryer Sausage Links, 3 Ingredient Sausage & Cream Cheese Crescent Rolls, Air Fryer Frozen Hashbrowns, Air Fryer Toaster Strudel, avocados
Main Dishes: Sausage Biscuit & Gravy Casserole, Eggnog French Toast, Crock Pot Cheese Grits, Crock Pot Ham & Cheese Grits
Desserts: Raspberry Coffee Cake, Cinnamon Rolls with Apple Pie Filling Cobbler, Lemon Dutch Baby, Crockpot Cinnamon Monkey Roll Bread
Drinks: Frosted coffee, Iced Chai Latte, Eggnog Coffee, Freckled Lemonade, Frosted Lemonade, Pumpkin Spice Latte
Great Breakfast Recipes
Sausage Breakfast Biscuit Cups
Green Eggs and Ham
Overnight French Toast Casserole
Eggs in a Basket is a great side dish with ham for breakfast.
Do you love recipes? Check out our copycat recipes, dessert recipes, and our CrockPot Recipes.
Follow Tammilee Tips on MSN, Facebook, Instagram, and Pinterest for our recipe posts.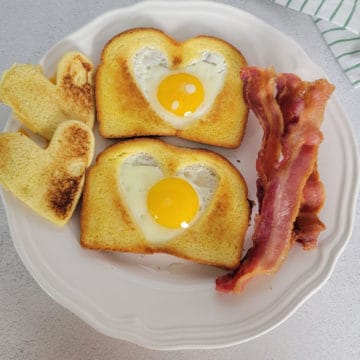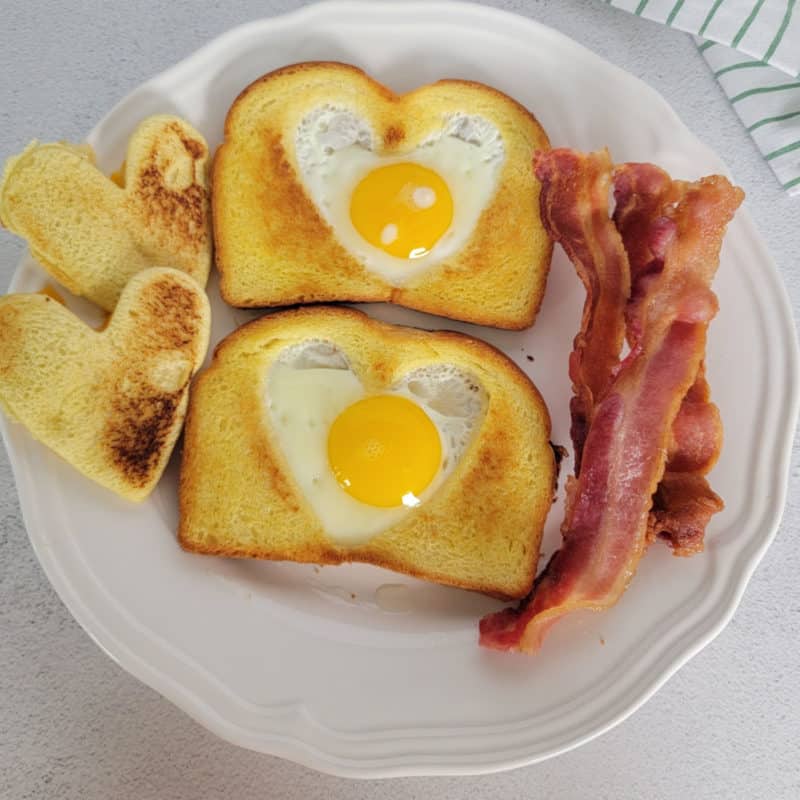 Eggs in a Basket Recipe
Easy Eggs in a Basket Recipe is a fun breakfast that is ready in less than 5 minutes
Print
Rate
Ingredients
2

Eggs

2

Slices

Bread

Butter

Salt and pepper to taste
Instructions
Cut center hole from each slice of bread. Spray with butter spray or add butter to both sides of the bread.

Toast one side of the bread until golden brown in a medium heat skillet, flip bread over. Crack an egg into the center pieces. Cook until egg whites are set.

Toast center pieces of the bread at the same time.

Remove from the skillet and enjoy.
Nutrition
Nutrition Facts
Eggs in a Basket Recipe
Amount Per Serving
Calories 139
Calories from Fat 45
% Daily Value*
Fat 5g8%
Cholesterol 164mg55%
Sodium 208mg9%
Potassium 112mg3%
Carbohydrates 14g5%
Protein 8g16%
Vitamin A 238IU5%
Vitamin C 1mg1%
Calcium 63mg6%
Iron 2mg11%
* Percent Daily Values are based on a 2000 calorie diet.