This Crock Pot Cheesy Pasta and Beef Casserole Recipe is so easy to make and tastes ah-mazing!
Plus it makes a ton so you will have leftovers for lunch the next day or breakfast if you feel like it 🙂
Over 425,000 people have shared this recipe since we first shared it in 2014!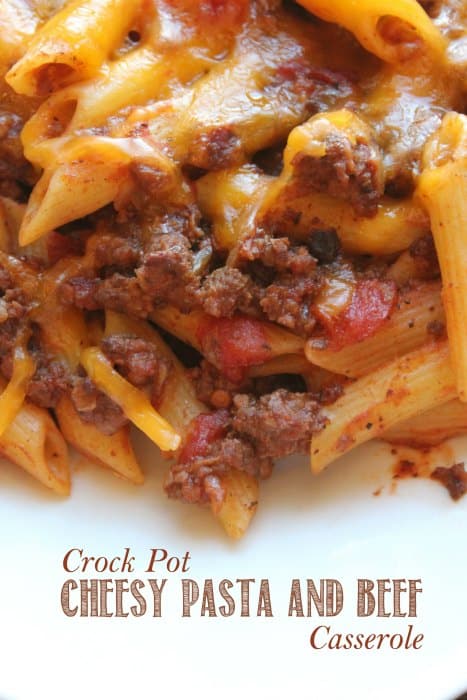 Crock Pot Cheesy Pasta and Beef Casserole
This recipe is one of our favorite easy dinner recipes the entire family loves.
I am a huge fan of anything that I can dump in the slow cooker and walk away from for a while.
Now onto today's amazing crock pot recipe……..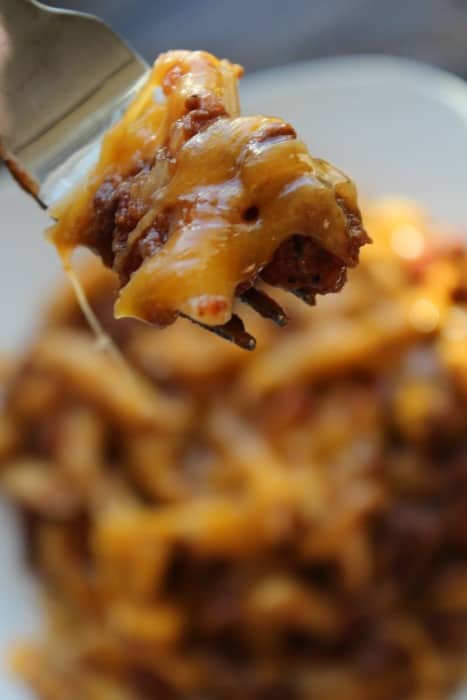 Slow Cooker Cheesy Pasta and Beef Casserole
Ingredients
1 tbsp canola oil
1 pound ground beef
1/2 cup chopped onion
1 tsp Worcestershire Sauce
1/2 tsp dry mustard
1/2 tsp salt
1/2 tsp pepper
1/4 tsp garlic powder
1/4 tsp onion powder
2 8oz cans tomato sauce
14.5 oz can diced tomatoes in basil, garlic, and oregano
1 pound penne pasta
2 cups shredded cheddar cheese
Directions
1. Heat oil in a large skillet and brown beef
2. Transfer beef to crockpot, stir in onion, Worcestershire sauce, dry mustard, salt, pepper, garlic powder, onion powder, tomato sauce, and diced tomatoes
3. Cover and cook on low for 8 hours
4. Cook pasta on stovetop according to directions
5. Stir cooked pasta into the beef mixture just before serving
6. Top with Cheddar cheese
Do you love recipes? Check out our copy cat recipes, dessert recipes, and our Crock Pot Recipes.

Printable Recipe
Crock Pot Cheesy Pasta and Beef Casserole
Easy slow cooker Crock Pot Cheesy Pasta and Beef Casserole recipe the entire family will love.
1 tbsp canola oil
1 pound ground beef
1/2 cup chopped onion
1 tsp Worcestshire Sauce
1/2 tsp dry mustard
1/2 tsp salt
1/2 tsp pepper
1/4 tsp garlic powder
1/4 tsp onion powder
2 8 oz cans tomato sauce
14. 5 oz can diced tomatoes in basil (garlic and oregano)
1 pound penne pasta
2 cups shredded cheddar cheese
Heat oil in a large skillet and brown beef
Transfer beef to crock pot, stir in onion, Worcestershire sauce, dry mustard, salt, pepper, garlic powder, onion powder, tomato sauce and diced tomatoes
Cover and cook on low for 8 hours
Cook pasta on stove top according to directions
Stir cooked pasta into beef mixture just before serving
Top with Cheddar cheese