Easy Dill Oyster Crackers Recipe is the perfect side dish or snack. These dill oyster crackers take a few minutes to prepare and taste amazing. Dill Seasoned Oyster Crackers are the perfect snack, soup topper, or great on salads!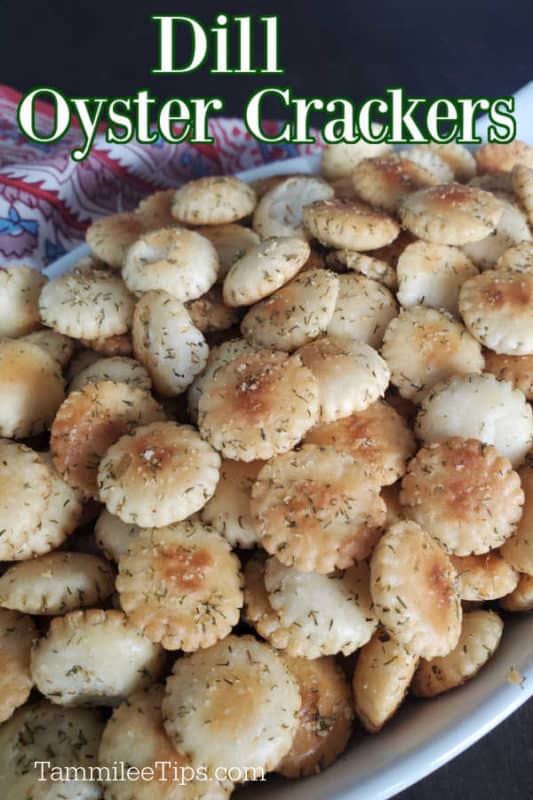 Dill Oyster Cracker Recipe
One of our favorite recipes is ranch oyster crackers. I tend to make them all the time for an easy snack. They are great for road trips, snacking on all day long while working or even on top of salads. I realized a few weeks ago as I was cleaning out the pantry that I had stocked up on WAY TO MANY oyster crackers.
I think they were on sale one day and I was in stock up mode since we were only grocery shopping at most once every week or so. I love that these make a delicious snack and only take 15 minutes of baking time.
You can also use these easy Dill Oyster Crackers to top salads, soups, chili, or really anything you want a delicious crunchy topping on. I mean I wouldn't put it on an ice cream sundae but you can if that sounds good to you.
These seasoned oyster crackers only need to bake for 15 minutes and then the hardest part comes...the waiting! You will want to give these crackers at least an hour to full cool down before diving into them. I know it is hard but I promise it is so worth it. You don't want to burn your tongue and then not be able to enjoy them once they cool down.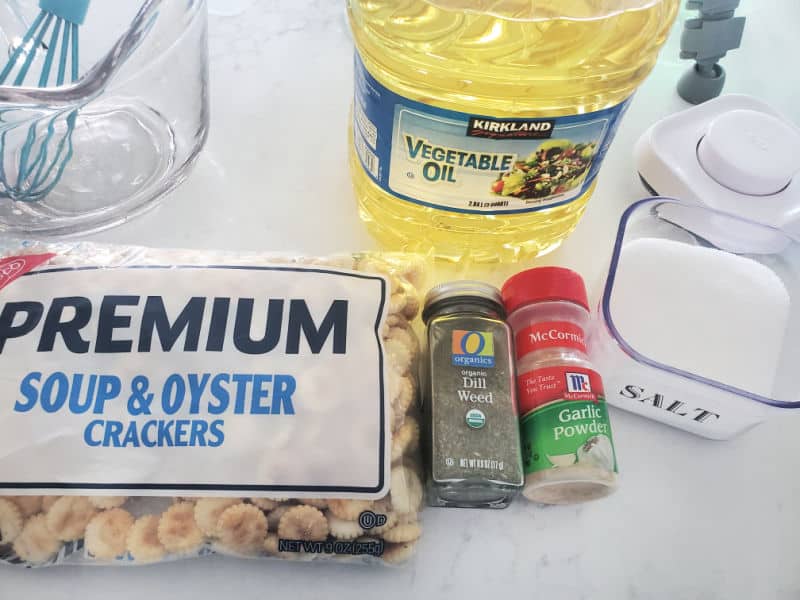 Ingredients
Oyster Crackers
Garlic Powder
Salt
Vegetable Oil
Optional - Hidden Valley Ranch dressing mix, garlic salt, lemon pepper, or olive oil.
Oyster Crackers - You can find these in the cracker aisle of most grocery stores. For some reason, our local grocery store always puts them on the highest shelf.
Vegetable Oil - you can use any neutral flavored oil in this recipe. Olive oil will add a bit of extra flavor to these seasoned oyster crackers.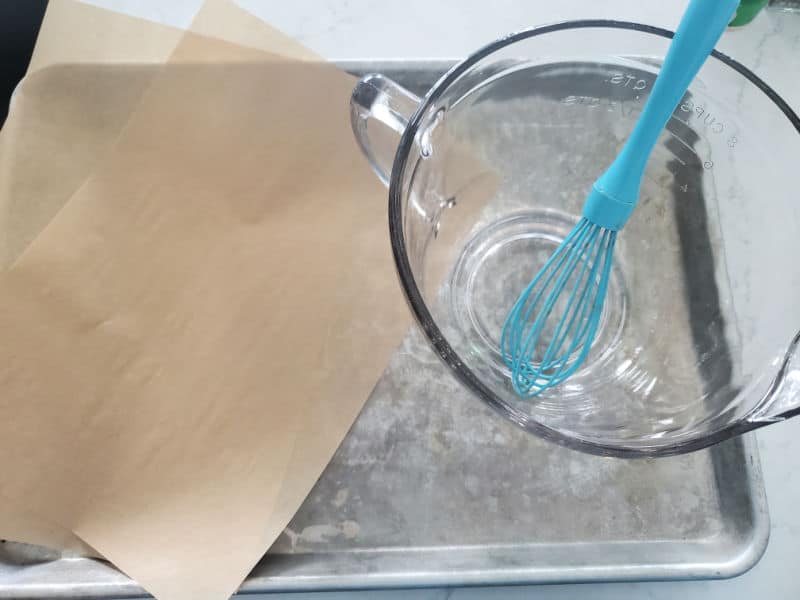 Equipment Needed
Baking Sheet - I like using a baking sheet with sides so I don't accidentally slide all of the oyster crackers into the bottom of the stove.
Small Bowl - You can mix the dill weed, garlic powder, salt, and oil in a small bowl and mix it over the oyster cracker or just toss it all on top of the oyster crackers in a large bowl.
Large mixing bowl - Make sure to use a large enough bowl that you can easily mix all of the ingredients together.
Parchment Paper - Parchment paper makes it easy to transfer the cooked dill oyster crackers to a container.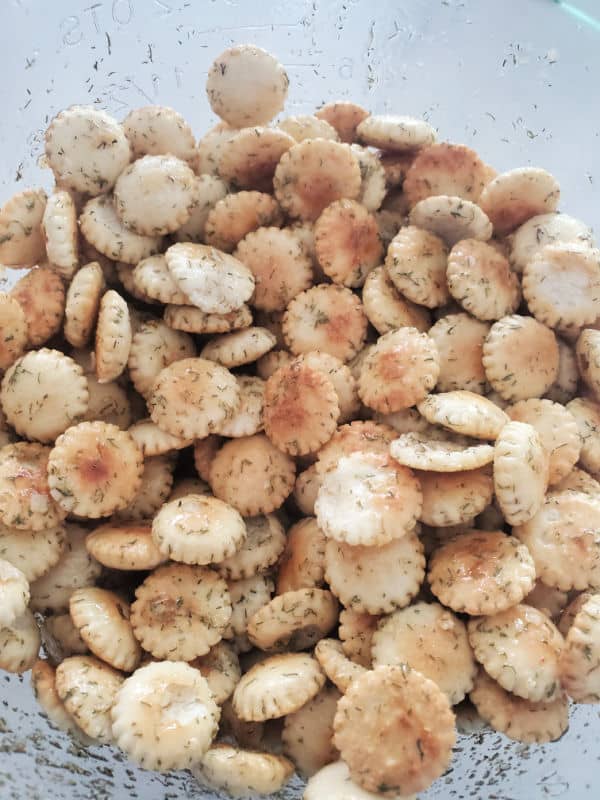 Recipe Tips
If you want to get little kitchen helpers involved in making this recipe you can use Ziploc bags instead of a large bowl. Add in the oyster crackers and pour in the dill weed mix, seal the plastic bag and your kitchen helpers can dance around the kitchen shaking the mix all over the oyster crackers.
Don't forget to preheat the oven to 250 degrees.
Shake the baking dish back and forth a few times gently to spread the oyster crackers out.
Plan time for the oyster crackers to cool for at least an hour.
You can add in a ranch seasoning packet if you want even more flavor. The addition of the ranch packet does make these a bit saltier and packed with flavor.
Depending on where you grew up Oyster Crackers are also called water crackers, Philadelphia Crackers, and/or Trenton Crackers.
Whatever you call them these Dill Seasoned Oyster Crackers taste amazing and are so easy to make it is almost dangerous. I find myself baking up a batch of these frequently. Store them in an airtight container or Ziploc bag to keep them fresh and ready to enjoy.
If you like a spicier cracker check out these Spicy Oyster Crackers.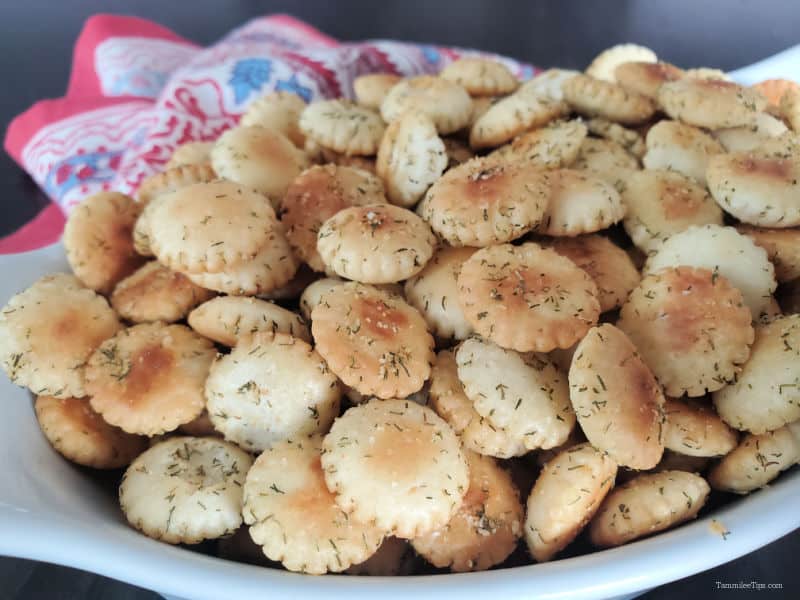 Great Snack Recipes
Peanut Butter Balls with Rice Krispies
Do you love recipes? Check out our copy cat recipes, dessert recipes, and our Crock Pot Recipes.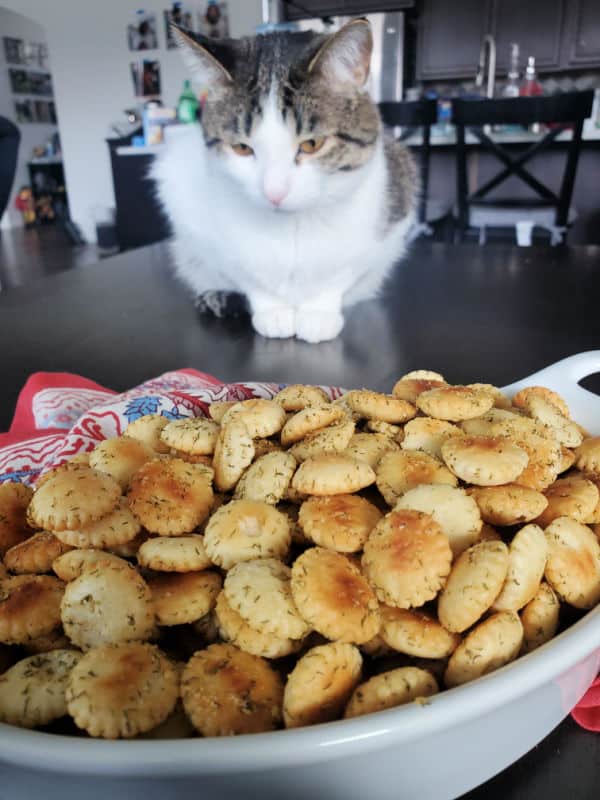 My kitten assistant was on the job again. I am pretty sure he was not enthused with my photo setup. LOL! He sat judgmentally watching everything I was doing and glaring at me for not petting him.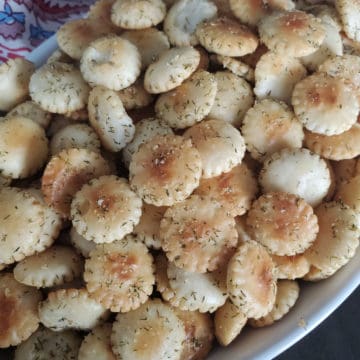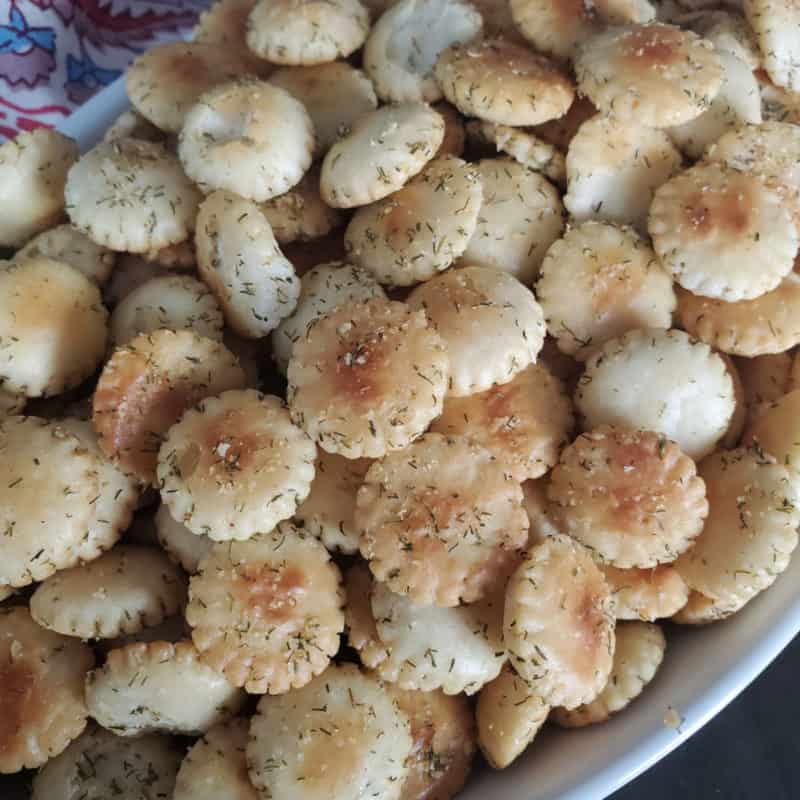 Dill Oyster Crackers Recipe
Easy Dill Oyster Crackers Recipe that makes the perfect snack. You can also set these out for party appetizers.
Print
Rate
Instructions
Preheat oven to 250 degrees. Line a baking sheet with parchment paper and set to the side.

Combine vegetable oil, dill weed, garlic powder, and salt in a small bowl. Whisk to combine.

Pour ½ of the oyster crackers into a large bowl, pour ½ the dill weed oil mixture over them. Top with remaining oyster crackers and dill weed oil. Toss to combine.

Pour oyster crackers onto parchment paper lined baking sheet and shake baking sheet to evenly spread them out.

Bake for 15 minutes, making sure to carefully stir them 7 minutes in to baking.

Let the Oyster Crackers cool for 1 hour before serving.
Nutrition
Nutrition Facts
Dill Oyster Crackers Recipe
Amount Per Serving
Calories 138
Calories from Fat 90
% Daily Value*
Fat 10g15%
Sodium 222mg10%
Potassium 30mg1%
Carbohydrates 12g4%
Protein 2g4%
Vitamin A 2IU0%
Vitamin C 1mg1%
Calcium 4mg0%
Iron 1mg6%
* Percent Daily Values are based on a 2000 calorie diet.