Delicious Old Bay Goldfish are the perfect snack! Goldfish crackers flavored with Old Bay seasoning for a fun spicy afternoon snack.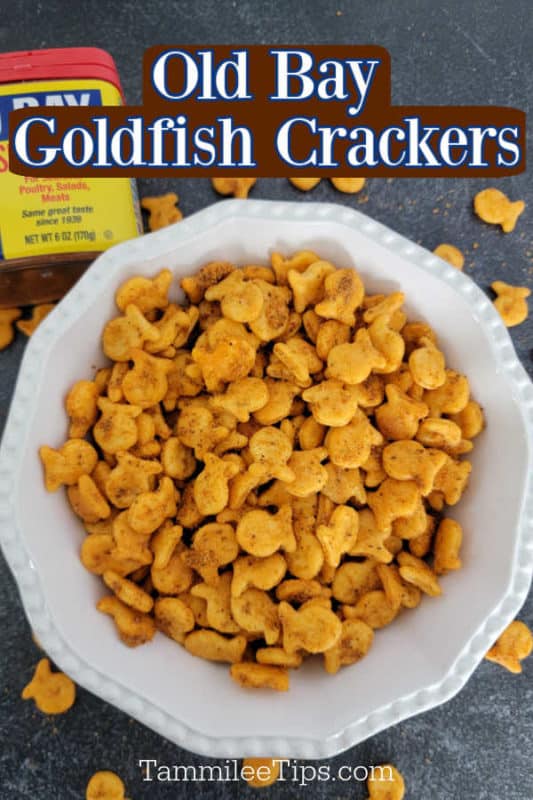 Easy Old Bay Goldfish Crackers
I love taking regular snack foods and updating them with fun flavors. We have made Alabama Fire Crackers, Ranch Oyster Crackers, Spicy Buffalo Pretzels, and Ranch Pretzels.
A couple of weeks ago we were in southern Florida visiting National Parks for my husband's website Park Ranger John. We spent some time in Fort Myers and had lunch at the Nauti Parrot.
Can we talk about the perfect name for a fun beach-vibe restaurant in Florida? During our lunch, our server was absolutely amazing.
We ended up having an entire conversation about all the ways you can use Old Bay Seasoning. The restaurant had Old Bay French Fries, which I am going to work on making too.
Our server mentioned she loves to put Old Bay on everything. As we were dishing back and forth about all the ways we could use them, we thought about adding them to Goldfish Crackers.
The combination of crunchy crackers and the 18 herbs and spices of the Old Bay Seasoning is amazing. We used original Goldfish Crackers, our favorite fish-shaped cracker, so the iconic taste of Old Bay seasoning really stands out.
These Old Bay Goldfish would also taste great with cheddar Goldfish but be prepared the cheddar flavor will definitely stand out.
I love that you can use Old Bay Seasoning on more than just seafood. We always use it on shrimp, but now my brain is whirling with new ideas on ways to use it.
These Old Bay Goldfish Crackers are the perfect-for-summer snack, wait who am I kidding? We made them during the winter and loved them. They have the perfect kick of Old Bay on a crunchable goldfish cracker.
They are the perfect addition to a bowl of soup or chowder, crumble them up and bread chicken or fish for dinner, or just enjoy a handful as a snack.
After making this epic snack recipe I started to research Old Bay Seasoning and Goldfish Crackers. I found out there was a limited edition Old Bay Seasoned Goldfish at one point that was only available for a limited time.
I just saw there is a limited edition Frank's Redhot Goldfish available which I may have to try and make next.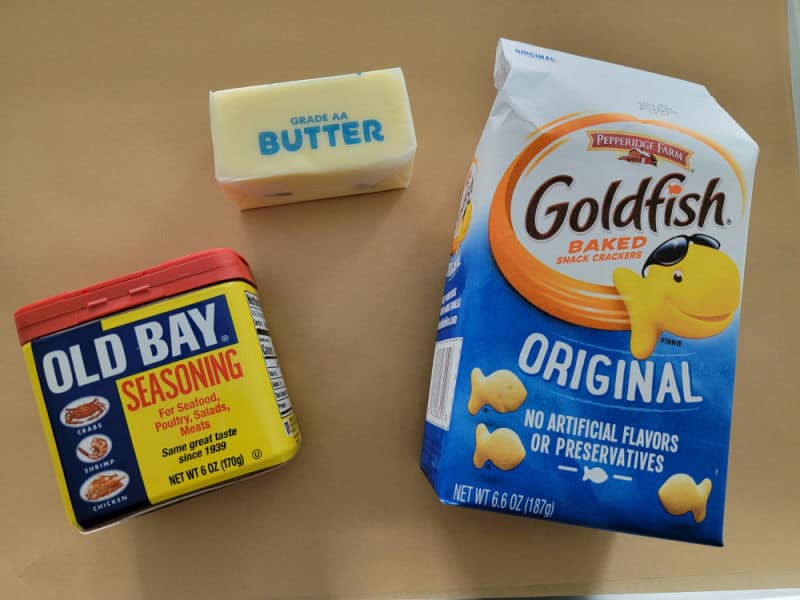 Ingredients
This is a quick overview of the simple ingredients that you'll need to make Old Bay flavored Goldfish Crackers! Specific measurements and step by step instructions are included in the printable recipe card at the bottom of the post.
Goldfish Crackers
Old Bay Seasoning
Unsalted Butter
Goldfish Crackers - We use original Pepperidge Farm Goldfish crackers but you can easily use other flavors including Cheddar Goldfish, Goldfish Colors, tiny Goldfish Crackers, Original Goldfish Saltine Crackers or Parmesan flavored.
Classic Old Bay Seasoning - We used the original Old Bay but if you like more heat you can use the Old Bay hot seasoning.
If you are wondering what is Old Bay Seasoning it is a blend of spices that originated in the Chesapeake Bay region. It is often used to flavor seafood especially crab and shrimp.
The spice mix includes celery salt, paprika, pepper, and other spices.
Optional - Add in additional garlic powder or spices you enjoy.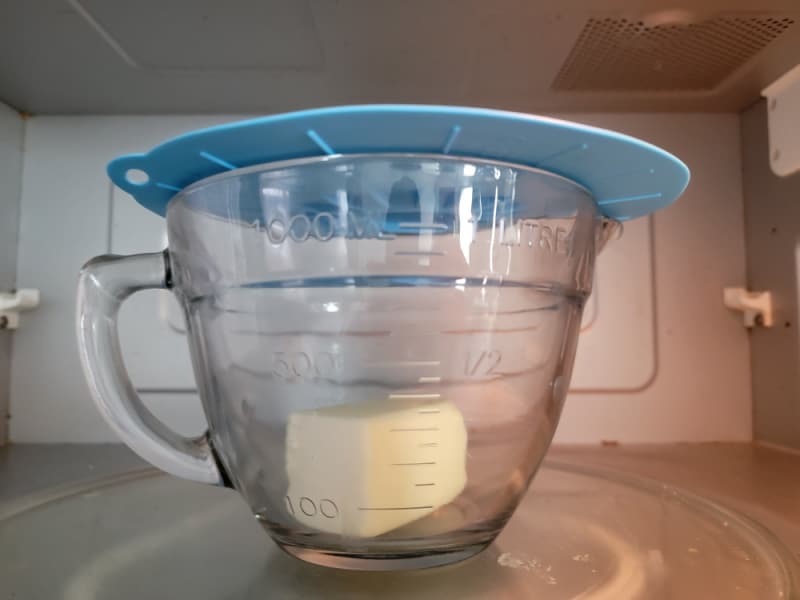 Equipment needed
Measuring tools
Microwave safe bowl
Microwave Silicone cover - I swear by these lid covers to help prevent butter splatters when melting butter in the microwave. I have had way too many butter explosions while baking. These lid covers help keep the butter in the bowl and not on the roof of your microwave.
Parchment Paper -  I love that I can use parchment paper to help make it easier to remove the Goldfish Crackers. I pick up the parchment paper by the sides and make a funnel to pour the Old Bay Goldfish Crackers into a container.
Large Mixing Bowl - We are big fans of this glass batter bowl that has a handle. It makes it easy to mix ingredients and keeps the mixing bowl steady on the counter.
Baking Sheets - We are huge fans of these baking sheets with sides. You don't have to worry; you will remove the Old Bay Goldfish from the oven and have them slide right off.
Heat resistant potholders - A couple of years ago, we had a fire scare when we didn't realize we had turned a burner on, and a cloth potholder caught fire. Thankfully we walked by the kitchen and saw the smoke and were able to get it out ourselves. Since then, we have only used these heat-resistant potholders.
When to serve Old Bay Seasoned Goldfish Crackers
Our favorite beloved fish-shaped cracker with the bold flavor of Old Bay Signature Blend Seasoning is perfect for snack time, on top of salads, as a garnish for soups, as a side for next summer BBQ, or anytime you want to enjoy the bold flavor of Goldfish Old Bay Crackers.
How to make Old Bay Goldfish
I've included complete instructions in the printable recipe card at the bottom of the post but here's a quick version.
Step 1 - Preheat the oven, gather ingredients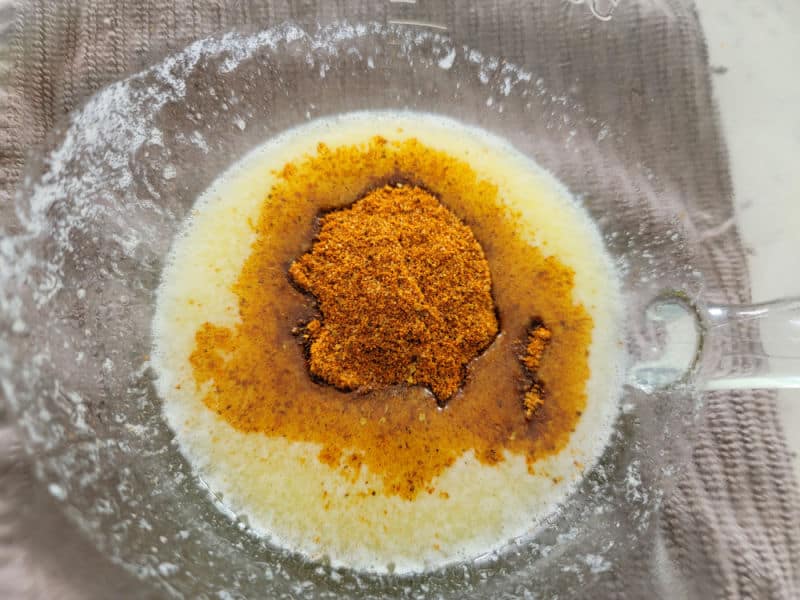 Step 2 - Melt butter in the microwave or on the stovetop. Stir Old Bay Seasoning into the melted butter.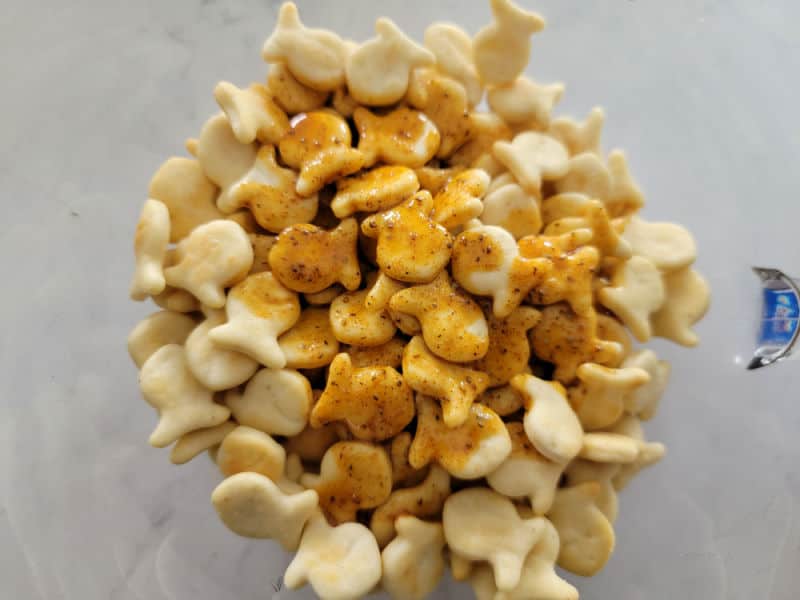 Step 3 - Pour half of the Goldfish crackers into a large bowl. Pour half the seasoned butter over the Goldfish crackers and stir to evenly coat.
Repeat with remaining Goldfish crackers and Old Bay seasoned butter.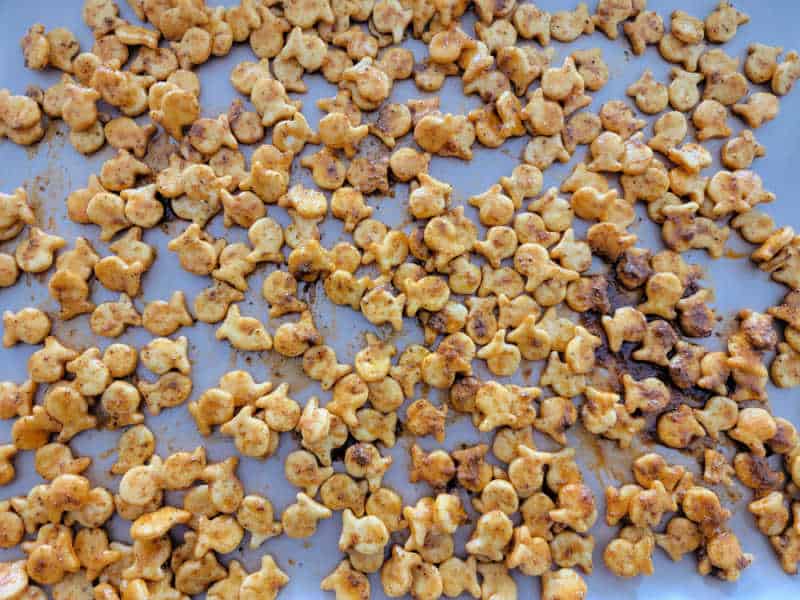 Step 4 - Spread the crackers on a parchment-lined baking sheet until evenly spread out. Bake in increments making sure to toss the crackers so they are evenly baked.
The goldfish crackers are baked at a low temperature to allow the butter and seasoning to infuse into the crackers and coat them with all the flavor goodness.
Step 5 - Cool to room temperature before serving/enjoying.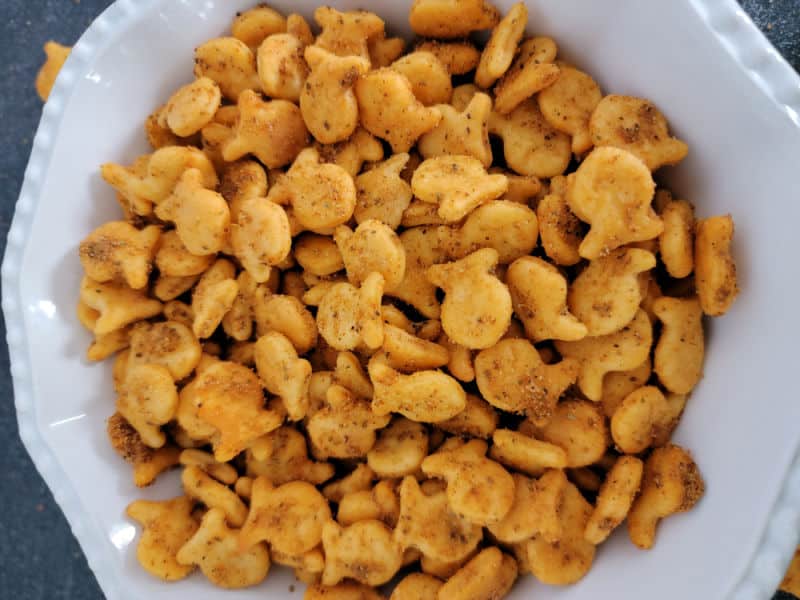 Recipe Tips
You may need to play around with the amount of Gold Bay seasoning until you find the perfect level for your tastes. The first time I made these I added way to much and they were super spicy. My husband added them to soup which helped balance out the flavors.
Printable recipe card instructions are below.
Nutrition information, including calories, protein, calcium, carbohydrates, fiber, vitamin c, potassium, cholesterol, sodium, trans fat, monounsaturated fat, polyunsaturated fat, and more, will vary depending on the products used.
FAQs
What does Old Bay Seasoning taste like?
Old Bay has a savory flavor with a bit of heat. Don't worry there isn't a ton of heat or spiciness unless you buy the hot version.
Is Old Bay Seasoning Gluten Free?
Yes, Old Bay seasoning is gluten-free
Where can I buy Old Bay Seasoning?
Old Bay Seasoning is sold at the grocery store and on Amazon. It is normally found in the seasoning/spice aisle but you can also look for it near the seafood.
How long does Old Bay Seasoning Last?
Old Bay Seasoning should be stored in a cool, dry location. It will last up to two years but the flavor will start to fade after the first year.
Are Goldfish Crackers Gluten Free?
Regular Goldfish Crackers are not Gluten Free. There are alternative brands of crackers available on Amazon including Qwackers, Simple Mills cheddar crackers, Mustache Munchies, and more.
How long do Goldfish Crackers Last?
Goldfish Crackers should be stored in an airtight container. They have a shelf life of around 6 months.
Great Snack Recipes
Taco Pickles - You are not going to believe how great these Taco Pickles Taste.
Cinnamon Toast - Perfect for those days you want a sweet snack.
Ranch Chickpeas - The perfect air fryer snack recipe.
Pepperoni Rolls - Cheesy Pepperoni Rolls wrapped in dinner rolls. Yes please!
Sriracha Caramel Corn - For a sweet spicy snack that tastes amazing.
Check out all of our Snack Recipes
This recipe is featured in our Road Trip Snacks Collection
Do you love recipes? Check out our copycat recipes, dessert recipes, and our CrockPot Recipes.
Follow Tammilee Tips on MSN, Facebook, Instagram, and Pinterest, for all of our recipe posts.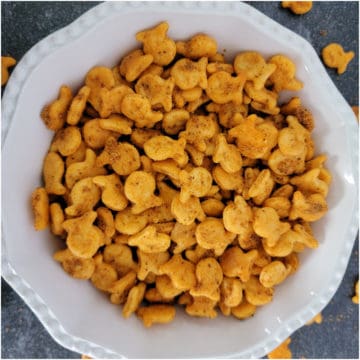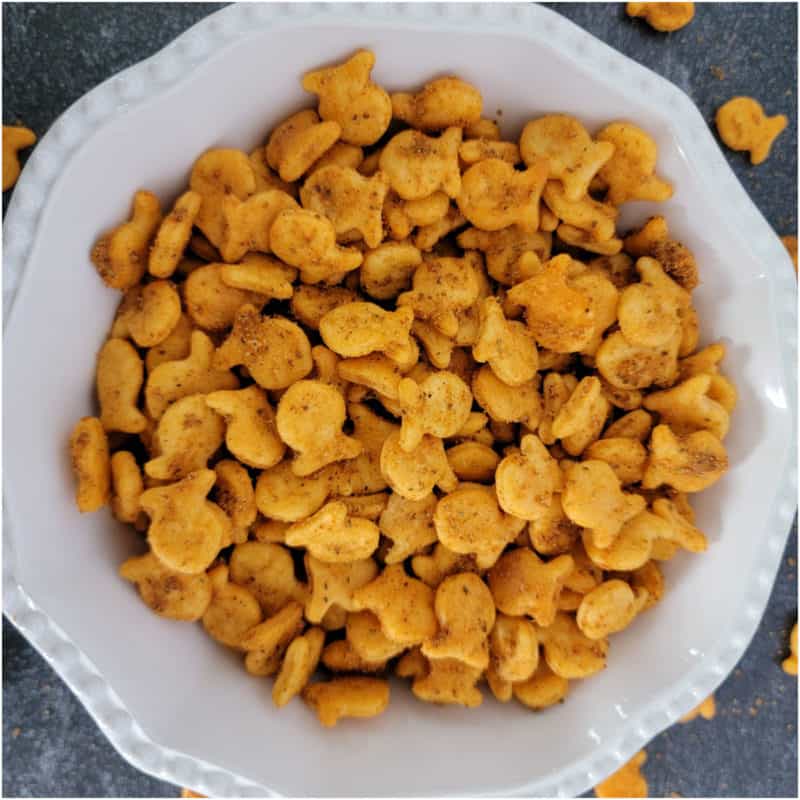 Old Bay Goldfish Crackers
Easy Old Bay Goldfish Crackers are the perfect spicy snack cracker that tastes amazing.
Print
Rate
Ingredients
6.6

Ounce

Goldfish Crackers

Original

5

Tablespoons

Butter

Melted

1-2

Tablespoons

Old Bay Seasoning
Instructions
Preheat oven to 250 degrees, gather ingredients, and prep baking sheet with parchment paper.

Melt butter in the microwave, stir to make sure it is completely melted.

Add in Old Bay Seasoning to the melted butter and stir to combine.

Pour ½ of the Goldfish Crackers into a bowl, top with half the butter mixture, stir to coat the crackers.

Pour remaining crackers in the bowl and top with remaining Old Bay butter mixture. Stir to evenly coat.

Spread coated crackers over the parchment paper and make sure they are evenly spread out.

Bake in 10-15 minute increments stirring the Goldfish Crackers after ever increment so they are evenly baked. Total bake time - 30-40 minutes

Remove from the oven and cool to room temperature before enjoying.
Nutrition
Nutrition Facts
Old Bay Goldfish Crackers
Amount Per Serving
Calories 231
Calories from Fat 135
% Daily Value*
Fat 15g23%
Cholesterol 35mg12%
Sodium 335mg15%
Potassium 7mg0%
Carbohydrates 21g7%
Protein 3g6%
Vitamin A 309IU6%
Vitamin C 0.1mg0%
Calcium 51mg5%
Iron 0.2mg1%
* Percent Daily Values are based on a 2000 calorie diet.