Classic Ants on a Log after school snack is the perfect healthy snack for all ages. Three basic ingredients, a couple of minutes, and you are ready to enjoy this classic snack.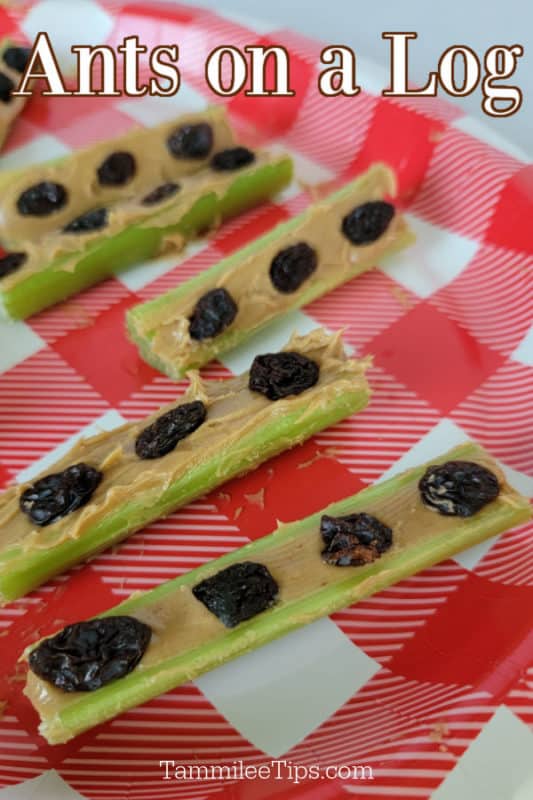 Ants on a Log
Classic Ants on a Log after school snack that kids love includes spreading peanut butter on celery sticks and topping with raisins.
I still remember having this healthy snack after school growing up. The combination of peanut butter and raisins is still a favorite even in my mid 40s. LOL!
I have no idea why this is called Ants of a Log. I tried to find the origin but found that it is honestly a bit unknown. They may have been a variation of a recipe shared in a 1959 cookbook.
Some say this recipe started with the girl scouts. However it started the combination of celery, peanut butter, and raisins is a classic for a reason.
There are so many epic variations now that continue to evolve this classic snack. Home cooks have taken this classic to a whole new level.
We list a ton of variations farther down this article but here are a few fun ones:
Ants on a Slip 'n' Slide" - an added layer of honey
Fire Ants on a Log - dried cranberries instead of raisins
Ghost Ants on a Log - mini marshmallows
Ants on Vacation - no raisins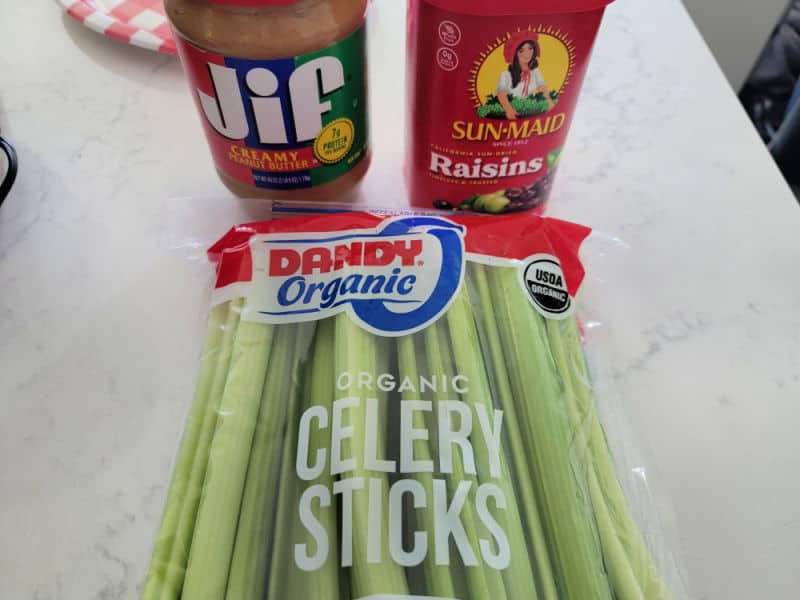 Ingredients
Celery Stalks
Peanut Butter - creamy
Raisins
Peanut Butter - We use creamy but you can also use crunchy if you prefer it. You can also use almond butter,  Sun butter, cashew butter or other alternative peanut butters.
Raisins or mini chocolate chips - I have made ants on a log with both and it tastes great. Are you on team raisin or mini chocolate chips?
If your raisins are a bit hard or dry you can microwave them for a few seconds or soak the in warm water for a minute.
Equipment Needed
Plate
Knife
We love serving these Ants on a Log on Red Gingham Plates or napkins to make it feel like we are having a picnic.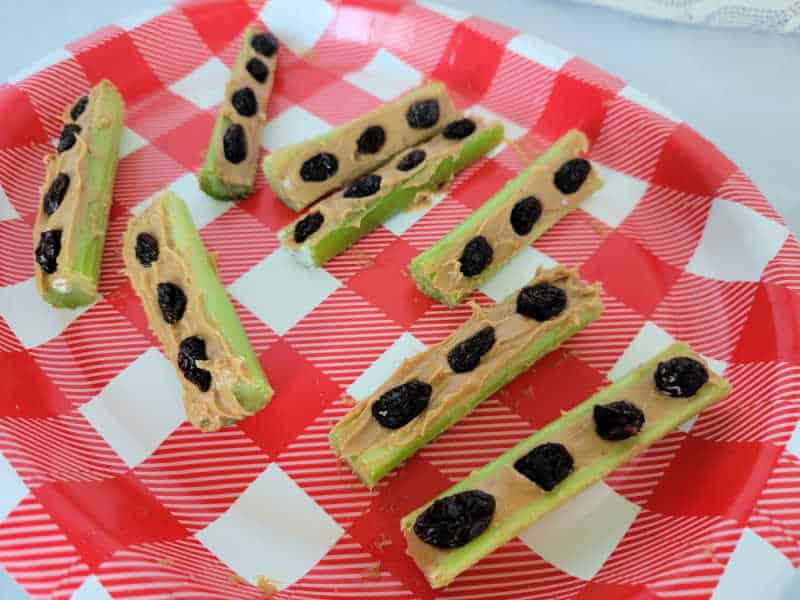 Fun Variations
You can change up this classic ants on a log snack by changing up the vegetables used and the toppings. This is a great way to introduce fun new flavor combinations.
Log/Stick ideas - Carrots, cucumbers, bananas, apples, peaches, pears
Filling ideas - cream cheese, cottage cheese, hummus, guacamole, bean dip, yogurt
Ant/topping ideas - chocolate chips, grapes, seeds, sweet and spicy nuts, corn, olives, cherry tomatoes, dried fruit, honey, teddy grahams, blueberries, granola, pretzel pieces, shredded coconut, dried cranberries,
You can even make ants on vacation and leave the toppings off.
Recipe Tips
The hardest part of making Ants on a Log is getting the creamy peanut butter in the celery sticks without making a huge mess. I like to use a small knife with a tapered end when possible to help keep the peanut butter contained.
Make sure to thoroughly clean the celery and cut off the brown or dried ends. I like to cut the celery into 3 inch pieces so they are easy to handle.
This snack can be made ahead of time! Prep these in the morning and your afternoon snack is ready when you get home.
Great Snack Recipes
Do you love recipes? Check out our copy cat recipes, dessert recipes, and our Crock Pot Recipes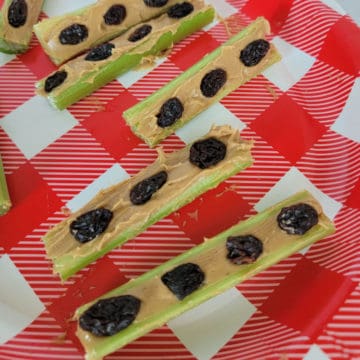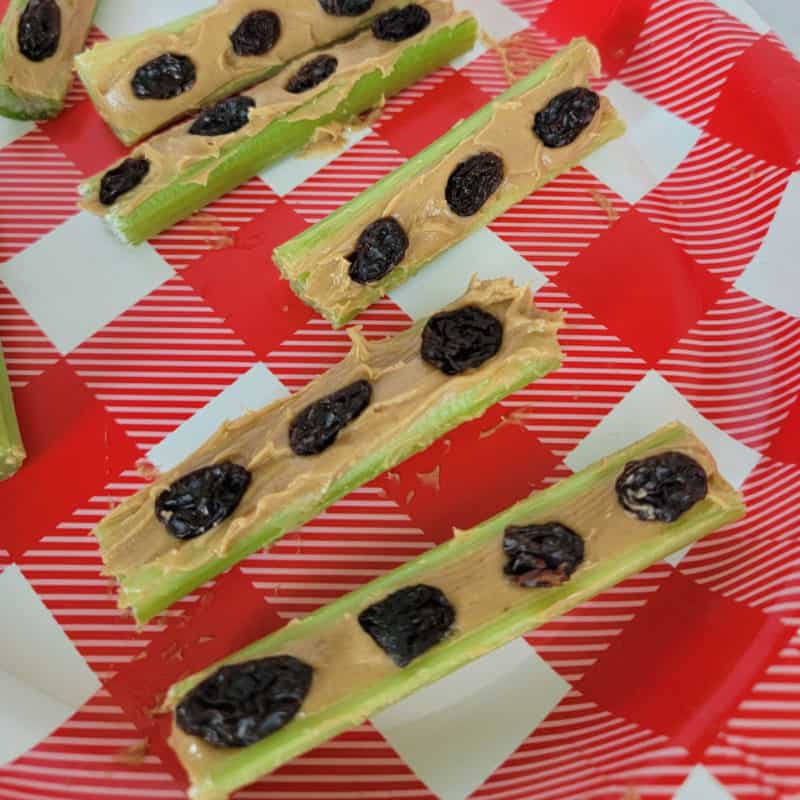 Ants on a Log
How to make classic Ants on a Log after school healthy snack.
Print
Rate
Instructions
Clean and rinse your celery, cut the brown and dried ends off. Cut into 3 inch segments.

Spread peanut butter down the middle of the celery

Top with raisins and serve.
Nutrition
Nutrition Facts
Ants on a Log
Amount Per Serving
Calories 90
Calories from Fat 54
% Daily Value*
Fat 6g9%
Sodium 88mg4%
Potassium 219mg6%
Carbohydrates 7g2%
Protein 3g6%
Vitamin A 180IU4%
Vitamin C 1mg1%
Calcium 22mg2%
Iron 1mg6%
* Percent Daily Values are based on a 2000 calorie diet.