The Dirty Shirley is an alcoholic twist on a Shirley Temple Drink. This grown-up version has grenadine, sprite, and Vodka. A great fruity drink that looks amazing.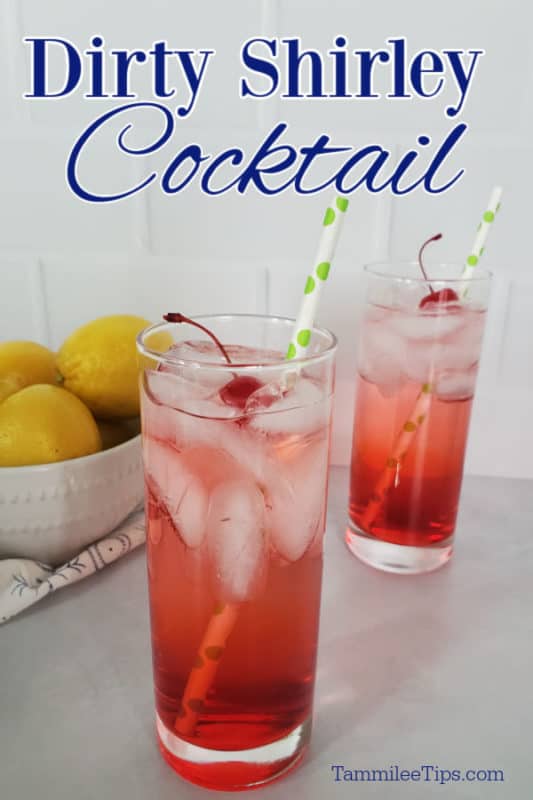 Dirty Shirley Drink Recipe
Dirty Shirley is an adult version of your favorite fun mocktail as a kid! This grown-up version is fun for special occasions or warm summer days.
It is so easy to make and tastes amazing!!!
The reason this drink is called dirty is that you are adding alcohol to a previously non-alcoholic drink. I love that you can take the classic Shirley Temple we enjoyed as a kid and turn it into an adult cocktail.
There are a ton of adaptations to this cocktail recipe. It is a great base recipe you can change up based on your favorite flavors. We make this cocktail with plain vodka but you could easily make it with cherry or vanilla vodka or really any flavor you enjoy.
If you don't like vodka you can try making it with a cherry moonshine for even more cherry flavoring.
One thing I recently learned is grenadine is pomegranate syrup flavored not cherry. For some reason I always thought grenadine was cherry flavored. I might have missed that lesson when I went to bartending school 20+ years ago.
Or maybe it is because bartending school was 20+ years ago and I can't believe the skills I learned in my 20s are still working in my 40s. LOL
I can definitely say when I went to bartending school I never imagined having a food blog or sharing recipes daily with people. I went to bartending school to learn how to mix cocktails so my college graduation party would have epic cocktails. It is funny how life changes and the random things we do when we are younger still pay off as an adult.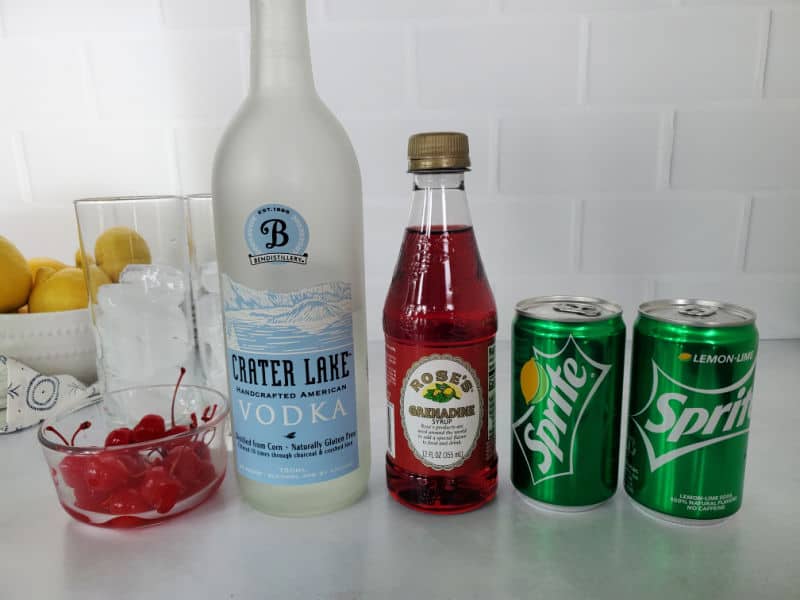 Ingredients
Garnish - Maraschino Cherry
Vodka - You can use plain vodka or for extra cherry flavoring use a cherry vodka. This recipe does not need high-end vodka since it is being mixed with grenadine and Sprite. You could also use vanilla vodka. I have seen a few recipes using Cherry Moonshine instead of vodka.
Sprite - You can also use 7-Up or another lemon-lime soda. For less citrus flavor this can be made with tonic water or ginger ale.
Grenadine - You can normally find Grenadine in the bar section of your local grocery store. You can also buy it on Amazon. Grenadine is made with pomegranate juice.
Tools Needed
Glassware - collins glass 
I like to serve this in a tall highball/collins glass so the red cocktail really shows off its color. You can also serve this in a rocks glass if you want a stronger vodka flavor. The larger glass helps add in a bit more sprite to distribute the vodka taste.
Cute Paper Straws
Bar spoon - A long bar spoon will help stir all of the ingredients together and mix the flavors.
How to make a Dirty Shirley Temple Drink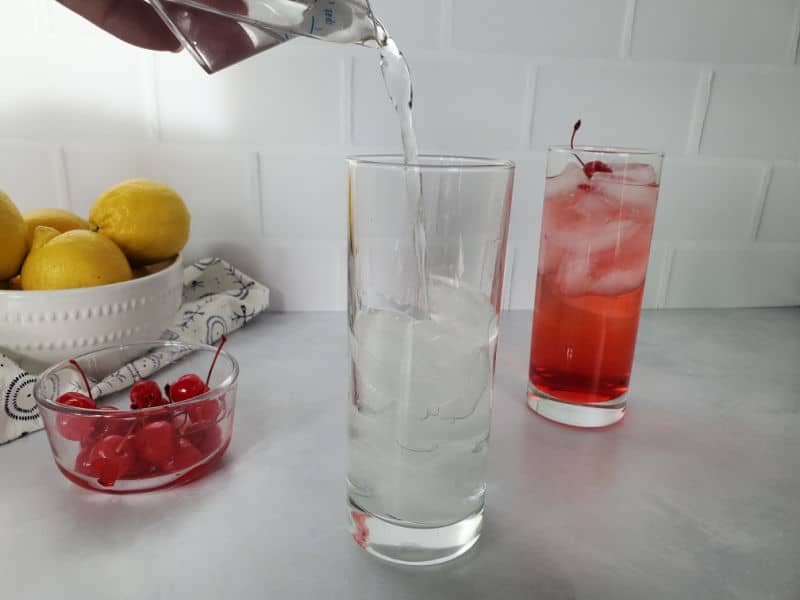 Step 1 - Fill glass with ice. Add in Vodka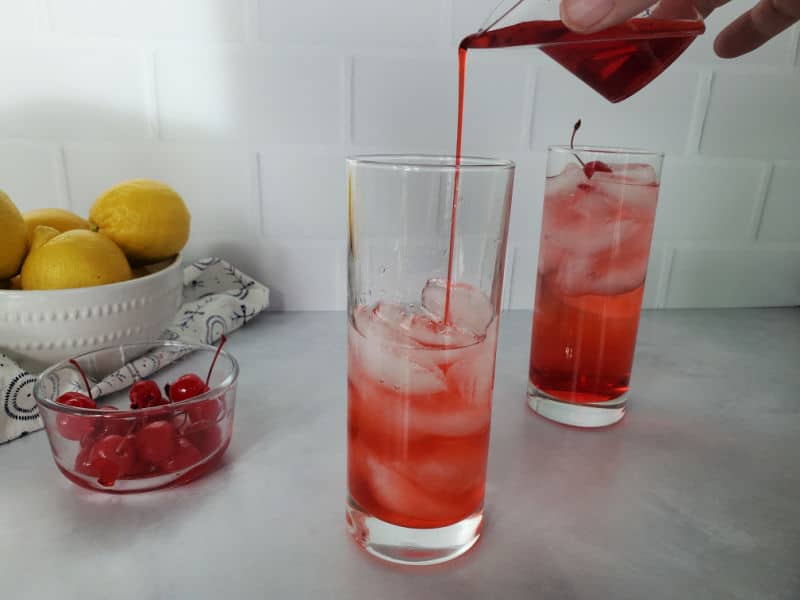 Step 2 - Add in grenadine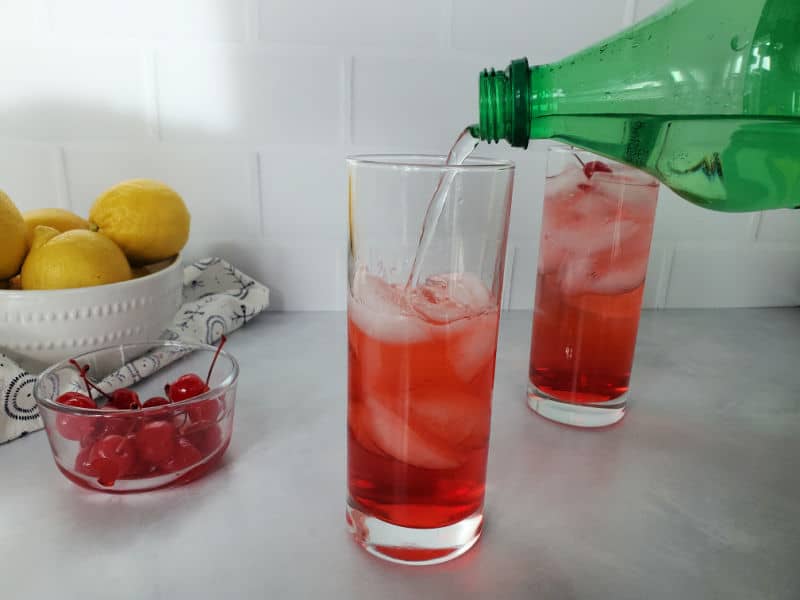 Step 3 - top drink with Sprite to fill the glass. Stir with a bar spoon or paper straw to mix the flavors. This will help to make sure your first sip is not straight vodka.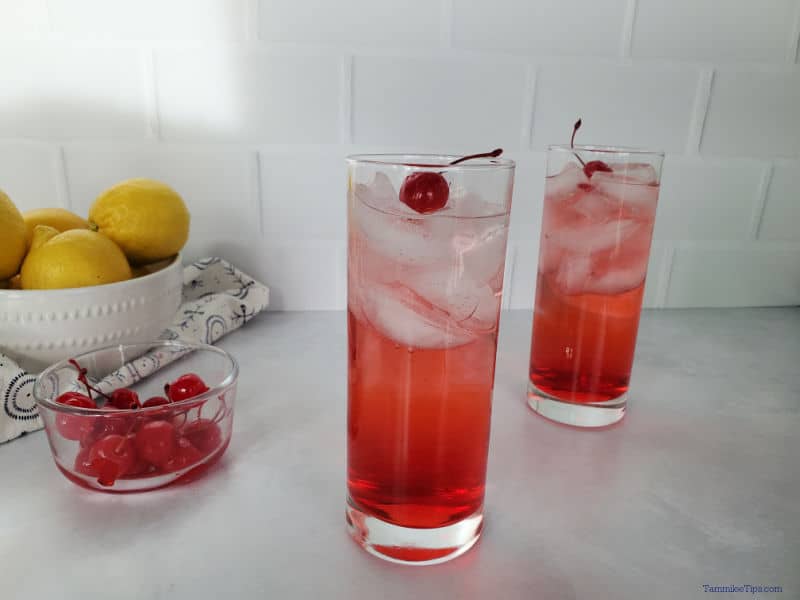 Step 4 - Garnish with a maraschino cherry and enjoy.
Dirty Shirley Cocktail Punch
You can make this great fruity drink for a party by making it in a punch bowl or large pitcher. Make sure to add the Sprite right before serving so you still have the bubbles.
Keep a bowl of Maraschino Cherries next to the pitcher so guests can garnish their drinks.
Recipe Tips
I wouldn't make this drink too far ahead of serving it. You want to get the bubbles from the Sprite.
This recipe is featured in our collection of Easter Cocktails and Spring Cocktails  and red cocktails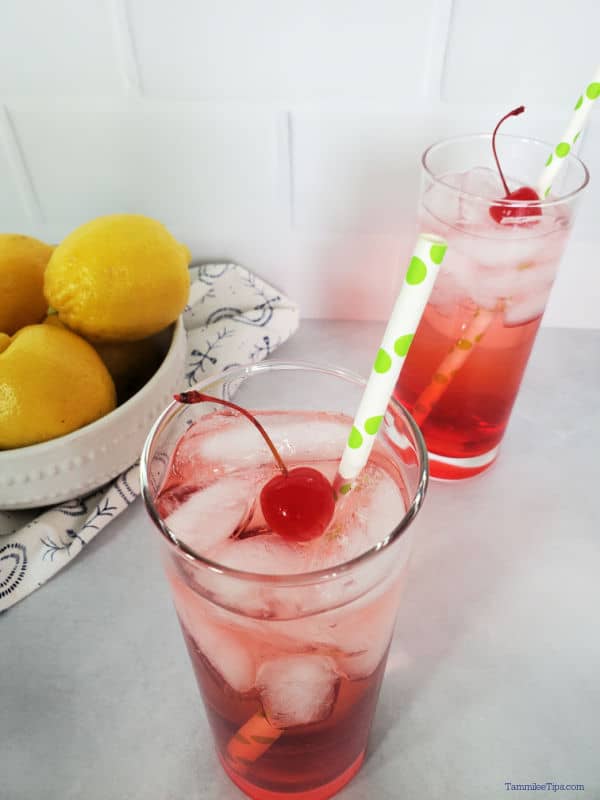 Great Cocktail Recipes
Funny Drink Names - Check out our entire collection of cocktails and mocktails with funny names.
Check out all of our Cocktail Recipes
Do you love recipes? Check out our copy cat recipes, dessert recipes, and our Crock Pot Recipes.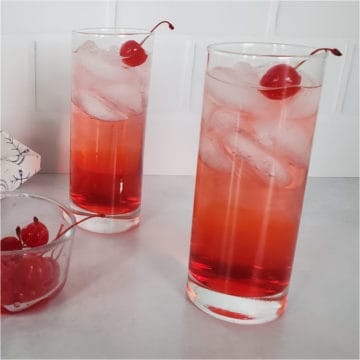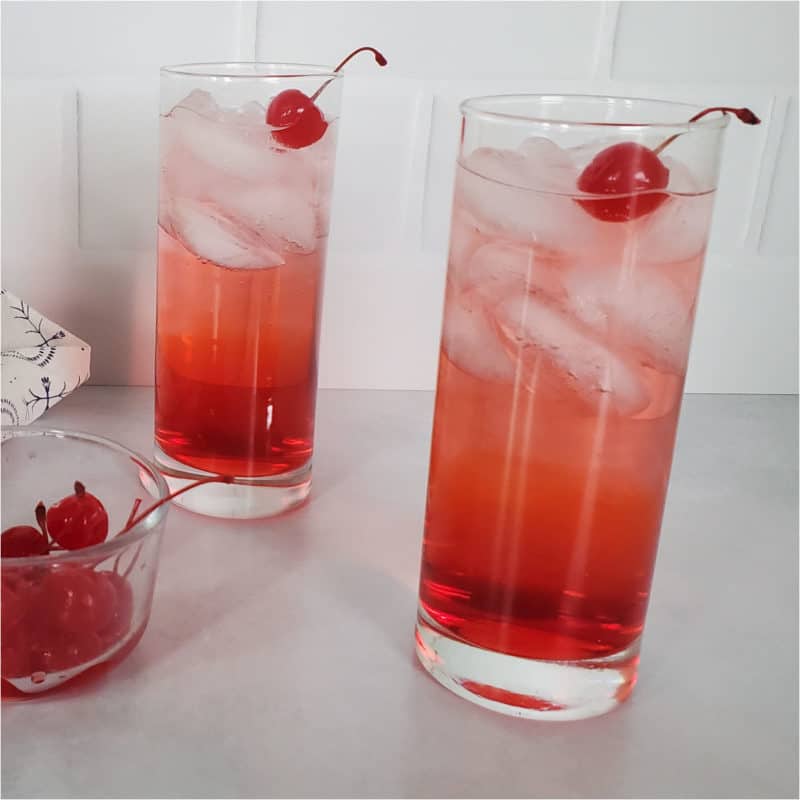 Dirty Shirley Drink Recipe
How to make a Dirty Shirley Temple Cocktail with vodka, grenadine, and sprite. So easy to make.
Print
Rate
Instructions
Fill glass with ice, add in vodka and grenadine, top with sprite to fill the glass.

Garnish with a Maraschino Cherry
Nutrition
Nutrition Facts
Dirty Shirley Drink Recipe
Amount Per Serving
Calories 253
% Daily Value*
Sodium 20mg1%
Potassium 10mg0%
Carbohydrates 31g10%
Protein 1g2%
Calcium 4mg0%
Iron 1mg6%
* Percent Daily Values are based on a 2000 calorie diet.