This Crock Pot Cherry Pie Moonshine Recipe is SO EASY to make and looks great! AND IT TASTES AMAZING!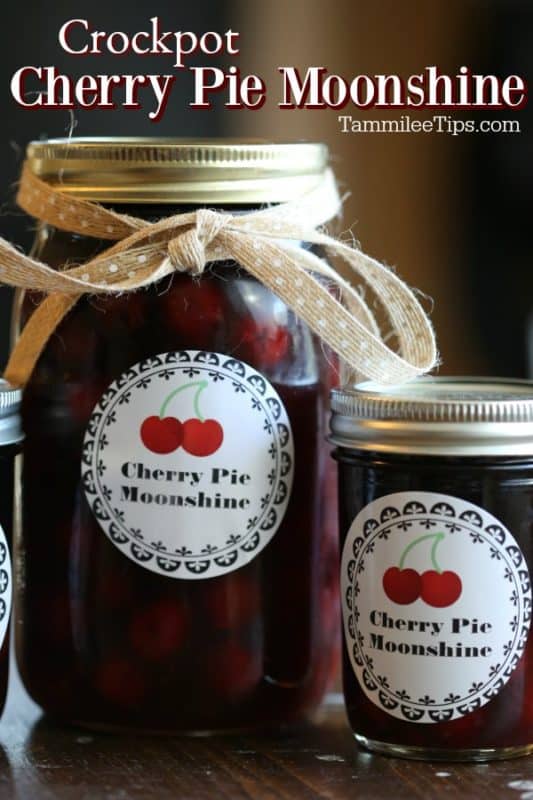 Crock-Pot Cherry Pie Moonshine Recipe
We have been giving this as gifts for friends and family, and everyone loves it! Friends and family keep asking for second and third containers because they like it so much.
This Crock Pot Cherry Pie Moonshine is delicious alone, or you can mix it with Coke, pour it over ice cream, or mix it with lemonade. There are so many great ways to enjoy this moonshine!
We love serving the Crock-Pot Cherry Moonshine over vanilla bean ice cream. A small dish is all you need for a decadent dessert!
Amazon has fantastic labels that work great to turn a mason jar into a gift. I loved these Avery Labels that you can customize before printing on them.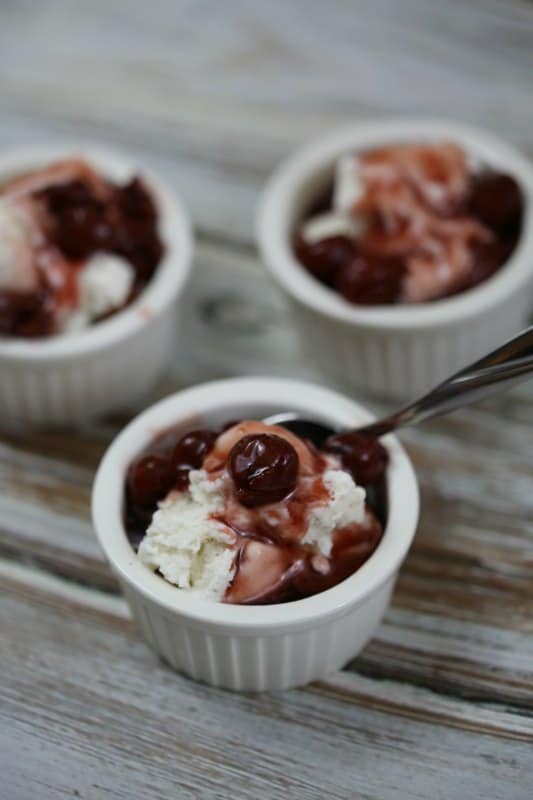 Ingredients
Here is a quick overview of the simple ingredients needed to make an epic Cherry Pie Moonshine! The printable recipe card at the bottom of the post includes specific measurements and step-by-step instructions.
Cherries

- We make this with canned dark cherries.

Sugar

Cherry Juice

Everclear or Vodka, depending on what you have
Equipment Needed
Kitchen Spoon/Stirring Utensil

Mason Jars, canning jars, or Other Sealed Storage Containers.
 The size of jars is up to you. We tend to use quart jars. Just make sure the lids fit and seal. This cherry pie moonshine can easily be stored in a gallon or liter bottle. 
How to Make CrockPot Cherry Moonshine Recipe
I've included complete instructions for cherry shine in the printable recipe card at the bottom of the post, but here's a quick version.
Combine cherries, sugar, and tart cherry juice in the Crock Pot. Stir until combined.

Cook on low until sugar dissolves. 

Allow to cool. Once cool pour in Everclear.

Store in mason jars or sealed containers.
This recipe can be adapted to make in a large saucepan. The total time needed will change.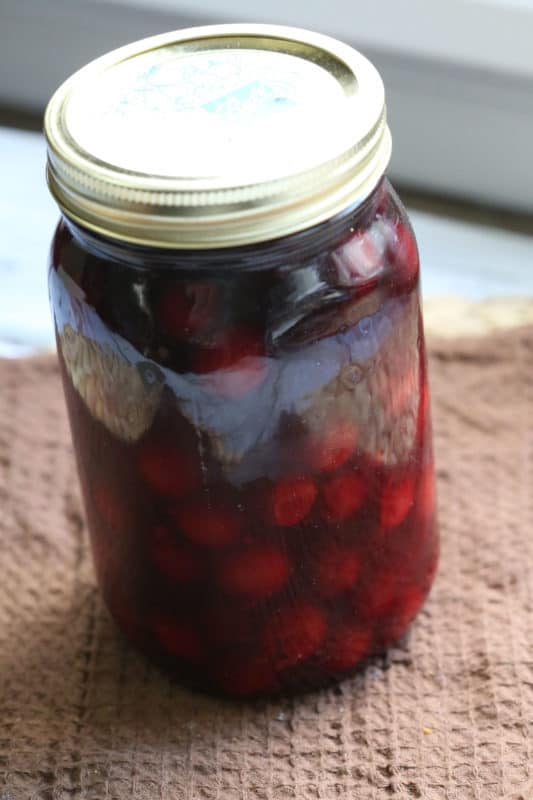 Preparation and Storage
Make Ahead: This slow cooker recipe is one of our quicker ones, as it only takes one to two hours for the sugar to dissolve and the moonshine to be ready for serving.
Storage: Once opened, keep leftover Cherry Pie Moonshine refrigerated in an airtight storage container, such as a mason jar. Enjoy leftovers within three to six months.
We store our moonshine in a cool dark place to keep the taste fantastic.
Freezing/How to Freeze: You can keep leftovers in the fridge or freezer, depending on how you prefer to enjoy them.
Recipe Variations + Tips for the Best CrockPot Cherry Pie Moonshine
Substitutions: 
You can use Everclear Grain Alcohol or vodka, depending on what you have available.  
White or brown sugar works equally well. Brown sugar is excellent if you prefer a warmer flavor to complement the cherry in this homemade moonshine.
We enjoy having the full cherries in the moonshine. You can use a potato masher to mash them.
Vegetarian + Vegan Option: This recipe should be vegan and vegetarian, as the only ingredients are canned cherries, sugar, cherry juice, and alcohol.
Gluten-Free: This recipe should also be safe for a gluten-free diet, as none of its ingredients typically contain gluten. However, check for a gluten-free label on the canned cherries and cherry juice if you are highly sensitive and want to avoid the possibility of cross-contamination.
Alcohol-Free Option: Replace the Everclear or vodka with an NA substitute to make this recipe non-alcoholic.
Smaller Serving Size + Larger Group/More Servings: This recipe is easy to scale to your desired serving size. It doubles and triples like a dream, though you may need to work in batches if you scale up, depending on the size of your slow cooker.
Sugar-Free: Use sugar-free canned cherries, cherry juice with no sugar added, and a sugar-free substitute for white sugar to make this Cherry Pie Moonshine sugar-free.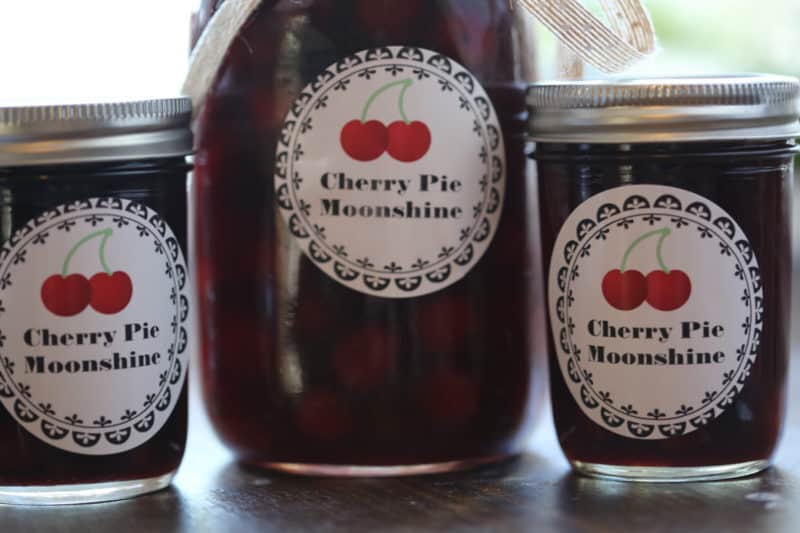 When to serve Cherry Pie Moonshine
Christmas Cocktail
Holiday parties
Valentine's Day cocktail
Happy Hour
As a holiday gift.
Over ice cream
What to Serve with Crock-Pot Cherry Pie Moonshine
This homemade, slow-cooker moonshine would be fantastic as a vodka substitute in cocktails! Here are some ideas from our cocktail recipe collection.
Great CrockPot Drink Recipes
Do you love recipes? Check out our copycat recipes, dessert recipes, and our CrockPot Recipes.
Follow Tammilee Tips on MSN, Facebook, Instagram, and Pinterest for our recipe posts.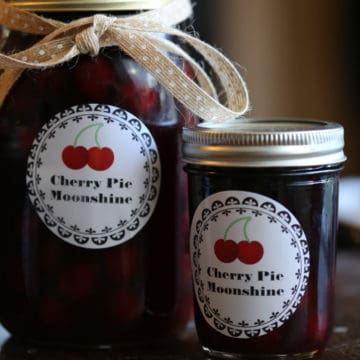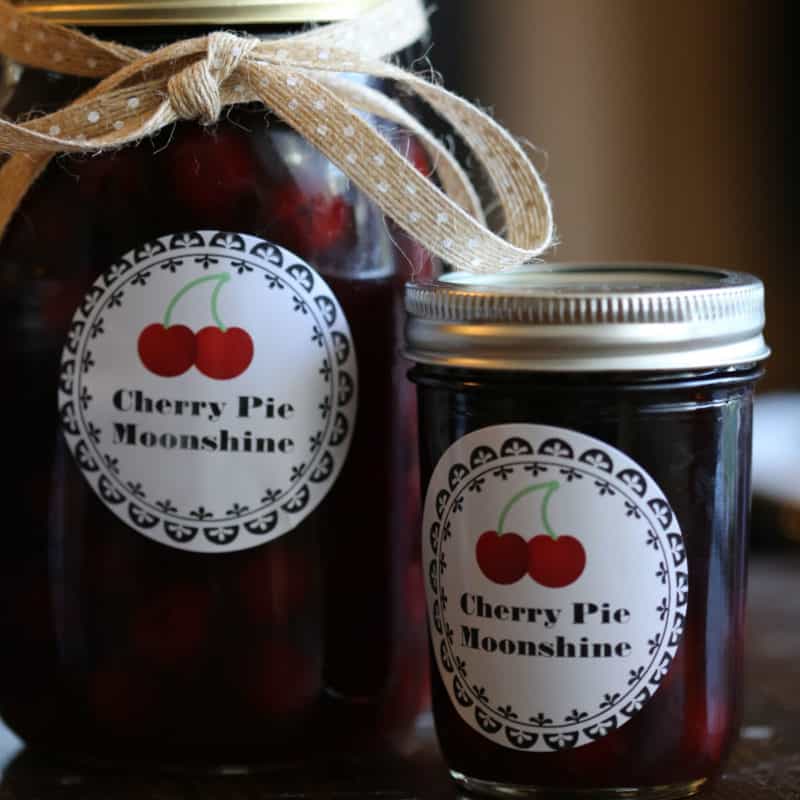 Instructions
Combine cherries, sugar and cherry juice in the crock pot, stir until combined

Cook on low for 1-2 hours until sugar dissolves

Allow to cool, once cool pour in everclear

Store in mason jars or sealed containers
Recipe originally shared on April 20, 2015. Updated December 2020