Here are some eggcellent Easter cocktails to help you celebrate warmer temperatures and shake off the frost from winter.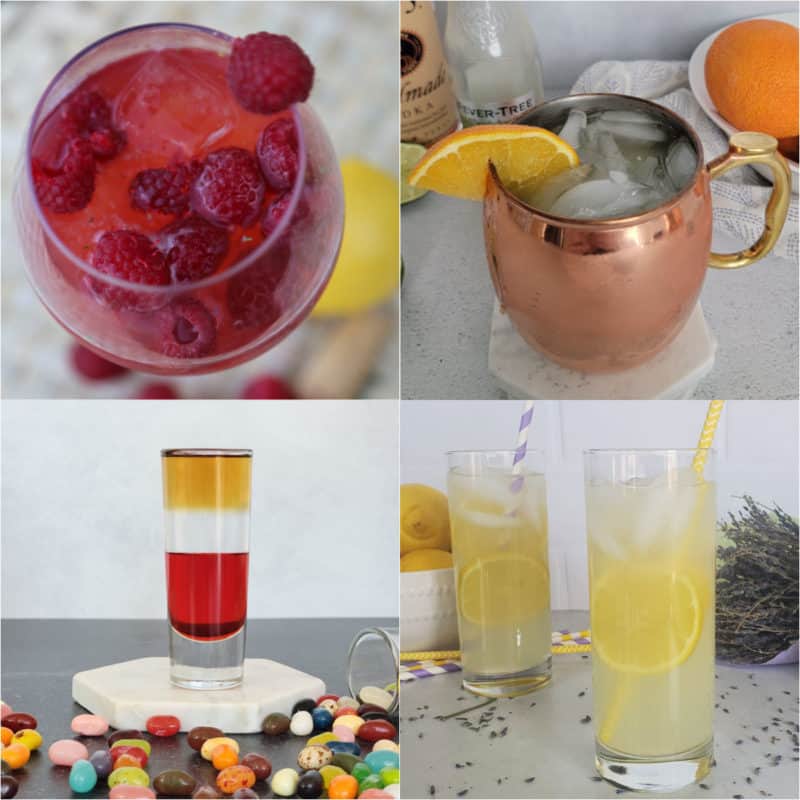 Best Easter Cocktails
While the religious holiday Easter isn't typically considered a holiday for large gatherings in the sense of the Fourth of July, Halloween, or New Year's Eve, it is still celebrated on a smaller scale through Easter brunches and dinners with family and friends.
Easter also takes place in spring, a season conjuring images of rebirth, rejuvenation, and sunny skies ahead as we transition from winter.
Our favorite cocktails for Easter are a combination of classic cocktails, spring cocktails, and ones you can enjoy anytime during the day.
From the egg hunt to the big Easter brunch we have you covered with the perfect Easter drink.
Let's dive in!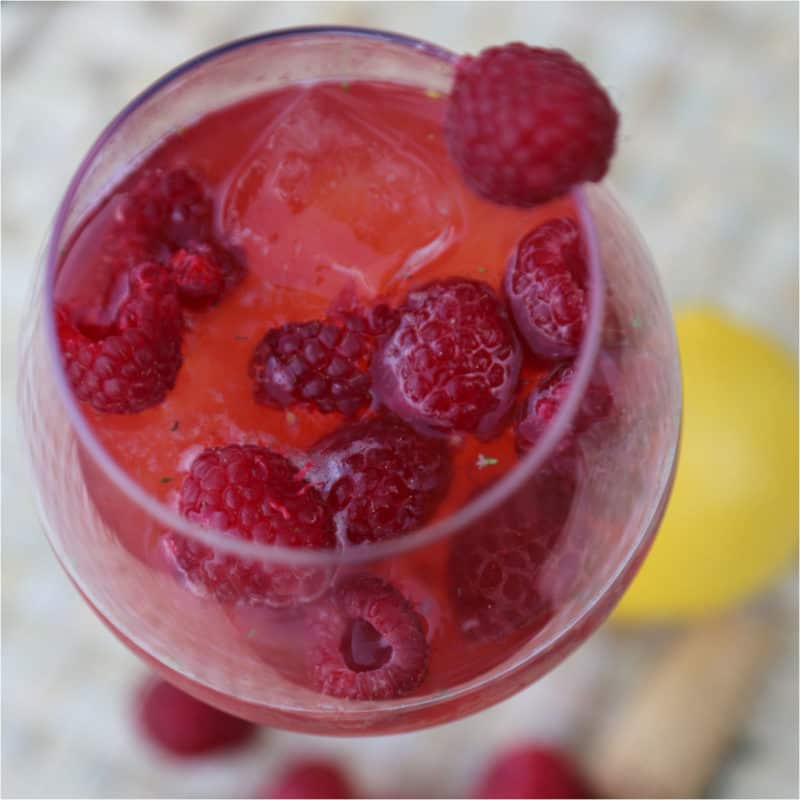 Ingredients: Moscato, Lemon Juice, Raspberries, Thyme Sprigs, Honey
Made with Frontera Moscato, raspberries, honey, and thyme, this summer refresher has the perfect balance of sweet, bright, and herbal. Bonus - the raspberries absorb the alcohol after some time, leaving you with boozy fruit at the bottom of your glass!
You'll need a cocktail muddler to extract the flavor from the raspberries and thyme and a cocktail shaker to combine and cool the mixture to chilled perfection.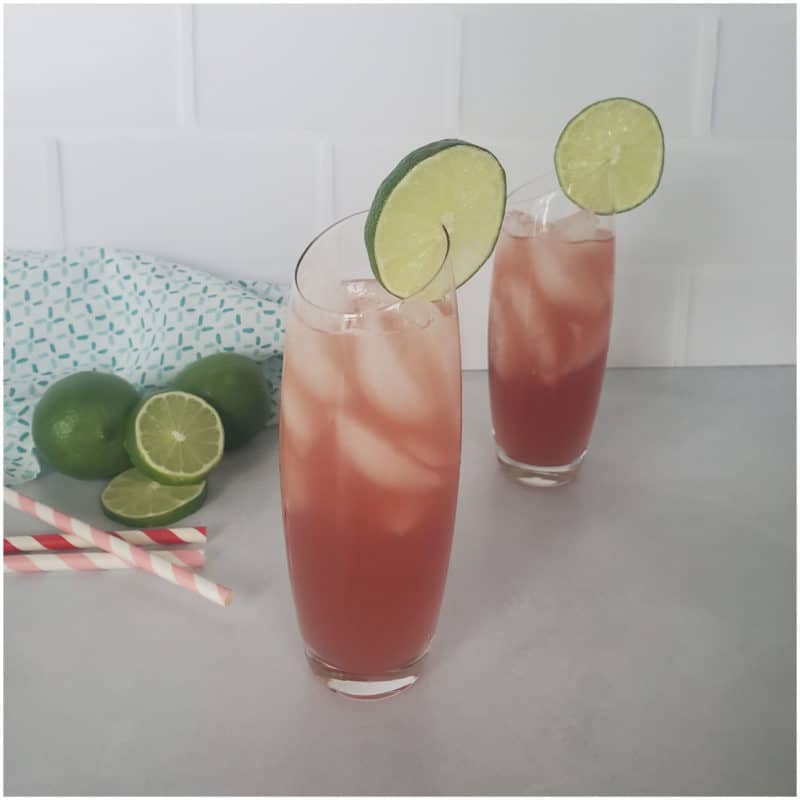 Ingredients: Vodka, Pineapple Juice, Cranberry Juice, Lime Wedges
Pineapple juice transforms the Cape Cod cocktail into a sweet highball drink perfect for brunch or relaxing with friends. While a budget vodka works fine for adding booze, use a flavored vodka if you crave more fruit flavor. If you enjoy this slightly bitter fruit, add bubbles with Prosecco, Sprite, or tonic water and increase the cranberry ratio.
Pour this cocktail into a highball glass and finish it with a lime wedge on the rim. You'll need a bar spoon to layer or stir the cocktail flavors. A cocktail shaker is optional for this drink.
Check out all of our vodka cocktails.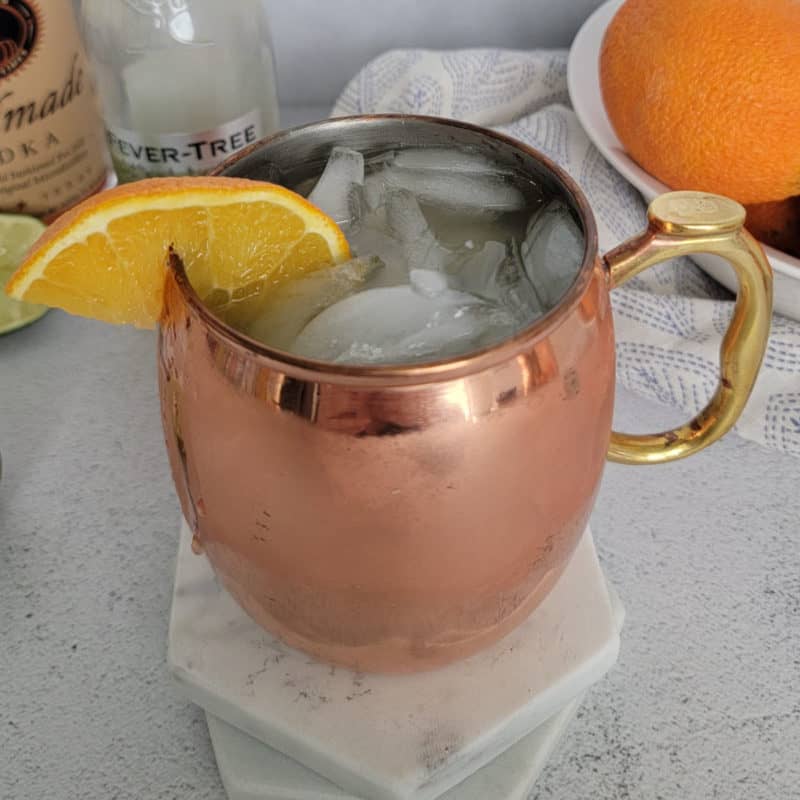 Ingredients: Vodka, Orange Juice, Ginger Beer, Lime Juice, Orange Slice Garnish
Make this zesty mule using any available citrus juice, such as blood orange and tangerine. You may also be surprised that this Moscow mule with a twist was inspired by Sorrento, Italy, where lemons hang freely from restaurant pergolas.
Adjust the vodka ratio if you prefer a boozier drink, and pour it into a copper mule mug for the authentic Moscow mule experience. We recommend using OXO angled jiggers to perfect your pours and a bartending spoon to stir the ingredients.
Check out all of our mule cocktails.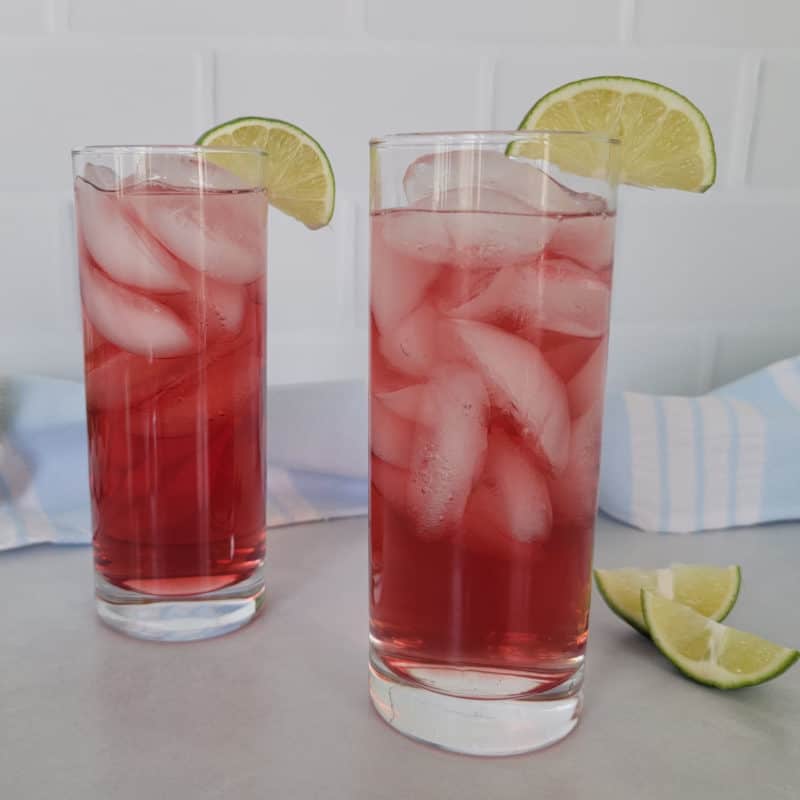 Ingredients: Vodka, Peach Schnapps, Cranberry Juice, Lime Wedge for Garnish
Although its origins remain unclear, some accounts say that the Woo Woo drink was served to fans at bars each time the New York Mets scored in a game. It is inspired by the Fuzzy Navel, which typically swaps cranberry juice for orange juice.
This drink looks pretty in red in a highball glass. Make it punch bowl-style by floating watermelon, berries, or any other fruit you'd like to infuse into the main mixture. As with many of our cocktail creations, we recommend an ice cube maker for perfectly shaped ice cubes each round.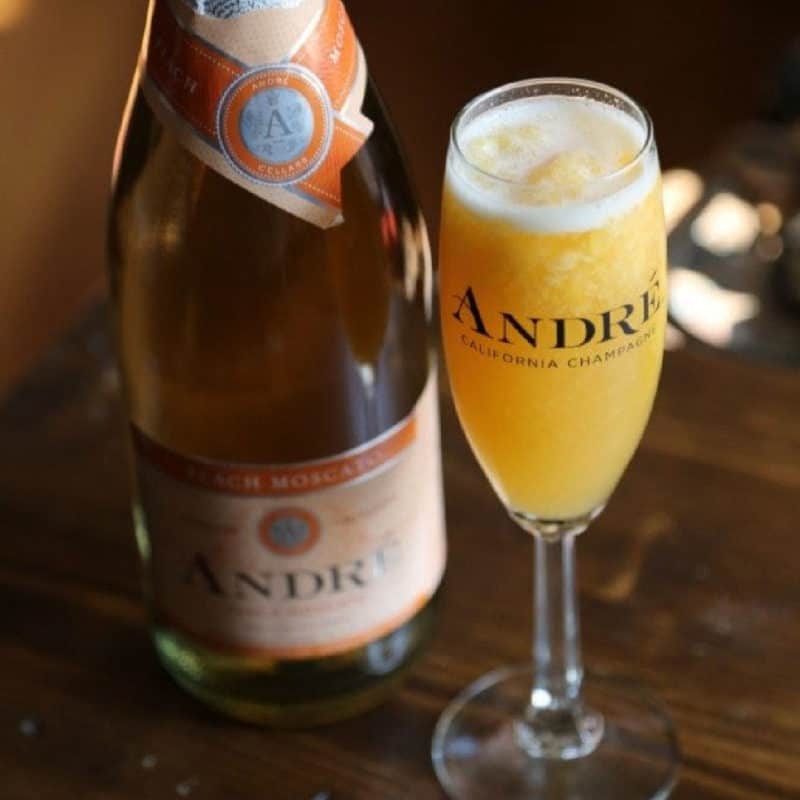 Ingredients: Peach Moscato, Frozen Peaches
Andre Peach Moscato and frozen peaches make this fruity and sweet frozen peach Moscato cocktail a natural accompaniment to Easter brunch. This one goes down dangerously well. Place a peach slice in your champagne flute and wait for boozy, peach Moscato-soaked peaches.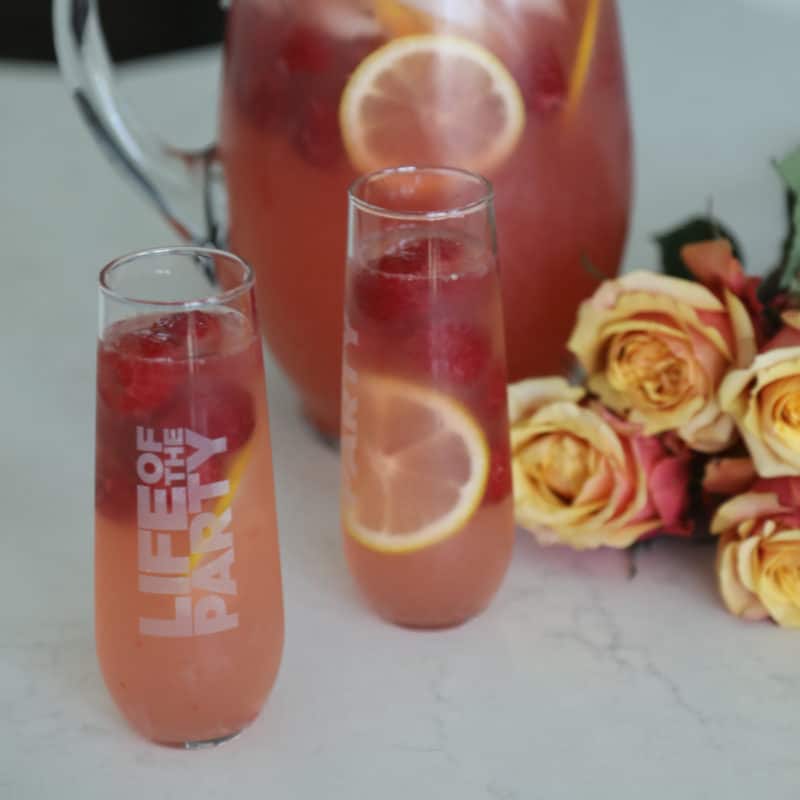 Ingredients: Moscato, Pink Lemonade, Lemon Wedges, and Raspberries for Garnish
A pitcher of this blush-pink cocktail made with fresh raspberries looks so good on a spring or summertime brunch spread. The friendship between Melissa McCarthy and Maya Rudolph, the stars of Life of the Party, inspired this cocktail. I loved witnessing the camaraderie among all who attended the premiere at Auburn University - it's a friendly reminder that we can still have fun into our 40s.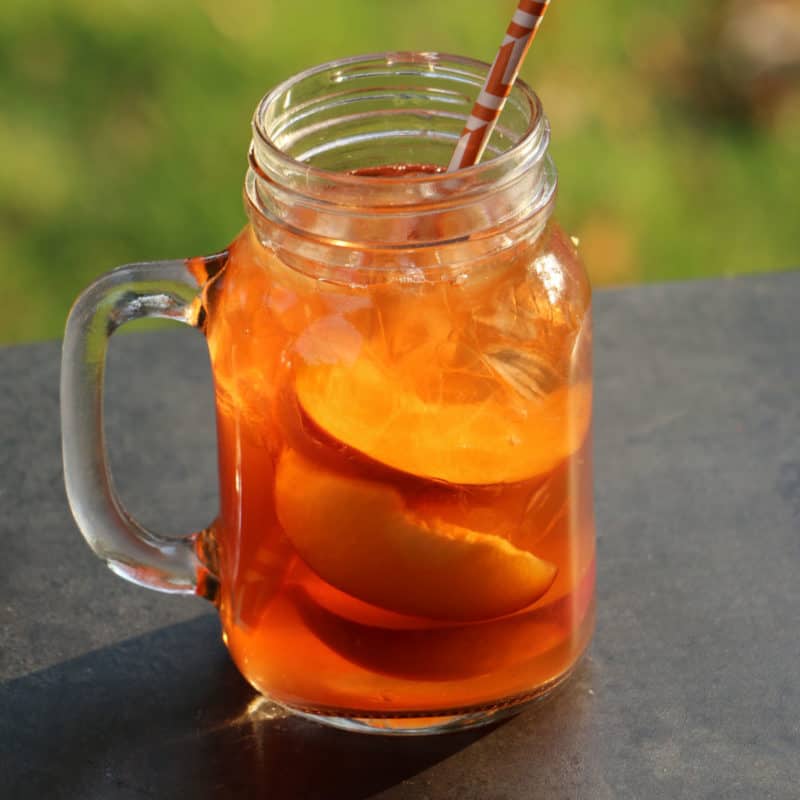 Ingredients: Smirnoff Sorbet Light White Peach Vodka, Diet Peach Iced Tea, Peaches
This two-ingredient refresher combines Smirnoff Sorbet Light White Peach Vodka with diet peach iced tea for a summer sipper that goes down well with barbecues and other time spent in the warm outdoors yet is kind to the waistline.
Make it by the glass or pitcher, depending on your crowd's needs, by doubling or tripling the recipe. Then, for a fun twist, freeze the peaches and add the frozen peaches to each drink. They'll act as ice cubes while cold and infuse beautiful peach flavor as they thaw into the glass.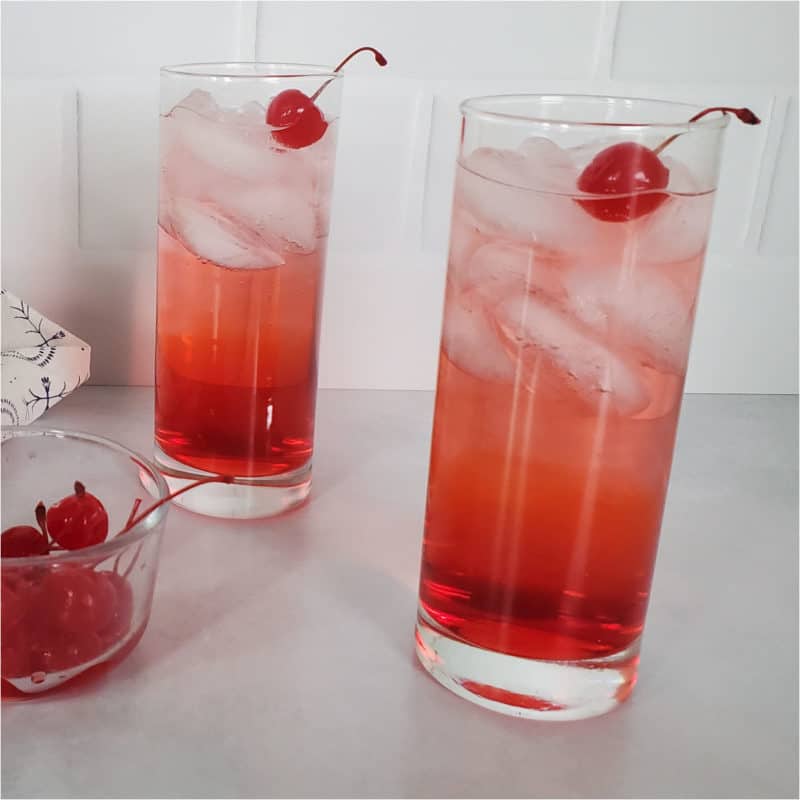 Ingredients: Vodka, Grenadine, Sprite, Ice
Adding vodka makes the Dirty Shirley a grown-up version of the Shirley Temple, which in contrast, is made nonalcoholic with soda and grenadine. Although we use unflavored vodka, you can mix it with cherry or vanilla if you prefer some flavoring. Finally, make it with cherry moonshine for extra cherry goodness and booze.
We recommend a highball or Collins glass and a bar spoon for preparing this drink. Finish it off with maraschino cherries for garnish and cute paper straws. If you make it punch bowl-style, add the soda before serving to preserve the fizziness of the drink.
Ingredients: Lavender Vodka, Lemonade
We were inspired to concoct this warm-weather lavender lemonade sipper following a trip to Oakhurst Spirits in California's Yosemite area, where we sampled a lavender vodka. However, the true story behind this cocktail began years ago when my husband tried a similar cocktail at a Spokane hotel grand opening and mentioned I should recreate it.
Add a splash of Prosecco, or use sparkling lemonade instead of regular lemonade for a fizzy twist. Pour into collins glasses and serve using pastel-colored paper straws for the perfect Easter brunch look. We used lavender and yellow straws in our photos of this recipe.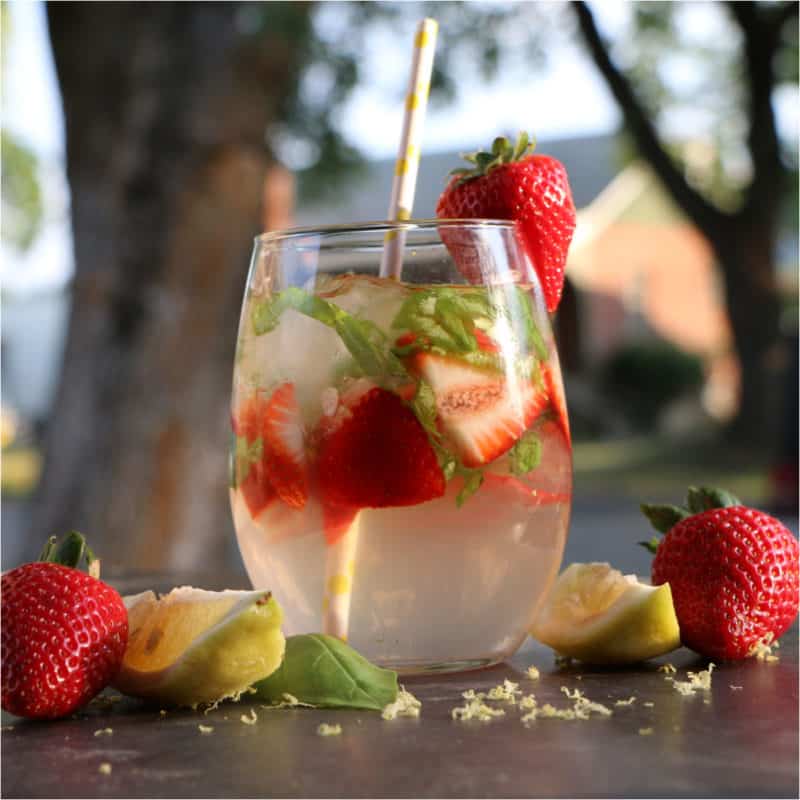 Ingredients: Smirnoff Strawberry Sorbet Light Vodka, Diet Lemonade, Fresh Basil
This strawberry basil lemonade is the perfect down-home drink for the summer months. The muddled basil and fresh strawberries floating around the glass look cute, especially when the cocktail is served with a fun paper straw.
Do you love sweet, juicy strawberries as much as we do? We've got a roundup of over 20+ Epic Strawberry Recipes to help you make the most of your strawberry stash.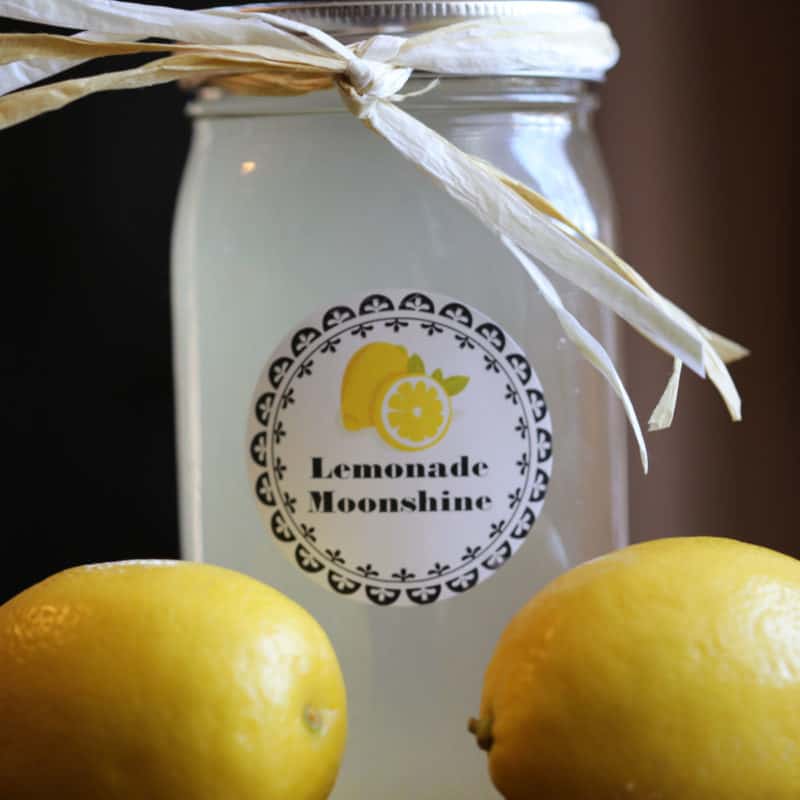 Ingredients: Juiced Lemons, Water, White Sugar, Everclear
We knew we had to experiment with more moonshine recipes following the success of our Crock Pot Cherry Pie Moonshine.
Your trusty slow cooker combines juiced lemons, water, sugar, and high-proof Everclear into the perfect summer moonshine. We love gifting these in labeled Ball mason jars to friends and family.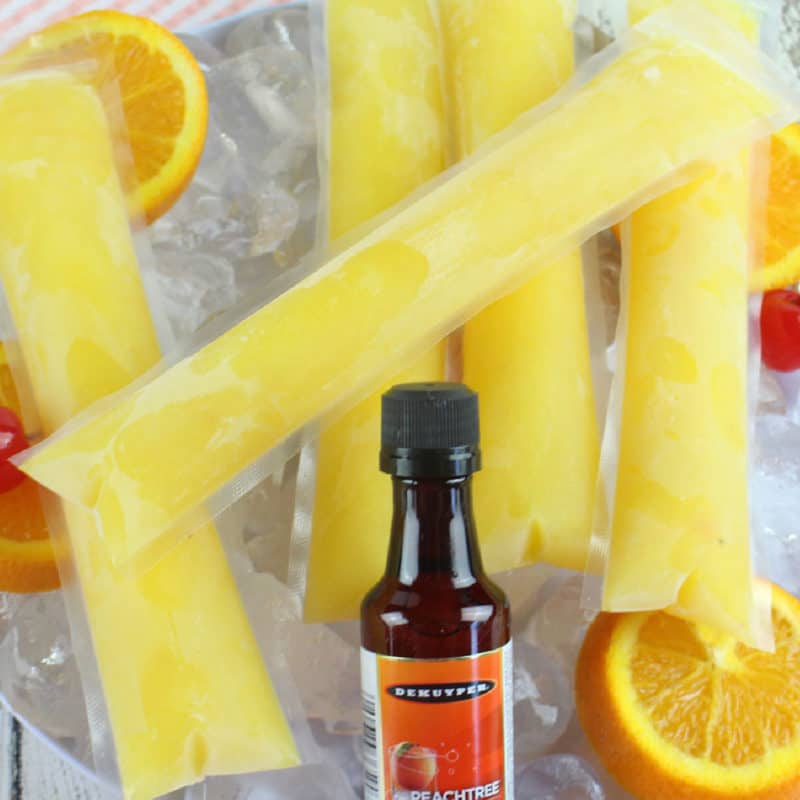 Ingredients: Pureed Large Peach, Orange Juice, Peach Schnapps
While seemingly a dig at the imbiber's hygiene, there's sense to this oddly-named fruity cocktail turned popsicle - the peach schnapps makes it fuzzy, while navel refers to the orange variety. We used these DIY popsicle pouches with funnel attachments to fill each without wasting product due to spillage.
Ingredients: Mint Simple Syrup, Fresh Mint Leaves, Kentucky Bourbon, Crushed Ice, Hibiscus Syrup
The Mint Julep is the perfect Easter Cocktail! We need a reason to enjoy this delicious cocktail on days other than the Kentucky Derby.
Additional Easter Cocktail favorites include a great Mimosa, Paloma, Peach Bellini, Brandy Alexander, Bloody Marys, and Tequila Sunrise!
Easter Shots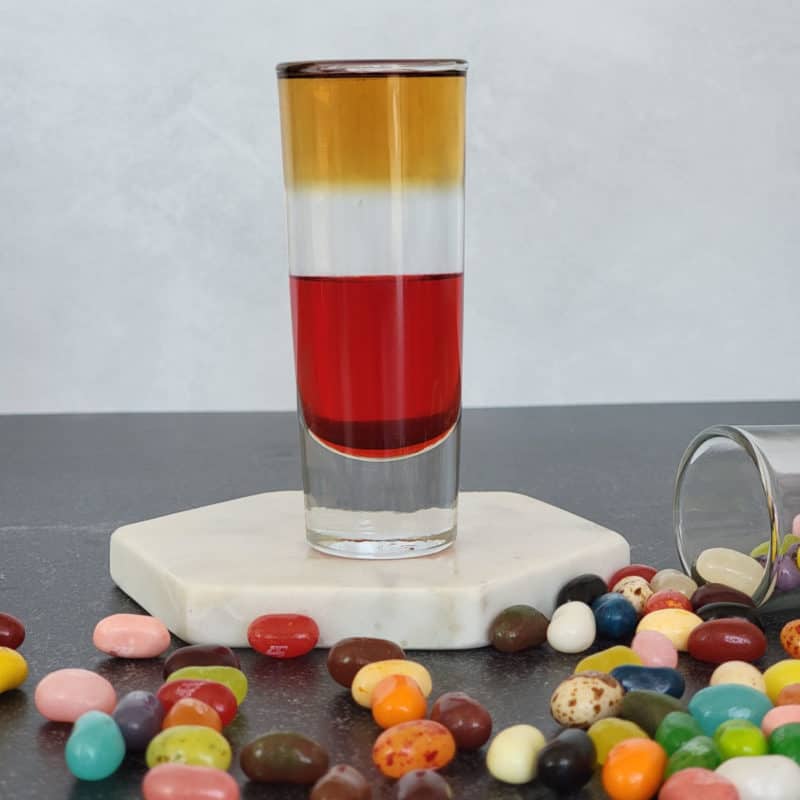 Ingredients: Grenadine, Sambuca Liqueur, Southern Comfort
Do you love licorice? If so, you'll love the anise-flavored sambuca that adds a unique and nostalgic quality to this shot. You'll need OXO angled jiggers, a bartending spoon, and 2-ounce shot glasses to make it come alive.
Want a sweet, brightly-colored version of this shot? Make this layered shot with blue curaçao, cherry vodka, and pineapple juice.
Need help with cocktail layering? We have a nifty guide to pouring layered shots to help light the way.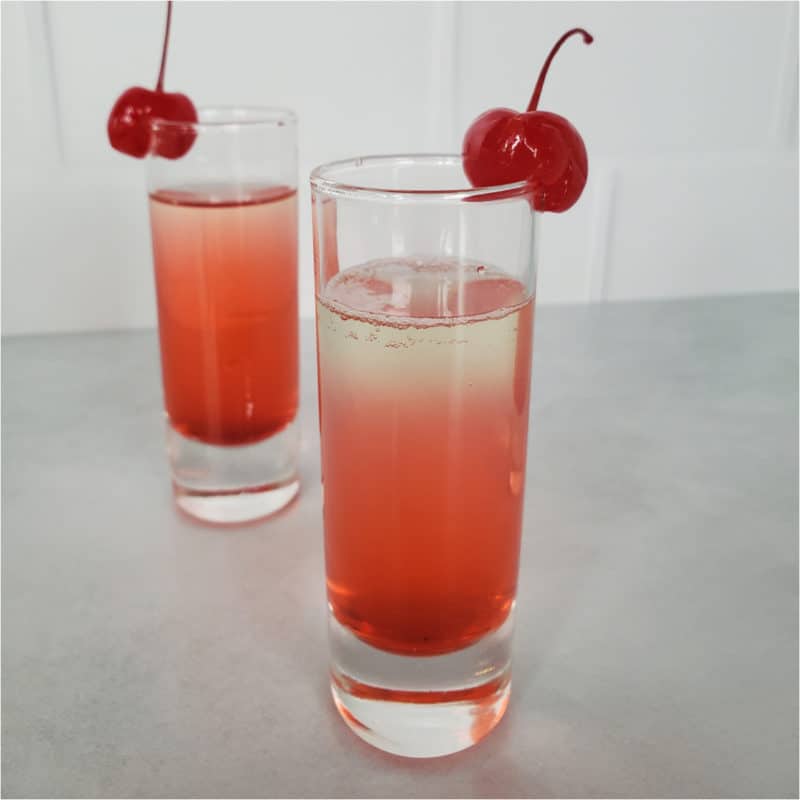 Ingredients: Vanilla Vodka, Pineapple Juice, Grenadine
Get ready to be delighted by this shooter's smooth blend of vanilla vodka, pineapple juice, and grenadine. Garnish this tropical dessert-turned-libation with maraschino cherries like a pineapple upside-down cake. For a full-sized cocktail, increase the proportions according to the size of your glass and serve in a martini glass or on the rocks.
You'll need shot glasses, a cocktail shaker, and a bartending spoon for this layered shot recipe. The bar spoon is essential for the layered, gradient-like effect that makes this shot pop.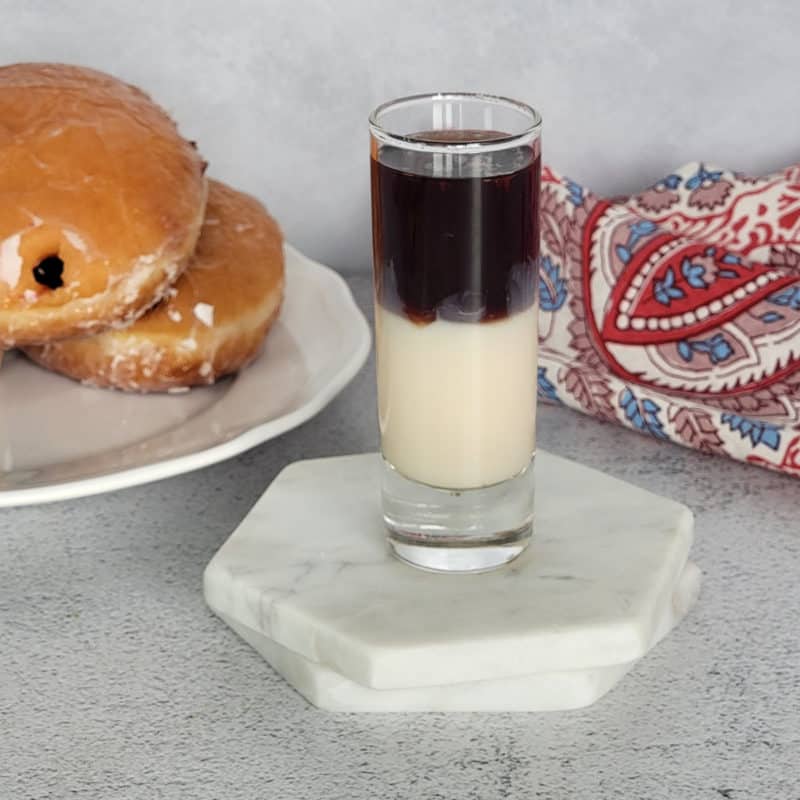 Ingredients: RumChata, Chambord Liqueur
This decadent and fun layered shooter tastes like a jelly-filled pastry. Our favorite Spokane donut shops inspired us to make this shooter, which also gave us an excuse to pick up a dozen for the recipe photos. Swap the RumChata for Bailey's Irish Cream if you're feeling adventurous, as this may give it a minty aftertaste.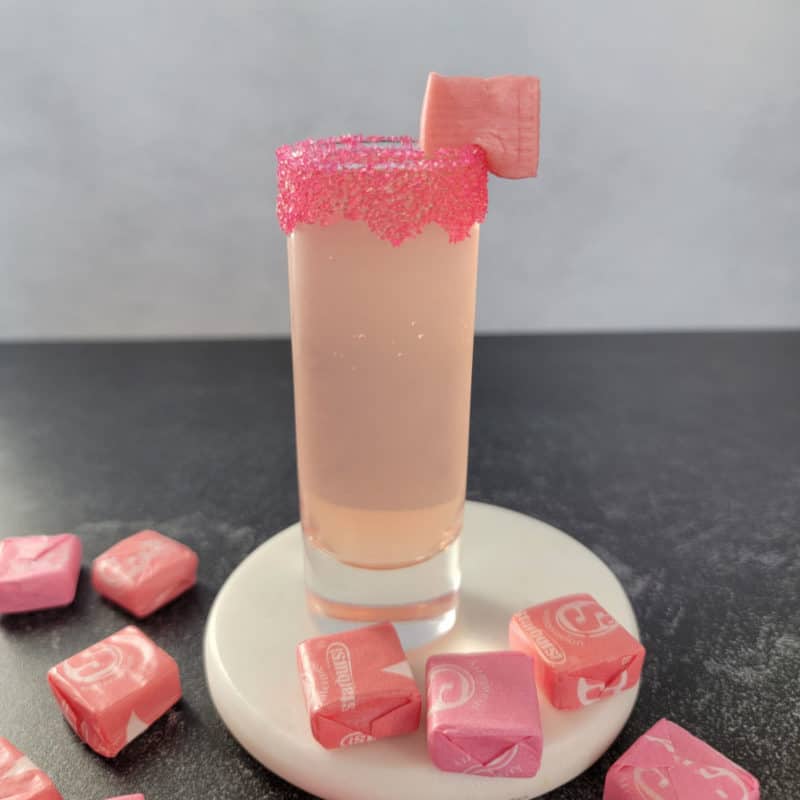 Ingredients: Vanilla Vodka, Watermelon Schnapps, Sweet and Sour Mix, Corn Syrup, Pink Sprinkles, Pink Starburst for Garnish
We crafted this shot recipe when Starbucks' Pink Starburst Refresher became a cult favorite in the blogosphere. Vanilla vodka, sweet and sour mix, and watermelon schnapps combine to create a fun shooter that tastes like paper-wrapped square candies.
This gem is from our series of candy-flavored shots. If you like this recipe, check out our other ones inspired by fan-favorite candies, such as the Tootsie Roll Shot and the Butterfinger Shot.
Recipe Tips
Printable recipe card instructions are available in each recipe post.
Nutrition information, including calories, protein, calcium, carbohydrates, fiber, vitamin c, potassium, cholesterol, sodium, trans fat, monounsaturated fat, polyunsaturated fat, and more, will vary depending on the products used.
Follow Tammilee Tips on MSN, Facebook, Instagram, and Pinterest, for all of our recipe posts.
Favorite Bartending Tools
2 ounce shot glasses - We love these 2 oz shot glasses especially for layered shots.
Bar Spoon - Bar spoons help to create layers in the cocktail shot. They fit perfectly into the cocktail shot glass.
Cocktail Shaker – This cocktail shaker comes with a fantastic set of tools. You want to pick a cocktail shaker that is easy to hold and shake.
Stemless Martini Glasses - These stemless martini glasses are fantastic.
Martini Glass - We like the look of the classic martini glass
Jell-O Shot Cups - We suggest using two-ounce Jell-O shot cups.
OXO angled jiggers - these are our go-to measuring tools for cocktails. They work perfectly for pouring in layers for cocktails.
Margarita Glasses - We like the look of classic margarita glasses but you can use any glass for this great cocktail.
Champagne Flutes - We love the look of classic champagne flutes for Valentine's Day cocktails!
Hurricane Glass - For a truly tropical look serve this drink in a hurricane glass.
Copper Mule Mugs  - Copper Mule Mugs are the classic way to serve Moscow Mules. The copper mugs keep them nice and cold and look amazing.
Old Fashion Glass/Rocks Glass - Classic rocks glass for cocktails.
Additional Recipe Collections
We hope you enjoyed these epic Easter Cocktails and you find your Easter basket overflowing with Easter Candy, peeps, Cadbury Creme Eggs, Chocolate Bunnies, and all your favorite treats!
Funny Drink Names - Check out our collection of cocktails with funny names.
Hot Chocolate Recipes - A fun collection of different ways to make Hot Chocolate
Triple Sec Cocktails - Our favorite cocktails made with Triple Sec
Frangelico Cocktails - Epic cocktails made with Frangelico!
Blue Curacao Cocktails - Everything from bright blue cocktails to tropical drinks.
Spring Cocktails - All of our favorite light and refreshing cocktails perfect for spring!