Our first tour of our Viking River Cruise Castles and Legends Cruise in Germany was exploring Neuschwanstein and Linderhof Castles. Our day kicked off when we boarded the Viking River Cruise buses and headed to Neuschwanstein.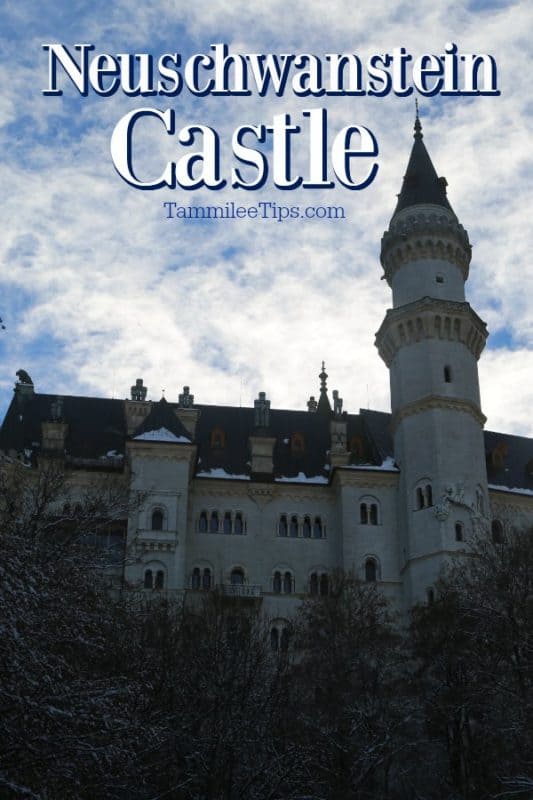 Neuschwanstein and Linderhof Castles
The close to 90-minute drive from Munich flew by with the help of our guide Michael who was the best guide we have had anywhere in the world. Honestly, he was simply amazing. He made German history fascinating, and I couldn't look away.
I feel like in those 90 minutes I gained such a better understanding of Germany and the castles we were about to see while not really realizing just how much I was learning.
I wish I would have had teachers like Michael in school. I might have found history so much more engaging and interesting.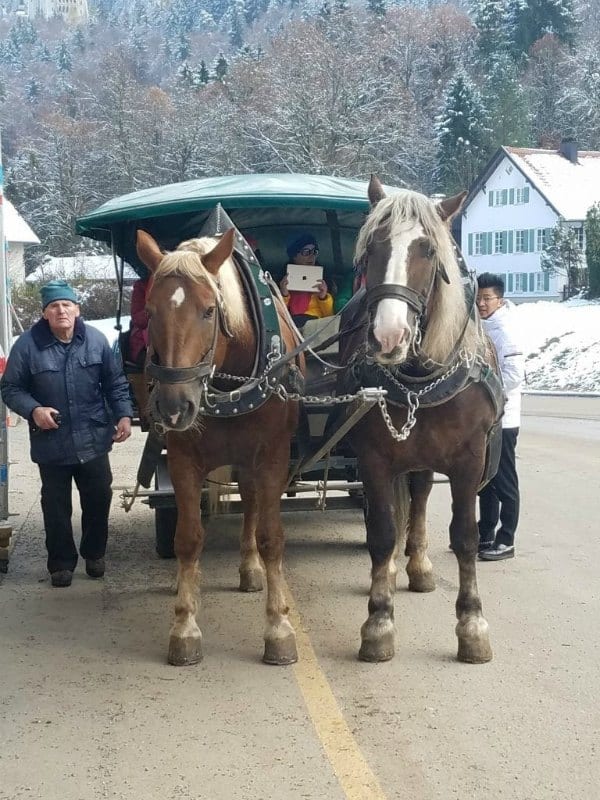 When we reached Neuschwanstein, one of our guides hopped out and grabbed our tickets for us, and made sure we had everything we needed. It is about a mile walk up a hill to reach the castle. When I visited 20+ years ago with my parents I really really really wanted to take a horse and carriage ride up the hill. It seemed like such a fairy tale to take a horse and carriage ride to a castle in Germany.
My father was having none of that and told us we needed the true experience of hiking our butts up the hill and seeing the castle from all angles. 20+ years later I still remember how sad I was each time a carriage ride passed us on the way up the hill. This might have also been a bit of jealousy because my lungs were burning and my legs felt like they were going to fall off walking up the hill.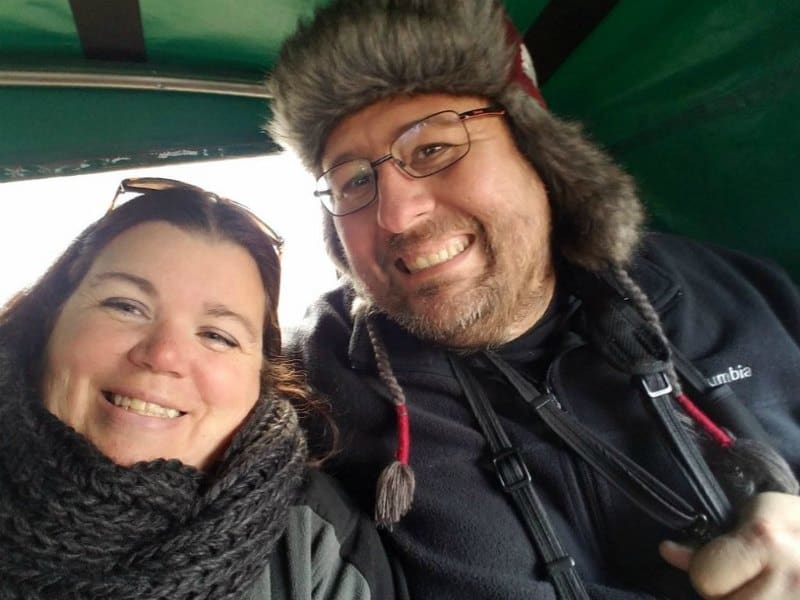 Fast forward 20+ years and I was on a mission to take the horse and carriage ride up the hill. I had it is my mind that it was going to be crazy expensive, but I was ready to take the plunge and pay whatever needed to be paid to have the experience.
You can imagine my surprise to find out it was only 6 euros for the ride up the hill! Sign me up! We hopped on the carriage and took a fairytale-ish ride up the side of the mountain.
If I am completely open and honest, there were a few moments that were un-fairytale-like that you should know about if you plan on taking the horse and carriage ride. You see the horse had some bodily functions it needed to relieve himself of so we stopped in the middle of the road to let that happen.
I will let you use your imagination to think about what that sounded and smelled like 🙂
Still, it was so worth it to take the horse and carriage ride up the hill. You save about ¾ of the walking and get quite an experience.
Once we hopped off the carriage, we only had to walk the last little bit to the castle courtyard. Your castle tickets have a set time for your tour.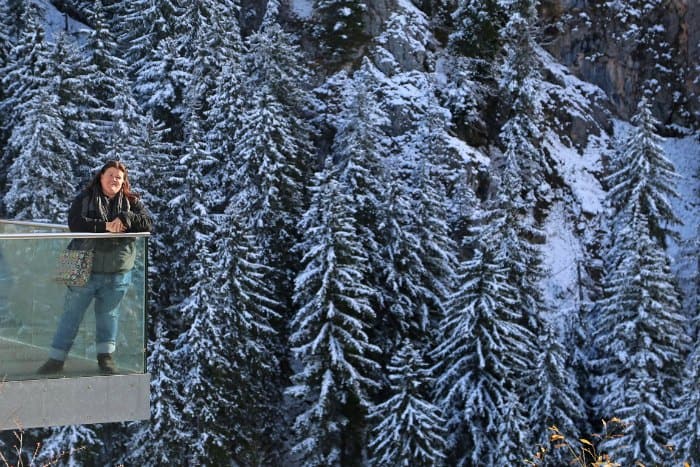 Make sure and give yourself more than enough time to reach the top of the caste and catch your breath before your tour. Trust me when I say you want to be ready and rested before the tour.
There is a screen that shows the tour numbers that are being admitted into the castle. When your tour comes up, you walk up and scan your ticket and join the tour. This is when you will be happy you took a moment to take a deep breath. Bring on the stairs!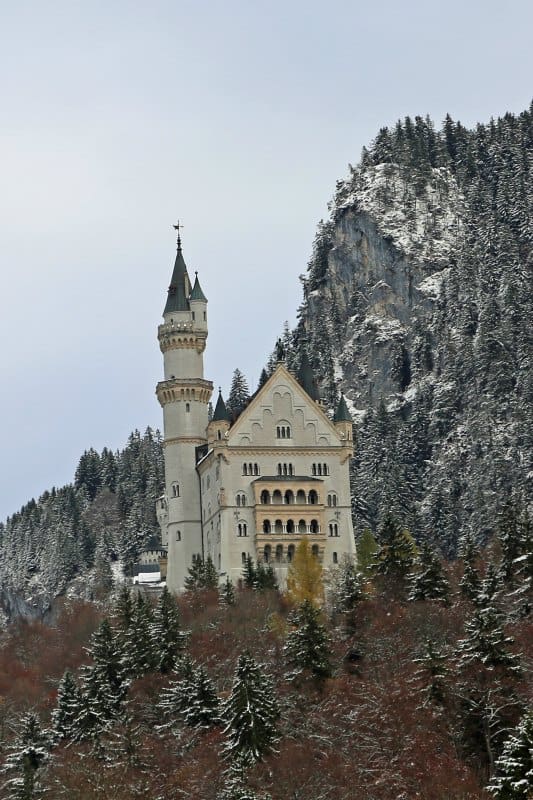 The tour includes more than 120+ stairs up by the time you reach the top and what goes up must come down. If you have mobility issues, make sure and let your Viking guide know or the ticket office if you are visiting the castle on your own.
There are no photos allowed inside the castle so I sadly can't show you how crazy over the top the decorations are. From my tour 20+ years ago I remembered the swan faucet in the bedroom. It was so cool to see it again.
I also didn't realize that there is a painting that inspired Walt Disney. When you look at the painting, you can't help but picture Bambi or Snow White. Neuschwanstein Castle was also the inspiration for Walt Disney to create the Disney castles.
Remember I mentioned what goes up has to come down. The tour ends with walking down about 120 stairs to the kitchen area of Neuschwanstein Castle. I would like to admit that I am seriously jealous and in awe of the copper pots and pans in the kitchen. It is so much more modern than I pictured it being.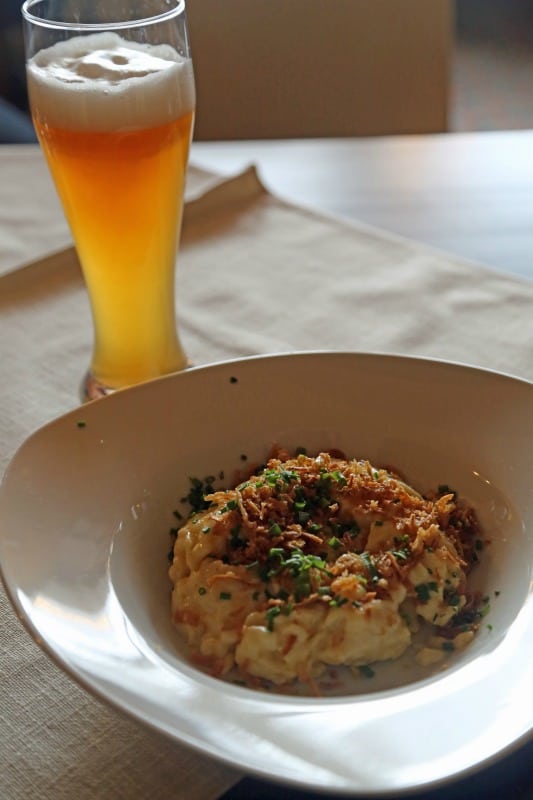 Once the tour was done, we had about an hour on our own to grab some lunch in a local restaurant and take pictures. We had lunch at Hotel Muller right near the bus parking lot. Our guides were having lunch there which is always a good sign for someplace to eat.
They were incredibly fast, and we had our meals within minutes. The cheese spaetzle was most likely pre-cooked, so it was a bit chewy but still delicious. I would recommend going here if you need a quick and delicious lunch.
The black forest cake looked amazing, but we were good and didn't try any. Though we probably worked off more than enough calories with the stairs.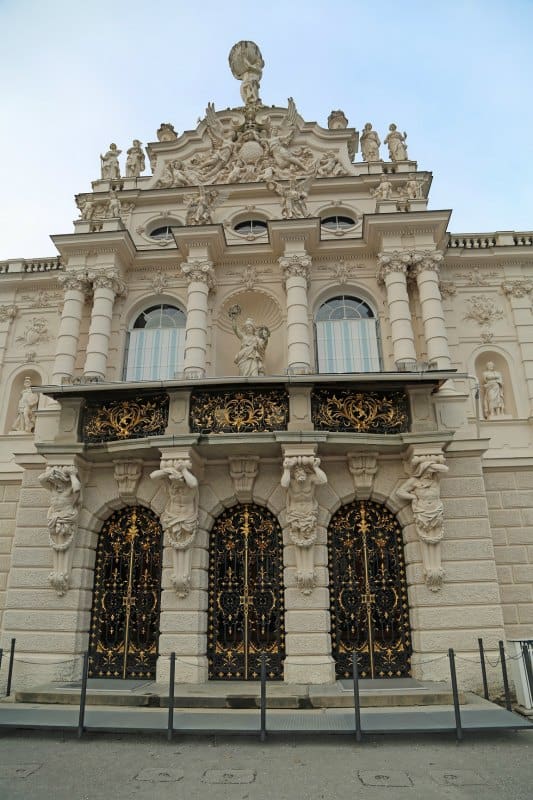 Linderhof Castle
We re-boarded our super comfy Viking River Cruise bus and took a driving tour of Oberammergau before heading to Linderhof Castle. I am so impressed with our driver making it through Oberammergau in the bus. After driving this on our own in a small car I can't imagine taking a bus through these tiny streets.
Our guide Michael had us enthralled on our way to Linderhof Palace. Did I mention he brought with him CDs of music that helped tell his story? From historic operas to Oom-Pah music we heard it all and loved it.
Seriously, I wish we had Michael with us every day of touring because he is that good.
Once we reached Linderhof Castle, our guides made sure we had tickets, and we were off for our tour. There is some walking to reach Linderhoff Castle but thankfully only a few ups and downs to get there. Make sure you are wearing comfy shoes for this tour!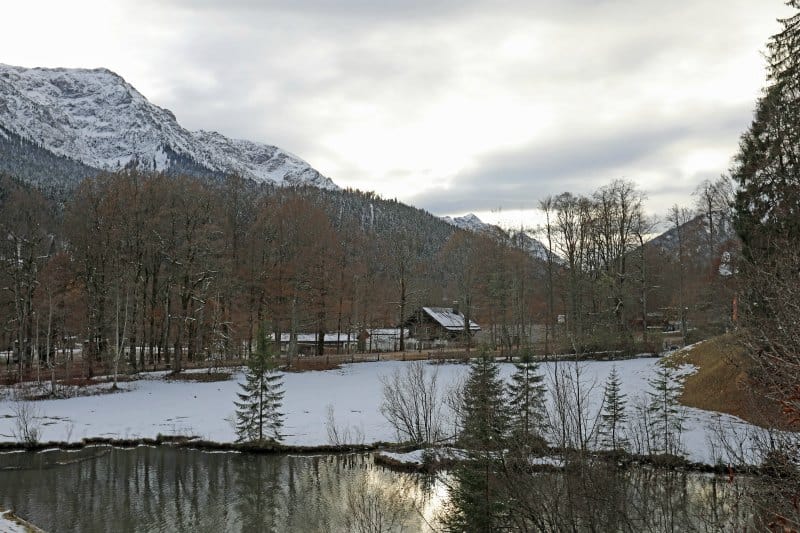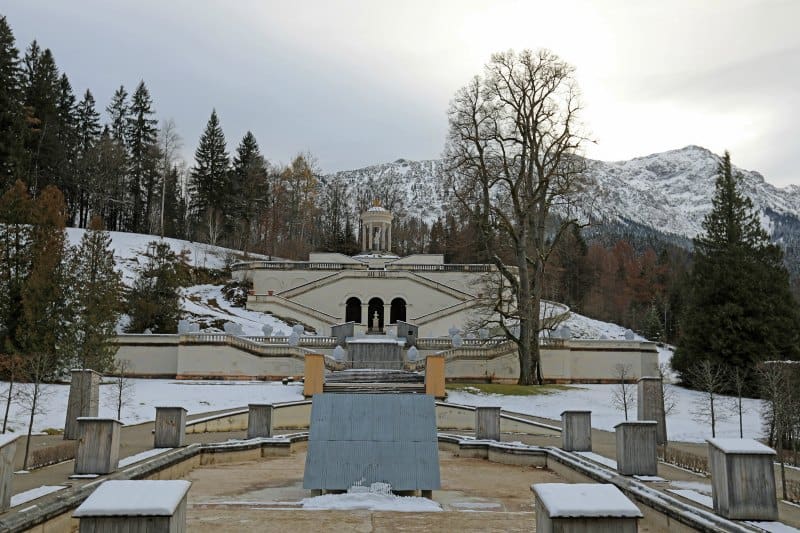 We had a small wait to take our tour inside Linderhof Castle. Michael educated us on the castle and decorations inside. This castle is much different from Neuschwanstein and was the personal retreat of King Ludwig.
Sadly no pictures are allowed inside Linderhof Castle, so I can only show you the outside. Let's just say that the inside is much brighter and in your face than the outside of the building. You feel like you have walked into an art museum that was no afraid of color or different textures.
I found the decorations to be fascinating, and it is hard to wrap your brain around the fact that they are over 100+ years old and still look so good.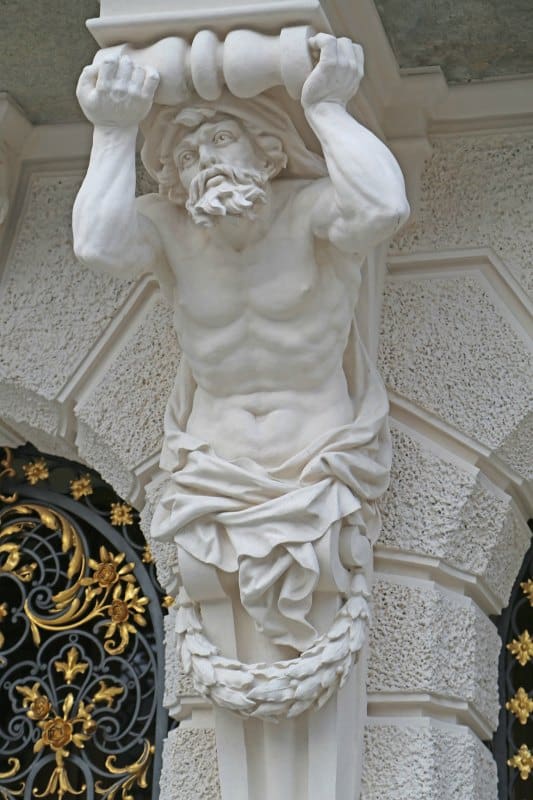 Once our tour of Linderhof Castle was complete, we boarded the bus and headed back to Munich. As you can imagine, Michael kept us entertained the entire time. He even managed to keep people focused on him and not realize that we were driving down a windy mountain road.
It was about an hour's drive into town from Neuschwanstein and Linderhof Castles.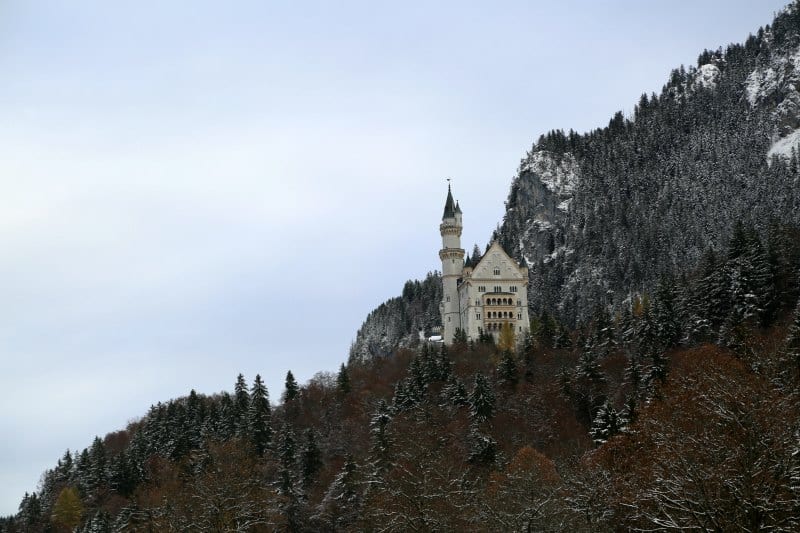 Neuschwanstein Castle Travel Tips
-Wear comfy shoes you can walk up and down hills and stairs in.
-Be ready for stairs!
70+ stairs to kick off the tour
60+ stairs to reach the next floor
34 more stairs to reach the next floor
What comes up must come down, so you are walking down all these stairs at the end in a back stairwell.
-Use the bathroom near the kitchens or main entrance. They were free during our visit. The ones in town cost about $.70 euro but the machines were jammed, and we couldn't get in to use them.
- Be prepared for it to be colder than it is in Munich. If you are visiting in the winter be prepared for snow and ice
-No photos are allowed inside the castle. There are guards walking in between people to make sure you are not taking pics.
-Backpacks and small bags may have to be checked or worn on your front. Try and minimize the size of your bags so you don't have to check them.
-There is a small cafe/store partway up the hill if you need water or a snack or a break.
-If you plan to take the horse and carriage ride up there may be a line to board the carriages. The exact payment was appreciated. It is 6 euros for the ride up and 3 euros for the ride down.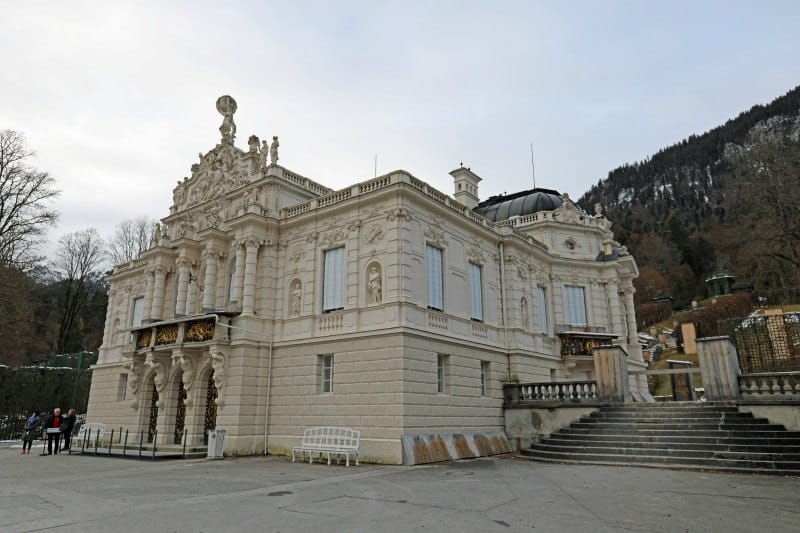 Linderhof Castle Travel Tips
-Linderhof Castle is very close to Oberammergau. If you are visiting the city, it is well worth making the drive to the castle.
-Comfy shoes are a good thing as there is a small hike to the castle.
-Tours run every few minutes. Make sure and ask if the next tour is in English or German.
-In the winter the statues and decorations around the outdoor pools are covered so you may not see them.
-There is a gift store and snack area on site along with a hotel.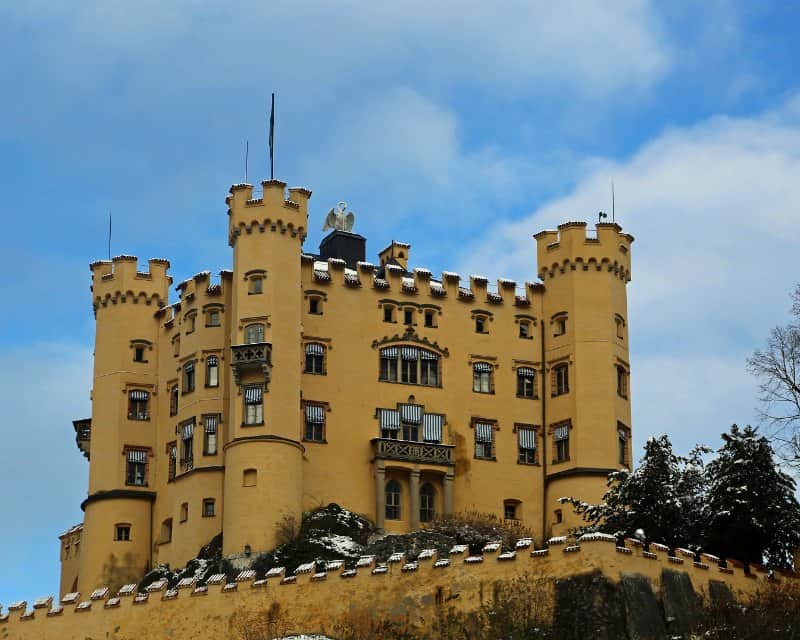 Additional Europe Travel Resources
Sailing the Wachau Valley, Austria
Exploring Cesky Krumlov, Czech Republic
Bratislava City Tour, Slovakia
Kilkea Castle, Ireland
Malahide Castle, Dublin, Ireland
Check out all of our Europe Travel Guides