Easy Candy Corn and Peanuts Snack Mix is the perfect sweet and salty snack or treat.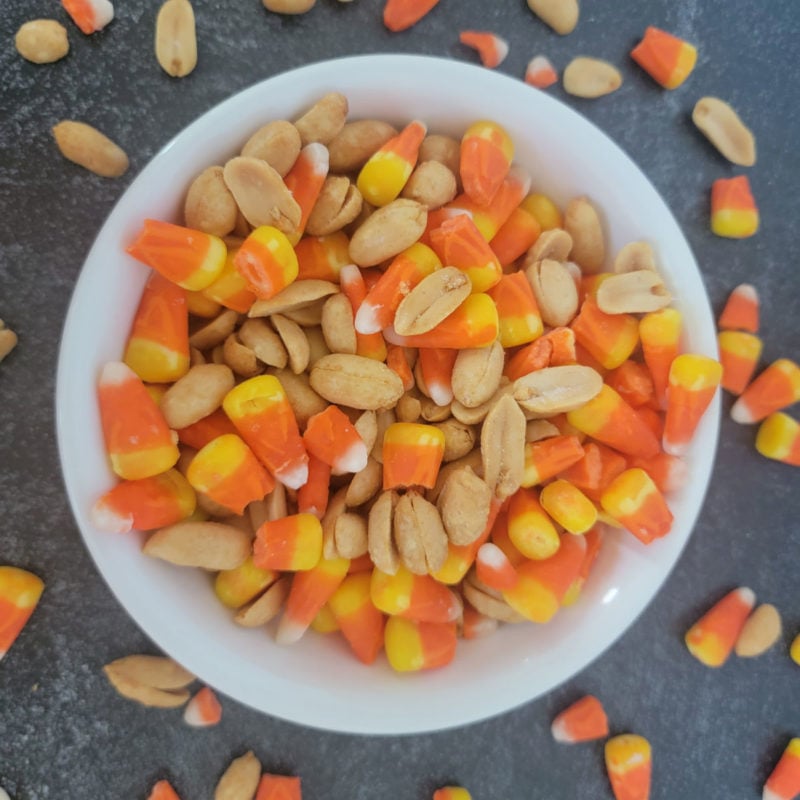 Candy Corn and Peanuts Snack Mix
This candy corn snack mix takes seconds to mix together and tastes great. I know it sounds crazy but it truly is the perfect mix of sweet and salty for Halloween Parties.
I love that it is quick and easy to throw together and your guests won't know what to think at first when they see this mix.
There are no tricks when it comes to how easy it is to make this easy candy corn snack mix recipe.
The sweet candy corn combined with the salted peanuts makes for a sweet salty snack mix that just needs to be stirred together.
This would be fun for a Thanksgiving snack mix or for Fall Potlucks. I feel like this time of year is perfect for this candy corn party mix.
There are so many fall events that it feels like we are always trying to toss together a quick and easy party appetizer or snack.
I absolutely love that you don't have to turn on the oven for this recipe or pull out parchment paper, a pan, or make a mess on the counter (as long as you pour everything in the bowl and don't spill).
This is a great way to use extra Halloween candy that you have on hand from trick or treat adventures.
We are working on a ton of delicious recipes perfect for Fall and Halloween parties!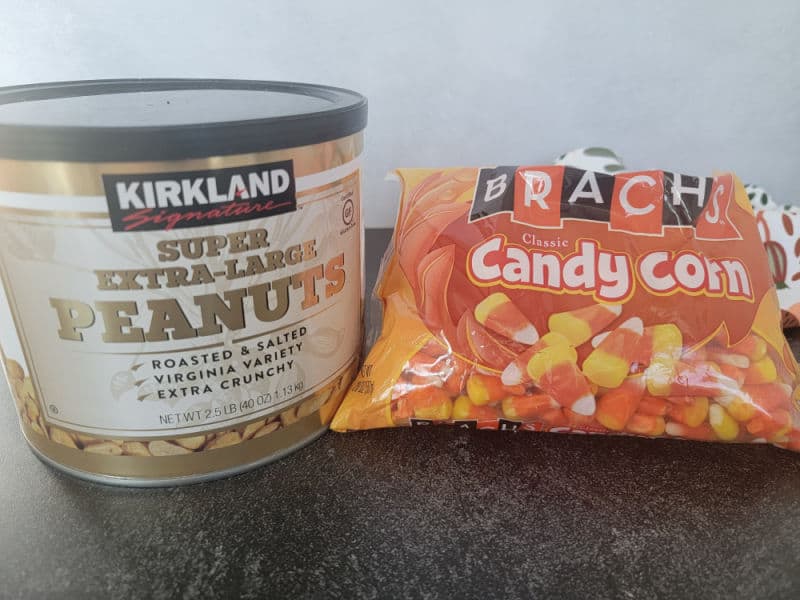 Ingredients
This is a quick overview of the simple ingredients that you'll need to make an epic bowl of Candy Corn and Peanuts! Specific measurements and step-by-step instructions are included in the printable recipe card at the bottom of the post.
Candy Corn - We use traditional candy corn for this mix. You could try a variation of candy corn for different flavors. I keep seeing confetti candy corn and even Nerds Candy Corn while shopping at Target.
Optional - Add in chocolate chips, peanut butter chips, or sea salt caramel chips for additional flavors to make this more like a trail mix.
Peanuts - You can use your favorite jar of peanuts in any flavor for this candy corn mixture.
Equipment
Serving Bowl
Spoon - You can use a large spoon to stir the peanuts and candy corn together if you are using a large bowl.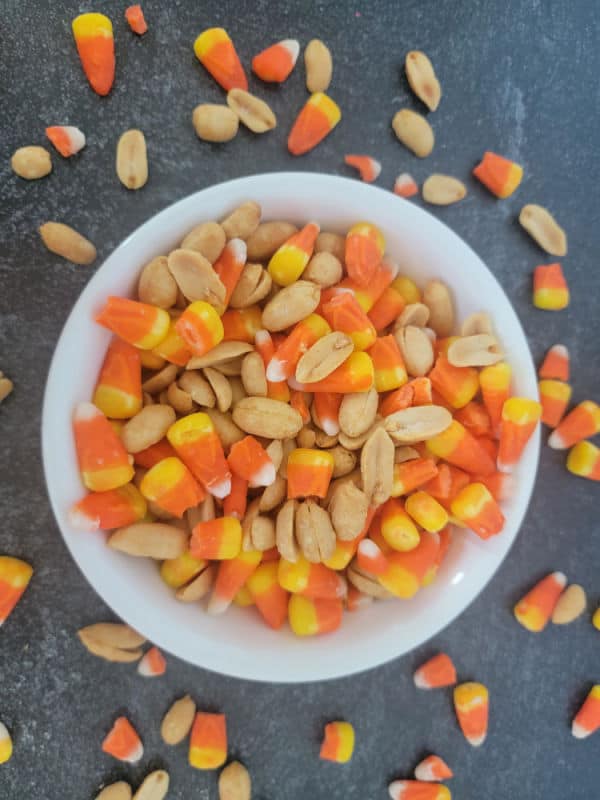 Recipe Tips
We started with equal parts peanuts and candy corns and then added in more candy corn because we like the sweet flavor.
Serve at room temperature. Store in an airtight container.
Nutrition information including calories, calcium, protein, carbohydrates, cholesterol, vitamin c, fiber, potassium, sodium, and more below in printable recipe card.
Preparation and Storage
Make Ahead – This can be mixed together before your event. Just make sure to store the snack mix in an airtight container at room temperature.
Storage – Store in an airtight container at room temperature.
Freezing/How to freeze – We do not suggest freezing this snack mixture. The candy corn and the peanuts have different textures that can be affected by freezing. You will lose the soft bite into the candy corn and peanuts can become rancid when frozen.
Recipe Variations
Substitutions - You can change it up and use the full harvest mix of candy instead of just candy corn.
Vegetarian Option - Make sure to check the ingredients of the candy corn. We recently learned that some brands of candy corn have gelatin in them.
Vegan Option – Make sure to check the ingredients in the candy corn.
Gluten Free - Candy corn ingredients look like they should be gluten-free but you will want to check the package for ingredients and disclaimers.
Smaller Serving Size – This recipe can be made in any size you need. Just use the ingredient proportions below or play with what tastes best for you.
Make it Spicy – Add in red hots or other spicy candy if you want to raise the spice level a bit.
Larger Group/More servings – This recipe can be made in any size you need. Just use the ingredient proportions below or play with what tastes best for you.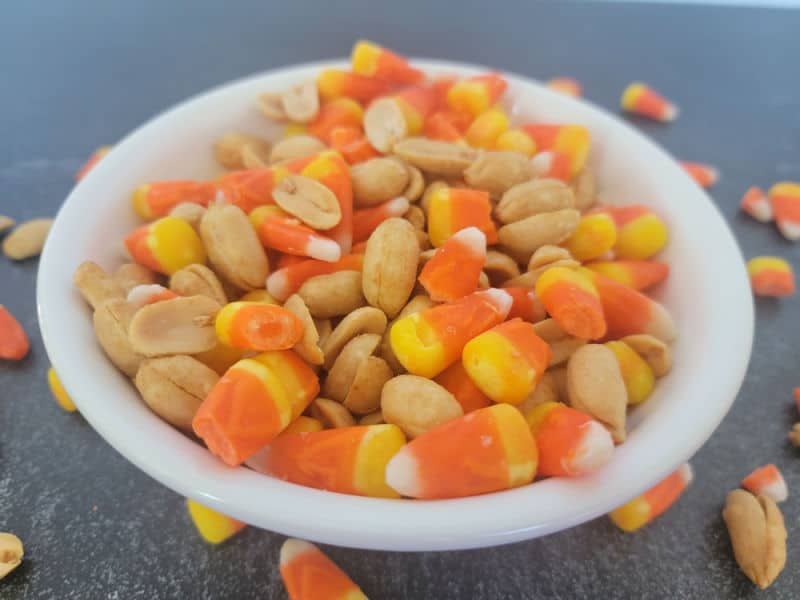 What to serve with Candy Corn and Peanuts
Drinks - Hot Chocolate, Pumpkin Spice Latte, Kool Aid Slushie, Oreo Milkshake, Freckled Lemonade, Sonic Ocean Water
Main Dish/Entrée - Mummy Quesadilla , Halloween Pasta, Mummy Hot Dogs
Snacks - Monster Munch, Candy corn and peanuts, Kool Aid Pickles, Salted Caramel Popcorn, Pumpkin Rice Krispie Treats, Frankenstein Rice Krispie treats,  and of course a lot of Halloween Candy.
When to serve
Fall Harvest
Halloween Parties
Potlucks
Daily snack
Movie night
School snack/office snack
Great Fall Party Recipes
Salted Nut Roll Shot
PayDay Candy Bar Shot
This recipe is featured in our Road Trip Snacks Collection
Do you love recipes? Check out our copycat recipes, dessert recipes, and our CrockPot Recipes.
Follow Tammilee Tips on MSN, Facebook, Instagram, Pinterest, and Twitter for all of our recipe posts.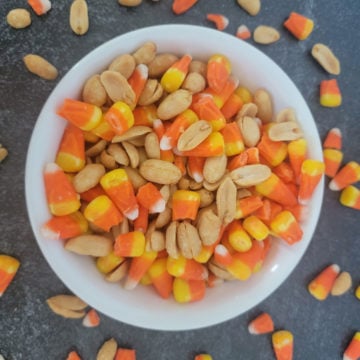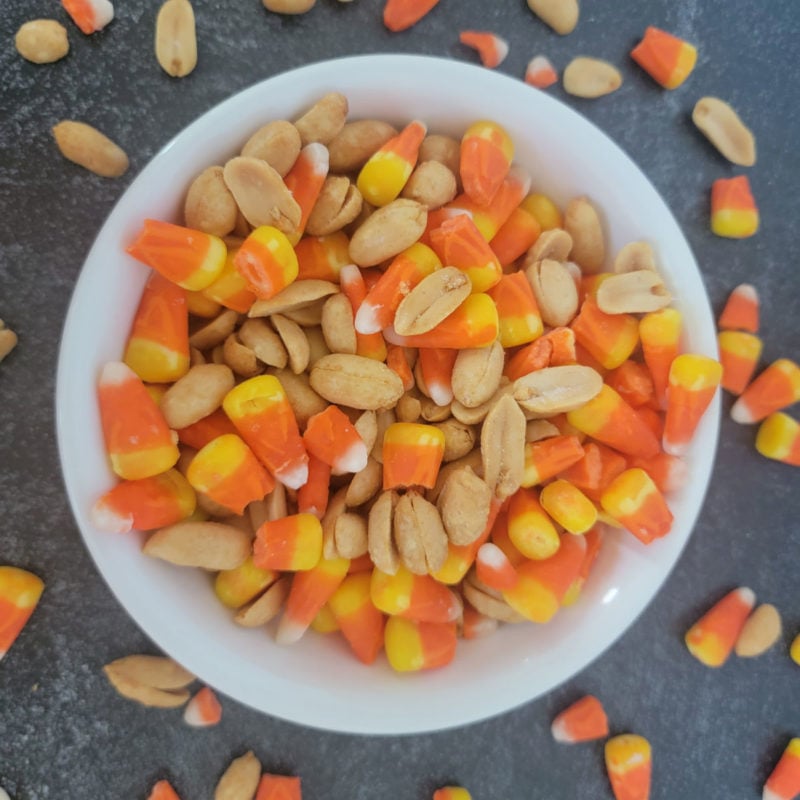 Candy Corn and Peanuts Snack Mix
Easy Candy Corn and Peanuts Snack Mix Recipe that is perfect for Fall Potlucks and Halloween Parties.
Print
Rate
Instructions
Combine equal parts candy corn and peanuts in a bowl. Stir to mix together
Nutrition
Nutrition Facts
Candy Corn and Peanuts Snack Mix
Amount Per Serving
Calories 286
Calories from Fat 135
% Daily Value*
Fat 15g23%
Sodium 212mg9%
Potassium 235mg7%
Carbohydrates 33g11%
Protein 8g16%
Calcium 30mg3%
Iron 1mg6%
* Percent Daily Values are based on a 2000 calorie diet.