We love going out to dinner at Texas Roadhouse. My favorite part of the meal is the warm rolls and butter. The Texas Roadhouse butter is just so good!
I decided to try and make a copy cat Texas Roadhouse butter since the closest restaurant is 45 minutes from us.
This cinnamon honey butter is amazing! I am going to fully admit that not long after the pictures were taken the bread rolls were gone. This recipe is super easy to make and such a wonderful treat!
Plus it just tastes amazing.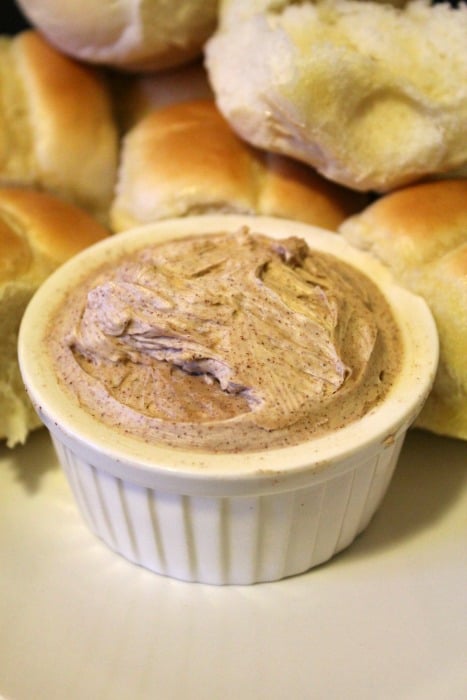 Texas Roadhouse Butter
This Texas Roadhouse Cinnamon Butter is amazing on dinner rolls, sweet potatoes, banana bread, cinnamon rolls, pancakes, waffles, or honestly anything you want to add a sweet butter too.
I just love how easy it is to make and how amazing it tastes.
For a while, I tried to keep some made in the refrigerator all the time but then I realized I was just trying to think of all of the things I could put it on. So now I only make this Texas Roadhouse Honey Butter when I really want it...which is more often than I really want to admit in writing. LOL!
There is a new Texas Roadhouse opening near us and I am so excited they are finally going to be close by! Somedays I just crave Texas Roadhouse Rolls, their amazing sweet potatoes, and a great dinner. Spokane is finally going to have one in town!
I am so excited to have a new Spokane Restaurant to add to our must-visit list.
No more driving all the way to Coeur d'Alene, Idaho to enjoy a barbecue meal.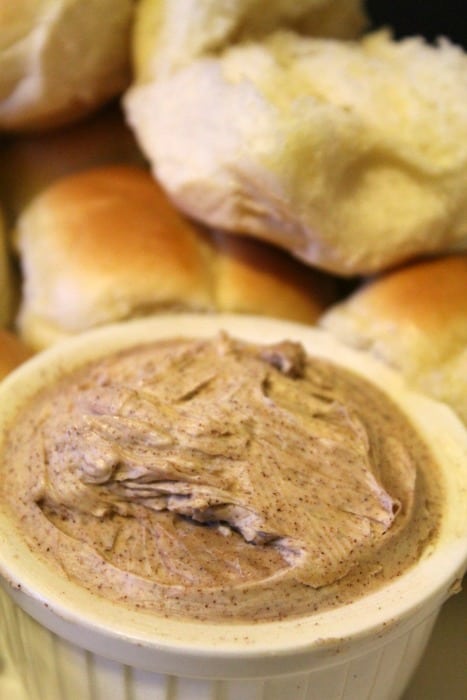 I can't believe we first shared this recipe back in January of 2013! So many things have happened in life since we started making this recipe it is hard to believe.
Don't worry I am not going to give you a six-year run down of everything that has happened.
Texas Roadhouse Butter Recipe
What is in Texas Roadhouse Butter
Unsalted butter - room temperature
Powdered sugar
Honey
Cinnamon
You can make this recipe vegan by using vegan margarine and maple syrup. The flavor will be a little different.
Equipment needed make Texas Roadhouse Butter
Stand mixer or hand mixer - I quickly poured everything into our KitchenAid Mixer
. The KitchenAid mixer made quick work of mixing everything together.
You can make this recipe in a large bowl with a spatula but your arm may not be very happy with you by the time you get it all mixed together.
Recipe Tips
You can add in more honey and cinnamon if you want to make it sweeter.
If you have a cover for your mixer you will want to use it. This will help keep the powdered sugar from flying all over the place when you turn your mixer on.
We serve the butter with freezer rolls we heat up in the oven right before dinner. They are perfect for enjoying this sweet cinnamon honey butter.
How to store this butter
I like to store the cinnamon butter in these 4oz mason jars. They are the perfect size to pull out when we want to serve it.
We keep the cinnamon butter in the fridge. I have heard people say they leave it out on the counter but I just like having it in the fridge.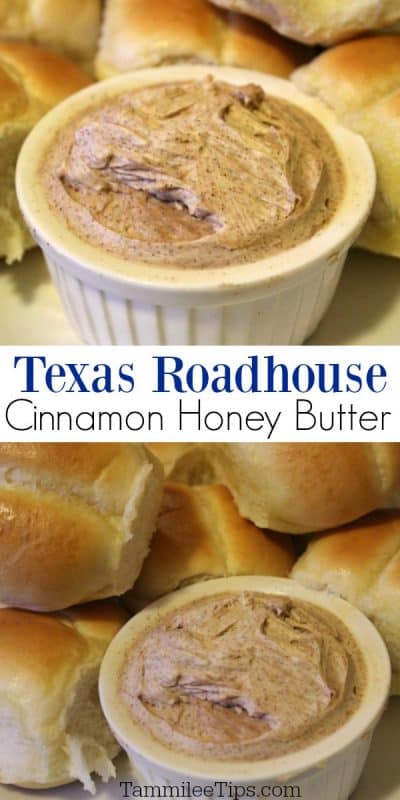 Top Copy Cat Recipes
Red Lobster Cheddar Bay Biscuits
Orange Julius Strawberry Julius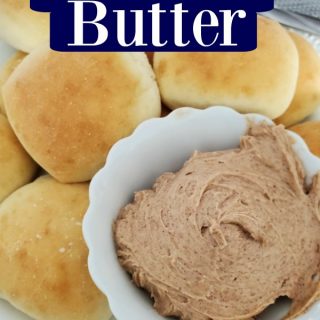 Copy Cat Texas RoadHouse Butter recipe
Enjoy this delicious Copy Cat Texas RoadHouse Butter recipe at home! Great on rolls!
Print
Rate
Instructions
Combine all ingredients and mix until combined
Notes
I started making this in a bowl with a spatula and hand mixing the ingredients. I quickly poured everything into our KitchenAid Mixer. The KitchenAid mixer made quick work of mixing everything together.
I started with the tablespoon of honey and teaspoon of cinnamon and added a bit more to taste. I really like the flavor of cinnamon so I added more than the recipe asked for.
Nutrition
Nutrition Facts
Copy Cat Texas RoadHouse Butter recipe
Amount Per Serving
Calories 249
Calories from Fat 198
% Daily Value*
Fat 22g34%
Cholesterol 60mg20%
Sodium 3mg0%
Carbohydrates 12g4%
Vitamin A 705IU14%
Calcium 13mg1%
Iron 0.1mg1%
* Percent Daily Values are based on a 2000 calorie diet.
Recipe originally shared December 2012, Updated August 2019 and January 2020.