How to cook bagel bites in air fryer! The perfect crispy delicious Bagel Bites only take a few minutes and taste amazing. Save time and skip having to preheat the oven and wait for it to be ready. The air fryer makes cooking frozen bagel bites a quick and easy process.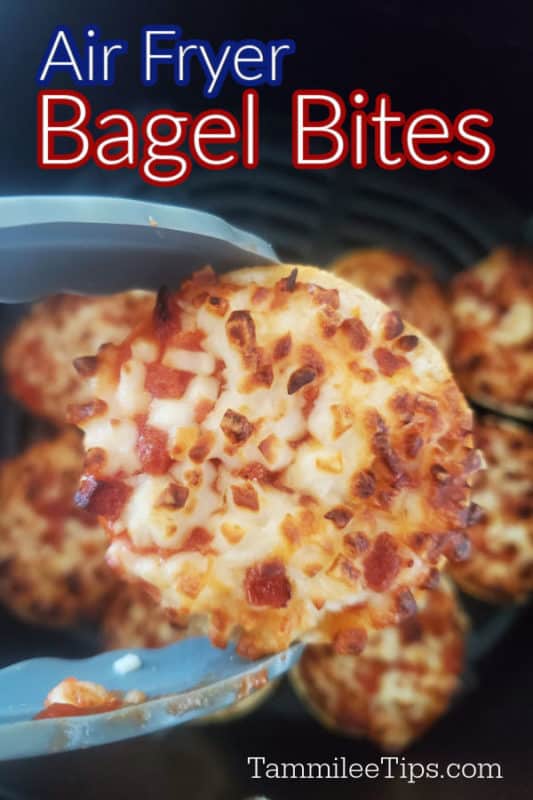 How to cook Bagel Bites in the Air Fryer
I am going to confess that Bagel Bites are a favorite quick snack when I am craving pizza and want it right now. I used to make them in the microwave but they would come out kind of blah. I had high hopes they would be crispy and delicious but the microwave made them a bit sad.
Enter in the air fryer and they turn out amazing, crispy, and oh so delicious.
The best part is all you have to do to air fry frozen mini bagel pizzas is set them in a single layer in the air fryer basket and turn it on. That is it! The hardest part of the entire process is waiting a few minutes while they cook.
It is so quick and easy to cook frozen pizza bagel bites in the air fryer.  You can use mini pepperoni bites, cheese Bagel Bites, or any flavor you love.
Bagel Bites are a great easy snack or meal! I used to crave them when I was in college. They were the perfect late-night study tasty snacks while trying to cram in organic chemistry and biology during my undergraduate degree.
These are kid and adult approved!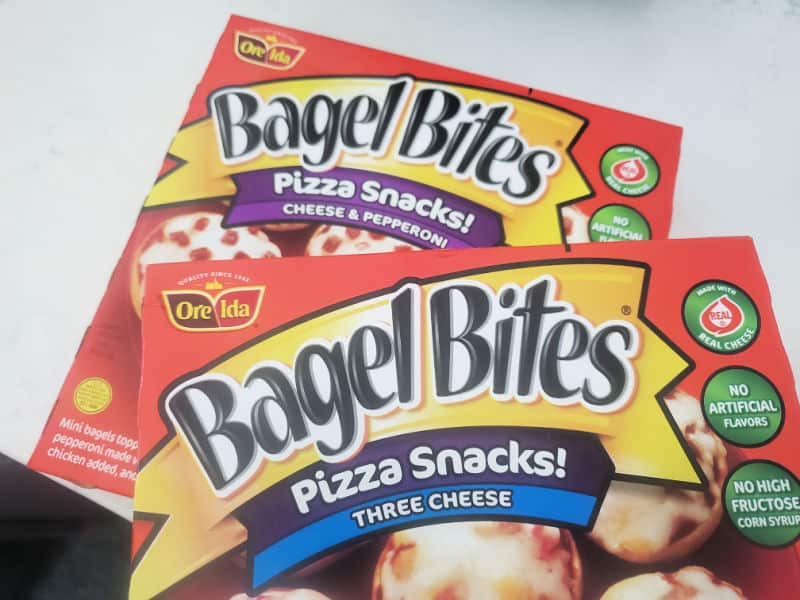 Ingredients
Frozen Bagel Bites - Any variety will work including three cheese, cheese and pepperoni, cheese, sausage and pepperoni, We use ore-ida bagel bites
No matter what you call them including pizza bagels, mini bagel bites, pizza bites, mini bagel pizzas.
They can be found in the frozen food freezer section of the grocery store. Look for varieties with your favorite pizza toppings including supreme, mushrooms, green peppers, onions, sausage, pepperoni, and more.
Dipping sauces - Serve these air fryer bagel bites with a side of marinara sauce, ranch dressing, or your favorite pizza sauce.
Homemade Bagel Bites - You can make your own bagel bite pizzas with mini bagels, mozzarella cheese, your favorite pizza sauce (we love Rao's), and toppings of choice.
Equipment
Parchment Paper - You can use air fryer parchment paper to make clean up a breeze.
Tongs - I highly suggest using a pair of tongs to remove the air fryer bagel bites individually. This will save your fingertips from getting burned and make it quick and easy to get them on your plate to enjoy.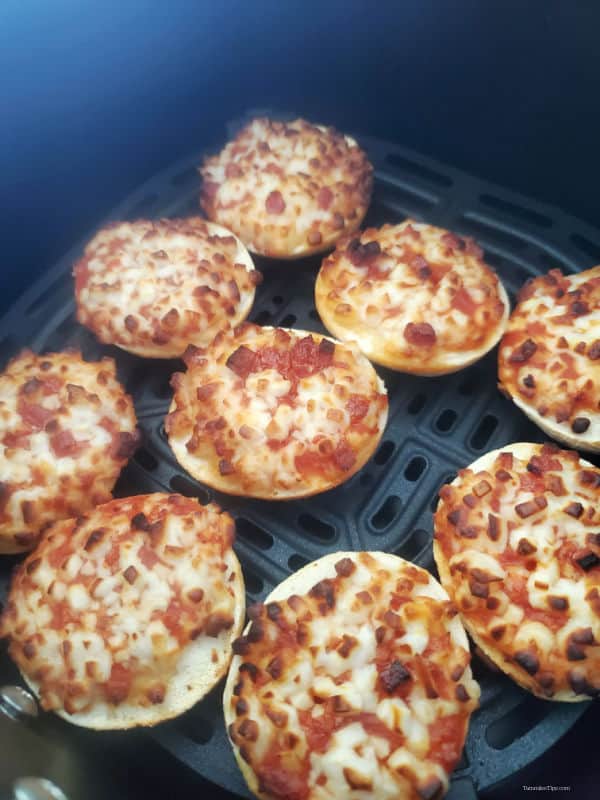 Preparation and Storage
Make Ahead – We don't suggest making these ahead of time. They taste best right out of the air fryer when they are hot and delicious.
Storage – Store leftovers in an airtight container in the refrigerator.
Freezing/How to freeze – We do not suggest refreezing bagel bites.
How to reheat – Reheat in the air fryer for 2-3 minutes at 350 degrees.
Recipe Variations
Substitutions - Any flavor of bagel bites can be used with this air fryer recipe.
Vegetarian Option - The three cheese pizza bagels are vegetarian. There are also a few brands that make plant based meat pizza bagels.
Vegan Option – We have not found a pre-made vegan bagel pizza brand.
Gluten Free - Check the box to make sure the brand is gluten-free. Brazi Bites are Gluten-Free
Smaller Serving Size – A smaller number of pizza bagels can be placed in the air fryer.
Larger Group/More servings – For additional servings you will need to cook the pizza bagels in batches in the air fryer.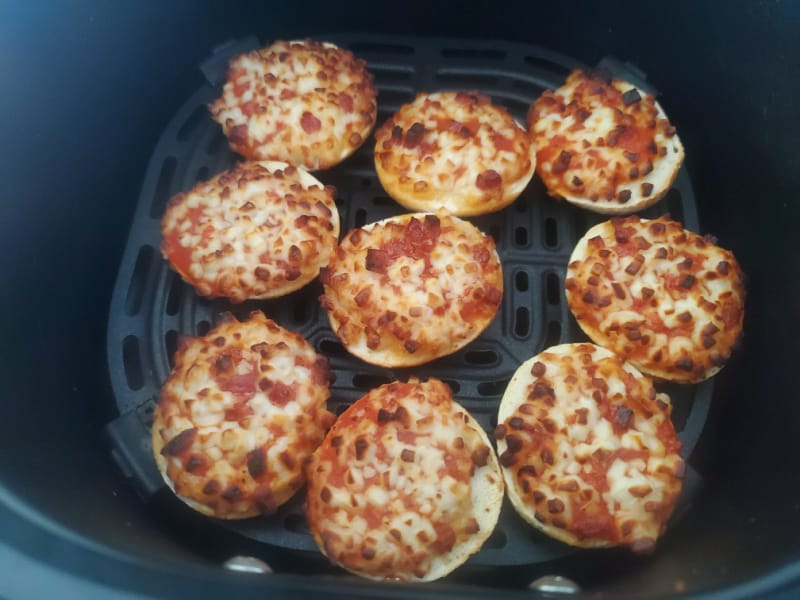 Recipe Tips
Make sure you do not thaw the bagel bites. This recipe is for frozen bagel bites.
Air Fryers can vary temperature-wise so make sure you keep an eye on the bagel bites in the air fryer.
I have seen recipes that go up to 400 degrees for temperature but I have found 360 degrees to work great. I want to make sure the bagel bites are cooked all the way through but also don't burn.
Check to see if your air fryer needs to be pre-heated. Our air fryer recipes do not include preheating time. If you do need to preheat you will want to lower the cooking time by a minute or two.
Mozzarella cheese bagel bites are on of our favorite easy vegetarian air fryer dinner recipes.
Printable recipe card instructions are below.
Nutrition information, including calories, protein, calcium, carbohydrates, fiber, vitamin c, potassium, cholesterol, sodium, trans fat, monounsaturated fat, polyunsaturated fat, and more, will vary depending on the products used.
Can I put foil in an air fryer
Technically yes you can place foil in the air fryer BUT the aluminum foil can below the hot air from circulating around your food. This can cause food to cook unevenly. Not all air fryers will allow you to use aluminum foil.
We suggest using air fryer liners which have holes in them so the air can properly circulate. Make sure you do not place them in the air fryer without food on them. If they are placed on their own during pre-heating they can be pulled up to the heating element.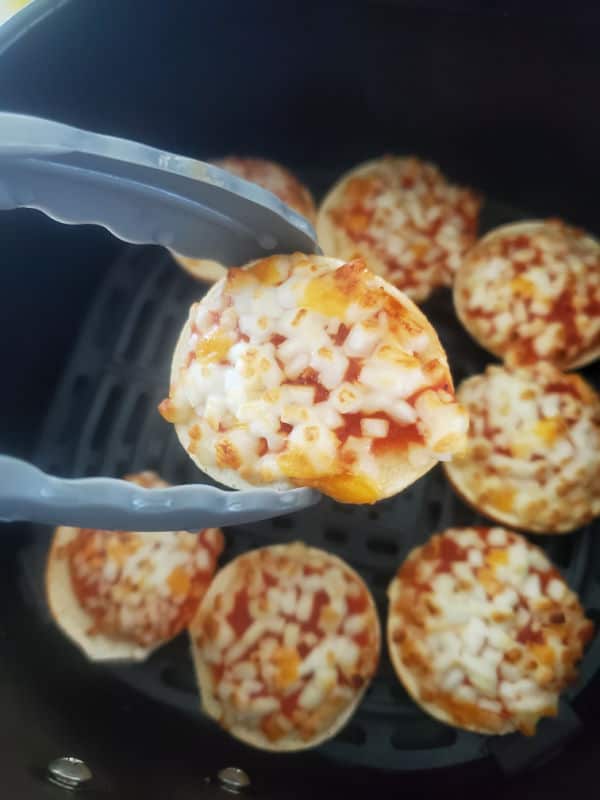 When to serve Air Fryer Bagel Bites
After school snack
Appetizer
Savory Snack
Easy dinner
Movie night
Great Air Fryer Recipes
Check out all of our Air Fryer Recipes
Do you love recipes? Check out our copycat recipes, dessert recipes, and our CrockPot Recipes.
Follow Tammilee Tips on MSN, Facebook, Instagram, and Pinterest, for all of our recipe posts.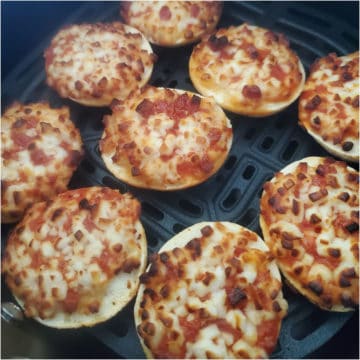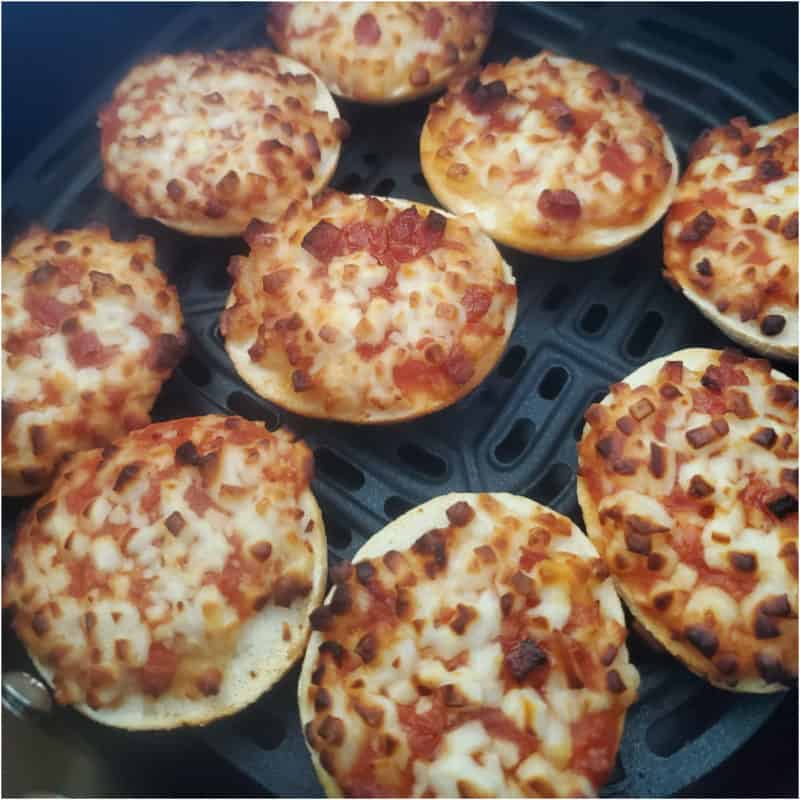 How to cook Bagel Bites in the air fryer
How to cook frozen Bagel Bites in the Air Fryer. Make perfect hot and cripsy bagel bites in minutes.
Print
Rate
Instructions
Place bagel bites evenly spread out in the air fryer basket.

Air fry at 360 degrees for 5-6 minutes

Remove bagel bites with tongs