Air Fryer Tater Tots are the perfect fried tater tots without any oil or frying. They turn out crispy, crunchy, and oh-so delicious! After making frozen tater tots in the air fryer, you won't go back to cooking them any other way!

Air Fryer Tater Tots
Tater Tots were the first thing I made when I bought our 1st air fryer. I was so excited to make crispy tater tots in the air fryer. These air fryer frozen tater tots are the perfect side dish for game day or family dinners.
I will fully admit that there are afternoons I make a plate of tater tots and enjoy them on their own as a snack. They are so easy to make in the air fryer that they turn into the perfect afternoon snack.
You can skip the oven and cook your favorite tater tots in the air fryer. No worrying about oil spraying everywhere, waiting for the oven to heat up, or really anything.
All you have to do is pour the frozen tater tots in the air fryer, close the air fryer basket, and happy dance through the kitchen while they cook.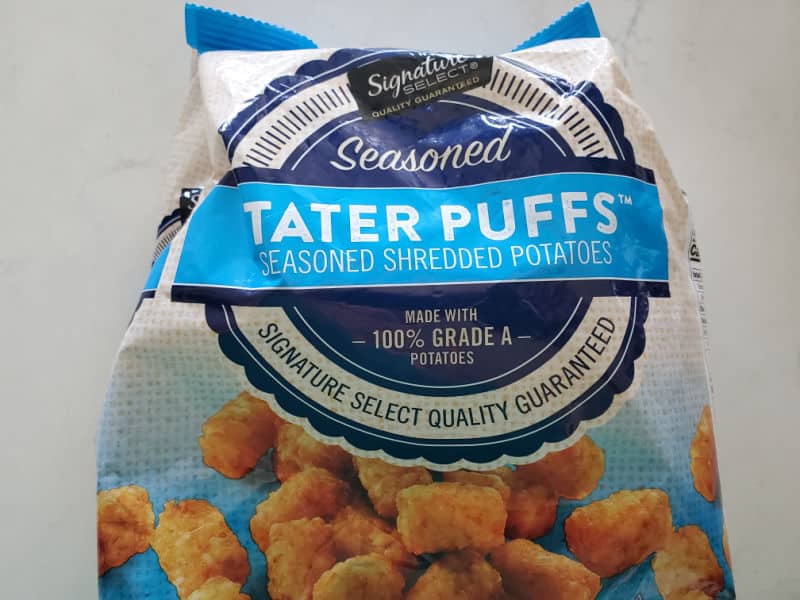 Ingredients
Frozen Tater Tots
You can use any brand of frozen tater tots you have in the freezer. Air frying is the perfect way to cook up tater puffs.
Dipping Sauces
I do love using ketchup as a dipping sauce but if you are looking for other options here are some of our favorite dipping sauce recipes.
Ranch Dressing, sour cream, cheese sauce, chili sauce, bacon, guacamole, barbecue sauce, chives, or a combination of all the things to make loaded air fryer tater tots.
Seasoning
If you want to change up the flavor of your frozen tater tots you can add in a bit of seasoning. Here are a few ideas:
Garlic Tater Tots - 2 teaspoon garlic powder, 1 teaspoon onion powder
Cajun Tots - Sprinkle with Cajun seasonings like Tony Chachere's or Slap Ya Mamma Seasoning.
Equipment Needed
Air Fryer - We suggest getting an air fryer that is bigger than you think you will need. We found once we started using the air fryer, we ended up using it for more meals and larger meals.
Kitchen Tongs - We highly suggest getting a good pair of kitchen tongs to remove items from the air fryer and save your hands from getting burned.
Cooking spray - we use olive oil spray instead of non-stick cooking spray.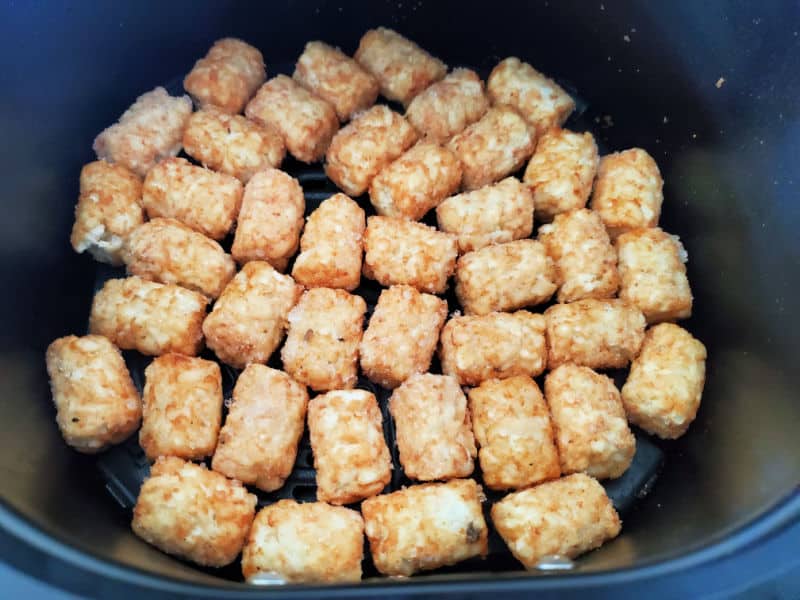 How to make Air Fryer Tater Tots
Preheat - If your air fryer needs to be preheated set it to 400 degrees.
Spread the tater puffs evenly in a single layer in the air fryer basket. Shake the tots to get them evenly spread.
Cook for 15 minutes making sure to shake the basket every 5 minutes to turn them for even crisping.
Optional - You can spritz the frozen tater tots with cooking sprays like avocado oil or olive oil to get them even crispier. When you spray with oil make sure you don't soak them.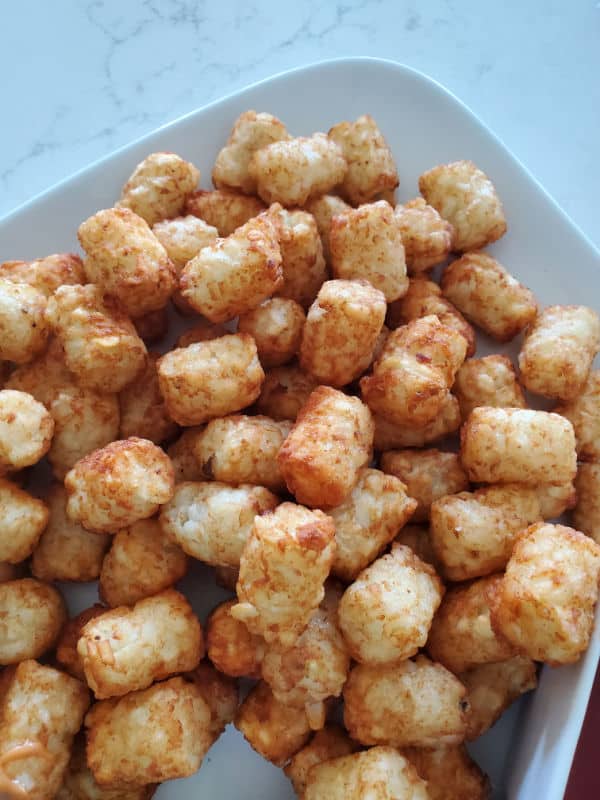 Recipe Tips
Don't overfill the basket! I know it is tempting to pile on a ton of tater puffs in the air fryer but spreading them out will create crispier tater tots.
You can spray the tater tots with avocado oil or similar oil to help them get extra crispy.
Shake the basket while the tater tots cook in the air fryer this will help ensure they rotate and are crispy all over.
Every air fryer varies for temperature so you will want to check how the tater tots look while cooking.
If you are cooking a large number of frozen tater tots you will want to work in batches. Each additional batch may cook faster than the 1st one since the air fryer will be hot.
Tots or potato puffs vary in size depending on the brand you are using. You will want to check them after 8ish minutes to see how they are cooking.
Cooking times will vary based on the size of the frozen tots, air fryer, and whether you spray them with oil.
Make sure you DON'T use non-stick spray in your air fryer. It can damage the non-stick coating in the air fryer basket.
If you are not going to be near the air fryer to shake the basket you can lower the temperature to 350 degrees. The frozen tater tots will take a couple of minutes longer but have less chance of burning if you are not watching them.
Leftovers should be stored in an airtight container.
Printable recipe card instructions are below.
Nutrition information, including calories, protein, calcium, carbohydrates, fiber, vitamin c, potassium, cholesterol, sodium, trans fat, monounsaturated fat, polyunsaturated fat, and more, will vary depending on the products used.
Check out all of our vegetarian air fryer recipes.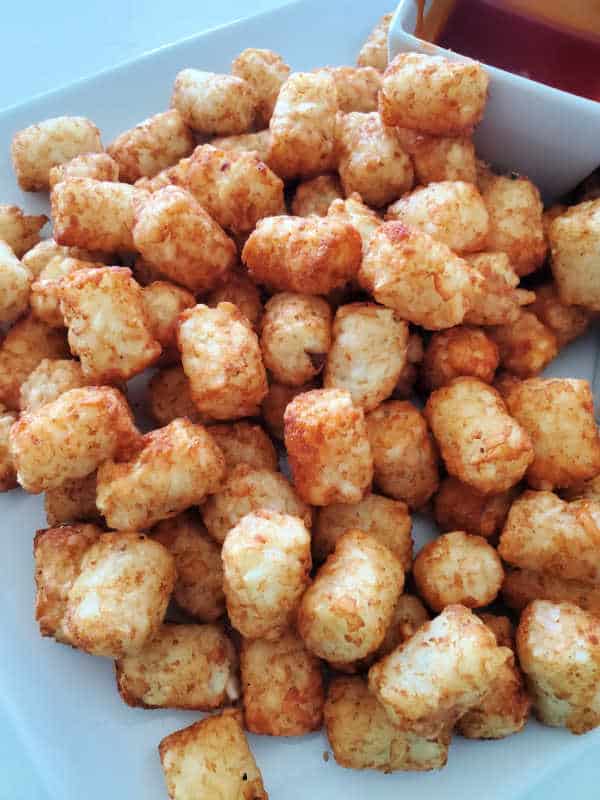 Great Air Fryer Recipes
Check out all of our Air Fryer Recipes
Do you love recipes? Check out our copy cat recipes, dessert recipes, and our Crock Pot Recipes
Follow Tammilee Tips on MSN, Facebook, Instagram, and Pinterest, for all of our recipe posts.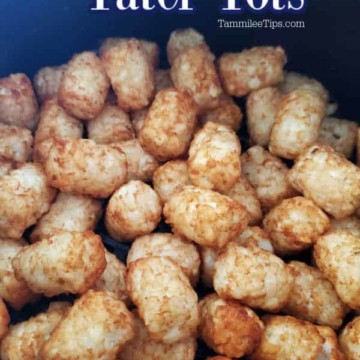 Air Fryer Tater Tots
How to cook Air Fryer Tater Tots! The perfect crispy tater tot that only takes minutes to prepare
Print
Rate
Instructions
Evenly spread tater tots in air fryer basket. Make sure to not overfill the air fryer

Air fry at 400 degrees for 12-14 minutes, shake the basket a few times during cooking to rotate the tater tots.
Nutrition
Nutrition Facts
Air Fryer Tater Tots
Amount Per Serving
Calories 201
Calories from Fat 81
% Daily Value*
Fat 9g14%
Sodium 485mg21%
Potassium 301mg9%
Carbohydrates 29g10%
Protein 2g4%
Vitamin A 5IU0%
Vitamin C 9mg11%
Calcium 15mg2%
Iron 1mg6%
* Percent Daily Values are based on a 2000 calorie diet.