How to make frozen taquitos in air fryer! This is a quick and easy way to prepare frozen taquitos. Making frozen taquitos in the air fryer is perfect for those days you are running around and do not want to stress about what to make for lunch or dinner. This recipe is quick and easy and done in less than 10 minutes.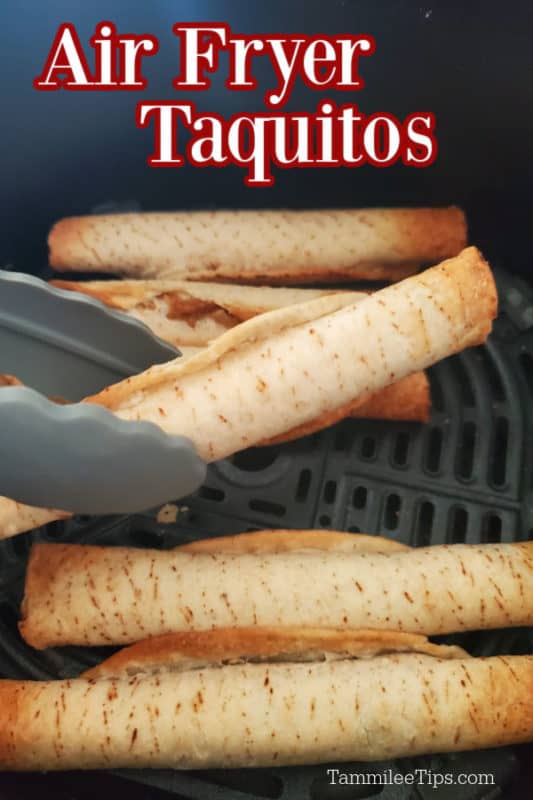 Frozen Taquitos in Air Fryer
Air Fryer Taquitos are the perfect quick and easy snack, appetizer, or meal.
One of the best parts of air-fried food is how quick and easy it is to make. You can make everything from asparagus to french fries in the air fryer.
Cooking Frozen Taquitos is such an easy process. All you need is your air fryer and a couple of minutes and you are ready to enjoy crispy delicious taquitos.
We used to cook frozen taquitos in the microwave but they don't get that crispy texture you get from the air fryer. While you can cook them in the oven but you have to wait to warm the oven up and then start cooking.
With the air fryer, you just pop them in and cook them quickly and they are ready to go.
My husband LOVES Taquitos! They are his go-to snack and meal when I am traveling and he is home alone. I try to keep a box or two stored in the back freezer so he can always grab them when he needs a quick meal.
He used to make them in the oven and promptly get hangry while waiting for them to cook. Now with the air fryer I keep a printed copy of this recipe in the drawer below it so he can easily make them any day he wants them.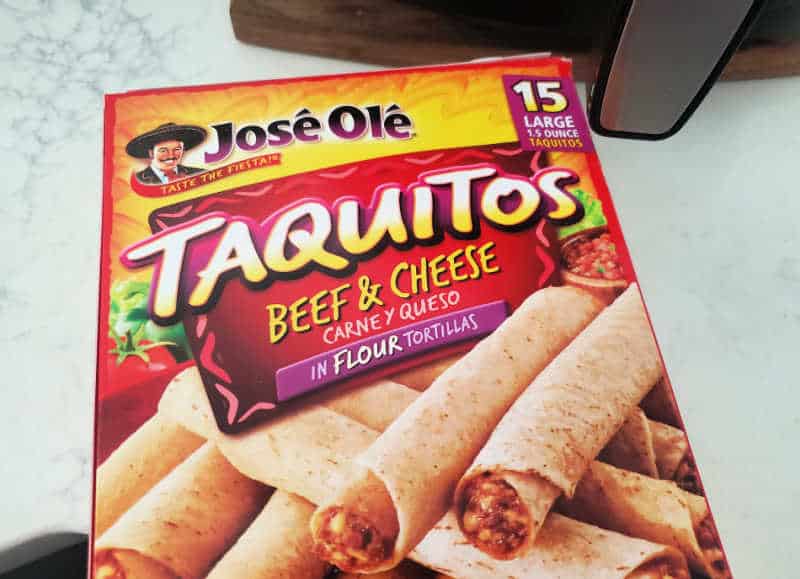 Ingredients
A frozen taquito can be wrapped in a corn tortilla or flour tortilla. They come filled with beef, chicken, pork, and/or beans and cheese.
Taquitos are made with corn tortillas and flautas are with flour tortillas.
Every brand of taquitos varies a little bit in size. You may need to alter the recipe cooking time to make sure they are cook depending on how large they are.
Dipping Sauces - Avocado Salsa, Chili's Salsa, sour cream, guacamole.
Equipment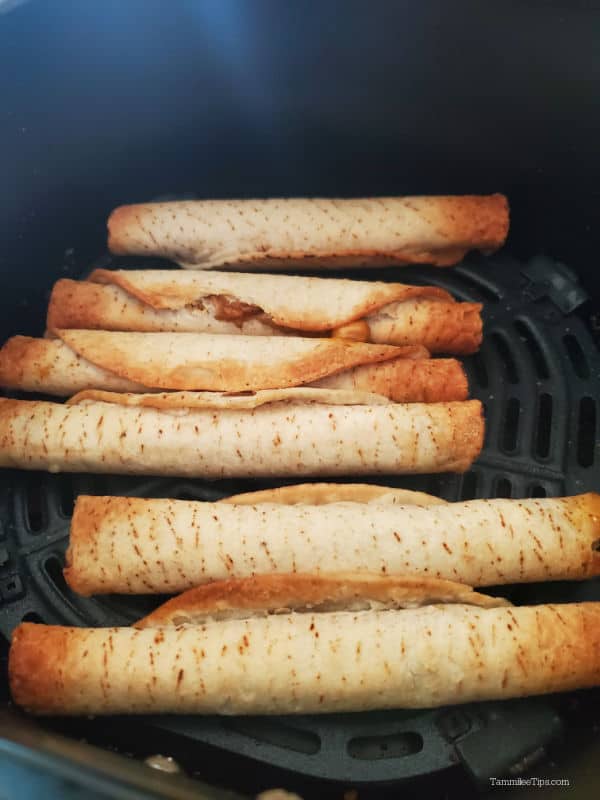 Recipe Tips
Check to see if you need to preheat the air fryer.
Make sure to only place frozen taquitos in a single layer.
Do not thaw the taquitos before air frying.
Shake the air fryer basket with the frozen taquitos halfway through to make sure they don't stick and they rotate to get them crispy all over.
Cooking time may vary depending on how hot your air fryer gets.
You can spray the taquitos with cooking spray if you want to make sure they are crispy. We find that they get crispy enough without cooking spray but if you want them super crunchy.
If you want to make sure you get super crispy taquitos you can spritz them with avocado oil or olive oil. If you have a non-stick air fryer basket make sure you do not use non-stick spray. It can damage the basket.
Great Air Fryer Recipes
Check out all of our Air Fryer Recipes
Do you love recipes? Check out our copy cat recipes, dessert recipes, and our Crock Pot Recipes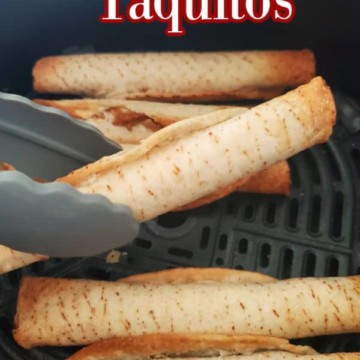 Air Fryer Taquitos
How to cook Air Fryer Taquitos! The perfect snack made in the air fryer so they are hot and crispy.
Print
Rate
Instructions
Place frozen taquitos in the air fryer evenly spread out.

Air fry at 380 degrees for 8-10 minutes, shake the basket halfway through to roll the taquitos