How to make frozen taquitos in an air fryer! The air fryer is a quick and easy way to prepare frozen taquitos. Making frozen taquitos in the air fryer is perfect for those days you're running around and do not want to stress about what to make for lunch or dinner. This recipe is quick and easy and finishes in less than 10 minutes.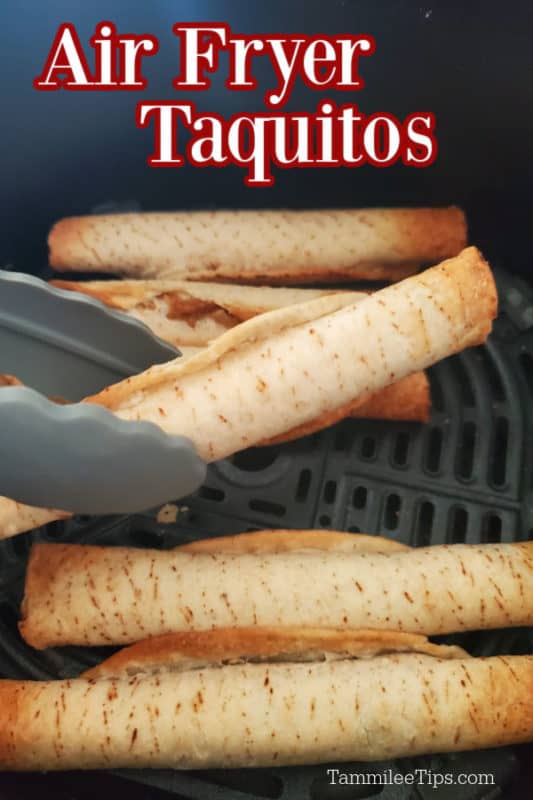 Frozen Taquitos in Air Fryer
Air Fryer Taquitos are the perfect quick and easy snack, appetizer, or meal.
One of the best parts of air-fried food is how quick and easy it is to make. You can make everything from asparagus to french fries in the air fryer.
Cooking Air Fryer Frozen Taquitos is such an easy process. All you need is your air fryer and a couple of minutes, and you are ready to enjoy crispy, delicious taquitos.
We used to cook frozen taquitos in the microwave, but they don't get that crispy texture from the air fryer. While you can cook them in the oven, you have to wait to warm the oven up and then start cooking.
With the air fryer, you just pop them in and cook them quickly, and they are ready to go.
My husband LOVES Taquitos! They are his go-to snack and meal when I am traveling, and he is home alone. I store a box or two in the back freezer so he can always grab them when he needs a quick meal.
He used to make them in the oven and promptly get hangry while waiting for them to cook. Now, with the air fryer, I keep a printed copy of this recipe in the drawer below it so he can easily make them any day he wants them.
They taste great air fried and I don't have to worry that he doesn't have a snack he likes in the house.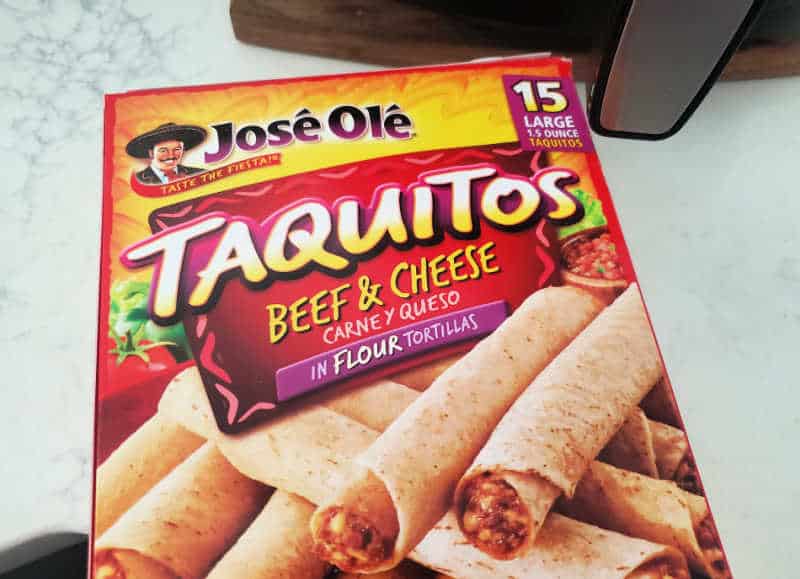 Ingredients
Here is a quick overview of the simple ingredients for making epic Air Fryer Taquitos! The printable recipe card at the bottom of the post includes specific measurements and step-by-step instructions.
A frozen taquito can be wrapped in a corn tortilla or flour tortilla. They come filled with beef, chicken taquitos, pork, and/or beans and cheese.
Taquitos are made with corn tortillas and flautas are with flour tortillas.
Every brand of taquitos varies a little bit in size. You may need to alter the recipe cooking time to make sure they are cook depending on how large they are.
Equipment
Air Fryer

: We suggest getting an air fryer that is bigger than you think you will need. We found that once we started using the air fryer, we used it for more and larger meals.

Kitchen Tongs

: We highly suggest getting a good pair of kitchen tongs to remove items from the air fryer and save your hands from getting burned.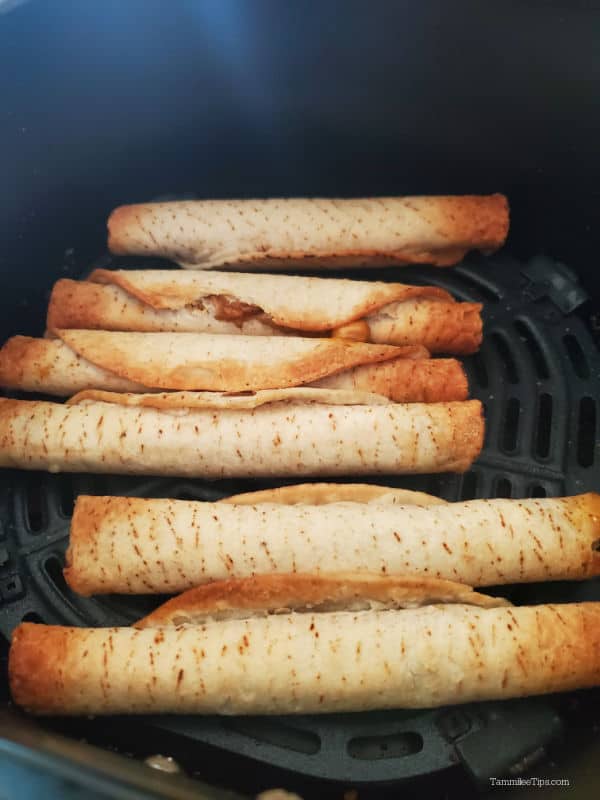 Preparation and Storage
Make Ahead:
Do not thaw the taquitos before air-frying them.
You can spray the taquitos with cooking spray if you want to make sure they are crispy. They get crisp enough without the cooking spray, but you can spray them if you want them super crunchy.
To ensure you get super crispy taquitos, spritz them with avocado or olive oil. If you have a non-stick air fryer basket, do not use non-stick spray. It can damage the basket. 
Storage: Refrigerate leftover taquitos in an airtight container and enjoy them within four days.
Freezing/How to Freeze: For quality and food safety reasons, it is best not to refreeze any frozen food you have cooked.
How to Reheat: You can reheat cooked leftover taquitos in the air fryer to return them to crispy goodness!
Recipe Variations
Substitutions:
A frozen taquito comes in a corn tortilla or flour tortilla wrapping and has a beef, chicken, pork, or beans and cheese filling. This how-to works with any brand or variety.
Taquitos use corn tortillas, and flautas use flour tortillas.
Every brand of taquitos varies in size. You may need to alter the recipe cooking time to ensure they are cooked depending on their size.
Vegetarian Option: Use meatless taquitos to make this recipe vegetarian.
Vegan Option: Use plant-based taquitos to make this recipe vegan.
Gluten-Free: Use gluten-free taquitos to make this recipe safe for a gluten-free diet.
Smaller Serving Size + Larger Group/More Servings: We made this guide with eight frozen taquitos, which works with any amount you need to prepare. If you prepare a big batch, leave enough space between each taquito to avoid overcrowding the basket. You may need to work in batches according to your air fryer's capacity.
Make It Spicy: Use taquitos with spicy filling if you enjoy the heat!
Sugar-Free: The nutritional content of your taquitos will vary by brand and filling, so check the package before making your purchase.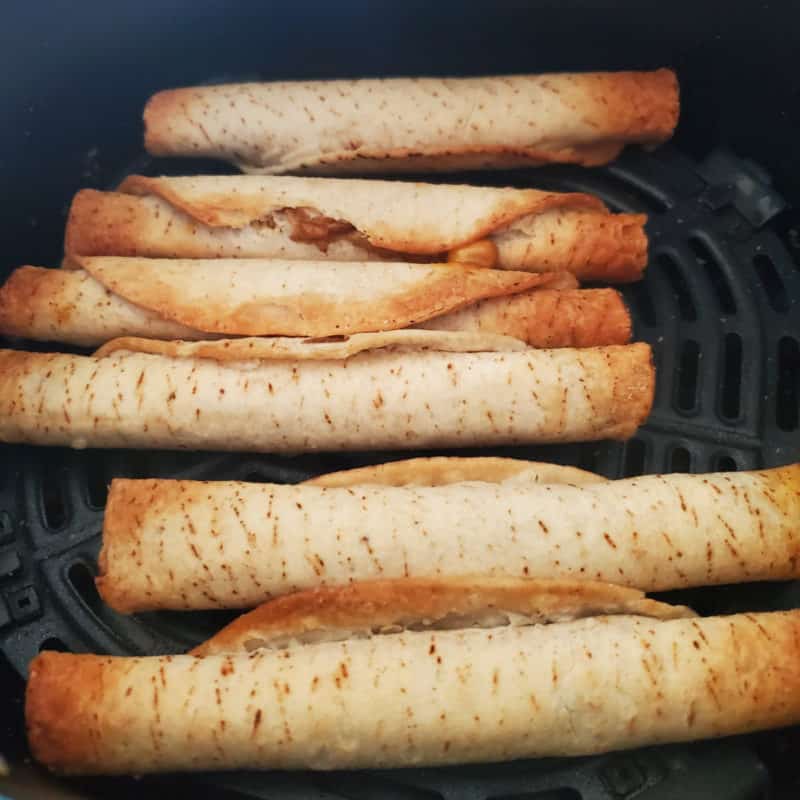 Tips for the Best Air Fryer Taquitos
Check the package directions to see if you need to preheat the air fryer.

Make sure only to place frozen taquitos in a single layer.

Shake the air fryer basket with the frozen taquitos halfway through to ensure they don't stick, and rotate them to get them crispy.

Cooking time may vary depending on how hot your air fryer gets.

Nutrition information, including calories, protein, calcium, carbohydrates, fiber, vitamin c, potassium, cholesterol, sodium, trans fat, saturated fat, polyunsaturated fat, and more, will vary depending on the products used.
What to Serve with Air Fryer Taquitos
Air Fryer Taquitos are a staple when we have a Mexican night, host friends or family, or want a flavorful snack. Here are some south-of-the-border options from our recipe collection to inspire your menu planning!
Sauces/Toppings: Sour Cream, diced tomatoes, diced onion, shredded lettuce
Sides: Viral TikTok Taco Pickles, Black Bean Salsa, Southwest Black Bean & Corn Salad, Cilantro Lime Rice, Grilled Avocado, 7 Layer Taco Dip, Tequila Spiked Guacamole, CopyCat El Pollo Loco Avocado Salsa, Pico de Gallo, Refried beans
Main Dishes: CrockPot Pineapple Salsa Chicken Tacos, Easy Cheese Enchiladas, Air Fryer Taquitos, CrockPot Mango Chicken, Slow Cooker Nacho Chicken, Carne Asada Street Tacos, Mexican Pulled Pork, CrockPot Mexican Chicken Tostadas, CrockPot Pork Chili Verde
Desserts:  Piña Colada Poke Cake, Margarita Pie
Drinks: Alchemy Bar Mojito Martini, Tequila & Sprite Cocktail, Spicy Chipotle Pineapple Martini, Mexican Mule, CopyCat Chevy's Sunburn Margarita, Frozen Mango Margarita, Key Lime Colada, Avocado Margarita, Blue Agave Margarita, Cactus Colada, Piña Colada
When to Serve CopyCat Chili's Salsa
Mexican Night

Family Gatherings

Cocktail Night

Potlucks

Tailgating Parties

Taco Tuesday
Great Recipe Collections
Do you love recipes? Check out our copycat recipes, dessert recipes, and our CrockPot Recipes.
Follow Tammilee Tips on MSN, Facebook, Instagram, and Pinterest for all our recipe posts.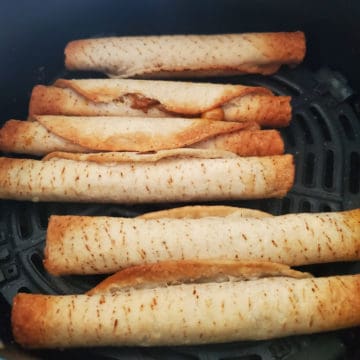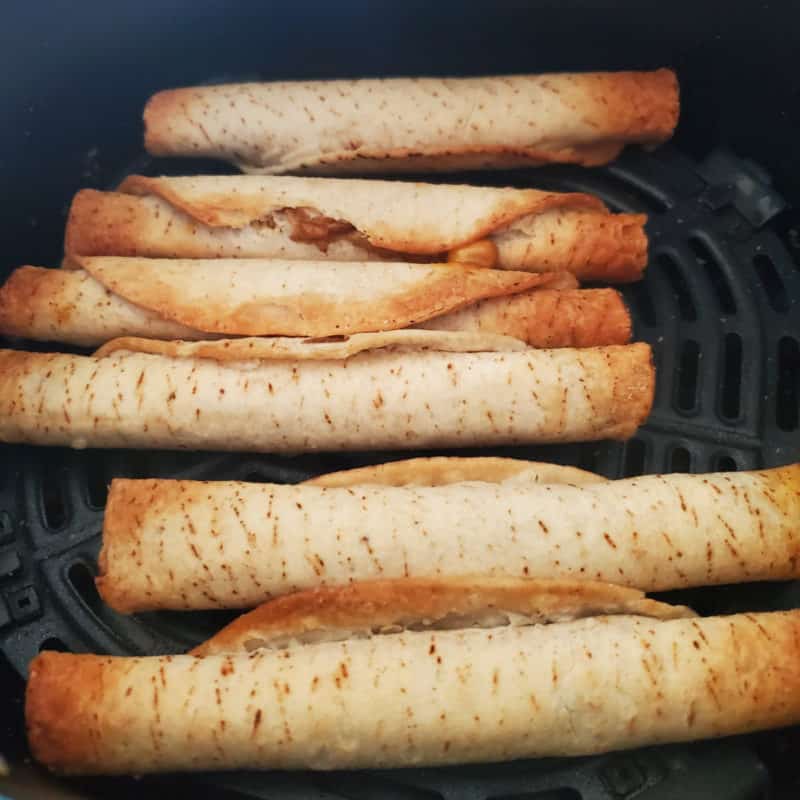 Air Fryer Taquitos
How to cook Air Fryer Taquitos! The perfect snack made in the air fryer so they are hot and crispy.
Print
Rate
Instructions
Place frozen taquitos in the air fryer evenly spread out.

Air fry at 380 degrees for 8-10 minutes, shake the basket halfway through to roll the taquitos