Air Fryer Frozen French Fries are the perfect easy side dish for family dinners or a snack. It is quick and easy to toss frozen French fries in the air fryer and let them cook. All you have to do is shake the basket a couple of times and they are perfectly crispy on the outside and tender on the inside French fries.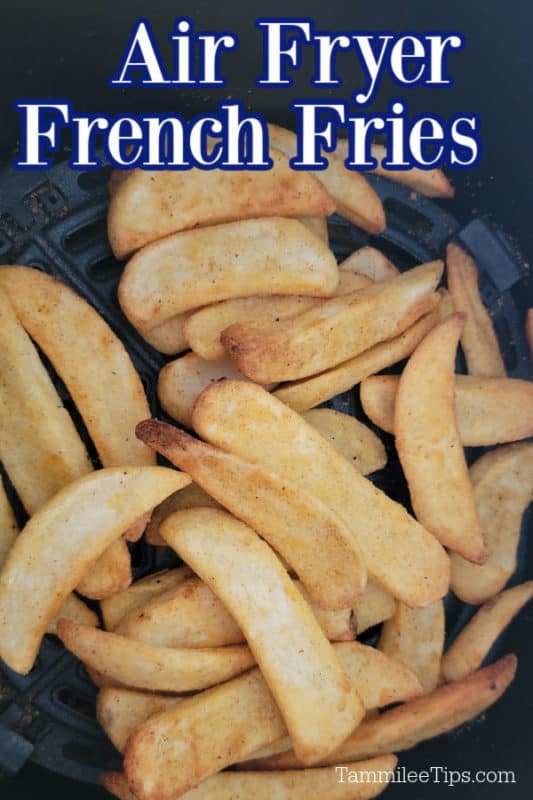 Air Fryer Frozen French Fries
I am going to admit that somedays I make Air Fryer French Fries just so I can enjoy my favorite dipping sauces. Don't get me wrong I love the French Fries in the air fryer but I also LOVE dipping sauces.
There is just something so good about dipping into delicious sauces too. The air fryer makes it so dang easy to make crispy French fries.
You don't have to worry about preheating the oven when making these French fries. While some air fryers do say to preheat it takes so much less time than the oven.
Cooking frozen French fries in the air fryer is so dang easy! Some days it is harder to get the bag open then it is to make air fried French fries.
In less than 15 minutes you can have perfectly crisp delicious fries ready to serve! The best part of using the air fryer is the French fries taste like they have been cooked in oil without all the extra calories.
You get crispy fries without the oil! Even better than fast food fries!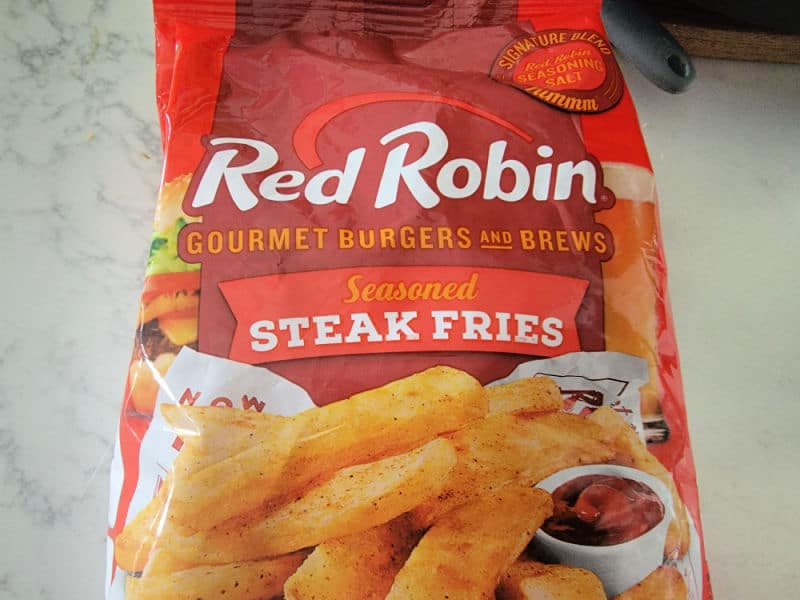 Ingredients
You can use any type of frozen French fries. We really enjoy the Red Robin seasoned steak fries.
If you are using plain French fries I would top them with seasoned salt when you remove them from the air fryer to make sure the seasoning sticks to the fries.
Other seasoning options to sprinkle on French Fries include garlic salt, onion powder, garlic powder, or your favorite seasoning flavor.
Dipping Sauces
Not that you can go wrong with ketchup but here are a few other options for dipping sauces.
The list could go on but I trust that you have your favorite dipping sauce on hand or maybe it is time to get adventurous and try a new one.
Equipment Needed
Air Fryer - We suggest getting an air fryer that is bigger than you think you will need. We found once we started using the air fryer we ended up using it for more meals and larger meals.
Kitchen Tongs - We highly suggest getting a good pair of kitchen tongs to remove items from the air fryer and save your hands from getting burned.
Olive Oil Spray - We do not use non-stick cooking spray in our air fryer. We only use avocado or olive oil spray.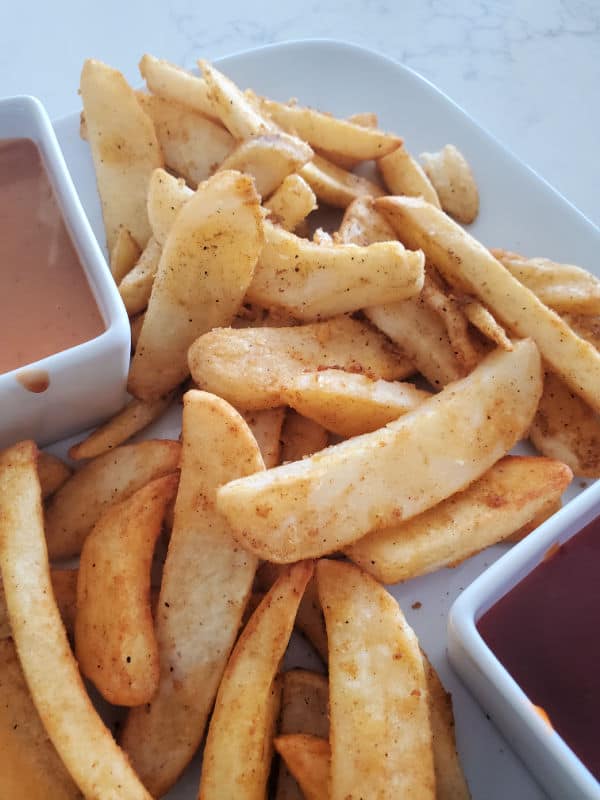 Recipe Tips
Don't overcrowd the basket with fries. You want them evenly distributed so they all get crispy.
Different types of fries may cook at varying times!
Crinkle-Cut Fries/Waffle Fries make take between 10-11 minutes
Sweet Potato Fries take a bit longer around 16 minutes
Lattice Cute fries normally cook in around 10-11 minutes
Shoestring Fries are thinner so they take between 8 to 10 minutes.
If you are using a large bag of frozen French Fries you will need to cook them in batches.
Different types of french fries can have varying cooking times. The thinner the fries the quicker they will cook.
Every air fryer will cook at varying temperatures. Make sure to check your fries as they are cooking to not overcook them.
Tossing the fries a few times during cooking will help rotate them and make sure they are all crispy!
Don't spray the air fryer basket with non-stick spray. I keep reading that non-stick spray can damage the air fryer basket.
Check to see if you need to preheat the air fryer to 400 degrees. Some air fryers will need to be pre-heated.
You can stack the frozen fries in the air fryer but you want to make sure there is still space for hot air to circulate. I try to keep to 50-75% of the basket being full of fries.
Printable recipe card instructions are below.
Nutrition information, including calories, protein, calcium, carbohydrates, fiber, vitamin c, potassium, cholesterol, sodium, trans fat, monounsaturated fat, polyunsaturated fat, and more, will vary depending on the products used.
Do I need to defrost frozen french fries before air frying?
NO! You want to put the fries in right out of the bag from the freezer. Just cut it open, pour the fries in, set the temperature and cooking time, shake a few times, and done.
How long to cook frozen french fries in air fryer?
Depending on the type of French Fry you can expect them to take between 8 to 15 minutes
Do you preheat air fryer for frozen french fries?
This really depends on the model of air fryer you are using. The owner's manual should tell you if you need to preheat. If you do need to preheat you will most likely need to lower the cooking time a couple of minutes.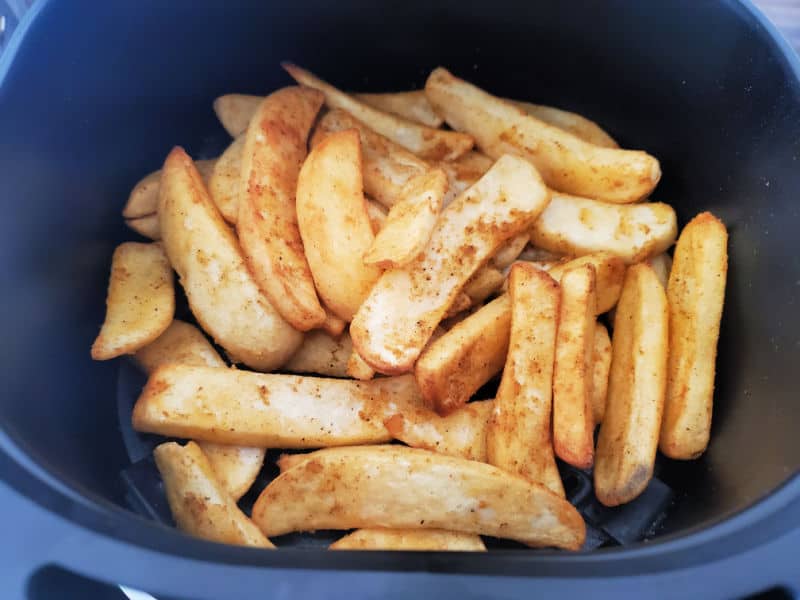 Great Air Fryer Recipes
Check out all of our vegetarian air fryer recipes.
Do you love recipes? Check out our copy cat recipes, dessert recipes, and our Crock Pot Recipes
Follow Tammilee Tips on MSN, Facebook, Instagram, and Pinterest, for all of our recipe posts.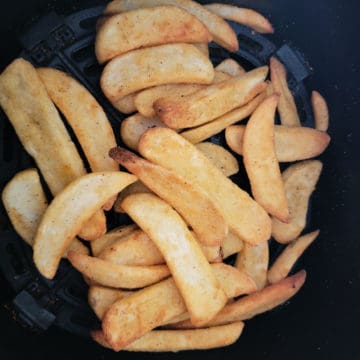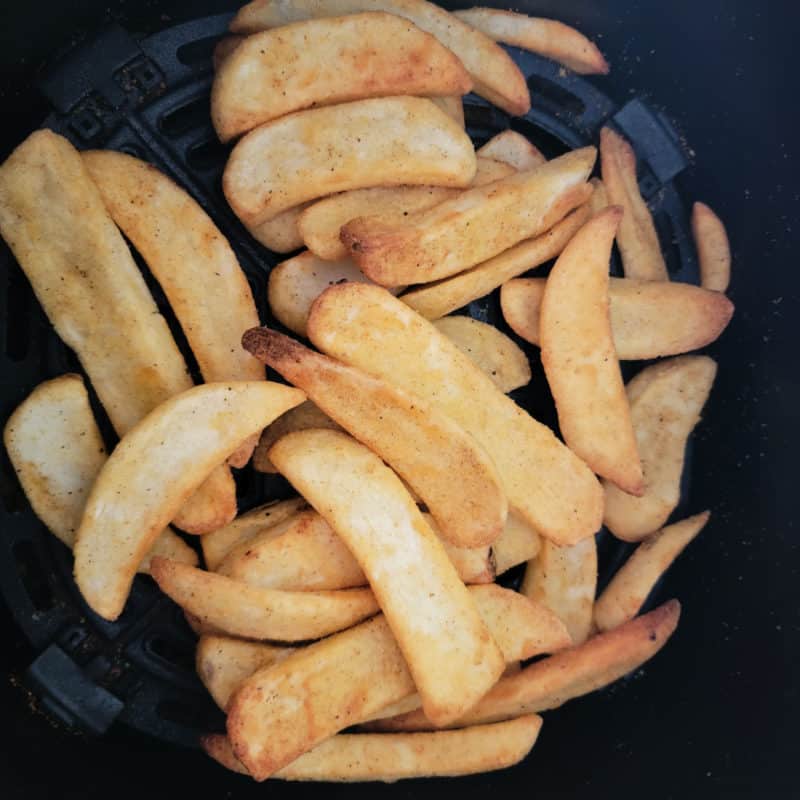 Air Fryer Frozen French Fries
How to make Air Fryer Frozen French Fries! Perfect crispy golden brown french fries in the air fryer.
Print
Rate
Ingredients
1

pound

frozen french fries
Instructions
Add frozen french fries to the air fryer basket and shake to evenly spread them out.

Air fry at 400 degrees for 10-14 minutes, shake the basket every 5 minutes to evenly distribute the fries.

Salt if desired and serve with your favorite dipping sauces.
Nutrition
Nutrition Facts
Air Fryer Frozen French Fries
Amount Per Serving
Calories 295
Calories from Fat 153
% Daily Value*
Fat 17g26%
Sodium 556mg24%
Potassium 488mg14%
Carbohydrates 34g11%
Protein 3g6%
Vitamin C 7mg8%
Calcium 10mg1%
Iron 1mg6%
* Percent Daily Values are based on a 2000 calorie diet.