How to make Homemade Chicken Stock Recipe! I was recently at a retreat with a great group of bloggers and we started talking about how to make chicken stock. Many people in the group had never made their own chicken stock, they just used store-bought containers. They were amazed to learn how easy it is to make your own homemade chicken stock!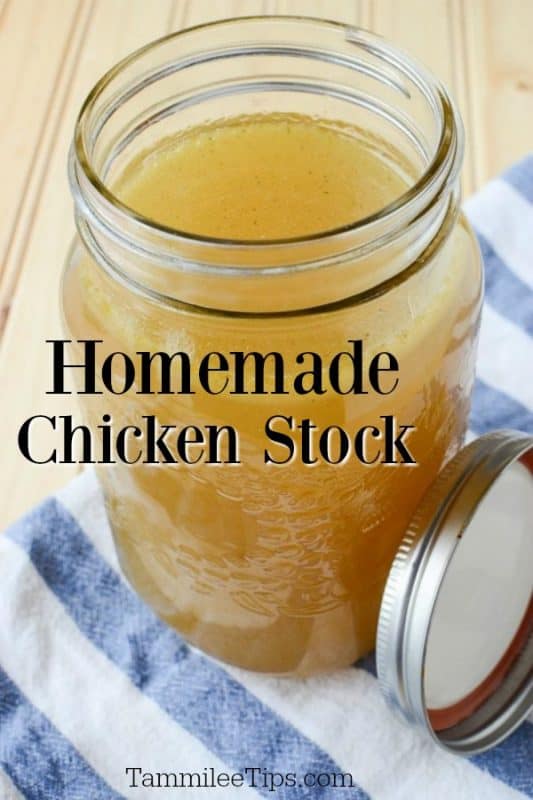 Homemade Chicken Stock Recipe
I love doing this with the carcasses from the Costco rotisserie chickens we use for recipes. I feel like I am getting so much out of the chicken when I use it for stock along with great crockpot recipes.

This is the perfect recipe to have on hand during the winter! It is so easy to grab this homemade chicken stock and whip up a delicious crockpot soup or casserole.
This time of year I am all about comfort foods and most of them have chicken stock as a base to the recipe.
What are your favorite comfort foods to make?
Difference Between Stock and Broth
If French or Spanish is your first language, then broth and stock appear to be one and the same thing. Both 'bouillon' (French) and 'caldo' (Spanish) translate as both broth and stock. Both products are made from water simmered with meat and/ or bones, and seasonings.
However, broth can be served as an end product - think beef broth or Scotch Broth - whereas stock is a starting point for a soup, stew, sauce or casserole.
Stock is defined as a product one keeps a 'stock' of for use at a later date. Traditionally, a pot would be kept simmering on the stove, and odd bits of meat, vegetables, and bones would be added. A stock is simmered on a low heat, in order to extract the maximum flavor from the ingredients.*
Broth comes from a Germanic root meaning 'to brew,' and involved boiling, rather than the simmer which is used to produce the stock. In early times, the broth was the liquid in which vegetables or meat was cooked, and was discarded after use.* It's only in more recent times that broth has been recognized as an end product in itself. Scotch broth first made its appearance in the early 18th century.
Many chefs state that stock should contain bones as well as other seasonings, whereas broth does not include bones - just meat.
For this reason, there is technically no such thing as a vegetable broth. Because of the inclusion of bones, the stock has a different texture in the mouth, due to the collagen which has leached from the bones and connective tissues.
A chilled stock is almost jelly-like, whereas broth is more or less the same whether hot or cold, although a film of fat may appear on the surface of the cold product.
Broth occupies the middle ground between stock and soup. It's an end product in its own right but is more simple than a soup, which usually has more ingredients and requires an element of finishing - such as liquidizing or straining - before service.
No chef would dream of serving stock as a stand-alone product. Even if he had a mental aberration and dished up a bowl of steaming stock as a first course, most people would be unable to eat it, due to the strong concentration of flavors.
Today, the terms stock and broth are regarded as more or less interchangeable
Make sure to check out our favorite sides for chicken noodle soup.
Great recipes with Chicken Stock
Do you love recipes? Check out our copy cat recipes, dessert recipes, and our Crock Pot Recipes.
Check out all of our crockpot soup recipes.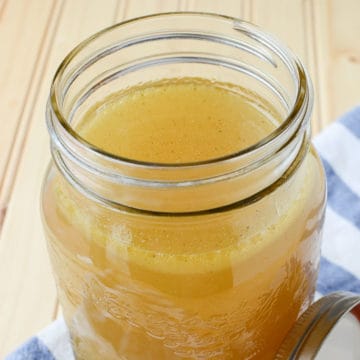 Chicken Stock Recipe
How to make homemade chicken stock with chicken bones and vegetables.
Print
Rate
Ingredients
1

Chicken Carcass

1

Tablespoon

seasoned salt & pepper

2

Tablespoon

Vegetable Oil

1

Tablespoon

onion powder

1– 2

tsp

Garlic

minced

Water
Instructions
Preheat oven to 350

Take the chicken carcass along with any skin and extra leftover meat. Break up the bones. Place it on a parchment-lined baking tray. Drizzle the entire thing with the oil, and season with seasoned salt, pepper, and onion powder.

Bake in the oven for approximately 45 min to an hour. The bones should dry out and get brittle. After letting the bones cool, put into a stock pot and cover with enough water to cover the bones about one inch. Add the minced garlic and any extras you may have, and bring the ingredients to a boil.

Lower heat and simmer on low for 6 – 8 hours. Watch for water evaporation, and top up if this happens.

After the time is complete, cool slightly and strain broth into a colander that is over a pot big enough to hold the liquid. You may choose to strain the broth a second time with a fine sieve to strain out any small bits.
Notes
If you have some old carrots, onions or celery in the fridge, add those to the stock pot with the chicken. It will add extra flavor and the vegetables won't be eaten so it doesn't matter if they are a bit soft and wrinkly.
Nutrition
Nutrition Facts
Chicken Stock Recipe
Amount Per Serving
Calories 279
Calories from Fat 252
% Daily Value*
Fat 28g43%
Sodium 6983mg304%
Potassium 105mg3%
Carbohydrates 9g3%
Protein 1g2%
Vitamin C 4mg5%
Calcium 43mg4%
Iron 1mg6%
* Percent Daily Values are based on a 2000 calorie diet.
Recipe originally shared on November 24, 2016. Updated on March 26, 2020.