Winter is here and I am all about comfort foods right now! It doesn't get much better than these Slow Cooker Crockpot Soup Recipes! These Crock Pot Soup Recipes are filling, oh so delicious and best of all super easy to make!
I love coming home to the house smelling amazing from the soups cooking in crock pot. Do you have a favorite soup you love making in the slow cooker? We would love to hear about it so we can try it out.
I make soup all year long and freeze the leftovers.
I love knowing that John can easily warm up soup when he comes home from work and I am traveling. They also work great to bring to family members as a gift. We try and bring soup and other crockpot meals to John's grandmother and mom when we visit with them.
That way they do not have to stress about cooking a large meal for themselves.
You just can't go wrong using the slow cooker to make these fantastic soup recipes! They can also be frozen for enjoying later.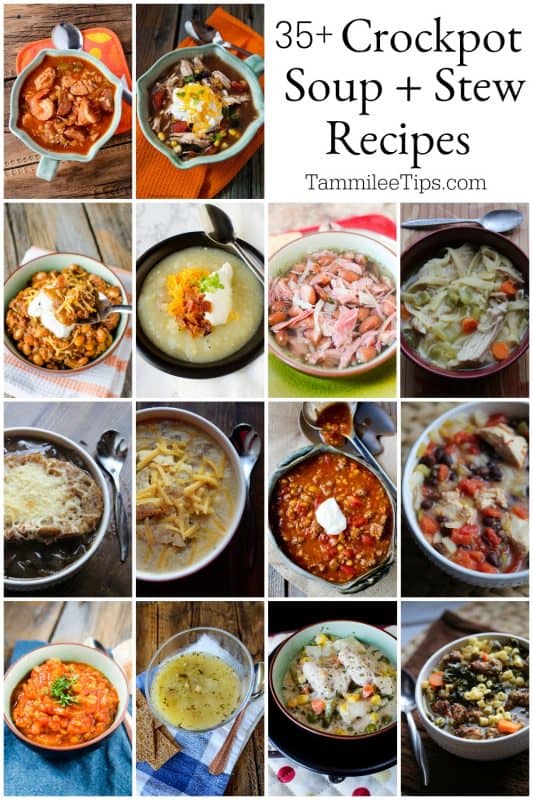 Crockpot Soup Recipes
Crockpot Southwest Chicken Chili
Crockpot Turkey and Wild Rice Soup
Crockpot Chicken Enchilada Soup
Crockpot Spicy Chicken Chili Recipe
Crockpot Italian Sausage Wedding Soup
Crockpot Split Pea Soup Recipe 
Crockpot Kielbasa and Shrimp Stew Recipe
Crockpot Vegetarian Three Bean Chili
Crockpot Broccoli Cheese Soup Recipe
Crockpot Butternut Apple Soup Recipe
Crockpot Copy Cat Olive Garden Minestrone Soup Recipe
Crockpot Olive Garden Zuppa Toscana Soup
Crock Pot Vegetarian Meatball Soup Recipe
Equipment Needed
If you are making an epic slow cooker soup you definitely want to have the best equipment possible.
Crockpot - We suggest using a crockpot that has a digital timer that automatically switches the slow cooker to warm after a set amount of time. This helps make sure your dinner cooks perfectly and you don't have to stress about what time it is going to be done
Mix n Chop - We use the mix n chop to break up the sausage or ground beef and love it.
Vegetable chopper - This is a huge time saver for chopping veggies.
Microwave Silicone cover - I swear by these lid covers to help prevent butter splatters when melting butter in the microwave. I have had way too many butter explosions while baking. These lid covers help keep the butter in the bowl and not on the roof of your microwave.
Heat resistant potholders - A couple of years ago we had a fire scare when we didn't realize we had turned a burner on and a cloth potholder caught fire. Thankfully we walked by the kitchen and saw the smoke and were able to get it out ourselves. Since then we have only used these heat-resistant potholders.
Immersion blender - This will help get the soup super creamy.
And we can't forget great Soup Bowls