Just in time for Cinco De Mayo this weekend I am excited to share this Margarita Pie Recipe!
I am a fan of margaritas so I figured why not try it in a pie!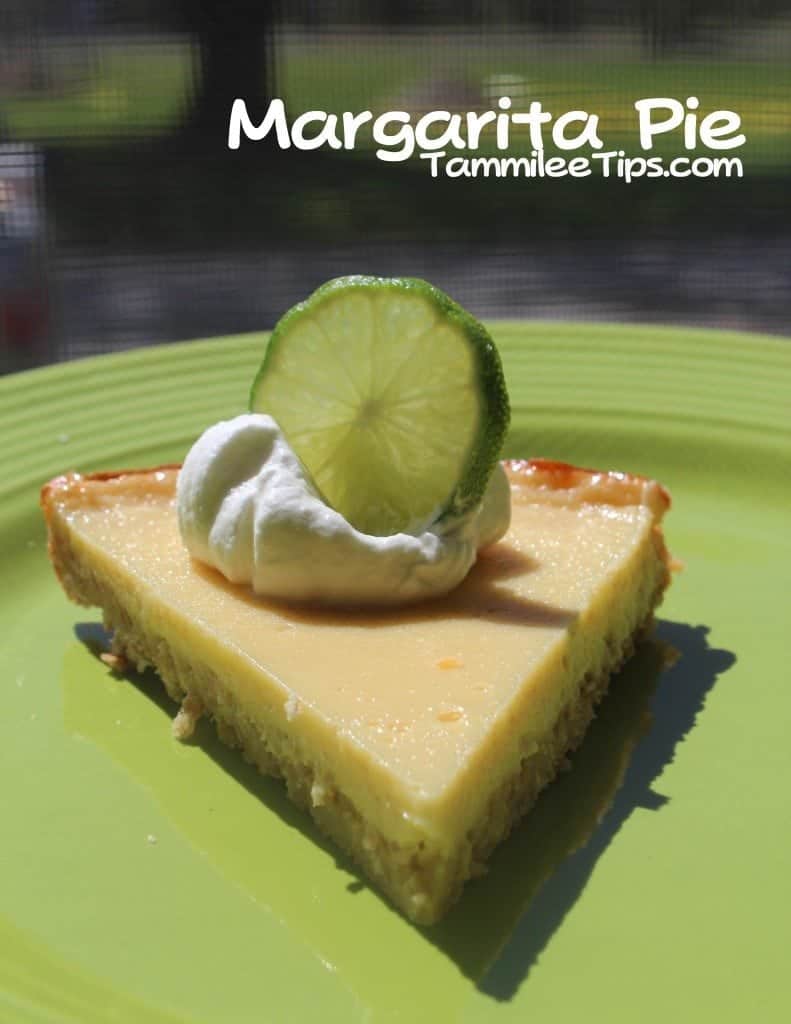 Recipe adapted from 200 Easy Mexican Recipes: Authentic Recipes From Burritos to Enchiladas
. This cookbook is filled with fantastic recipes that I can not wait to try. I have tons of post it notes in the cookbook right now marking all of the recipes I want to try. On the top of the list are Cactus Coladas and Grilled Shrimp.
Margarita Pie Recipe
Ingredients
2 eggs
2 egg yolks
1/4 cup freshly squeezed lime juice
1 can sweeten condensed milk (14oz)
1/3 cup liquid margarita mix
1 vanilla-flavored cookie crumb crust
1 cup heavy whipping cream
1/2 cup granulated sugar
1 lime, thinly sliced
The original recipe includes 3 drops of green food coloring. I left it out when I made this pie
Directions
Preheat oven to 350 degrees
1. Combine eggs and egg yolks with an electric mixer, I used our KitchenAid Mixer
, until eggs and egg yolks are thick and pale about 2 minutes
2. add in lime juice, condensed milk, margarita mix and continue to beat for 2-3 minutes
3. Pour into pie shell and bake in preheated oven for 25 minutes
4. Let cool completely
5. Cover and refrigerate for at least 1 hour or up to 4 hours
6. Just before serving, using an electric mixer on medium speed, beat whipping cream and sugar until soft peaks form, about 6-8 minutes
7. Serve slices of pie topped with whipping cream and garnished with a lime slice
8. Enjoy
Do you love recipes? Check out our copy cat recipes, dessert recipes, and our Crock Pot Recipes.
Recipe adapted from 200 Easy Mexican Recipes: Authentic Recipes From Burritos to Enchiladas