When it comes to holiday lights, great food, and fun you can't go wrong celebrating a Leavenworth Christmas. We are so excited to share our ultimate guide to celebrating Christmas in Leavenworth, Washington.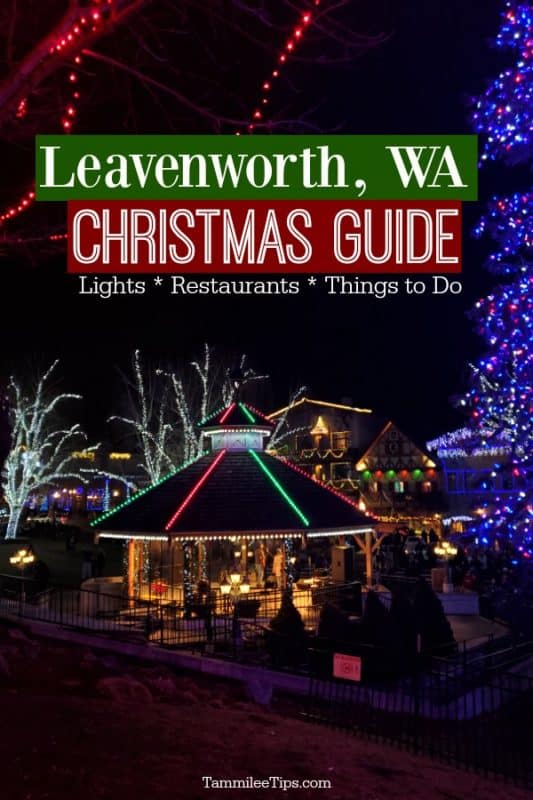 Ultimate Leavenworth Wa Christmas Guide!
This year the Leavenworth, Washington Christmas has been postponed! Leavenworth will still be turning on the Christmas lights 7 days a week but they will not be having the lighting ceremony.
The Christmas Lights will be on from Thanksgiving weekend until Valentine's Day!
Don't worry you don't have to spend Christmas Day in Leavenworth to celebrate! This Bavarian-themed town in Central Washington knows how to celebrate and they leave the lights up for months so we all have time to join the festivities.
This is actually one of our first tips for visiting Leavenworth during the Christmas/Holiday celebration. The same lights are up 7 days a week from Thanksgiving until Valentine's Day! While they do have the Christmas Lighting Festival for a few weekends each December they also have a ton of other fun during the week.
If you can visit Leavenworth during the week you can save yourself a lot of STRESS and worry trying to find a parking space, dealing with crowds of people, and waiting in line for food.
Don't get me wrong the actual Christmas Lighting Festival is amazing and you get a bit more with performers and Santa Claus/St Nicholas but you also get to meet 40,000 new friends.
Yes, you read that right! Some Christmas Lighting weekends 40,000 people descent into Leavenworth to enjoy the village of lights festivities.
If you haven't been to Leavenworth before I want to paint a picture so you know what to expect. Close your eyes and imagine a super cute amazing bavarian village town surrounded by snowy mountains.
Oh, wait open your eyes...lol! I don't want you dreaming of Leavenworth and missing all of the key tips to having an amazing time.
The main part of Leavenworth is spread along Front Street which is about 12 city blocks long with restaurants and shops along the street. There are additional restaurants and stores behind Front Street but the majority of people seem to congregate along Front Street.
The quaint bavarian of Leavenworth goes all out for the holidays with 500,000 lights decorating the city. Over half a million twinkle lights, snowflakes, and decorations bring in quite a crowd.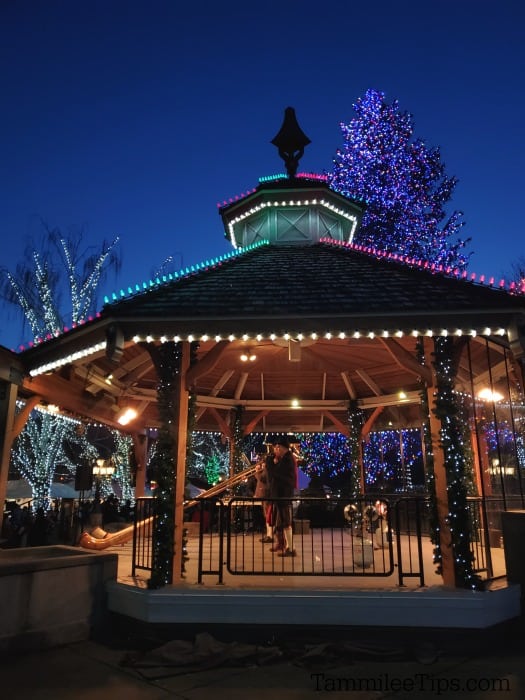 Leavenworth Tree Lighting
This year the Leavenworth, Washington Christmas has been postponed! Leavenworth will still be turning on the Christmas lights 7 days a week but they will not be having the lighting ceremony.
The Christmas Lights will be on from Thanksgiving weekend until Valentine's Day!
For three weekends leading up to Christmas, the town of Leavenworth hosts their Tree Lighting celebration. The Leavenworth Tree Lighting is held on Front Street and you will want to be prepared for it!
Friday nights the lights stay on the whole time. There are live performances in the gazebo in the center of town along with St. Nicolaus arriving at 4:30 pm to the Front Street Gazebo. He passes out gold for kids that have been good this year. It is worth noting that the lights stay on all night on Friday nights.
Saturday and Sunday night the events kick off at 12 pm! Yes, you read that right the kick-off starts at noon. BUT you don't want to plan to pull in at 11:45 and make it to everything.
This event is POPULAR!! 40,000 people popular some weekends. You will want to plan to get to town as early as possible to get a parking space and make your way to Front Street.
There are amazing restaurants and coffee shops that are the perfect place to start your day.
At 12 pm Santa and additional holiday characters walk from the Festhalle a few blocks to the Front Street Gazebo. Throughout the day you will find live performers wandering the street, Gluhwein (hot spiced wine) and hot cocoa tents, roasted chestnuts and more along Front Street.
Sundays there is a great bonus of a Cookie Crawl for kids! You can print a cookie crawl map with 13 stops for kids 12 and under to go and pick up a free cookie from 11 am to 6 pm!
4:45 pm: Christmas Lighting Ceremony! This is the moment you have been waiting for! You will want to find the perfect spot for photos before 4:45! Get ready because here come the lights.
Listen to Traditional alphorns kick-off the parade of stars & bells and the lighting of the Christmas Tree. Santa and a few local celebrities will lead the countdown to the lighting of the town and park with over half a million lights!
Don't worry there is still so much to do in town once the lights go on! You can enjoy sledding on the Front Street hill (weather permitting), wine tasting, or just relaxing with live musical performances. Once things for sure you will be in the holiday spirit after this amazing celebration.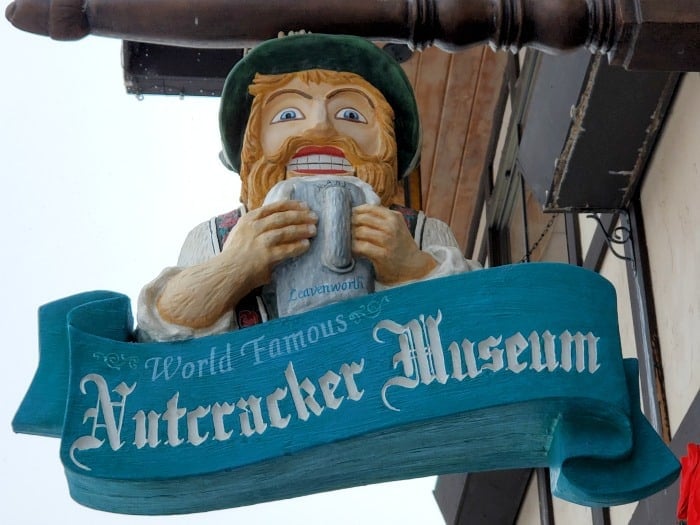 Leavenworth Nutcracker Museum
If you plan on visiting the Leavenworth Nutcracker Museum you will want to make sure to plan time between 1 pm and 5 pm. The museum is only open for four hours a day seven days a week.
Cost to visit the Nutcracker Museum:
Adults  - $5.00  (Ages 17 - 64yrs)
Seniors - $3.50  (Age 65yrs +)
Youth   - $2.00  (Ages 6 - 16yrs)
Child    - FREE   (Ages 0 - 5yrs)
Active Military - FREE (Spouse & Children Free with ID)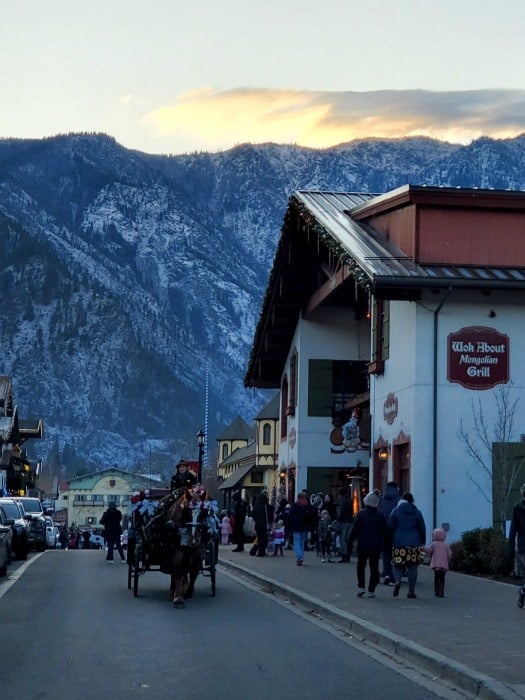 Leavenworth Sleigh Ride
Have you ever dreamed of taking a fairy tale sleigh ride through the snow? Leavenworth Sleigh Rides are the perfect opportunity to get out and experience this gorgeous area on a horse-drawn sled.
There are a couple of different providers of sleigh rides to choose from.
Eagle Creek Ranch provides sleigh rides pulled by Belgian or Percheron draft horses. You can do a group ride or private ride for two!
Leavenworth Sleigh Rides offers breakfast and dinner tours that include your meal and sleigh ride. They also offer sleigh rides without a meal during the day.
Icicle Outfitters offers group sleigh rides or private rides for couples. You can warm up with hot chocolate, spiced cider, and coffee in front of the woodstove before or after your ride.
Red Tail Canyon Farm offers sleigh rides pulled by Belgian and Suffolk Draft Horses.
Leavenworth Horse Drawn Carriage Rides
You can also take a horse-drawn carriage ride in the main portion of Leavenworth. There is normally a carriage and driver along Front Street.  This is a gorgeous way to see more of the holiday lights and have a fun winter experience.
Leavenworth Carriage Company is at 8th and Front Street.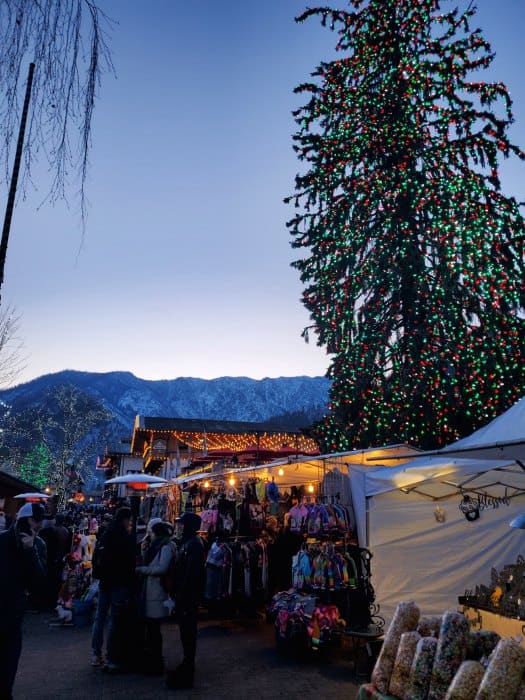 Christkindlmarkt
The weekend before the Leavenworth Christmas Lighting Festival kicks off there is a Bavarian town Christmas market held. There are vendors set up on Front Street and in the Festhall a few blocks from the main part of town.
We enjoyed the Christkindlmarkt but have to warn you that it may not be what you expect if you have enjoyed the Budapest Christmas Market, Salzburg Austria Christmas Market, or really any market in Europe.
The Leavenworth Christkindlmarkt had some handmade goods and gifts but also a large mix of commercial products. I want you to be prepared if you have been to a European Christmas market that there are some differences but it was still a ton of fun.
There were no Gluhwein tents in the market but it was available within a few of the wineries in town.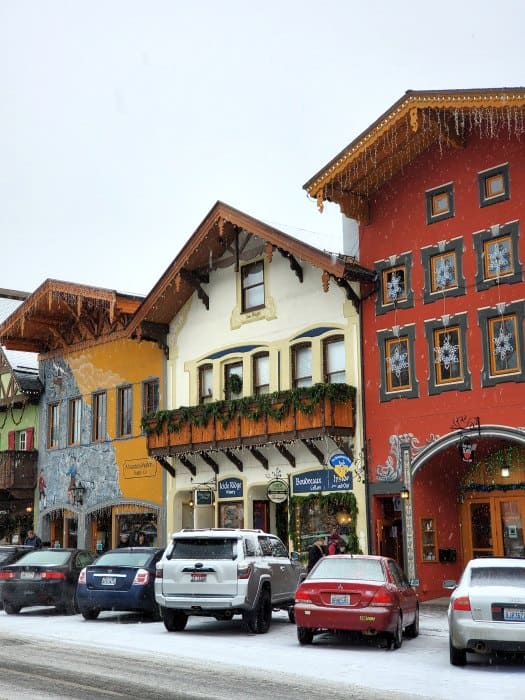 Leavenworth Christmas Shopping
Leavenworth is a Christmas shopping dream come true! Front Street is lined with cute local boutiques and wineries filled with so many amazing gift ideas.
Make sure to stop by Kris Kringl to get a holiday ornament to commemorate your time in Leavenworth. This store is Christmas year-round filled with epic ornaments and decorations.
Don't miss the Cheesemongers Shop!!! If you have even a small love of cheese you are going to LOVE this shop! Filled with epic cheese from around the world plus so much more this is a must-visit while in Leavenworth.
Ice Skating
You can rent skates and enjoy the outdoor ice skating rink at Lions Club Park from November through January. Located next to City Hall the ice skating rink is open from 9 am to 9 pm weather permitting.
Address: 696 US-2, Lions Club Park, Leavenworth WA 98826
Leavenworth Reindeer Farm
Open year-round you can check out a fun hands-on experience while learning more about Reindeer. The Leavenworth Reindeer Farm is located ½ mile from downtown Leavenworth. This is a great place for family photos!
Reservations are required! You can book tickets online.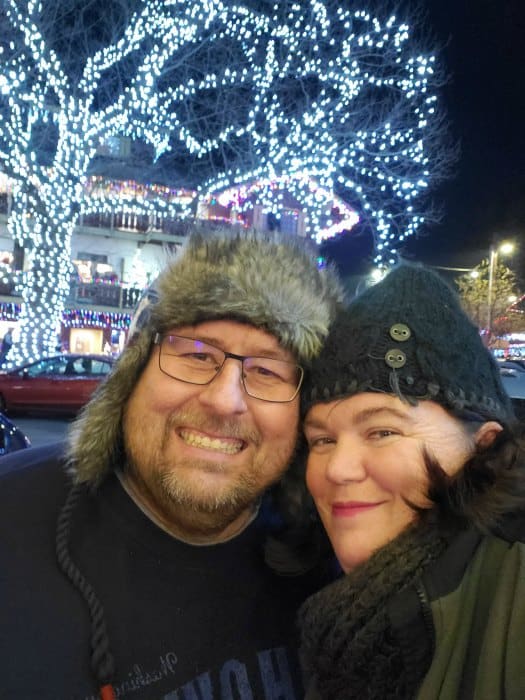 Leavenworth Christmas Helpful Hints
What to bring with you
You will want to be prepared for cold winter weather while visiting Leavenworth for the Christmas festivities. The weather can be downright cold to a bit warmer but still super chilly.
We saw a lot of kids dressed in snowsuits with cute hats wandering through town. The more layers the better especially if it has snowed.
If there is a chance of snow you may want to bring a small snow sled or disc sled with you. The town of Leavenworth allows sledding right off of Main Street near the gazebo.
For adults, you will want all the layers you can handle. Don't forget to pack gloves like I did one weekend and I thought my fingers were going to fall off from the cold especially as I tried to take 2 million photos.
We bring these hand warmers with us and keep them in our pockets in case we get too cold and want to start using them. They also make these great foot warmers which feel amazing.
Don't forget to make sure your phone is fully charged so you are ready to take all the photos and videos you want.
If you are shooting with a regular camera make sure to bring back up batteries. The cold weather can make batteries lose power faster than normal.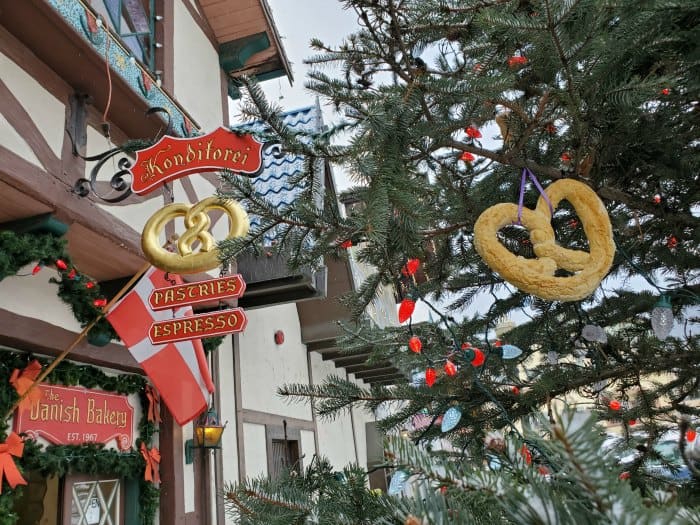 How to get to Leavenworth
Leavenworth, Washington is nestled in the Cascade Mountains providing epic winter recreation opportunities. Highway 2 passes through the city and is the only main highway into town. You can get to Leavenworth off of I-90 in a couple of different ways.
From Seattle, you are barely two hours to reach this amazing Bavarian-style town that will transport you away from day to day life stresses and into fun!
From Spokane you are 3 hours to the fun!
Directions to Leavenworth via Google Maps:
Click here for WSDOT Traffic Alerts.
Closest Airport - 30 miles Pangborn Memorial Airport in Wenatchee
Parking
The early bird gets the worm or in this case an easier to find parking space. Please do not try to arrive in Leavenworth right before the Christmas lighting or Santa's arrival.
You may see the event from the comfort of your car miles away from the city.
From 12 pm to 7 pm there will be flaggers and Highway patrol out directing traffic to keep cars moving.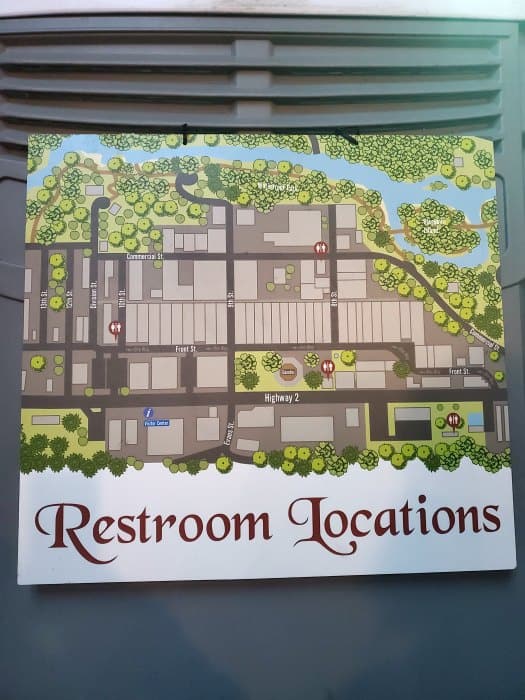 Restrooms
3 available indoor restroom facilities; Front Street Park near Maipole, 8th & Commercial and Leavenworth Festhalle.
There are also groups of porta-potties right near the Maypole and in other parking lots.
And yes I did take a photo of the restroom map that can be found on the side of the porta-potties. This is vital information when you need it, you def need it! LOL!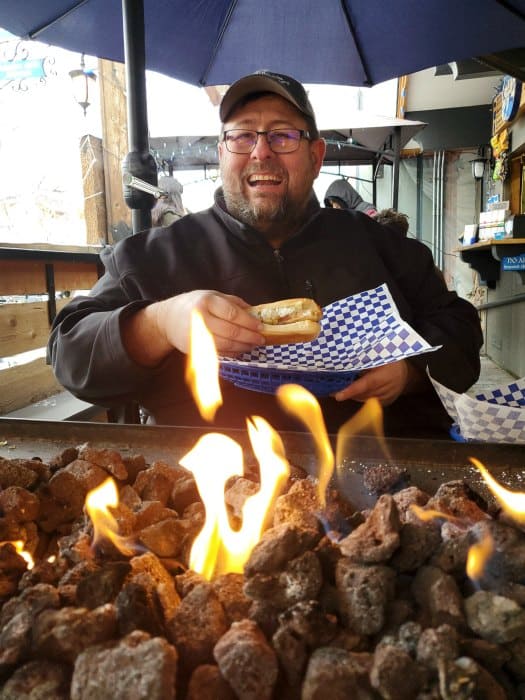 Leavenworth Restaurants
Remember how the early bird gets the parking spot well the early bird also gets into dinner a lot faster.
If you are visiting Leavenworth during a holiday lighting weekend you will want to be prepared for crowds and lines getting into restaurants.
Don't worry the Leavenworth restaurants are prepared for the crowds and know they are coming but many of these restaurants are not huge and only have so many tables and seats for guests.
We talked to an employee who said that they were preparing for days ahead of time to get ready for the influx of people.
I will say that we visited Leavenworth on Friday before the first full Christmas lighting celebration and the crowd was super manageable. We didn't have to wait at all to get into a great restaurant for dinner.
During the Christmas lighting festival, you may want to wait an hour or two depending on when you are planning on eating. Enjoy wandering in town and checking out the shopping and wine tasting. This will allow a portion of the crowd to dissipate and head out of town.
A few of the Leavenworth restaurants we love include:
Icicle Brewing Company - Don't miss the pretzel with warm Beecher's cheese dipping sauce. We paired this with Chili con Carne and Tomato Soup with a Grilled cheese sandwich. Save your dipping sauce if you have any to pour into your soup! Trust me it is EPIC!
King Ludwigs - We are slightly partial to King Ludwigs because we had our rehearsal dinner there before we were married outside of Leavenworth over 12 years ago.
King Ludwigs offers a really fun atmosphere with live music and great food.
Gingerbread Factory - If you are looking for a sweet treat, hot coffee and a seriously cute atmosphere you will want to check out the Gingerbread Factory. Their gingerbread iced cookies are dangerously good!
Also, their cinnamon roll is worth waiting in line for! I would buy two and bring one back to your hotel with you they are that good!
München-Haus - Fair warning the seating for Munchen-Haus is outside on picnic tables but it is so worth it! They have a huge variety of bratwurst available including a Beyond Brat vegan brat that is actually really good.
Danish Bakery - Don't miss the sweet treats at this delicious bakery. Their cinnamon bread is truly awe-inspiring. Make sure you have cash with you or plan to use their ATM. This is a cash-only bakery.
They have a couple of tables with gas fire strips built in that make it amazing! You can't go wrong enjoying a
German brat
and cold beer or gluhwein while it is snowing all around you. It feels like you are dining inside of a snow globe.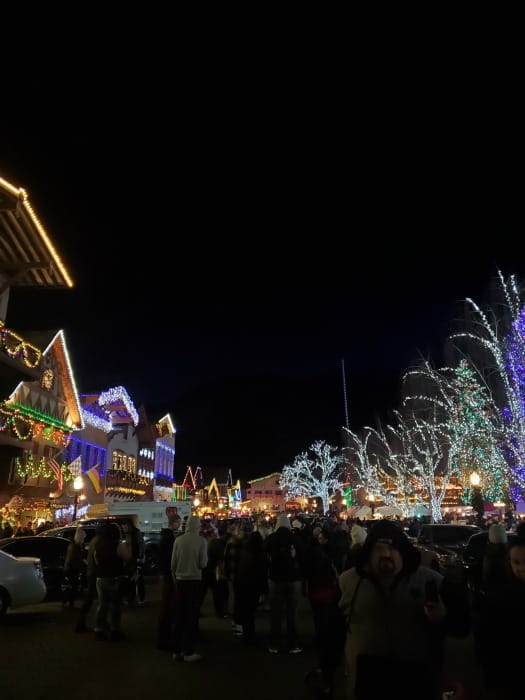 I hope that this Leavenworth Christmas Guide helps you have the most amazing time in Leavenworth! This part of
Washington State
is one of our favorites! Not only did we get married in Leavenworth we go back and visit multiple times a year.
Additional Resources to help plan your visit to Leavenworth
Aplets and Cotlets
- Visit Liberty Orchards in Cashmere to see where Aplets and Cotlets are made and pick up great holiday gifts.