Ways to help St. Jude while on a Carnival Cruise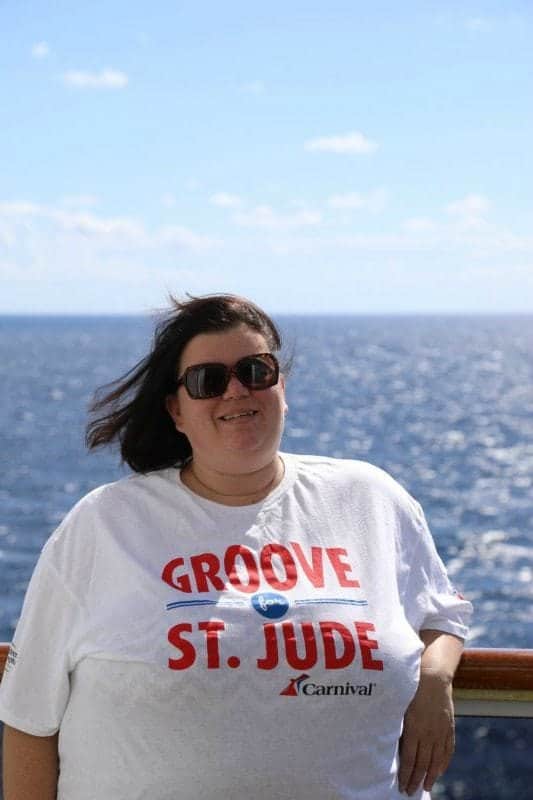 Ways to help St. Jude while on a Carnival Cruise
This past year I had the amazing opportunity to visit St. Jude Hospital in Memphis with Carnival Cruise Line for their day of play. This day of play truly changed me and my goals in life. I was so inspired by the families and kids that we met.
They are going through what many would say is the hardest thing possible, childhood cancer, yet they have smiles on their face and truly enjoyed being in the moment. Ever since this moment I have been focused on ways that we can pay it forward and also support organizations that mean a lot to us.
I love that during a Carnival Cruise we can each take a few minutes out of our lives to truly make a difference to another family! Plus you can have fun while doing it which is a truly amazing opportunity.
I wanted to share the ways to help St. Jude while on a Carnival Cruise. There are a couple of options on each cruise that benefit St. Jude.
First, there is the Groove for St. Jude! For a $10 donation, you receive a Groove for St. Jude t-shirt and a bracelet. You join a group of fellow cruisers on the Lido deck to dance together and celebrate life!
This is a great way to dance, have fun, and pay it forward with your fellow cruisers!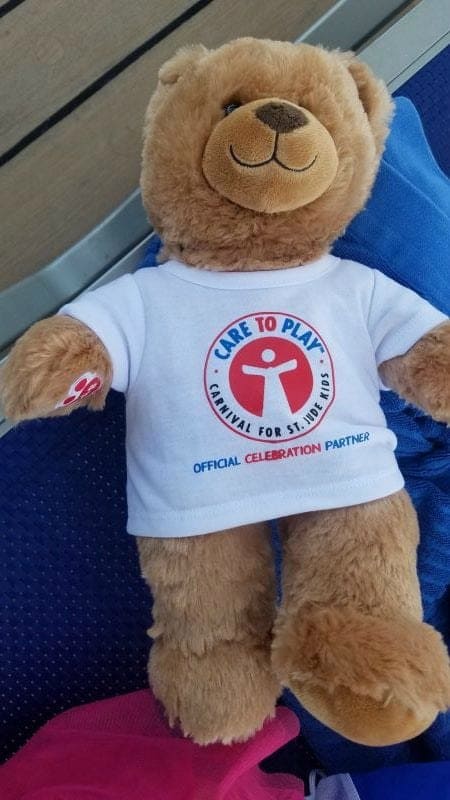 Another way you can help is to purchase a special St. Jude bear during the Build a Bear at sea activity.
On the Carnival Vista, you can visit the Cherry on Top ice cream shop and purchase a special sundae the Brownie Buoy! This ice cream sundae was specifically selected by the kids at St. Jude!
The money raised by Carnival Cruise Line goes to support Carnivals' work as the Celebration partner with St. Jude.
Carnival has raised over $16 million dollars to help St. Jude fight childhood cancer! I LOVE THIS!  Carnival has a goal of raising over $20 million by 2021!
Carnival joined the St. Jude mission in 2010 and has been working daily to provide celebrations for kids and families that are receiving treatment at St. Jude.
As the celebration partner with St. Jude Carnival sponsors birthday parties at the hospital! Carnival provides patients with a special cake to celebrate their big day. Carnival also supports the annual St. Jude formal where legendary DJ IRIE gets the party moving and keeps everyone on the dance floor.
During our tour of St. Jude we learned how much the patients look forward to the St. Jude formal for teens. Parents are not allowed and the teens get to be teens!
If you are not planning a cruise soon but still want to donate or support St. Jude you can donate directly on the St. Jude website or through this page on Carnival's website.
I am making the goal of raising funds through our website to donate to St. Jude. I want to continue to help the families we met during the Dr. Seuss Day of Play.
This photo sits on my desk and is a daily reminder of how blessed we are and how we each have the opportunity to pay it forward and help others.
Additional Carnival Cruise Articles
Sports Deck on Carnival Cruise Ships
Check out all of 0ur Carnival Cruise Travel Guides