Easy Stove Top Meatloaf Recipe combined ground beef and Stove Top Stuffing mix together to create an amazing comfort food meatloaf. So easy to make with a delicious meatloaf glaze over the top you will love how great this meatloaf turns out.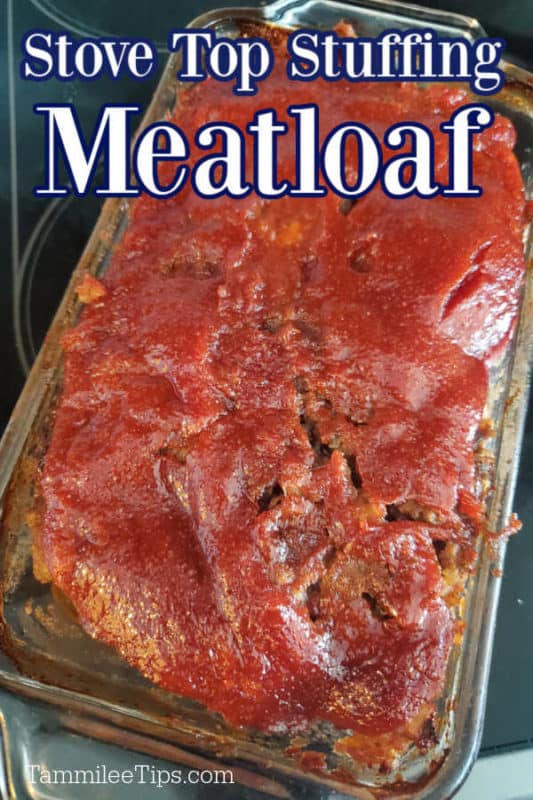 Stove Top Stuffing Meatloaf Recipe
I have been on a meatloaf kick the past few months. We have mentioned a few times before but we are making weekly pre-made meal kits for my Husband's mom and grandmother. Every weekend I put together meals with a meat and 2 veggie side dishes.
They can pick out which ones they want to eat right then and then freeze the containers for later so they don't have to stress over cooking right now. My husband's grandmother is 93 and she is just not up to cooking much anymore. I am having a lot of fun making her favorite meals with a twist.
You have never seen side-eye until a 93-year-old grandmother gives you side-eye for making peas instead of green beans. Who knew there was so much angst over green vegetables.
This past week I brought them this Stove Top Stuffing Meatloaf paired with Southern Style Green Beans along with the Ritz Chicken Casserole paired with Creamed Corn Casserole. For dessert, I have been bringing them Bisquick Peach Cobbler, Strawberry Cake Mix Cookies, and  Funfetti Cake Mix Cookies.
I learned my lesson and did not bring any peas over this past week. You could also serve this with mashed potatoes or your favorite side dish.
What I love about this easy meatloaf made with stove top stuffing is how dang easy it is to prepare. It takes minutes to throw this together and get it into the oven.  All you need is ground beef, stove top stuffing, eggs, and water plus the meatloaf glaze ingredients and you are ready to go.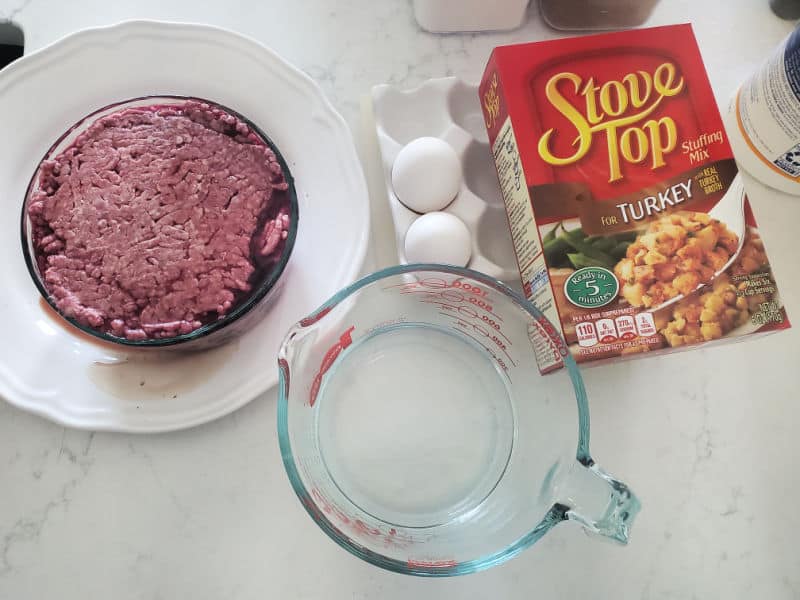 Stove Top Meatloaf Ingredients
Ground Beef
Stove Top Stuffing
Eggs
Water
Ground Beef - I try to use lean ground beef for this recipe. You can also use ground turkey or chicken.
Stove Top Stuffing - You can use any variety of Stove Top Stuffing in this recipe. I use turkey Stove Top Stuffing because that is what our family is used to.
Since the Stovetop stuffing has seasoning already mixed in you don't need to worry about adding any additional seasoning to the mix.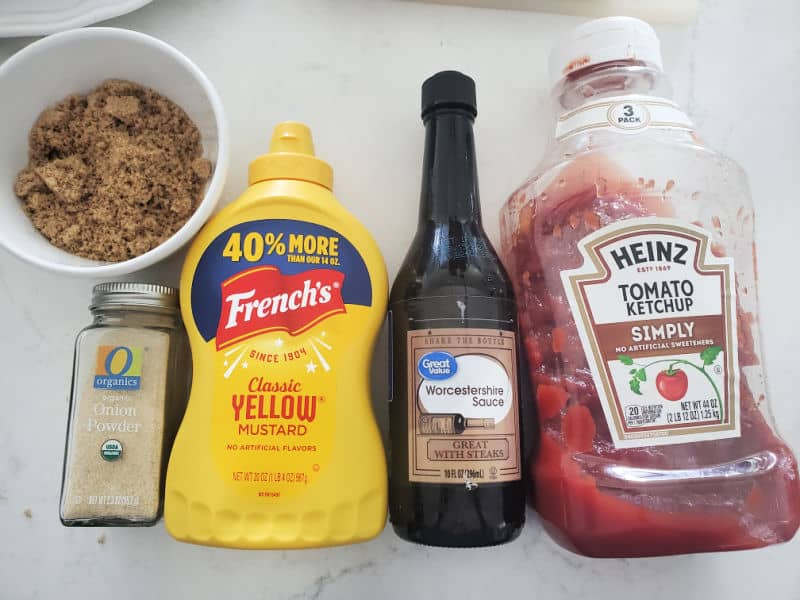 Meatloaf Glaze Ingredients
Ketchup
Brown Sugar
Yellow Mustard
Onion Powder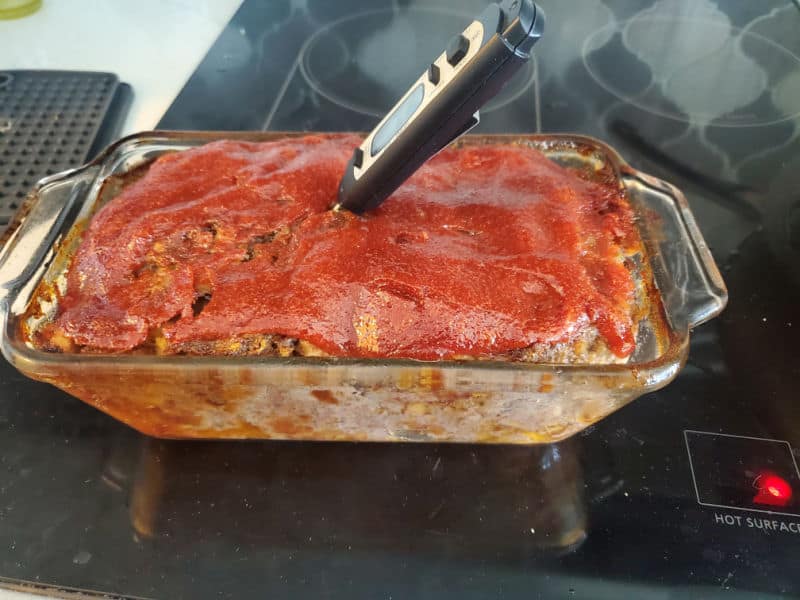 Equipment Needed
Large Mixing Bowl - Make sure you use a bowl large enough to contain all the ingredients. I made this meatloaf using Stove Top stuffing in to small of a bowl at one point and had ground beef flying all over the place.
Loaf Pan/Meatloaf Pan - I use a glass loaf pan when I make meatloaf but I am thinking about getting a meatloaf pan that will help drain some of the greases while it is cooking.
Small/Medium Bowl - You will want a separate bowl to mix the meatloaf glaze in.
Whisk - I like to use a whisk to make the meatloaf glaze but you can easily use a spoon if you don't have a whisk available.
Nonstick cooking spray - This will help make it easier to remove the Stove Top Dressing Meatloaf from the pan.
Meat Thermometer - A meat thermometer will help you know that the internal temperature of the meatloaf has reached 160 degrees. The meat mixture should no longer be pink in the middle.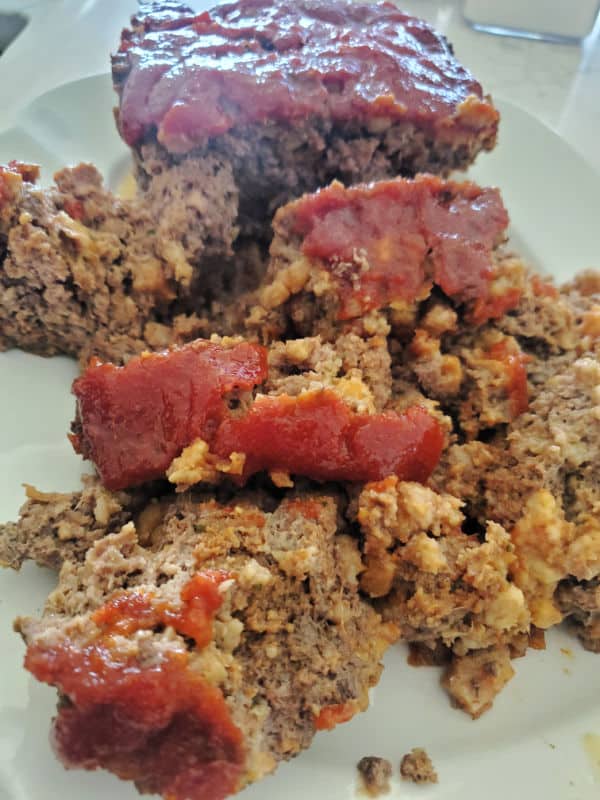 Recipe Tips
Don't forget to preheat the oven to 350 degrees.
Be prepared to get your hands into the Stove Top meatloaf mixture to get it mixed together. I try to have a kitchen towel close by along with easy access to the sink when I am done mixing.
If you like your meatloaf to be covered in meatloaf sauce I highly suggest doubling the meatloaf sauce recipe. This will give you more than enough to coat this meatloaf recipe using Stove Top Stuffing.
We make this in a loaf pan but I have heard of people making it in a bundt pan to save a bit of cooking time and give it a new look.
If you don't have the ingredients or don't enjoy ketchup meatloaf glaze you can always cover this Stove Top meatloaf with bbq sauce of your choice.
Make sure to plan 5 minutes after you add the water to the stuffing mix for it to combine together. You only need 1 cup of water for this!
The baking time ranges from 45-60 minutes depending on your oven and the pan you are using. I check the internal temperature at 45 minutes but normally with our oven I have to go closer to 60 minutes.
Once the Stove Top Meatloaf is out of the oven allow it to sit for at least 10 minutes so all of the meatloaf juices are absorbed into the meatloaf.
If you have leftovers you can make a meatloaf sandwich or heat them on their own.
The hardest part of this meatloaf recipe is removing it from the pan. I really think I need to order a meatloaf pan that lifts out of the dish for easy serving. You can also use parchment paper or aluminum foil and create handles you can lift the meatloaf out with.
You can easily double this recipe and prepare a meatloaf to be frozen. Just make sure it wrapped tightly before storing it in the freezer.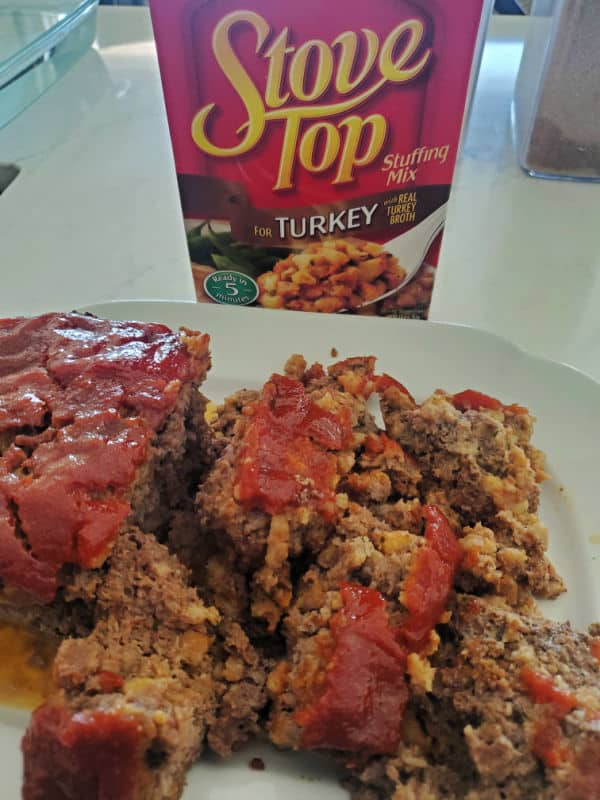 Great Dinner Recipes
Do you love recipes? Check out our copy cat recipes, dessert recipes, and our Crock Pot Recipes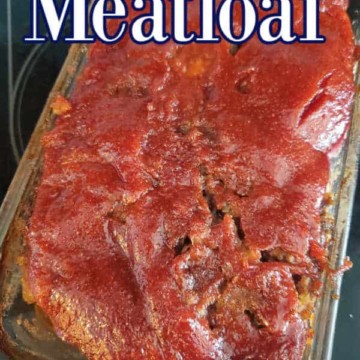 Stove Top Meatloaf Recipe
Easy meatloaf recipe made with Stove Top Stuffing and a few other ingredients. This is the perfect comfort food dinner recipe.
Print
Rate
Instructions
Preheat oven to 350 degrees
Meatloaf Glaze
Whisk together Ketchup, brown sugar, worcestershire Sauce, Mustard and Onion Powder in a bowl.
Stovetop Meatloaf
Combine hot water and stovetop stuffing and allow the to sit for 5 minutes.

Combine ground beef, stuffing mix, eggs, and water until well mixed together. Add in ½ of the meatloaf glaze and mix well.

Pack ground beef and stuffing mixture into a loaf pan that has been greased. Press the meat mixture in so it is compacted into the pan.

Cover meatloaf with remaining meatloaf glaze, bake for 45-60 minutes until meat reaches a temperature of 160 degrees.

Let meatloaf rest for at least 5 minutes before serving.
Nutrition
Nutrition Facts
Stove Top Meatloaf Recipe
Amount Per Serving
Calories 586
Calories from Fat 234
% Daily Value*
Fat 26g40%
Cholesterol 122mg41%
Sodium 1186mg52%
Potassium 582mg17%
Carbohydrates 59g20%
Protein 28g56%
Vitamin A 216IU4%
Vitamin C 2mg2%
Calcium 97mg10%
Iron 5mg28%
* Percent Daily Values are based on a 2000 calorie diet.