Copy Cat Carnival Miami Vice Cocktail Recipe....yes please!  Please transport me back to a beautiful Carnival Cruise Ship...I am dreaming of tropical breezes, warm sunshine, frosty beverages and gourmet food.
It just seems right to share one of my favorite frosty beverage while we are cruising! The Miami Vice Cocktail!!! YUM! I love how great this Miami Vice Drink looks in the glass. So fun for tropical parties, luaus, birthday parties, or any night you just need a tropical cocktail to transport you to a beautiful beach.
Every time I enjoy a Miami Vice I can't help but think about cruising in the Caribbean on a Carnival Cruise ship. Sitting on the deck watching the world go by while we just soak up the sunshine. There is just something so relaxing and wonderful about letting your cares drift away as you relax with a tropical cocktail.
You can't get much more tropical than this Miami Vice! The perfect combination of Pina Colada and Strawberry Daiquiri. It only looks hard to make but is truly so easy to make! Trust me anyone can make this cocktail recipe!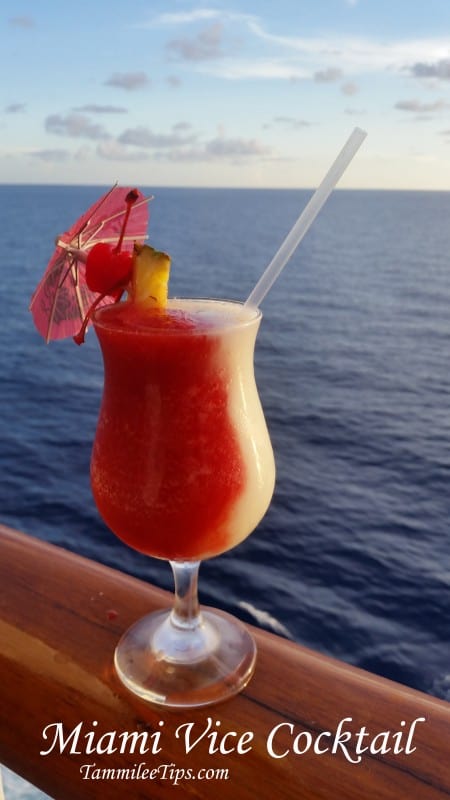 Miami Vice Cocktail Recipe
Ingredients
5oz Bacardi 151
1 bottle Frozen Pina Colada Mix
1 bottle Frozen Strawberry Daiquiri Mix
Directions
1. Mix the pina colada mix with 2 ½ oz rum & ice
2. Mix the strawberry daiquiri mix with 2. ½ oz rum/ice
3. Add the pina colada to a cocktail glass, then add the daiquiri on top, If you want to get super fancy tilt the glass to the side so you can get the drinks layered on top of each other.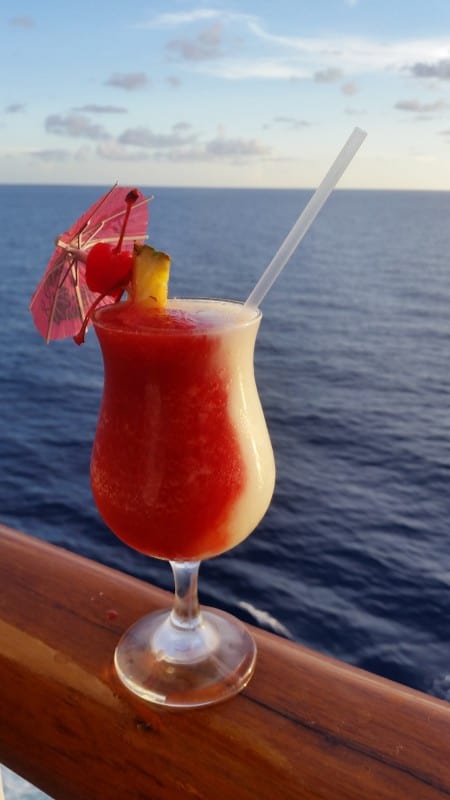 Great Cocktail Recipes
Do you love recipes? Check out our copy cat recipes, dessert recipes, and our Crock Pot Recipes.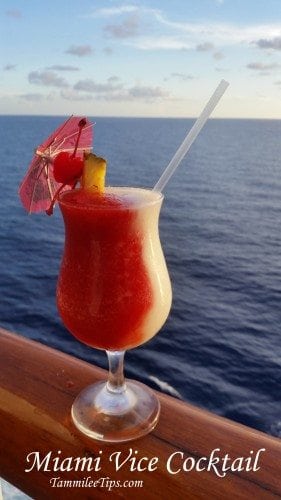 Copy Cat Carnival Miami Vice Cocktail Recipe
How to make a delicious frozen Miami Vice Cocktail
Print
Rate
Instructions
Mix the pina colada with 2 ½ oz rum & ice

Mix the daiquiri with 2 ½ oz rum/ice

Add the pina colada to a cocktail glass, then add the daiquiri on top
Copy Cat Carnival Miami Vice Cocktail Recipe! This frozen cocktail is the perfect combination of strawberry daiquiri and pina colada