I don't know whether to call this a salad, an appetizer, or just plain delicious. It is seriously only a couple of ingredients and so good! Seriously easy and oh-so-delicious Caprese Salad Recipe you can make right now! Great for a crowd or family dinner! Four ingredients are all you need!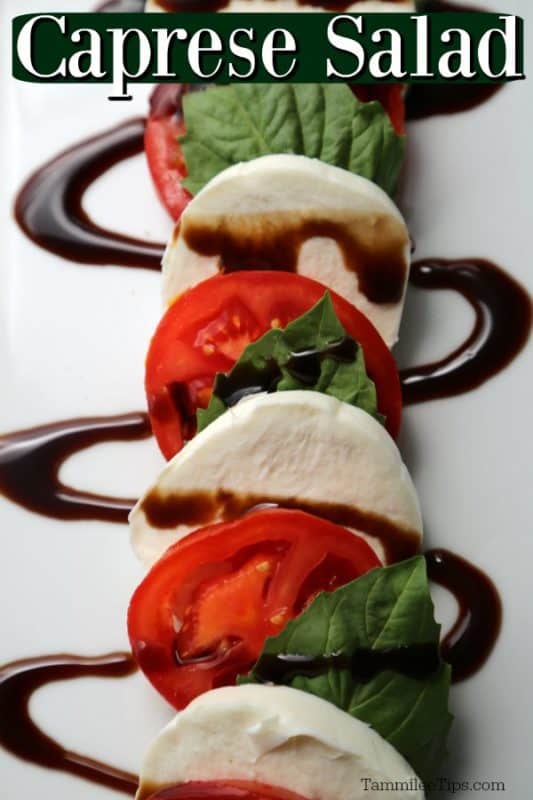 Oh so delicious Caprese Salad
The combination of mozzarella, tomatoes, basil, and balsamic vinegar is excellent. This easy salad is our go-to lunch right now with the heat of the summer.
I use Roland Balsamic Glaze from Italy, which I order from Amazon. I buy the big container because we use it for everything.
From salads to grilled cheese sandwiches, this balsamic vinegar is excellent. I drizzle it on everything. The flavor is delicious. 
Here's a seriously easy and oh-so-delicious Caprese Salad!
Ingredients
Here is a quick overview of the simple ingredients for making an epic Caprese Salad! The printable recipe card at the bottom of the post includes specific measurements and step-by-step instructions.
Fresh Mozzarella Cheese 

Slices of Tomatoes

Fresh Basil Leaves 
Optional - Extra Virgin Olive Oil, a sprinkle of flaky sea salt (Maldon)
Tomatoes - You can use cherry tomatoes if you want to make a smaller salad with fresh mozzarella balls.
Heirloom tomatoes look gorgeous when used for this caprese salad.
Ripe tomatoes during their peak season taste so good.
Equipment Needed
Serving Platter

Serrated Knife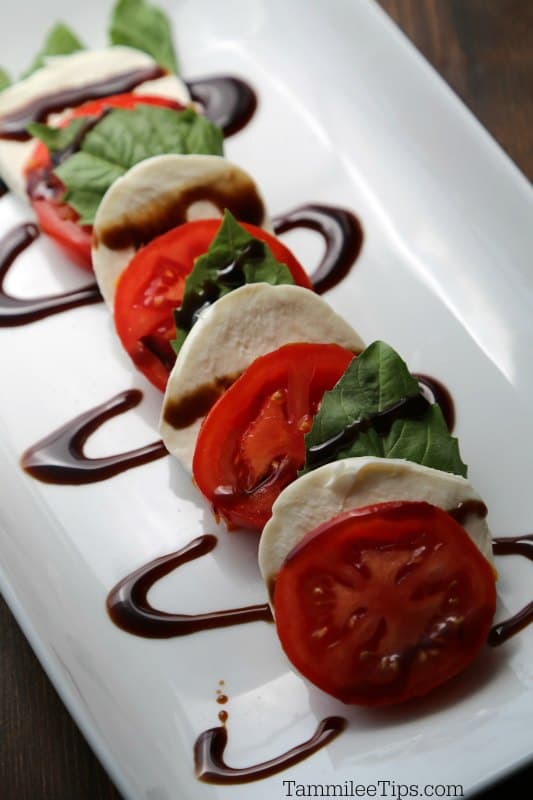 Preparation and Storage
Make Ahead + Storage: We don't recommend making this Caprese Salad beforehand or storing any leftovers. It contains fresh ingredients that are best enjoyed fresh and made to order.
Recipe Variations
Substitutions: We use Roland Balsamic Glaze, an Italian balsamic glaze we order from Amazon. Any quality balsamic glaze works, however.
Vegetarian Option: This recipe is vegetarian.
Vegan Option: Vegans should use a vegan balsamic glaze, as some brands may contain honey as a sweetener.
Gluten-Free: Gluten-free eaters should opt for a gluten-free balsamic glaze to ensure no cross-contamination with unsafe ingredients for a gluten-free diet.
Smaller Serving Size + Larger Group/More Servings: Whether you make an individual portion or a large platter of this Caprese Salad, this recipe is easy to make according to the size of the crowd you need to feed.
Make It Spicy: Add red chili pepper flakes or black pepper for some spice, depending on your preferred spice level.
Sugar-Free: Use a sugar-free balsamic glaze to make this recipe sugar-free.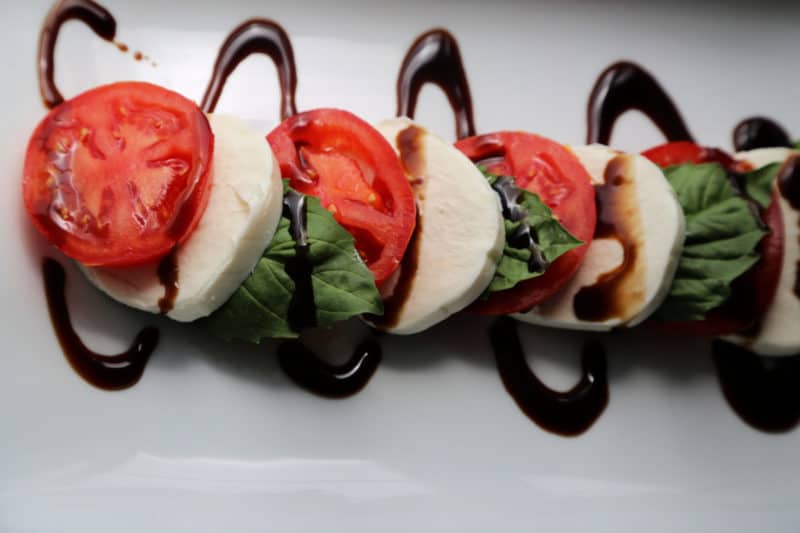 Tips for the Best Caprese Salad
It feels wild calling this a recipe when it is so easy! This Caprese salad works great as an appetizer for parties. You can slice the tomatoes and mozzarella in quarters and use a toothpick to hold them together with some basil. Pour some balsamic glaze over them and have a super easy, ready-to-go appetizer.

Nutritional facts, including calories, protein, calcium, carbohydrates, fiber, vitamin c, potassium, cholesterol, sodium, trans fat, monounsaturated fat, polyunsaturated fat, and more, will vary depending on the products used.
 Caprese Pasta Salad is a fun twist on this classic recipe. 
If you love these flavors we suggest making caprese sandwiches! YUM!
What to Serve with Caprese Salad
In our book, there isn't a wrong time to serve some yummy Caprese Salad! Serve it as a light cocktail night appetizer or a starter to a homemade date night meal with a side of garlic bread, a salad, and tiramisu for dessert.
Here are some menu planning suggestions.
Sides: Sugared Cranberries, Hasselback Potatoes, Air Fryer Spaghetti Squash, Carrot Soufflé, Crock Pot Stuffed Tomatoes, CrockPot Shrimp & Grits, Strawberry Bruschetta, Shrimp Remoulade, CrockPot Bacon Wrapped Potatoes, Super Easy Bruschetta
Main Dishes: CrockPot Port Braised Beef Short Ribs, CrockPot Rosemary Pork, Caprese Eggs Benedict, Balsamic Chicken Skewers, CrockPot Salisbury Steak, CrockPot Beef Tips & Gravy, Shrimp Linguini, CrockPot Roast with Red Potatoes, Grilled Shrimp with Avocado Butter
Desserts: Hershey Pie, Sweet & Salty Chocolate Dessert Bar, Creme Brulee Cheesecake Bars, Carrot Cake with Pineapple, Coconut & Port Wine, CopyCat Olive Garden Lemon Cream Cake, Strawberry Shortcake, CrockPot Cherries Jubilee, Apple Blackberry Fruit Tart
Drinks: Alchemy Bar Revved Up Mojito Martini, Chocolate Cake Shot, Chocolate Covered Cherry Shot, Classic Grasshopper Drink, Cranberry Mimosa, Raspberry Pomegranate Lemonade Cocktail, 40 Is the New 20 Martini Cocktail, Martini Seduction, Alchemist Sidecar
When to Serve
Lunch

Italian Night

Cocktail Night

Dinner Date Night

Dinner and Drinks

Great Side Dish
Great Salad Recipes
Do you love recipes? Check out our copycat recipes, dessert recipes, and our CrockPot Recipes.
Follow Tammilee Tips on MSN, Facebook, Instagram, and Pinterest for all our recipe posts.
This recipe is featured as one of our best side dishes for ham.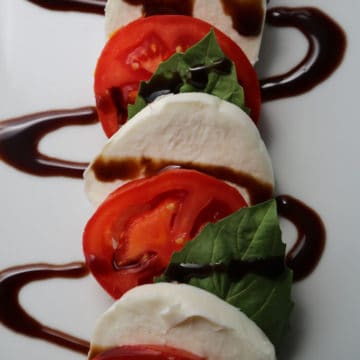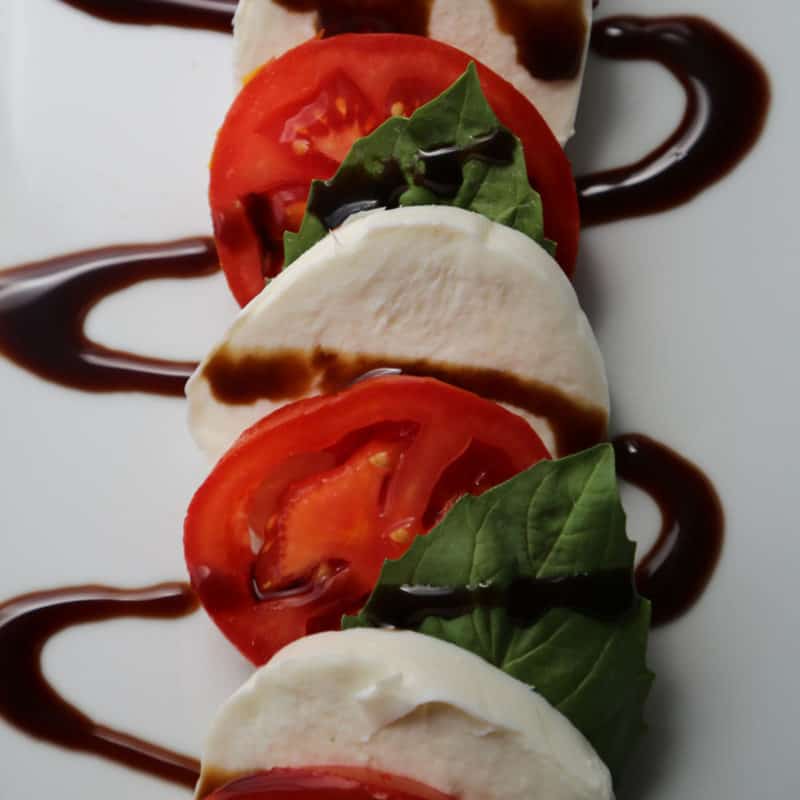 Instructions
Slice mozzarella and tomatoes so they are similar sized

Layer the basil, mozzarella and tomato along the plate

Pour Balsamic Glaze over the top
Recipe originally shared on July 8, 2015. Updated December 2020