Shaq's Big Chicken Restaurant is one of the new fast-service restaurants on the newly renovated Carnival Radiance. They are open for breakfast and lunch.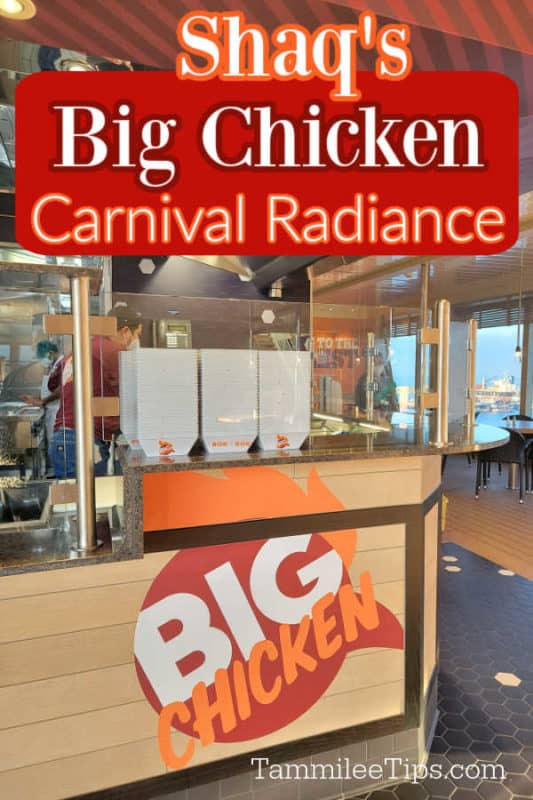 Shaq's Big Chicken - Carnival Radiance
Current Ships - Carnival Radiance, Carnival Mardi Gras, soon to be on the Carnival Celebration.

Location - Deck 9 Lido
One of the things we were most looking forward to checking out on our 4 day Baja Mexico Cruise was Big Chicken!
Currently, you can only find it on the Carnival Radiance and the Carnival Mardi Gras. We haven't made it to Florida to sail on the Mardi Gras yet but it is on our goal list.
We were so excited to try it we headed there as soon as we cleared our muster drill and were free to enjoy the ship.
When my husband took the first bite of the MDE Most Dominant Ever Chicken Sandwich he told me this is damm good chicken.
At the same time, a table next to us was also enjoying their first bites and all I heard was yes, mmmmmm, yummmmmmm, oh my this is good chicken.
Every single person was talking about how epic their chicken sandwich was and how they were going back for another one.
You can expect big flavor, big food, and big fun when you visit Big Chicken.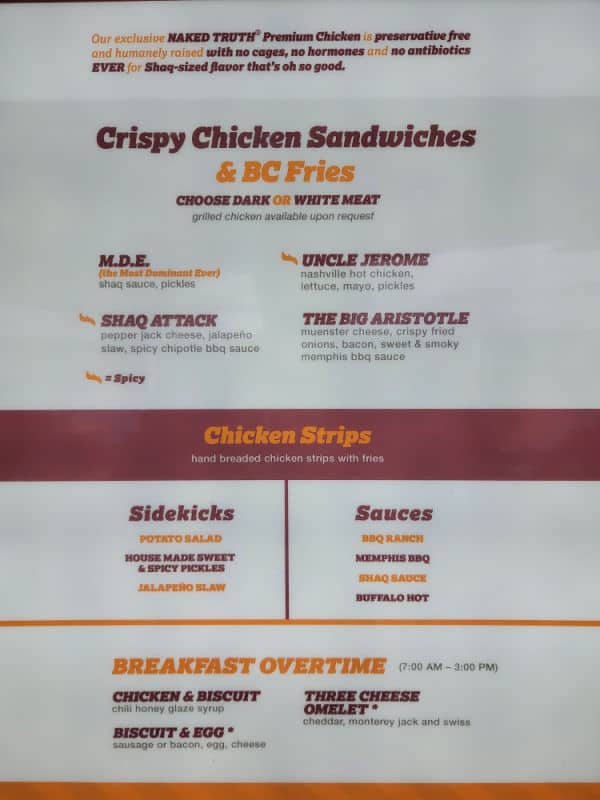 Shaq's Big Chicken Menu
Choose dark or white meat — grilled chicken is available upon request.
When it comes to the perfect breading they spent hours perfecting the blend of spices used. They use a process of wet and dry battering to give the chicken a crispier skin that stands up to even the boldest barbecue sauce!
They use exclusive Naked Truth Premium Chicken which is preservative-free and humanely raised with no cages, no hormones, and no antibiotics ever.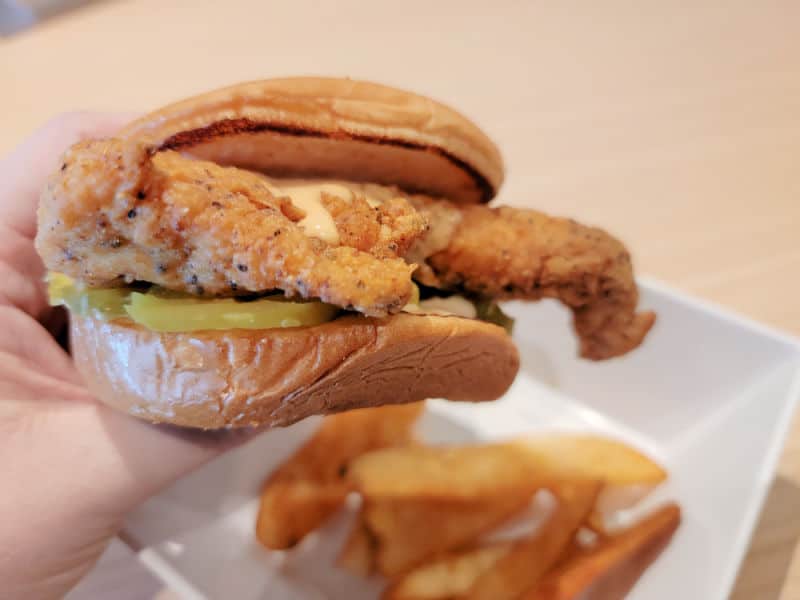 M.D.E. (the Most Dominant Ever)
Shaq sauce, pickles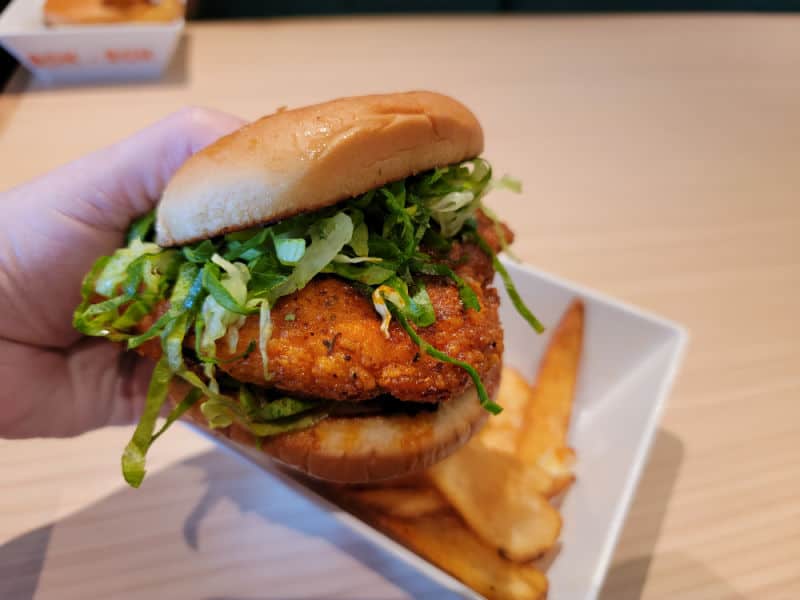 Uncle Jerome 
Nashville Hot Chicken, Lettuce, mayo, pickles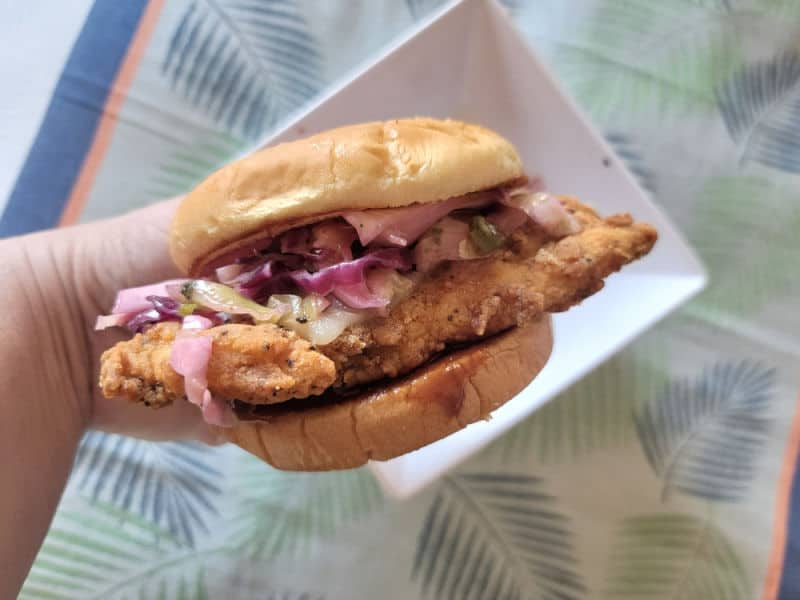 Shaq Attack
Pepper jack cheese, jalapeño slaw, spicy chipotle BBQ sauce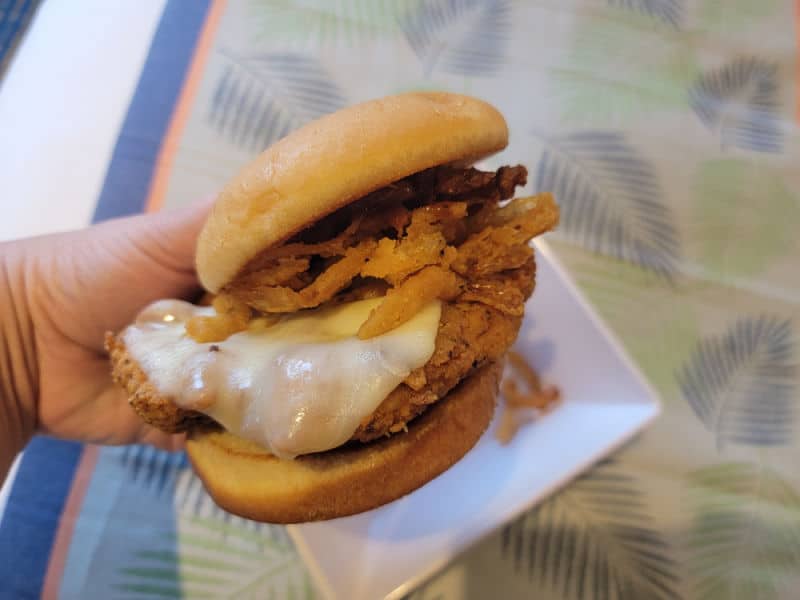 The Big Aristotle
Muenster cheese, crispy fried onions, bacon, sweet & smoky Memphis bbq sauce
Chicken Strips
2 oz hand-breaded chicken strips with fries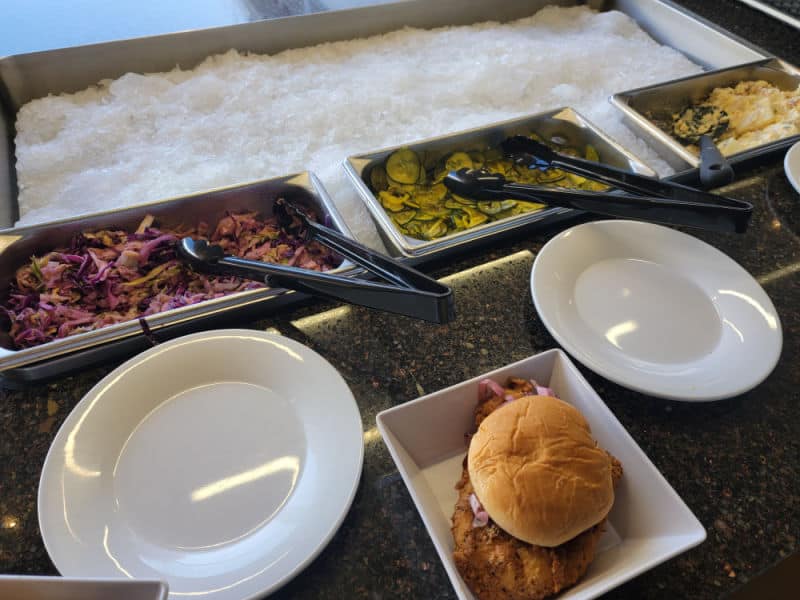 Sides
Potato salad
House-made sweet and spicy pickles
Jalapeño Slaw
Sauces
The sauces are inspired by Shaquille's love of barbecue as well as the different regions around the world where barbecue is loved.
Shaq Sauce
Buffalo Hot
BBQ Ranch
Memphis BBQ
All-Day Breakfast
Served from 7 am to 3 pm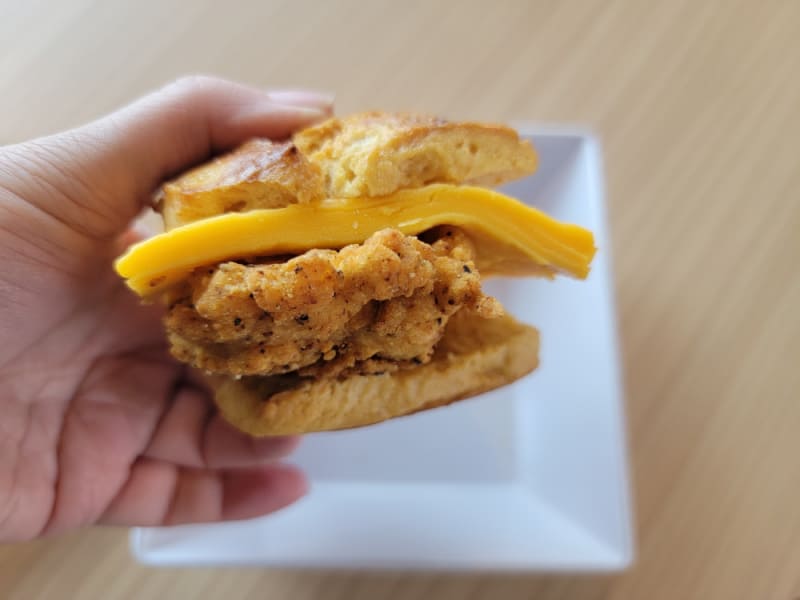 Chicken & Biscuit
Chili honey glaze syrup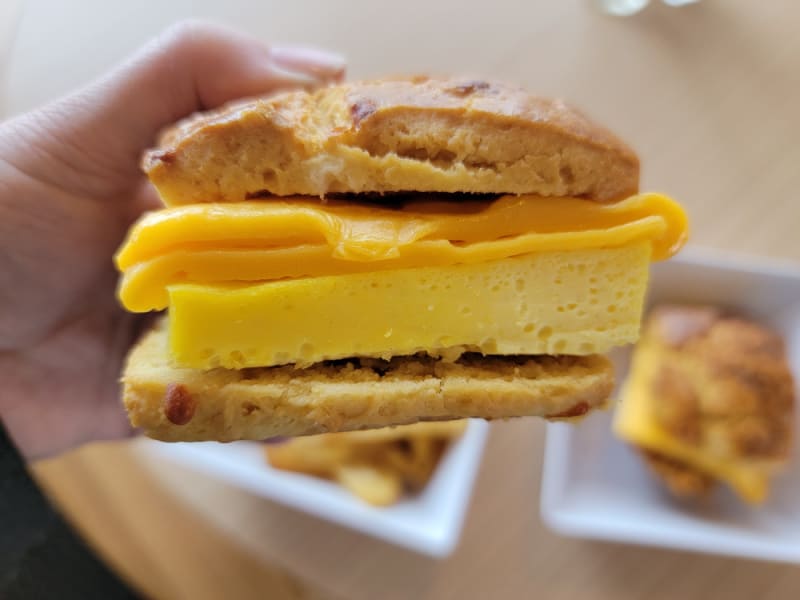 Biscuit & Egg
Sausage or bacon, egg, cheese
Three Cheese Omelet
Cheddar, Monterey Jack, and swiss
Shaq Daddy 
Not served on the Carnival Radiance. The staff said that they started with this sandwich but it has been removed from the menu. You may still see it mentioned on original menus.
swiss cheese, country ham, Carolina honey mustard BBQ sauce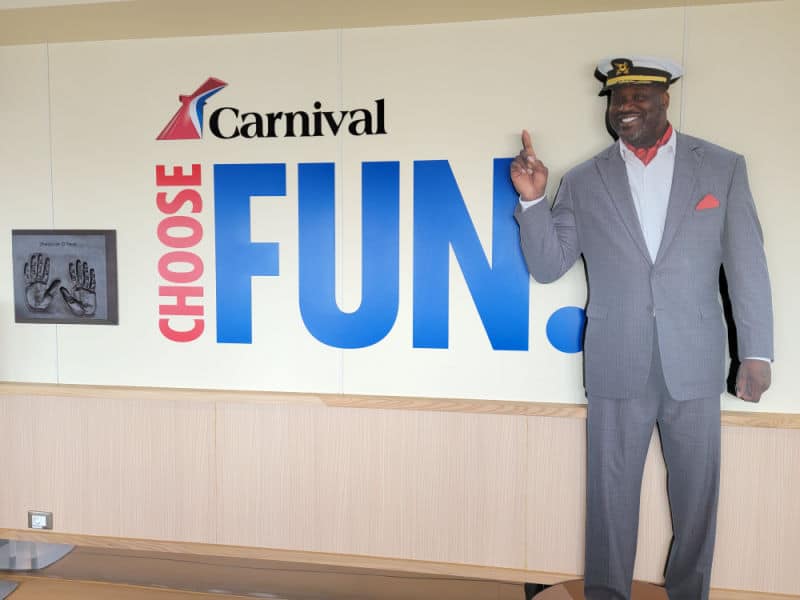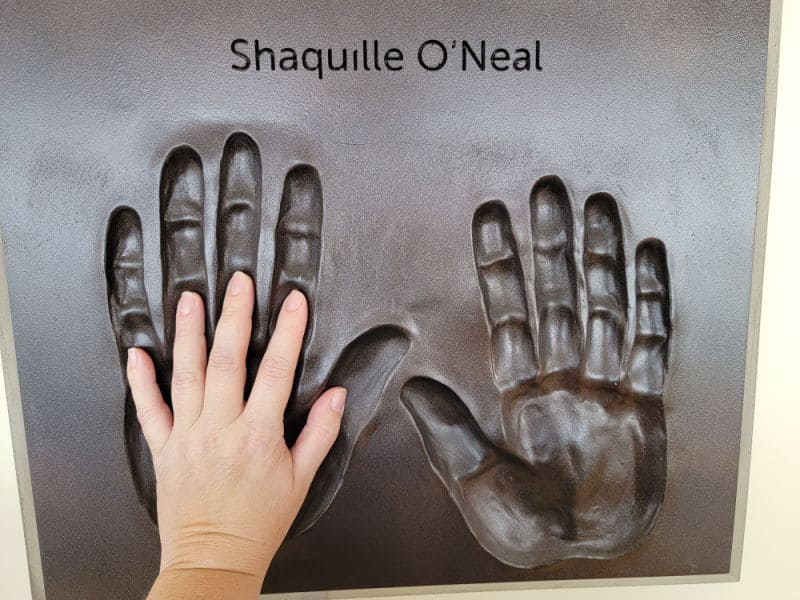 There is a small seating area near the restaurant along with some great photos and Shaq's hand imprints.
My hands barely reached Shaq's 1st knuckle. This handprint really gives you an idea of just how much fun the Chief Fun Officer brings to Carnival.
You do not want to miss enjoying a hot chicken sandwich at Shaq's Big Chicken on Carnival Cruise Ships!
If you are not planning to be on a Carnival Ship soon you can also find Shaquille O Neal Big Chicken in Las Vegas, in Seattle at the Climate Pledge Arena, T the UBS Arena home of the New York Islanders in Elmont, NY, and in Glendale, California near Los Angeles,
There is also a ghost kitchen location in Rochester, New York that allows you to order via your favorite food delivery app.
Shaq worked with Chef Matt Silverman to create the epic menu you can enjoy today! They even had a limited edition chicken sandwich named for Charles Barkley at one point.
If none of these work head over to GoldBelly and have some Big Chicken shipped directly to your doorstep!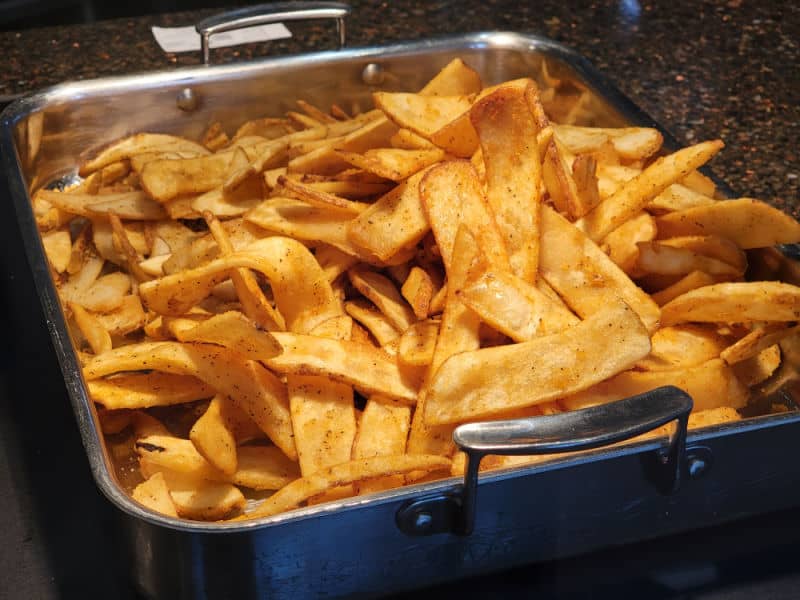 Our review
I really wanted to love all the things on the Big Chicken menu but that honestly did not happen.
The lunch sandwiches were really good. My husband enjoyed every one of them.
Where things went a bit south was at breakfast. The first time we stopped in for breakfast it was 10 am and the biscuits were getting really hard and crunchy. They added a chunk of cheese since they were unable to separate the pieces of cheese from the large block.
The 2nd time we stopped in I made sure to go within an hour of opening. While the biscuits were softer the overall sandwiches were not our favorite.
I would prefer going to Blue Iguana Cantina for breakfast burritos or down to the main dining room before having a breakfast sandwich at Big Chicken.
One thing to know is the restaurant serves everything in plastic bowls. If you plan on enjoying multiple sandwiches and some epic French fries I would pick up a plate at the Lido Buffet on your way to the back of this ship. This will make it a lot easier to balance everything together.
My favorite item was the French fries. I would eat them every day if I had the opportunity. My husband's favorite menu item was the MDE chicken sandwich.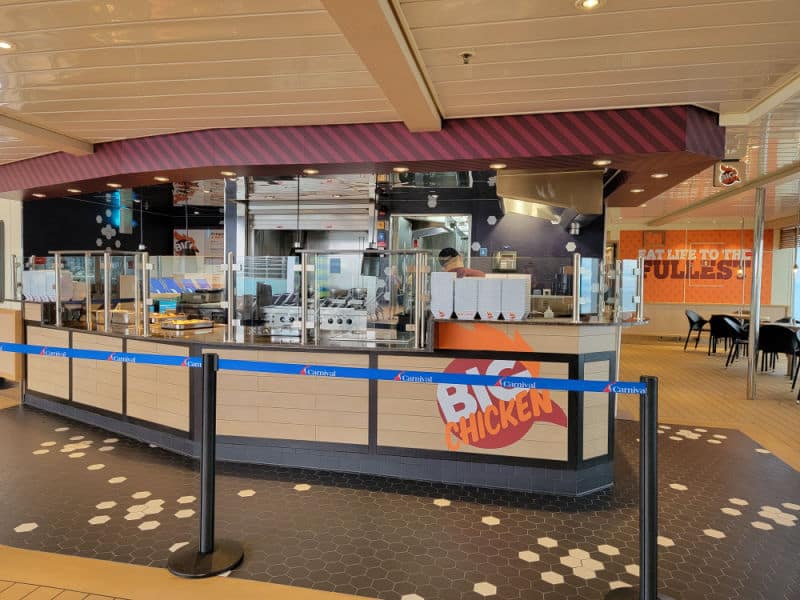 Additional Carnival Cruise Articles
Check out all of our Carnival Cruise Articles