I have been a vegetarian for over 20 years. Most nights I end up cooking 2 separate meals. One with meat for John and a veggie meal for me. When Beyond Meat reached out and asked if I wanted to surprise my family with a recipe made with their protein-based vegetarian meat I jumped at the chance. I am always on the lookout for a new option to cook with as a vegetarian. Getting enough protein in my diet is a daily focus.
I was really impressed to learn that Beyond Meat is using protein from plants to create delicious products ranging from chicken strips & tenders to meatballs to beef crumbles.  Beyond Meat is partnering with athletes to show how important protein is for their diet and ours. Beyond Meat's athlete partners hail from the NBA, WNBA, MLB, AVP, and WSL. They include J.J. Redick, David Wright, and  Maya Moore just to name a few!
I decided to make this Crock Pot Vegetarian Meatball Soup Recipe with Beyond Meat. I have to say it was so nice being able to make a crockpot soup recipe that I can enjoy. A lot of the times I make soups that John raves about, but I never get the chance to try them. Beyond Meat is opening up a ton of recipes that I can't wait to make in the future!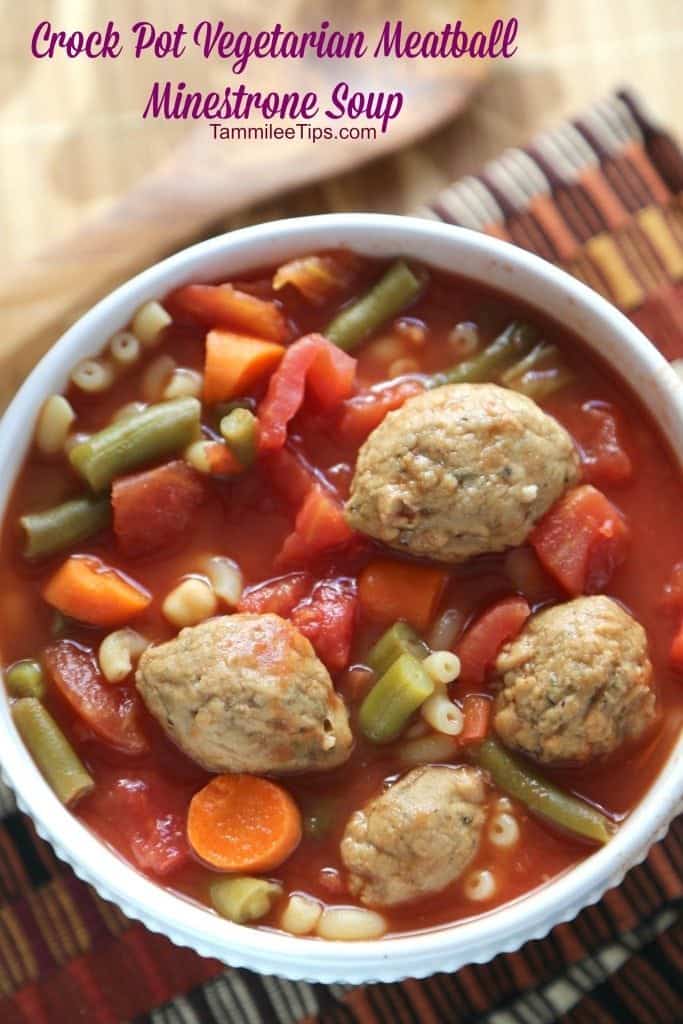 It was also a ton of fun not telling John he was eating a vegetarian soup. He had no idea the meatballs were veggies. It was fantastic!
When I served John the soup I sat down with a bowl for myself. I wish I would have grabbed a photo of John's face when I took a bite of the meatballs. He was so shocked. It was great being able to tell him that they were veggie and I could enjoy them.
Are you interested in learning more about Beyond Meat? Check out this great information!
Beyond Meat is planting The Future of Protein, using protein from plants to create delicious products ranging from chicken strips & tenders to meatballs to beef crumbles.
Beyond Meat's 100% plant-based products enable families to continue to eat what they love—like beef nachos, chili, pasta Bolognese, chicken fajitas, and meatball subs—without the health and other downsides of animal protein.
Plant protein consumption is at a tipping point with elite athletes as early adopters. These athletes intuitively understand the benefits of plant-based proteins, and so they've partnered with Beyond Meat.
What does the Future of Protein look like? The meat case will become the protein case. Plant protein will appear on the menus of the largest restaurant chains and in schools nationwide.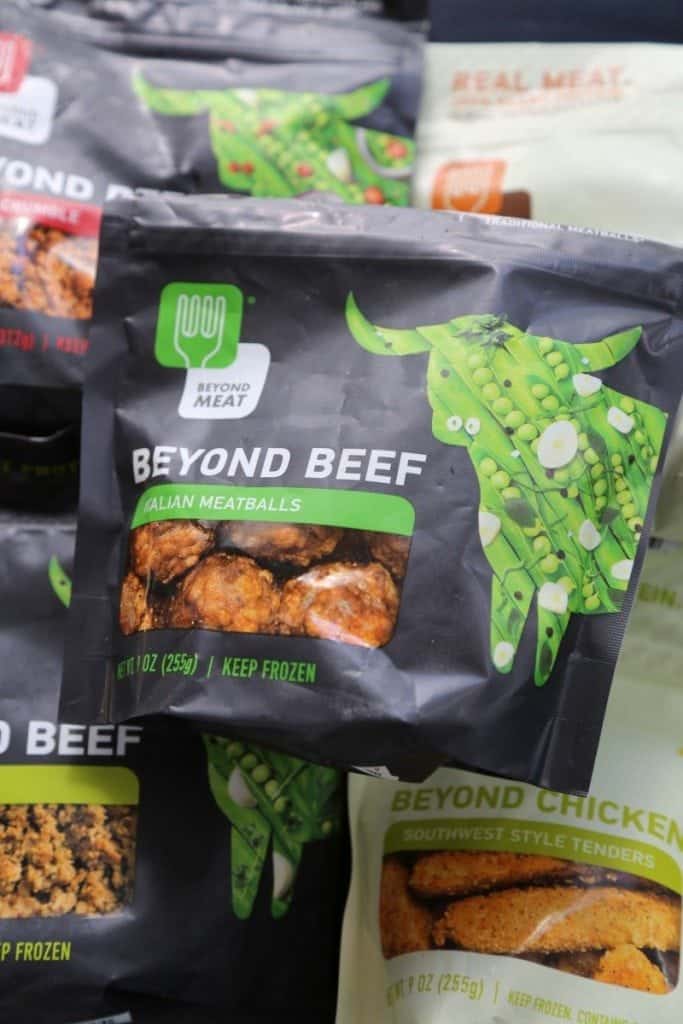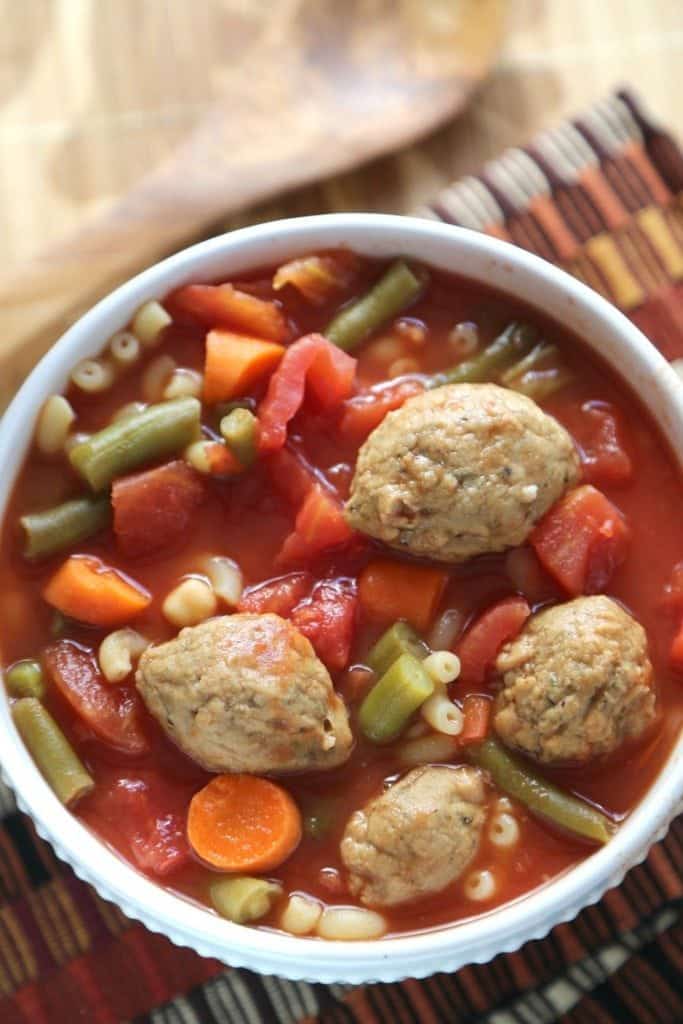 Crock Pot Vegetarian Meatball Soup Recipe!
Ingredients
3 cans 14.5oz of diced tomatoes
8oz can tomato sauce
4 cups vegetable broth
1 1/2 cups carrots, sliced
1/2 cup onion, chopped
2 cups green beans, frozen
1 tsp basil
1tsp oregano
1 tsp thyme
1 15oz can kidney beans, drained and rinsed
1 15oz can garbanzo beans, drained and rinsed
2 packages Beyond Meat Meatballs
8oz elbow macaroni
10 3/4 oz can tomato soup
Directions
1. Add diced tomatoes, tomato sauce, vegetable broth, carrots, onion, green beans, basil, oregano, and thyme to the crock pot and stir together. Add in kidney beans, garbanzo beans and Beyond Meat meatballs and stir.
2. Cook on low for 6-8 hours
3. 30 minutes before serving cook macaroni and add to soup, stir in tomato soup
Top with parmesan cheese

Do you love recipes? Check out our copy cat recipes, dessert recipes, and our Crock Pot Recipes.

Follow Tammilee Tips's board Tammilee Tips Recipes on Pinterest.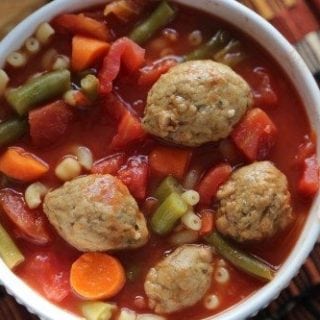 See how I surprised my family with this Crock Pot Vegetarian Meatball Soup Recipe!
Print
Rate
Ingredients
3

cans 14.5oz of diced tomatoes

8

oz

tomato sauce

4

cups

vegetable broth

1 1/2

cups

carrots

sliced

1/2

cup

onion

chopped

2

cups

green beans

frozen

1

tsp

basil

1

tsp

oregano

1

tsp

thyme

1 15

oz

can kidney beans

drained and rinsed

1 15

oz

can garbanzo beans

drained and rinsed

2

packages Beyond Meat Meatballs

8

oz

elbow macaroni

10 3/4

oz

can tomato soup
Instructions
Add diced tomatoes, tomato sauce, vegetable broth, carrots, onion, green beans, basil, oregano, and thyme to the crock pot and stir together. Add in kidney beans, garbanzo beans and Beyond Meat meatballs and stir.

Cook on low for 6-8 hours

minutes before serving cook macaroni and add to soup, stir in tomato soup

Top with parmesan cheese