Our Log Cabin Adventure at Lakedale Resort San Juan Islands was amazing! A huge thank you to Lakedale Resort for providing us with our stay. We had so much fun exploring the San Juan Islands and relaxing at the Lakedale Resort.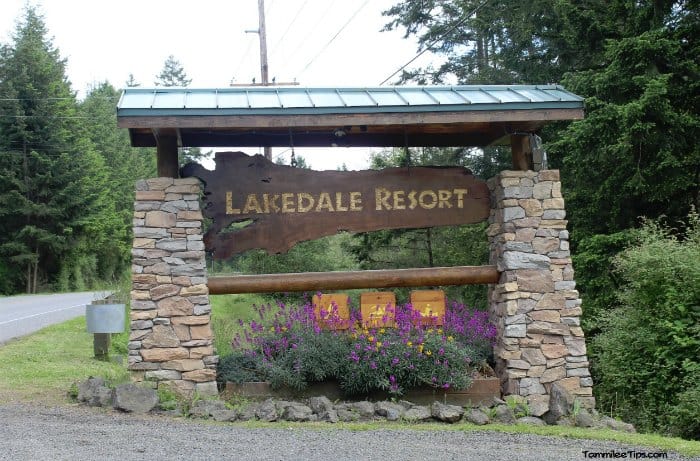 Log Cabin Adventure at Lakedale Resort
The Lakedale Resort is located about 5 miles from Friday Harbor. The resort is surrounded by trees and has three lakes on the property. I have to say the moment you enter Lakedale Resort you know you are in for an amazing retreat.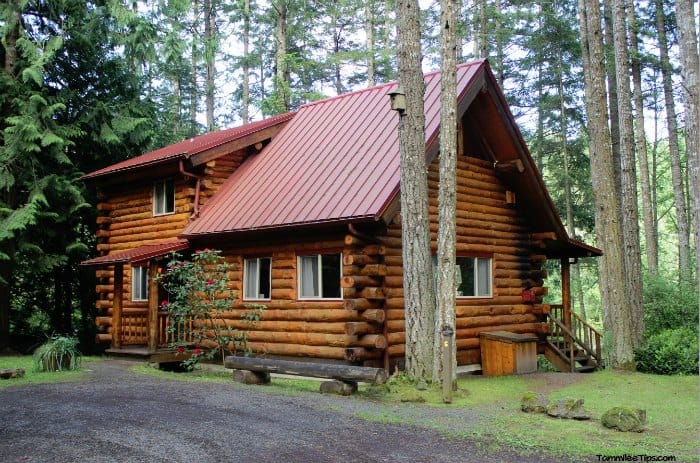 For our first night stay at Lakedale Resort, we stayed in a 2 bedroom log cabin. This cabin looked like it was out of a movie it was so dang cute and perfect. When we pulled up to the cabin John and I just sat in the Jeep and stared at it for a few minutes it was that cute.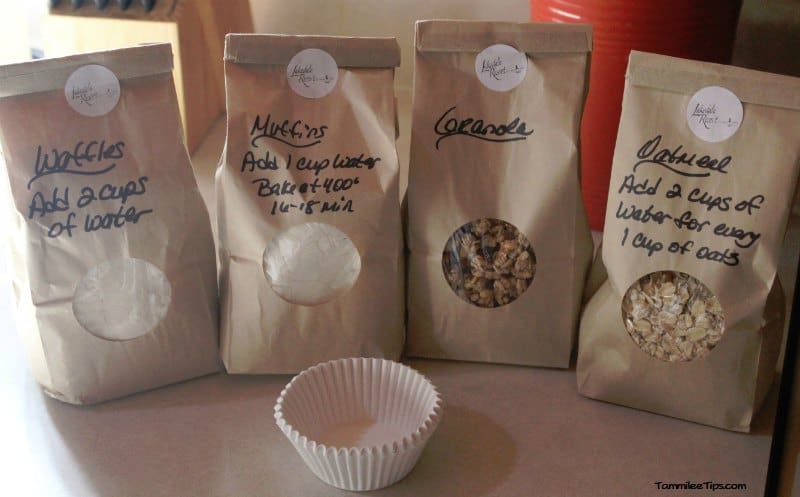 One of the first things we noticed when we walked into the log cabin was the breakfast set up Lakedale Resort had placed in the cabin. We had ready to go mixes for waffles, blueberry muffins, oatmeal, and granola. The fridge was stocked with orange juice, milk, yogurt, and syrup so we had everything we needed for breakfast.
I have to admit I had not even thought about what we were going to do for breakfast. Thankfully Lakedale Resort took care of it for us and had it ready to go.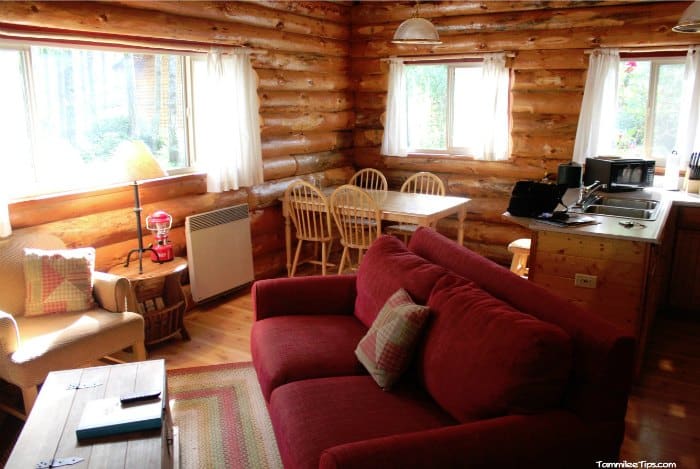 The 2 bedroom log cabin is amazing. There is a fireplace sitting area, loft bedroom, and downstairs bedroom, fully set up kitchen, 2 bathrooms, a deck overlooking the lake, and access to a hot tub. What more could you ask for!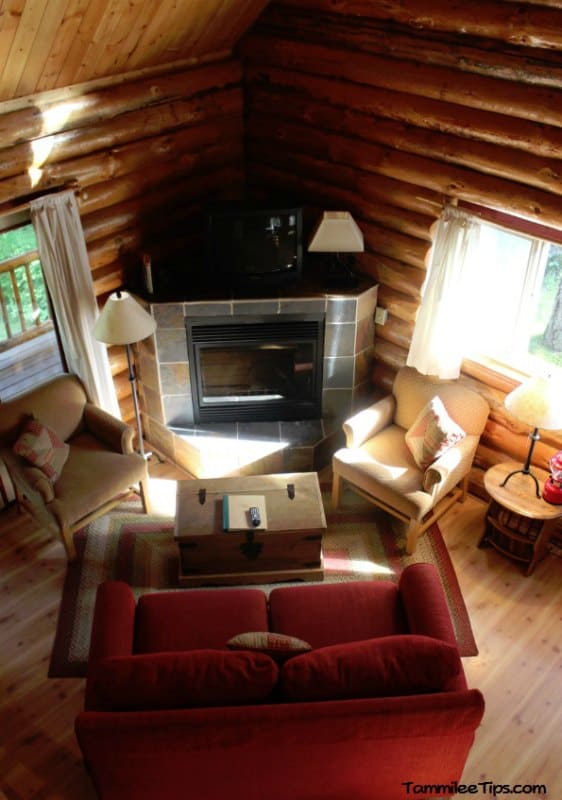 The 2 bedroom log cabin has a TV, DVD player and games that are family-friendly. There is a free DVD library in the main lodge that is filled with fun family-friendly movies. You can watch as many of them as you like during your stay at Lakedale Resort. We opted for an electronic free stay as much as possible and did not turn on the TV or bring our laptop with us.
We just enjoyed being together relaxing in front of the fireplace. It has been a long time since we just sat back and enjoyed time together without phones beeping, the TV going, emails coming in, and all of the other day-to-day distractions we seem to run into.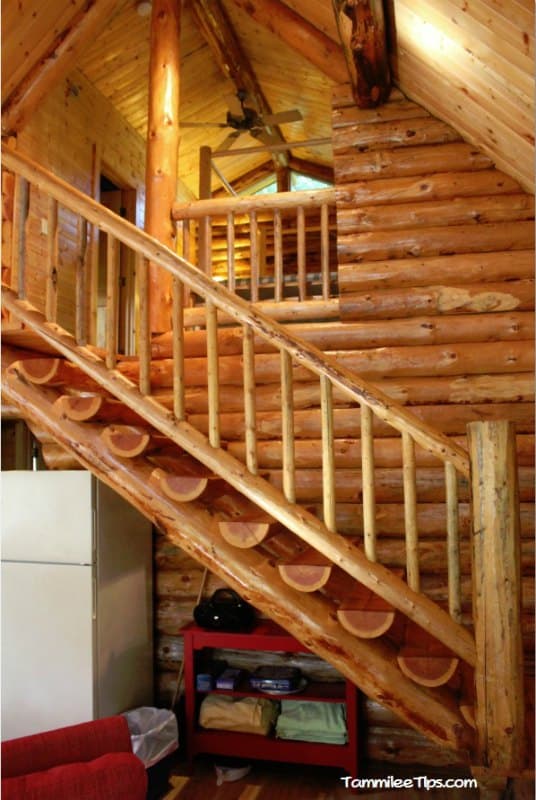 One of the things I really enjoyed about Lakedale Resort is the little details. There was soap and shampoo ready to go in the bathroom, games available, a lantern that you could take outside for a late-night nature hike, extra blankets if you needed them, a fully stocked kitchen, and the decorations in the cabin were amazing.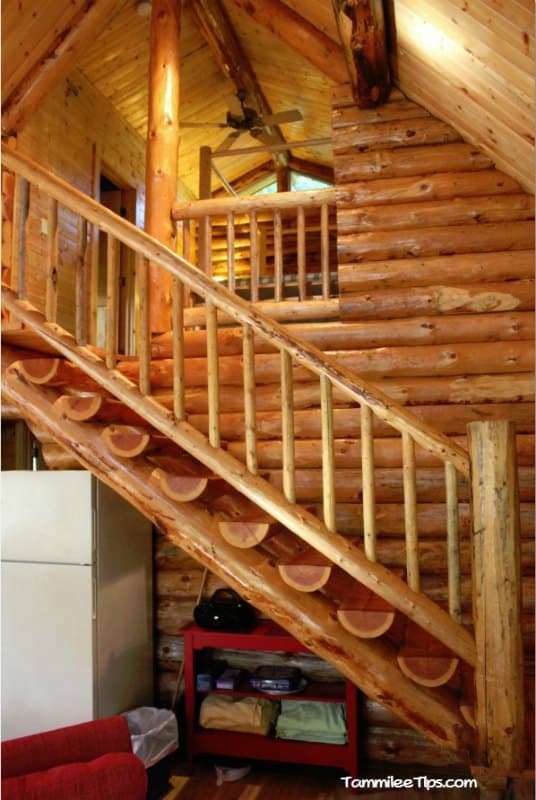 The fireplace in the 2 bedroom log cabin does an amazing job heating up the cabin. We fell asleep with the fireplace still going and woke up in the middle of the night a bit well warm we will say. It worked out great though because we opened the windows to let in some fresh cool air and hopefully bring down the temperature a bit in the cabin.
We woke up after an amazing night's sleep to the birds chirping outside our window.  It has been way too long since I woke up to a fresh breeze and birds chirping.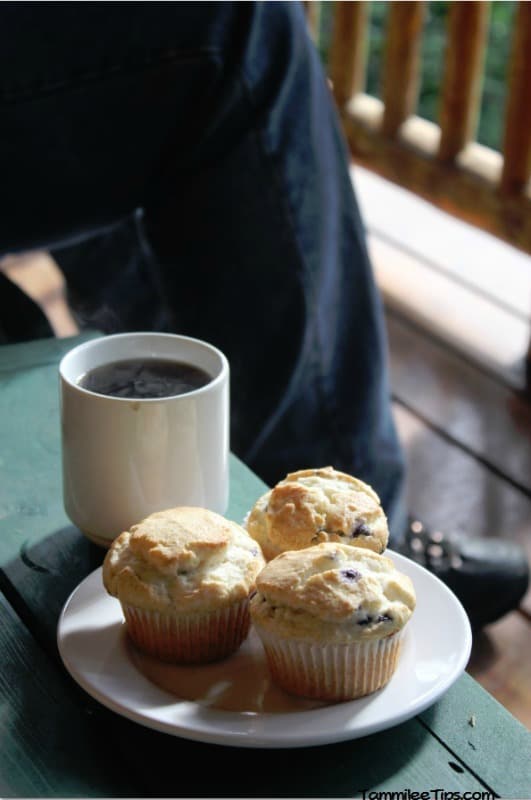 We started the morning with hot coffee, warm blueberry muffins, and waffles.  Making fresh blueberry muffins and enjoying them on the deck overlooking the lake was one of my favorite moments during our stay.
The cabin smelled amazing as the blueberry muffins baked and we were able to just relax. We sat in the Adirondack chairs on the back deck, listening to the birds chirp and the frogs greet us enjoying warm blueberry muffins with our coffee and tea. It was so amazingly relaxing!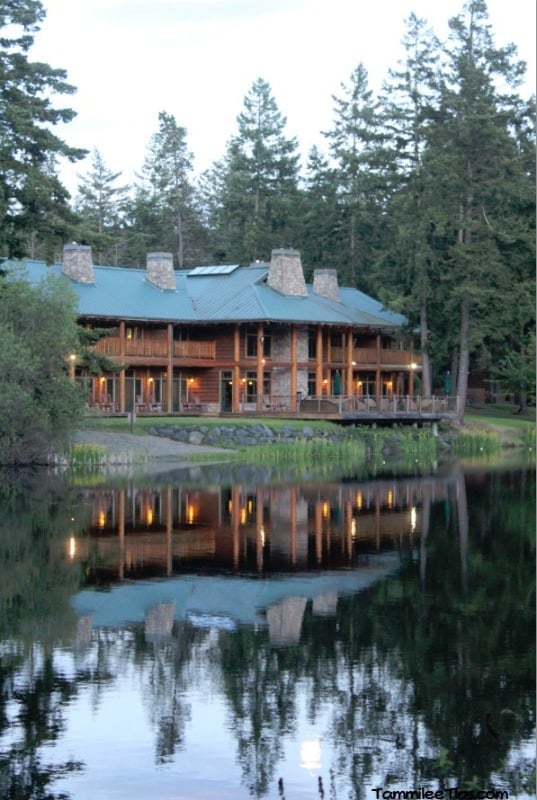 Lakedale Resort offers a wide variety of activities that you can enjoy during your stay including Tie-dye t-shirt making, building birdhouses, boat races, campfire cooking demos, fishing in their stocked lakes, swimming, ice cream sundae parties, jewelry making, scavenger hunts, outdoor chess and checkers, horseshoes, bocce ball, volleyball, paddleboats, kayaks and more!
There is a general store at Lakedale that has a little bit of everything. If you forgot something you can easily find it at the store or the staff is happy to help you with anything you need.  Plus they have an espresso stand at the store to fill our coffee and mocha needs!
We were so impressed with the friendliness of the staff. Everyone we talked with was smiling and so helpful. They made sure we were having a great time during our stay at Lakedale Resort. You could see the pride and joy the staff had for the resort.
The staff made sure that we had an alternate driving route to get home after a bridge that we were supposed to take collapsed. We knew nothing about the bridge collapse since our phones were turned off. The resort manager stopped by while we were having breakfast to let us know what had happened and make sure we knew they had an alternate route already mapped out for us at the front desk.  I can't even put in word how appreciative we are that the staff made sure that we were aware of the situation and had already taken care of mapping out our route home. This saved us hours of delays trying to get home.
Check out our adventure glamping at Lakedale Resort.
You can find out more about Lakedale Resort on their website, Facebook page, and Twitter.
Additional Washington State Travel Guides
San Juan Island National Historical Park
Leavenworth Washington Christmas
Check out all of our Washington Travel Guides
 We were provided with our stay at Lakedale Resort. All opinions expressed are our own.