Easy 3 Ingredient Grinch Bark is the perfect Christmas dessert of snack. All you need is a few minutes and a few ingredients to make this fun Christmas Treat.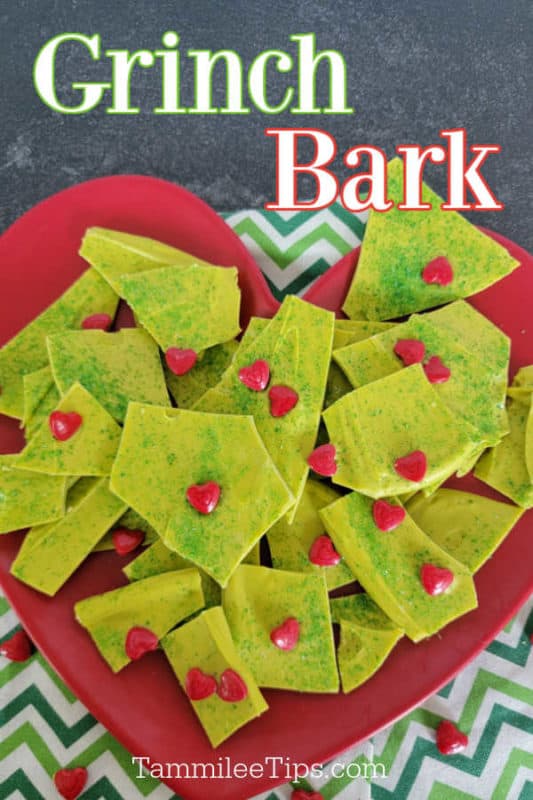 Grinch Bark
I love this Christmas Grinch Bark! It is the perfect dessert for a Christmas party!
So easy to make and you can prepare it the day before, so you don't have to stress about dessert before your big event.
Kids will love the bright green color and how great it tastes. This festive treat takes minutes to prepare, and you can easily make a large batch depending on how many people you are having over.
This Grinch Bark would be perfect for family movie night! Everyone can cuddle up with a treat and laugh at the Grinch's antics.
Are you a fan of the classic cartoon or the recent Jim Carrey version? How the Grinch Stole Christmas is one of our favorite holiday movie night traditions.
I love making this Christmas Bark to enjoy while we are watching the movie. Such a fun treat during the busy Christmas season.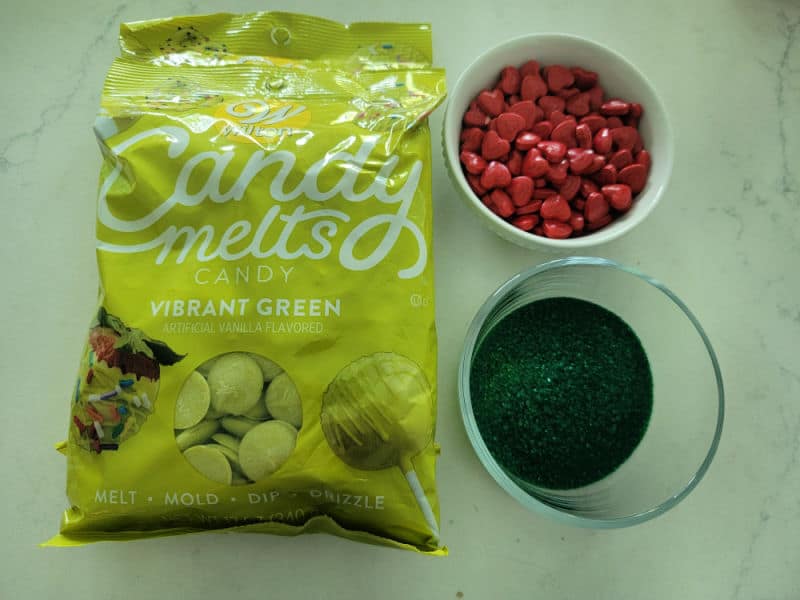 Ingredients
This is a quick overview of the simple ingredients that you'll need to make easy Grinch Bark! Specific measurements and step-by-step instructions are included in the printable recipe card at the bottom of the post.
Optional - White chocolate to make thicker bark.
You can add in a few drops of peppermint extract flavoring if you want to add a 2nd flavor layer.
Green Candy melts - if you can't find vibrant green candy melts you can melt white chocolate chips/ white candy melts and use green food coloring to achieve the color.
Equipment Needed
Large Mixing Bowl - We are big fans of this glass microwave-safe bowl that has a handle. It makes it easy to mix ingredients and keeps the mixing bowl steady on the counter.
Baking Sheets - We are huge fans of this cookie sheet with sides. Make sure the pan can fit in your fridge.
Parchment Paper -  I love using parchment paper to help make clean-up a breeze.
Spatula - To spread the melted candy melts.
How to make Grinch Bark
I've included complete instructions in the printable recipe card at the bottom of the post, but here's a quick version.
Step 1 - Gather supplies and prep baking sheet with parchment paper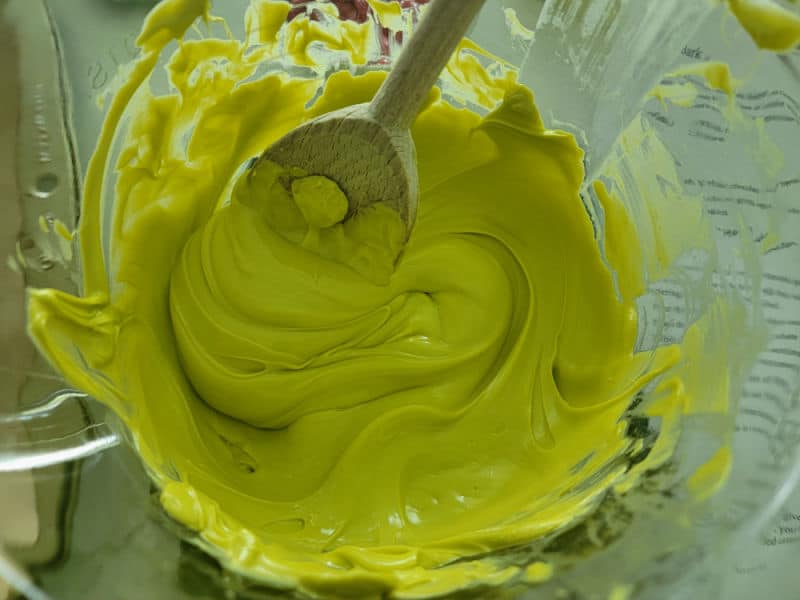 Step 2 - Melt green candy melts in 30-second increments stirring green melted candy between intervals.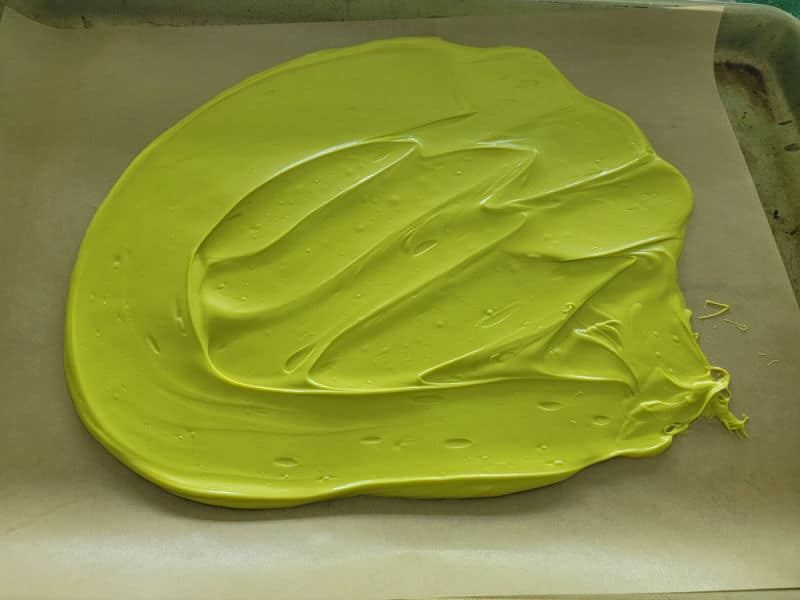 Spread melted candy onto the parchment-lined baking dish.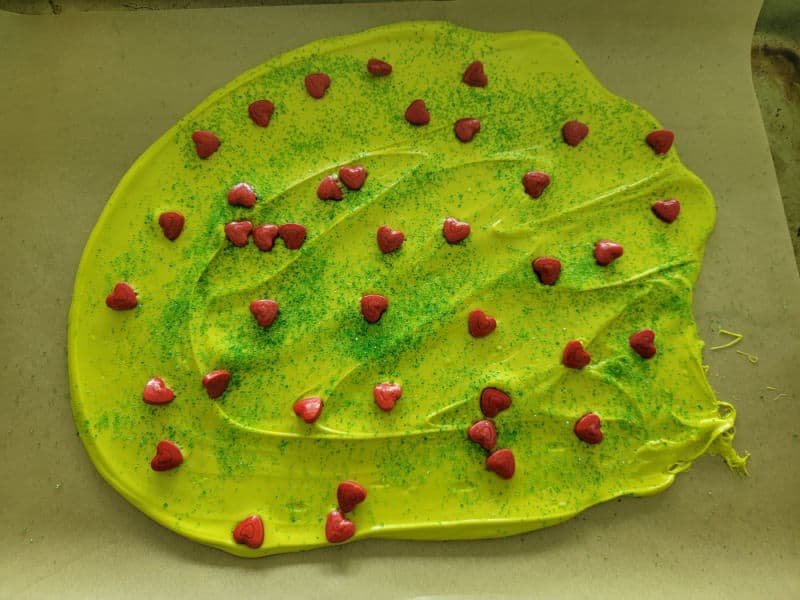 Step 3 - Top with Candy Hearts/Red heart sprinkles and green sanding sugar.
Step 4 - Once the Grinch chocolate Bark is set use a knife or your hands to break it into small pieces.
Break the bark carefully to make sure you don't get sizes to small.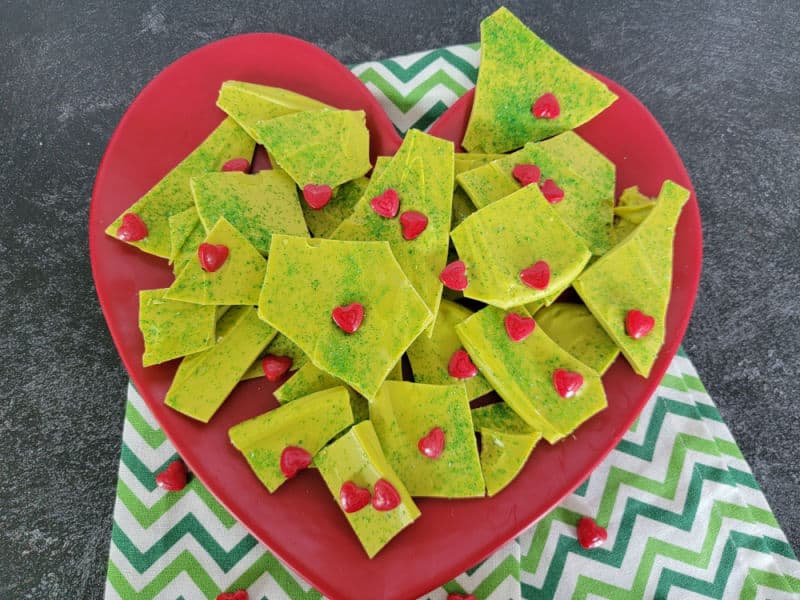 Preparation and Storage
Make Ahead – This green chocolate bark can be made ahead of time and stored in an airtight container until you are ready to serve it.
Storage – Store in an airtight container at room temperature.
Freezing/How to freeze – Wilton does not suggest freezing candy melts because the moisture of the freezer can be absorbed into the candy causing it to melt unevenly.
Recipe Variations
Substitutions - Feel free to change up the sprinkles, heart candy or more.
Vegetarian Option - There are no known animal products in candy melts.
Vegan Option – Wilton Candy Melts are not Vegan. You can use vegan melting chocolate. The white vegan chocolate can be dyed green with food coloring.
Gluten Free - There are no ingredients in candy melts that include wheat but they are produced with equipment that may encounter wheat products.
Smaller Serving Size – This recipe can easily be adapted to make a smaller serving. Just melt a smaller amount of Wilton Candy melts to create the base of the bark.
Larger Group/More servings – This recipe can easily be doubled or more to make a large batch of Grinch Bark.
Recipe Tips
We melt the candy melts in the microwave at a low temperature but you can also use a double boiler.
For a fun swirl you can add in red candy melts or a different color green chocolate.
If you are melting white chocolate chips we suggest adding a bit of coconut oil to make it smoother.
Nutritional information including calories, protein, calcium, carbohydrates, fiber, vitamin c, potassium, cholesterol, sodium, trans fat, monounsaturated fat, polyunsaturated fat,  and more will vary depending on the products used.
Printable instructions are below.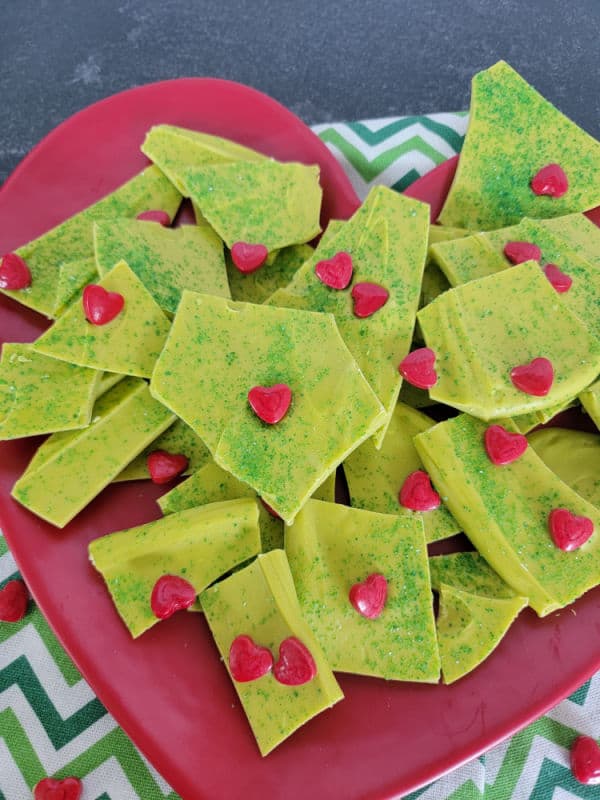 What to serve with Grinch Bark
Drinks - Hot chocolate (check out all of our hot chocolate recipes), Eggnog Coffee, Eggnog Milkshake,
Treats/Desserts - Candy canes, Cookies, Christmas Crack Toffee Crackers, Eggnog Cookies, Reindeer Chow, chocolate dipped sugar wafers, Hot Chocolate Muddy Buddies
When to serve
Grinch Movie Nights/Holiday Christmas Movie nights
Christmas Parties
School parties
DIY Edible Food Gift
Office holiday parties
Potlucks
Great Holiday Recipes
Chocolate-Covered Potato Chips
Check out all of our Christmas Recipes
Do you love recipes? Check out our copycat recipes, dessert recipes, and our CrockPot Recipes.
Follow Tammilee Tips on MSN, Facebook, Instagram, Pinterest, and Twitter for all of our recipe posts.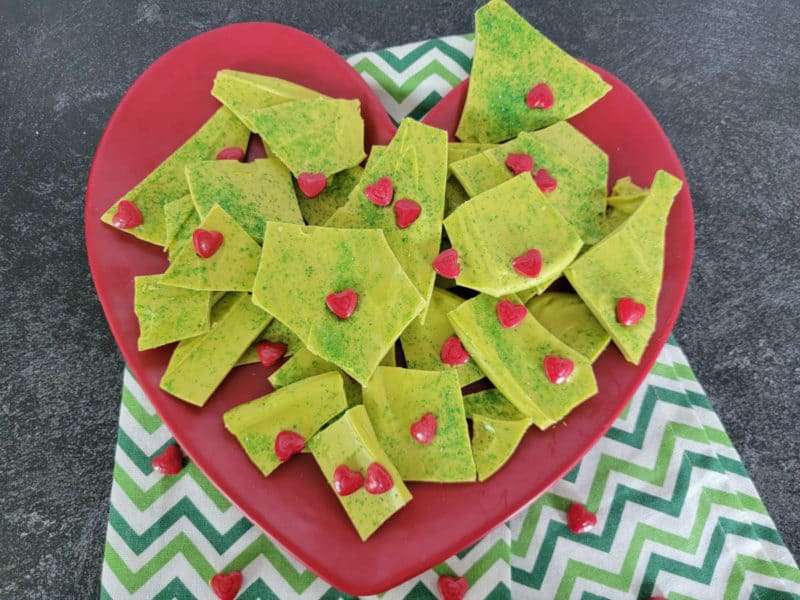 Grinch Quotes
We love giving this Grinch Bark as a DIY food gift! Wrap it in clear plastic gift bags and add a tag with a fun Grinch Quote for the perfect holiday gift.
"Maybe Christmas, he thought, doesn't come from a store. Maybe Christmas... perhaps... means a little bit more" Dr. Seuss, How the Grinch Stole Christmas!
"No one should be alone on Christmas." — Cindy Lou Who
"I don't need anything more for Christmas than this right here. My family." — Lou Lou Who
"Christmas Day will always be just as long as we have we." — Narrator, The Grinch Who Stole Christmas
"Holiday who-be what-ee?" — The Grinch
"Be it ever so heinous, there's no place like home." — The Grinch
"Cheer up, dude. It's Christmas." — The Grinch
"It's because I'm green, isn't it?" — The Grinch
"That is not a chew toy. You have no idea where it's been." — The Grinch
"The ribbons! The wrappings! The tags! And the tinsel! The trimmings! The trappings!" – Dr. Suess
"Today was great! We did mean things, and we did them in style." — The Grinch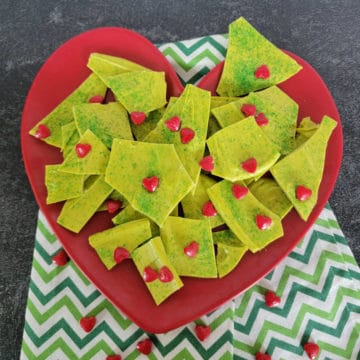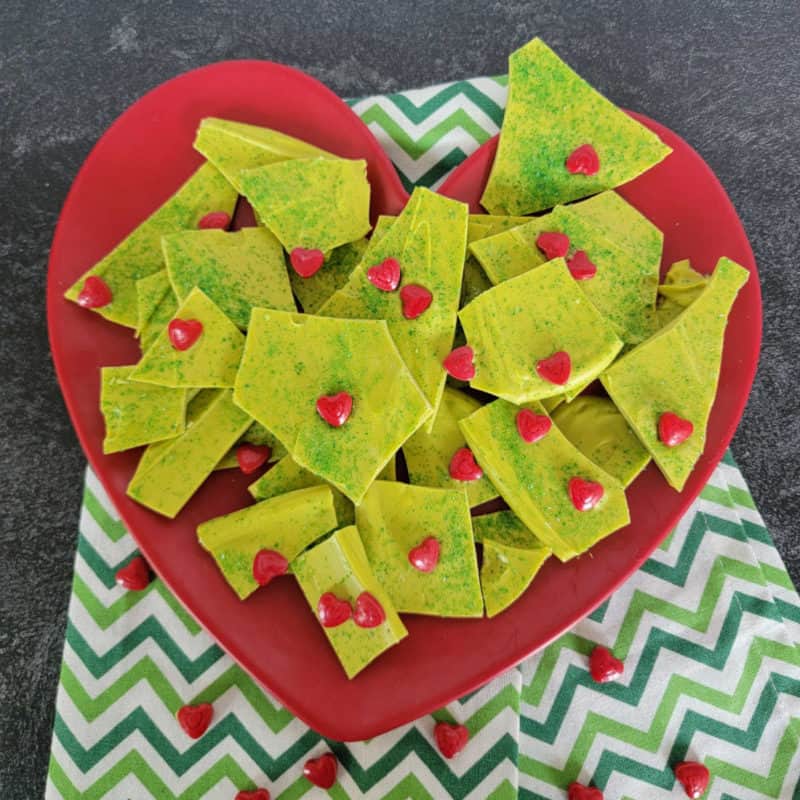 Grinch Bark
Easy 3 ingredient Grinch Bark is the perfect Christmas movie night treat! So easy to make and this festive dessert tastes fantastic.
Print
Rate
Instructions
Melt Candy melts in 30 second intervals making sure to stir after every interval.

Spread melted candy melts onto a parchment lined baking sheet. Spread out evenly until desired thickness is achieved.

Sprinkle red heart candies and green sprinkles over the top of the melted chocolate.

Refrigerate for 2 hours to set candy melts.

Once the candy melts are set break into pieces and enjoy.
Nutrition
Nutrition Facts
Grinch Bark
Amount Per Serving
Calories 37
Calories from Fat 18
% Daily Value*
Fat 2g3%
Sodium 8mg0%
Carbohydrates 5g2%
* Percent Daily Values are based on a 2000 calorie diet.