Easy Reindeer Chow Recipe perfect to leave out for the Reindeers on Christmas Eve! This reindeer chow can be customized based on what you have available in the house. The perfect sweet Chex mix recipe for the holidays.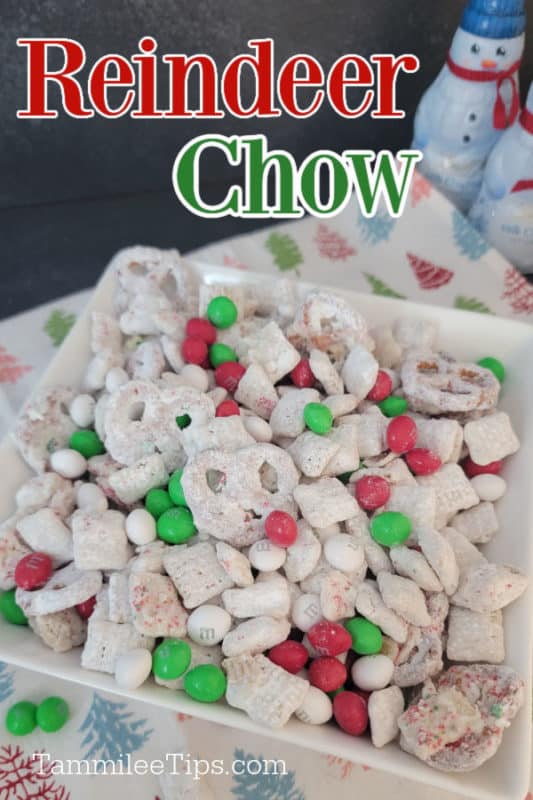 Reindeer Chow Recipe
One thing I LOVE about making Reindeer Chow is I can use whatever I have in the house. This is my go-to recipe for using up all the random sprinkles, M&Ms, holiday candies, and so on that I have in the house.
You know the bottles of sprinkles that are halfway empty and you are trying to decide if you keep them for another year or toss them? Don't worry you can toss them into this reindeer chow mix.
The random half bags of Christmas M&Ms or Mini Reese's Cups...yep they can go in the mix. The half bag of pretzels because you got tired making chocolate-covered pretzels and couldn't bring yourself to dip the remainder of the bag...Yep! That is exactly what I added to this years Reindeer Chow Mix.
The random bag of cheerios that isn't quite done...throw it in.
You are most likely throwing this together on the 24th of December and are probably wiped out from ALL the holiday things this month.
You need this easy reindeer snack recipe that doesn't take hours to prepare, a treat that kids and adults love, a holiday dessert that looks festive but doesn't take much energy to put together....this is it!
There are a couple of standard ingredients and the rest is what you have available or feel like tossing into the mix. You can make it a sweet and salty mix, all sweet, or add in tons of chocolate.
This time of year is stressful enough the last thing you need is one more thing to worry about. Please use this recipe as a template and add in all the things you have on hand to make it epic.
I love this holiday treat snack mix and find myself going back to the bowl often. The combination of melted chocolate, M&Ms, and sprinkles just makes me happy.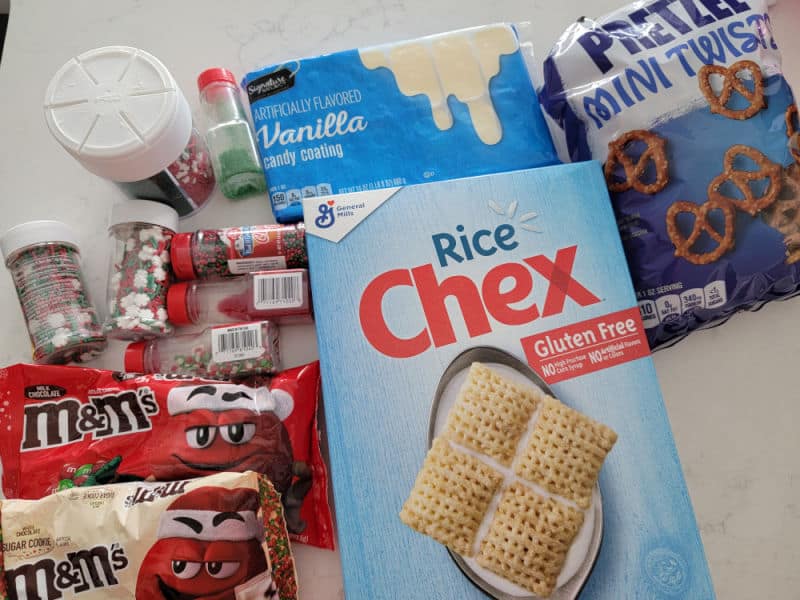 Ingredients Needed
This is a quick overview of the simple ingredients that you'll need to make epic Reindeer Chow! Specific measurements and step-by-step instructions are included in the printable recipe card at the bottom of the post.
Chex Cereal - we used rice Chex but any flavor works great.
Vanilla Almond Bark
Powdered Sugar
Pretzels
Holiday Christmas M&M's
Christmas Sprinkles
Optional -  Mini Reese's Peanut butter cups, chocolate kisses, extra sprinkles, white chocolate chips, mini semi-sweet chocolate chips, mini marshmallows, all the things.
Print recipe at the bottom of this post.
Equipment Needed
Ziploc Bags - Gallon size bags work great for mixing everything together and containing the mess.
Ziploc Bag Holder Stand - I am a huge fan of these bag stands. They help reduce the number of ingredients I end up spiling all over the place.
Microwave-safe bowl - Make sure to use microwave safe bowls to melt the almond bark or candy melts. A large bowl is perfect.
Parchment Paper - Parchment Paper is always a good thing and helps a ton with quick and easy clean up.
Cookie Sheet with Edges - Make sure the cookie sheet has edges to keep everything contained while it dries and solidifies.
Cute holiday bowl for Christmas Eve
How to make Reindeer Chow
I've included complete instructions in the printable recipe card at the bottom of the post, but here's a quick version.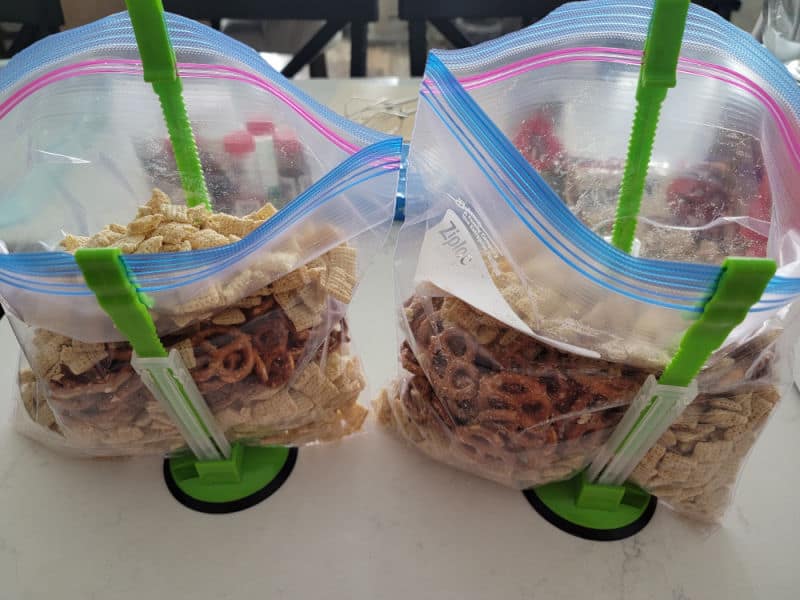 Step 1 - Divide Chex cereal and pretzels between 2 gallon size Ziploc bags. I really like using the Ziploc Bag holders to help keep the bags open.
Without them I end up pouring Chex and pretzels all over the place.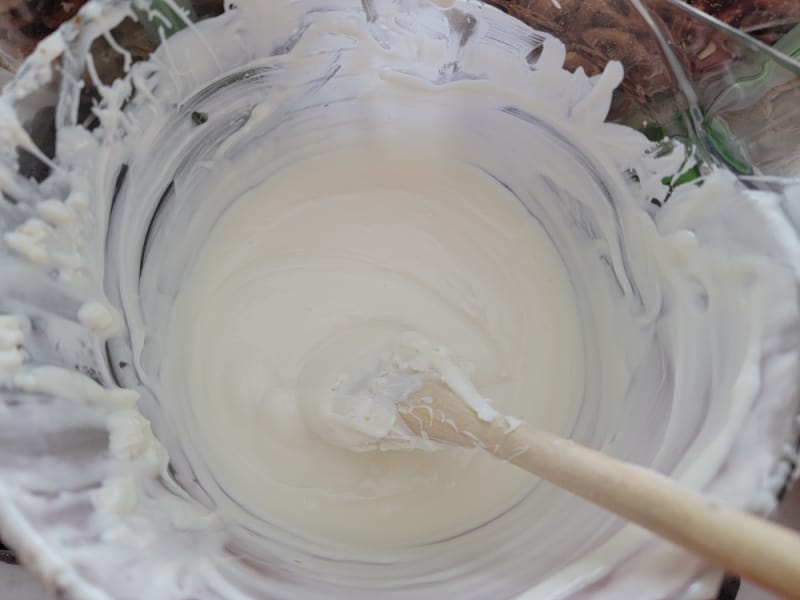 Step 2 - Melt almond bark in 30 second intervals in the microwave. Stirring after each interval to make sure the almond bark is completely melted.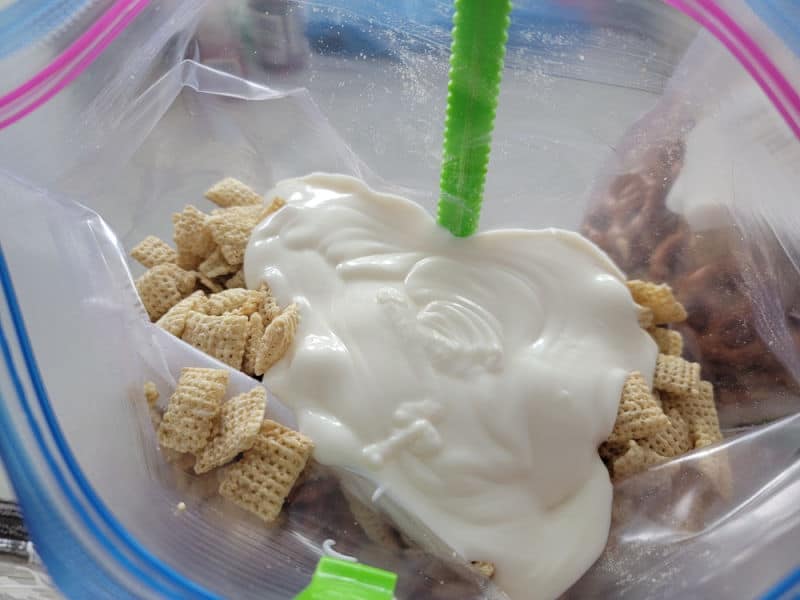 Step 3 - Divide melted almond bark between the 2 ziploc bags. Seal the bags and shake them until all of the cereal and pretzels are evenly coated.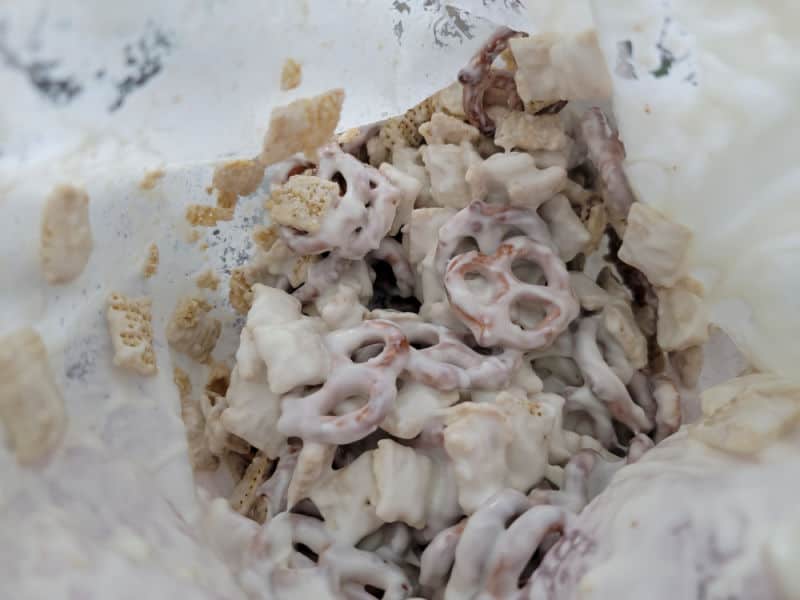 Don't worry if everything looks clumped together. When you add the powdered sugar it will start to seperate.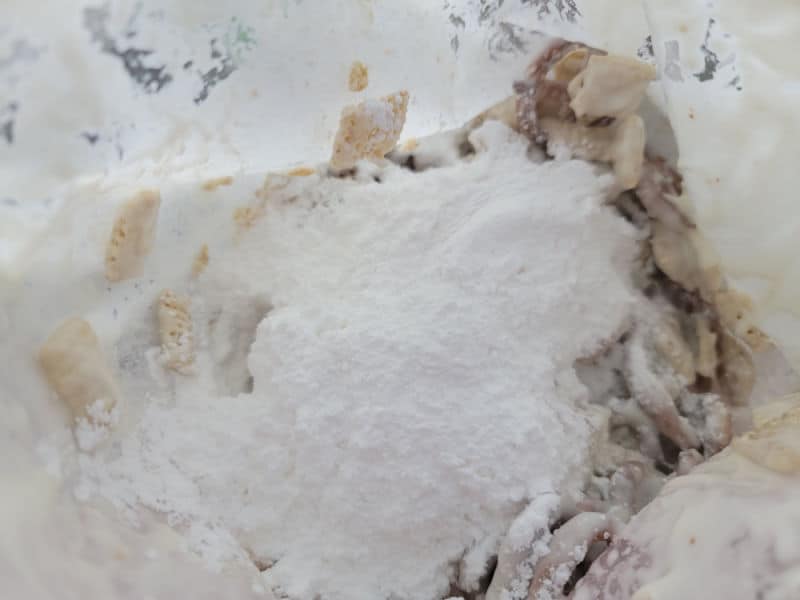 Step 4 - Divide powdered sugar between the 2 bags and close the bag. Shake the bag and move the powdered sugar around so it coats all of the pieces.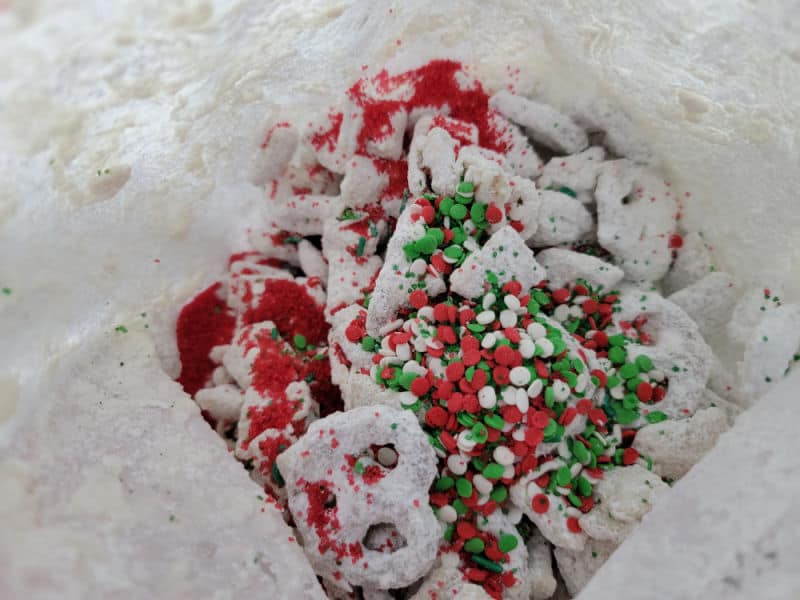 Step 5 - Toss in random sprinkles and spread them around. You can also spread them around once the muddy buddies are on the baking sheets.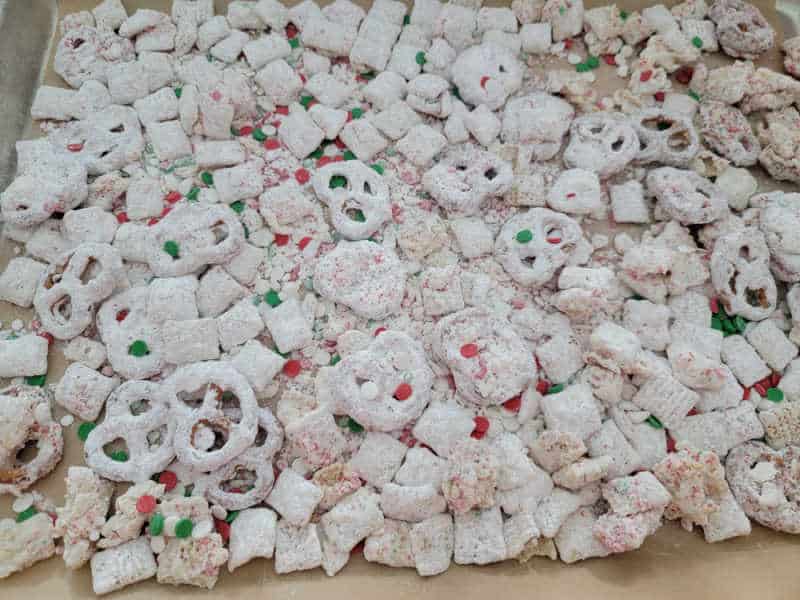 Step 6 - Pour the Reindeer Muddy Buddies onto a parchment lined jelly roll baking pan with sides. Spread the pieces out so they can dry.
If you find clumps you can break them up and sprinkle them with additional powdered sugar.
I like to use 2 pieces of parchment paper so it is taller than the sides of the pan. When you are ready to move the Reindeer Chow mix you can simply pick up the parchment paper and funnel it into a bowl.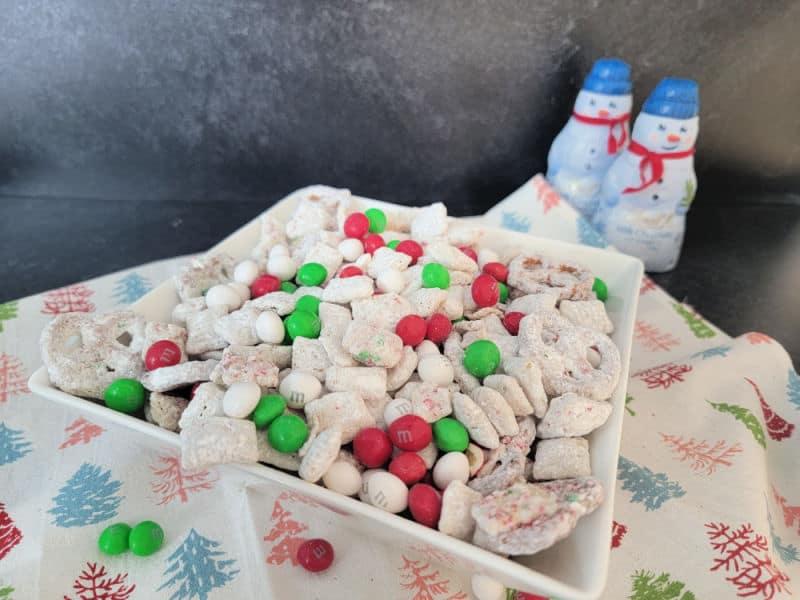 Step 7 - Add in Christmas M&Ms and any other candy you have and pour the mixture into the bowl.
Enjoy!!!!
Preparation and Storage
Make Ahead – This can be made a week ahead of time and stored in an airtight container. Just make sure it doesn't get eaten before you need it.
Storage – Store in an airtight container either in the fridge or on the counter.
Recipe Variations
Substitutions - Substitute the cereal with popcorn, pretzels, bugles, or your favorite cereal. Add in really anything you love!
Vegetarian Option - This recipe is vegetarian.
Vegan Option – use gluten free Chex cereal, dairy-free chocolate chips, and vegan candies.
Gluten Free - Rice Chex are gluten free and work great for this recipe.
Smaller Serving Size – This recipe can easily be adapted by changing the serving size on the recipe card below.
Larger Group/More servings – This is a great recipe to double or triple and make a large batch of Reindeer Chow.
Recipe Tips
If you prefer chocolate peanut butter Puppy Chow you can use 1 cup semisweet chocolate chips, ½ cup creamy peanut butter, ¼ cup butter, and a teaspoon of vanilla. Microwave the chocolate chips, peanut butter, and butter for 1 minute. stir and then microwave an additional 30 seconds until smooth. Stir in vanilla and pour the mixture over the Chex cereal. Add powdered sugar and shake. Spread on baking sheet and continue with sprinkles and candy.
You can make these Xmas Muddy Buddies in a large mixing bowl instead of in Ziploc bags if you want to. I find that the Ziploc bags do a great job of preventing ingredients from flying all over the countertop.
If you want to make part of the mixture red and green you can add food coloring to the melted almond bark before pouring it over the Chex Cereal.
Store leftovers in airtight containers at room temperature.
We adapt this recipe to make Valentine's Day Muddy Buddies, Hot Chocolate Muddy Buddies, and Apple Cider Muddy Buddies. We are working on making Easter bunny bait.
Printable recipe card instructions are below.
Nutrition information, including calories, protein, calcium, carbohydrates, fiber, vitamin c, potassium, cholesterol, sodium, trans fat, monounsaturated fat, polyunsaturated fat, and more, will vary depending on the products used.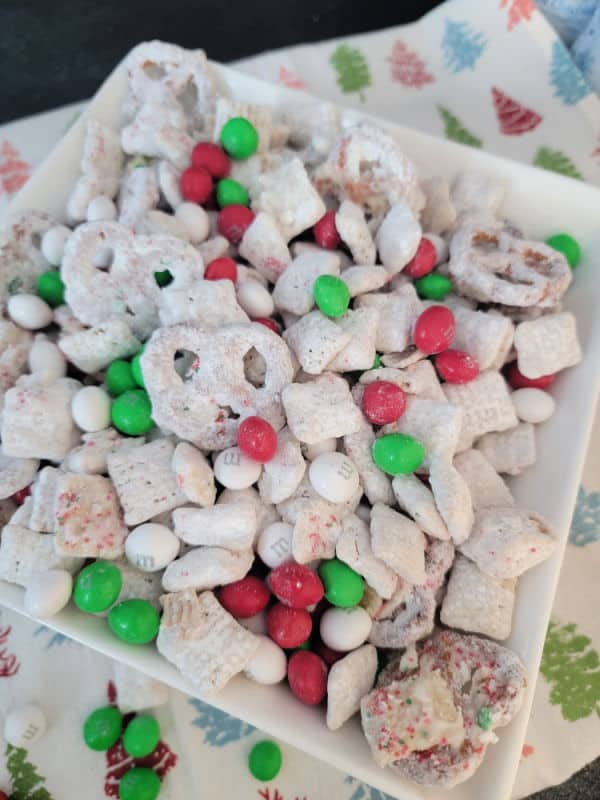 When to serve Christmas Reindeer Chow
Christmas Eve for Santa's Reindeer
Holiday parties
Christmas Movie Night
Sweet Treat
DIY Edible Christmas Gift
Kid's parties
What to serve with Reindeer Chow
Drinks - Milk, Slow Cooker Hot Chocolate or our best Hot Chocolate Recipes. Eggnog Coffee, Starbucks Frappuccino, Caramel Latte
Great Holiday Recipes
Chocolate-Covered Potato Chips
Do you love recipes? Check out our copy cat recipes, dessert recipes, and our Crock Pot Recipes.
Follow Tammilee Tips on MSN, Facebook, Instagram, and Pinterest, for all of our recipe posts.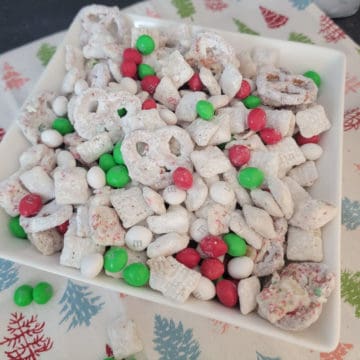 Reindeer Chow Recipe
Easy Reindeer Chow Muddy Buddies perfect for Christmas Holiday! This easy sweet snack mix takes minutes to prepare and tastes amazing.
Print
Rate
Instructions
Divide Chex cereal between 2 gallon size Ziploc bags.

Melt Almond Bark in 30 second intervals, stirring after every interval until completely melted.

Pour melted almond bark between the two bags. Seal the bags and shake it all about.

Pour powdered sugar over the top of the almond bark, seal the bag, and shake it all about.

Spread the mixture on a parchment lined baking sheet. Add in Sprinkles and Christmas Candy. Allow the pieces time to dry.

Once everything has dried pour into a holiday bowl or gift bags.
Nutrition
Nutrition Facts
Reindeer Chow Recipe
Amount Per Serving
Calories 201
Calories from Fat 72
% Daily Value*
Fat 8g12%
Sodium 90mg4%
Potassium 53mg2%
Carbohydrates 30g10%
Protein 1g2%
Vitamin A 152IU3%
Vitamin C 2mg2%
Calcium 30mg3%
Iron 4mg22%
* Percent Daily Values are based on a 2000 calorie diet.