Easy homemade cranberry sauce recipe that only takes 4 ingredients and a few minutes to make. The perfect cranberry sauce homemade for the holidays.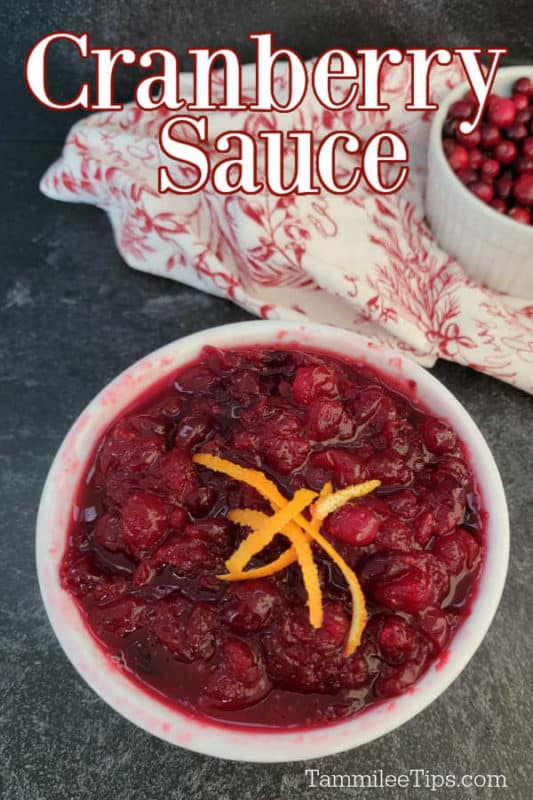 Homemade Cranberry Sauce
I received multiple messages from readers that they needed the best cranberry sauce recipe because there was a shortage of canned cranberry sauce in their area. Even my sister in law called and asked if I would post the recipe we use to make homemade cranberry orange sauce each year for the holidays.

I am happy to say I finally photographed the process and put together a video showing how easy it is to make your own fresh cranberry sauce.
I hope after you make this you won't have to stress about buying the premade jellied cranberry sauce you find in the store.
This easy cranberry sauce recipe takes minutes to prepare and can be made ahead of time! Whip it up a day or two early and store it in the refrigerator until you are ready to serve it.
Trust me this is easier than it sounds like it is going to be! This will become your favorite Thanksgiving recipe!
All you have to do is gather the ingredients, add them to a sauce pan and simmer...that's it!!!
This is such an easy recipe it can be made in less than 20 minutes. So this is my belated Happy Thanksgiving and I hope this great recipe is one that you love.
The holidays are stressful enough without having to worry about there being a shortage of a holiday dinner staple. Pick up a bag of cranberries and add in a few pantry/refrigerator essentials and you will have a delicious Thanksgiving side dish ready in minutes.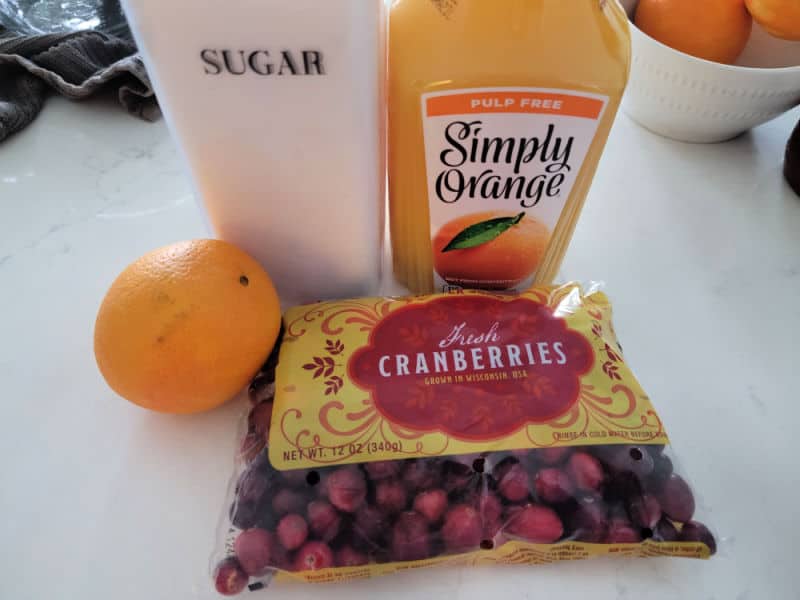 Ingredients Needed
Fresh cranberries
Orange Juice
Granulated Sugar
Orange Zest
Salt
Orange Juice - You can use fresh squeezed or your favorite store bought orange juice.
Optional additional flavors if desired - Cinnamon Stick, nutmeg, cloves, ginger, vanilla extract, or additional spices.
Equipment Needed
Medium Saucepan
Air tight storage container.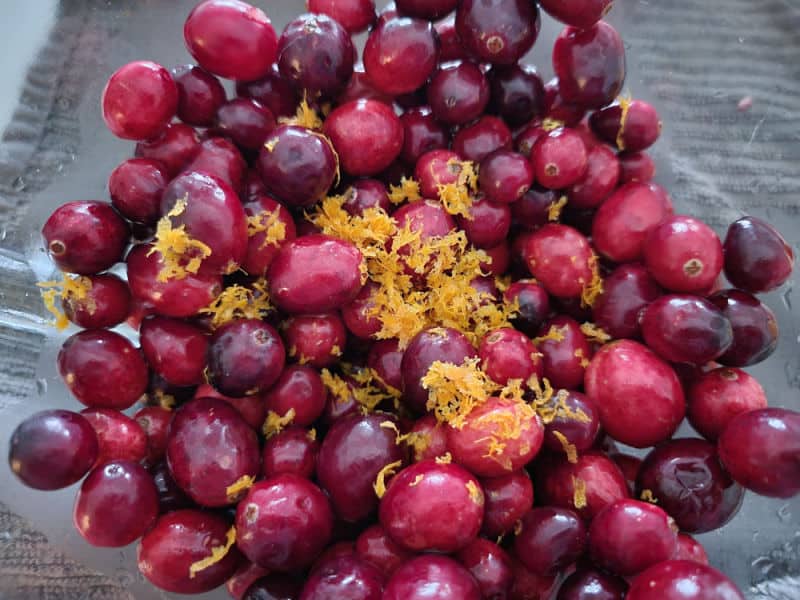 How to make Homemade Cranberry Sauce
Clean and prep the fresh cranberries. Try to remove any random stems still on the cranberries and check to make sure they look great.
Add orange juice and sugar to a medium to large saucepan, you want there to be room for all of the cranberries. Bring to a boil and then reduce the heat so the orange juice and sugar simmer over medium heat.
Add in the cranberries, orange zest, and a pinch of salt. Simmer for 8-12 minutes until the cranberries have burst. Stir the cranberries breaking up additional cranberries if you don't want the sauce chunky.
Let the cranberry orange sauce cool down and then store in an airtight container in the refrigerator until you are ready to serve it. The cranberry sauce thickens as it cools.
Garnish with orange zest or candied orange peel.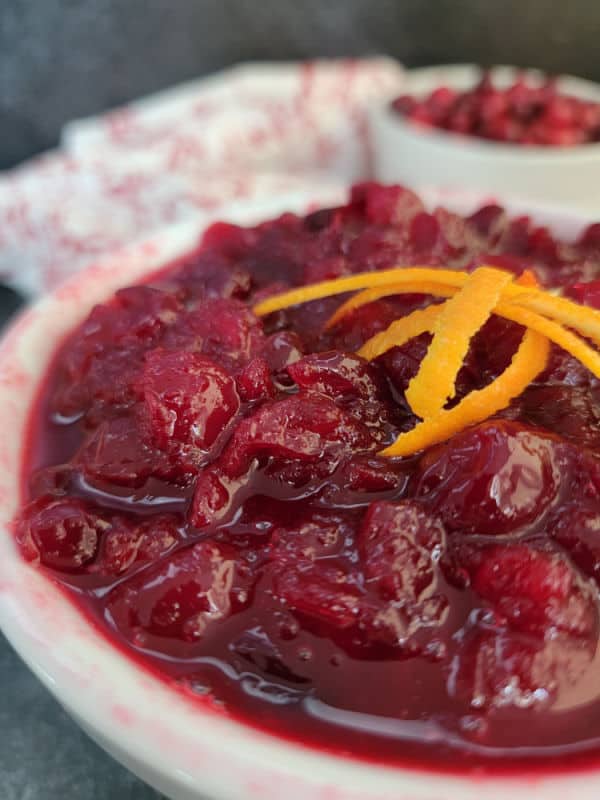 Recipe Tips
If you want a chunky cranberry sauce add in ¾ of the bag of cranberries when you are simmering. Add the remaining cranberries right at the end of the simmer time.
If you are not a fan of orange flavor your can change out the orange juice for a cup of water.
How long does Cranberry Sauce Last in the fridge?
You should be able to enjoy homemade cranberry sauce for about 2 weeks. Make sure to store it in an airtight container.
Can you Freeze Cranberry Sauce?
Yes!!! Homemade cranberry sauce can be frozen and will last for a couple of months.
I am guessing your next question is how to freeze cranberry sauce. The best way to freeze cranberry sauce is to store it in airtight containers or a freezer-safe plastic bag that will help prevent freezer burn.
One thing to know is canned cranberry sauce does not freeze that well. The texture changes and it is not the same when it has been thawed.
To defrost cranberry sauce you will need to remove the sauce from the freezer at least the night before you plan to serve it. Place it in the refrigerator and let it thaw overnight.
Frozen cranberry sauce should be good for around three months.
Freeze individual portions of cranberry sauce
One way to enjoy cranberry sauce year-round is to freeze individual portions that can be thawed when you want them.
Place servings in individual freezer bags labeled with the date. I like to place all of my smaller servings into 1 large gallon sized freezer bag so they are contained in the freezer to one area.
Tips for Freezing Cranberry Sauce
Remove as much air as possible from the freezer bags. This will help prevent freezer burn.
Don't be surprised if the texture changes a little bit after being frozen.
Can you refreeze Cranberry Sauce?
Yes, but the more you freeze and refreeze the sauce the texture will change.
Cranberry Relish vs. Cranberry Sauce
Both are amazing and offer different ways to use cranberries.
Cranberry relish is made with raw ingredients that are blended in a blender or food processor. There is no cooking or baking involved with making cranberry relish.
Cranberry sauce involves cooking the cranberries so it is often sweeter than cranberry relish and has a different texture.
We love how fresh tasting this Cranberry Orange Relish is but also love the tradition of a big bowl of cranberry sauce that is perfect for leftovers.
Cranberry Sauce Substitute
If you are looking for an alternative to Cranberry Sauce that still tastes great with turkey here are a few of our favorite substitutes.
Plum Sauce
Bacon Jam
Cranberry Applesauce
Chimichurri Sauce
Apple Chutney
Mango Chutney
How far in Advance can you make Cranberry Sauce?
Cranberry sauce will stay good in the fridge for up to 2 weeks. You can easily prep the sauce a few days to a week ahead of time without any issues.
Make sure to leave some time so you can enjoy any leftovers on Turkey Cranberry sliders
How to eat Cranberry Sauce?
Canned Cranberry Sauce can be served sliced in rounds on a platter. For a fun look you can use cookie cutters to cut holiday shapes.
It is a personal choice on whether to serve cranberry sauce at room temperature or to heat it up.
How to make Cranberry Sauce Less Bitter?
If your cranberry sauce turns out bitter we suggest adding in maple syrup. It is already liquid so you can simply stir it into the sauce and have it incorporate.
If you are still cooking the sauce and realize it is bitter you can still add granulated sugar. Just make sure there is heat to help dissolve the sugar.
Other sweeteners include agave syrup, brown rice syrup, apple sauce, orange juice, or white wine. You can also add in a pinch of salt to intensify the sweetness of the sauce.
How to make Cranberry Sauce thicker?
If you have time you can let the sauce reduce down and the mixture thickens.
If this doesn't work you can use a thickening agent like pectin or a cornstarch slurry.
One thing to remember is the sauce will get thicker as it cools. Cranberries naturally contain pectic which will thicken as it cools.
How to reheat cranberry sauce?
Cranberry sauce can be reheated in a pan over medium heat on the stovetop. Stir occasionally as it heats.
Is cranberry sauce gluten free?
Cranberry sauce is normally gluten free. If you are buying cranberry sauce we suggest looking at the ingredients just to make sure a thickening agent was not used that may have gluten.
What to eat with cranberry sauce?
Cranberry sauce pairs nicely with multiples type of meat.
Turkey
Duck
Goose
Venison
Pheasant
Beef
Pork
Chicken
Lamb
Meatballs
Cornish Hen
Smoked Ham
How to use leftover Cranberry Sauce
Cranberry sauce is a really versatile sauce that can be used on so many thing!
Grilled Cheese
Over pancakes, waffles or French Toast
Spread on cinnamon rolls
Stirred into yogurt
Added to a smoothie
Spread on toast
On Thanksgiving leftover pizza
Glazed on pork
Stirred into overnight oats
As a salad dressing
Over a slice of cheesecake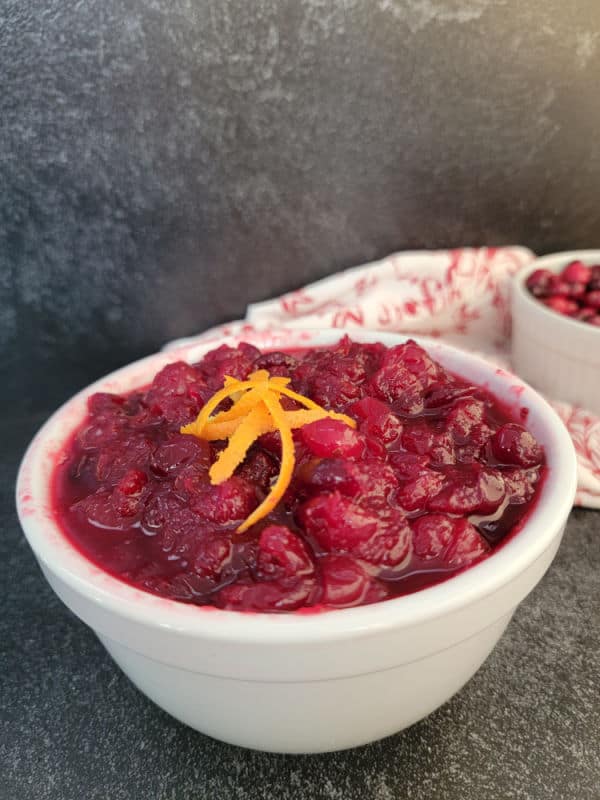 Great Holiday Recipes
Do you love recipes? Check out our copy cat recipes, dessert recipes, and our Crock Pot Recipes.
Follow Tammilee Tips on MSN, Facebook, Instagram, and Pinterest, for all of our recipe posts.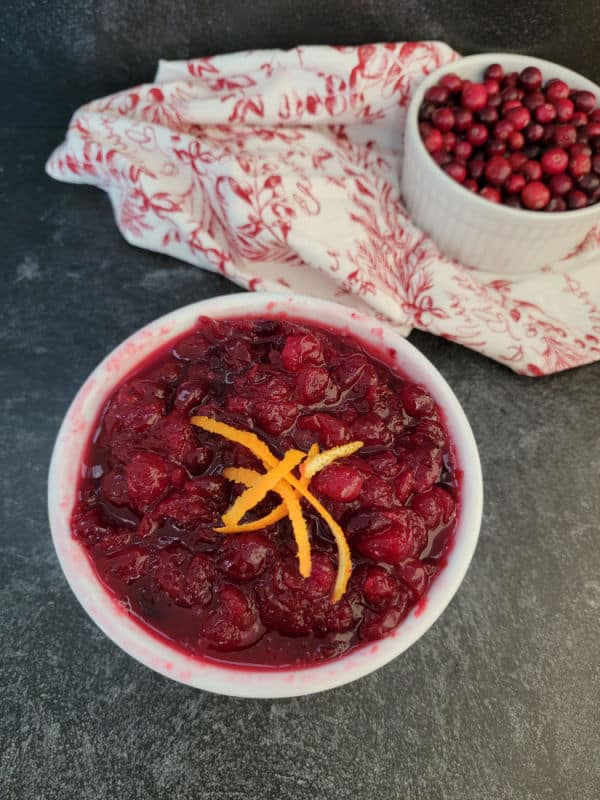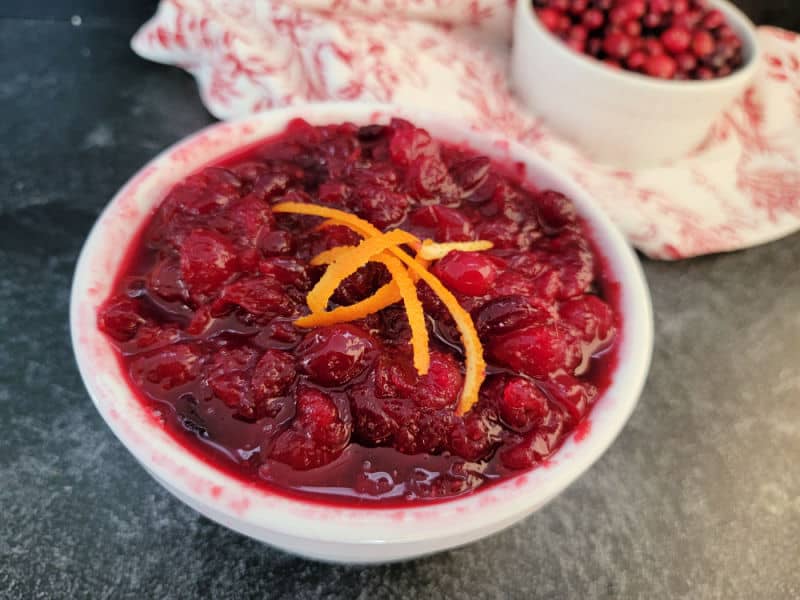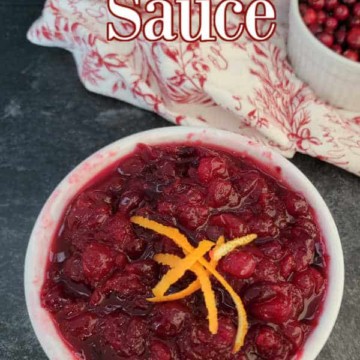 Homemade Cranberry Sauce Recipe
Easy homemade Cranberry Sauce Recipe perfect for Thanksgiving and Christmas Holiday dinners.
Print
Rate
Instructions
Add orange juice and sugar to a medium saucepan. Heat at medium-high heat until the juice starts to simmer.

Add the cranberries and orange zest and stir together. Simmer for 8-10 minutes until cranberries burst.

Remove from heat and transfer to a bowl. Cranberry sauce will thicken as it cools.
Nutrition
Nutrition Facts
Homemade Cranberry Sauce Recipe
Amount Per Serving
Calories 131
Calories from Fat 9
% Daily Value*
Fat 1g2%
Sodium 1mg0%
Potassium 100mg3%
Carbohydrates 34g11%
Protein 1g2%
Vitamin A 90IU2%
Vitamin C 22mg27%
Calcium 8mg1%
Iron 1mg6%
* Percent Daily Values are based on a 2000 calorie diet.