Visiting Skagway on an Alaska Cruise is a fantastic day in port.  There is a lot to see and do in Skagway and outside of town!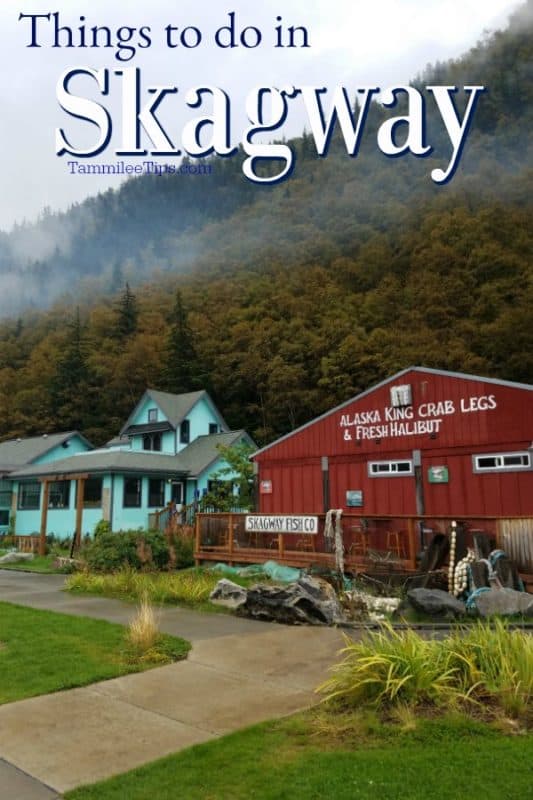 Top Things to do in Skagway on an Alaska Cruise
Skagway is an interesting town, to say the least. As you walk into town it feels like you are transported back in time. The wood boardwalks along the side of the roads are unlike anything we see in Spokane.
Rent a car and explore
We decided to rent a car in Skagway during our first Alaska Cruise and head out of town to explore for the day. The boat was in port for almost 12 hours. The town is not very big and only took a couple of hours to explore on foot. We found a pretty good price for a rental car online and were able to walk into town and pick it up.
We headed out of town with no real plans for the day. We knew we wanted to drive as much as we could and check out the sites as you head to the Yukon Territory.
White Horse is a few hours outside of Skagway and the largest city anywhere near Skagway. The drive out of Skagway is breathtaking. I cannot imagine what it is like in the winter. We were there in June and there was still a lot of snow along the roads.
The road follows the same path as the railroad that is advertised on the boat for quite a bit of time. We were able to pull off on the side of the road and take pictures of the trains as they went by. The scenery is breathtaking. Huge snow-covered mountains as you look down the valley towards town.
It is a long drive to White Horse and parts of it are semi-boring but there are great highlights along the way. We stopped at a desert in the Yukon Territory. This was not something I expected to see on our drive. We also stopped in Carcross and visited the visitor center.
We were so excited to find out they stamp your passports with the Yukon Territory stamp!!! A really fun free surprise along the way.
Whitehorse is a very industrial town that is made for cold weather. I would not describe the town as pretty or something you have to see. It is a city that is functional and built for the weather. We stopped at Walmart and it was an interesting adventure.
They had signs showing how many gallons of milk each family could buy for the week. Their shipments are so sparse that they have to ration out the milk so everyone has a chance to buy it. We were hoping to find some cool souvenirs but they did not have much except for a few postcards.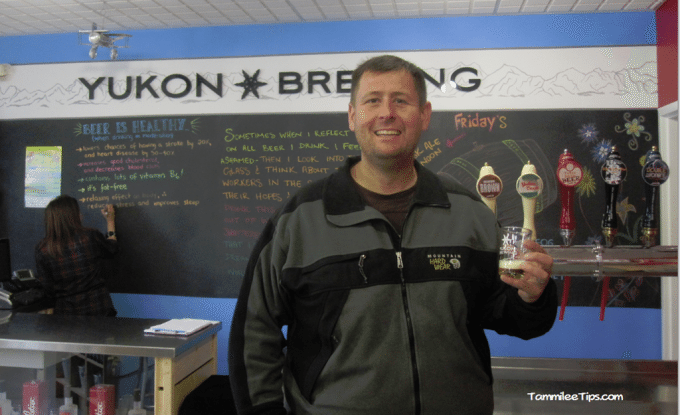 We stopped at the Yukon Brewery whose theme is "beer worth freezing for". We picked up a thirst aid survival kit filled with their top beers. The staff was incredibly friendly and so excited to have visitors from Washington checking out their brewery. John was able to sample their beers and learn about their different flavored beers including Birch Beer.
As we headed out of town we had our first visit to Tim Horton's. We had heard of them before but never visited one. We picked up lunch for the road and a couple of doughnuts.
When we got back into Skagway we parked the car and decided to walk around town. I needed to find a bag so we could easily transport the beer and souvenirs that we picked up back to the boat.
The walk from the cruise ship to town is about 15-25 minutes. We wandered through town and picked up the freebies from our Alaska shopping book and a rolling bag.
The stores were a lot of fun to visit in Skagway. This is a great place to find gifts for a really low price. I found Christmas ornaments that are really cute for only $1.00!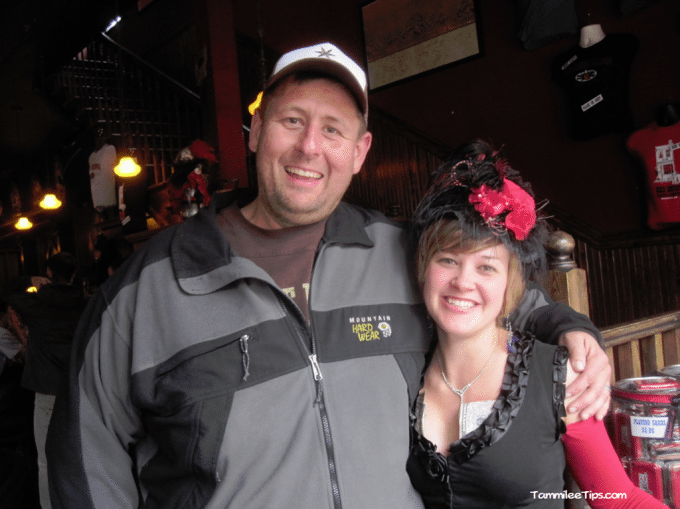 Before heading back to the boat we decided to visit the Red Onion Saloon. Wow! Be prepared for sites unlike any you have seen before at the Red Onion Saloon. There are chamber pots on the wall, old photos of saloon girls and a bordello above the bar.
You can pay to take a tour of the bordello above the bar from one of the saloon girls! We had a nice drink at the bar and enjoyed the people watching. The waitresses are dressed as saloon girls and yes you can add a tip to their bustier if you really want to.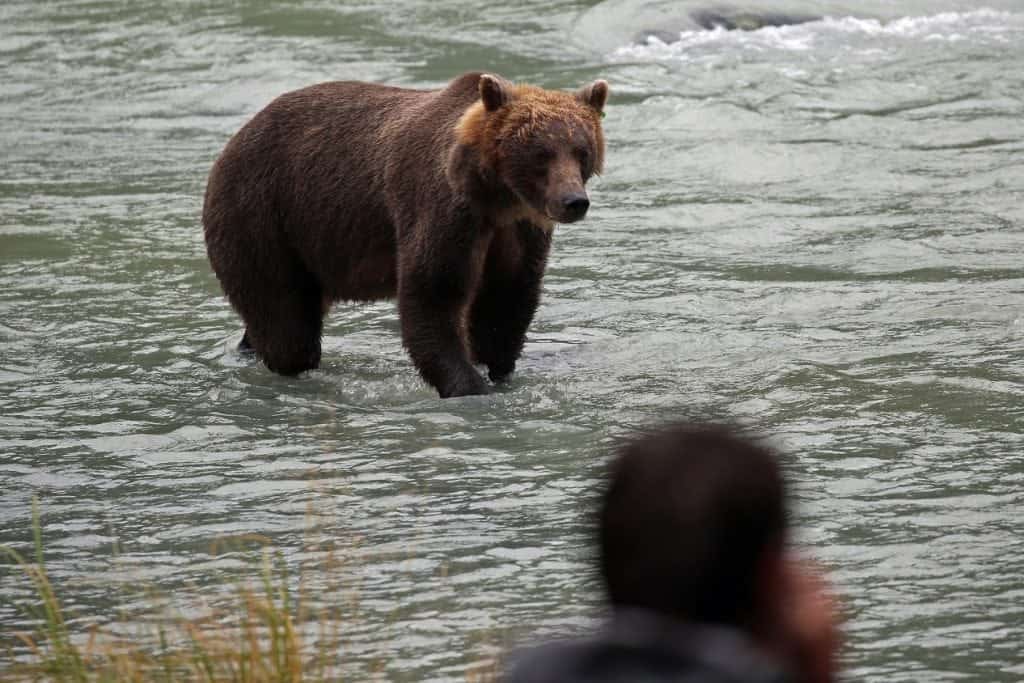 Free things to in Skagway
Wander out to Yakutania Point
Hike to Lower Dewey Lake or A.B. Mountain Trail
Check out Molly Walsh Park or Pullen Creek Park
Check out the flowers in Alaska's Garden City
Check out the McCabe - City Hall Building
Watch salmon spawn in Pullen Creek in August
Visit the Klondike Gold Rush National Historical Park
Take a walking tour of the historic district with a National Park Service Ranger
Sit and people watch
Skagway Info
Skagway is located 103 air miles from Juneau and 110 road miles south of Whitehouse, Yukon.
Population - just over 1100 residents
Temperature
May
Average max temperature of 58.7
Average Minimum temperature 40.1
June
Average max temperature of 65.1
Average minimum temperature 47.1
July
Average max temperature of 66.9
Average minimum temperature 50.4
August
Average max temperature of 64.9
Average minimum temperature of 48.9
September
Average maximum temperature of 57.4
Average minimum temperature of 44.2
Dressing in layers is always a good idea in Skagway. It can be really cool in the morning when the ship comes into port and then warms up throughout the day.
Daylight hours
May - 17 hours
June - 18 hours
July - 18 hours
August - 16 hours
September - 13 hours
Average Temperatures
Additional Alaska Cruise Resources
Alaska Cruise Travel Tips - What you need to know to have a great Alaska cruise experience
Juneau on an Alaska Cruise - What to expect during your day in Juneau
Holland America Westerdam - Photo tour of the cruise ship
National Parks you can visit on an Alaska Cruise
Check out all of our Alaska Cruise Guides