John has been asking for Crock Pot Beef Stroganoff for months. He absolutely loves Beef Stroganoff and wanted to see how it would turn out in the Crock-Pot
. I love that I can set the Beef Stroganoff up during the day and it cooks while I am working. It was super easy to prepare and made the house smell amazing. John came home and told me he was starving. Which was a good thing because there was quite a bit of Crock Pot Beef Stroganoff!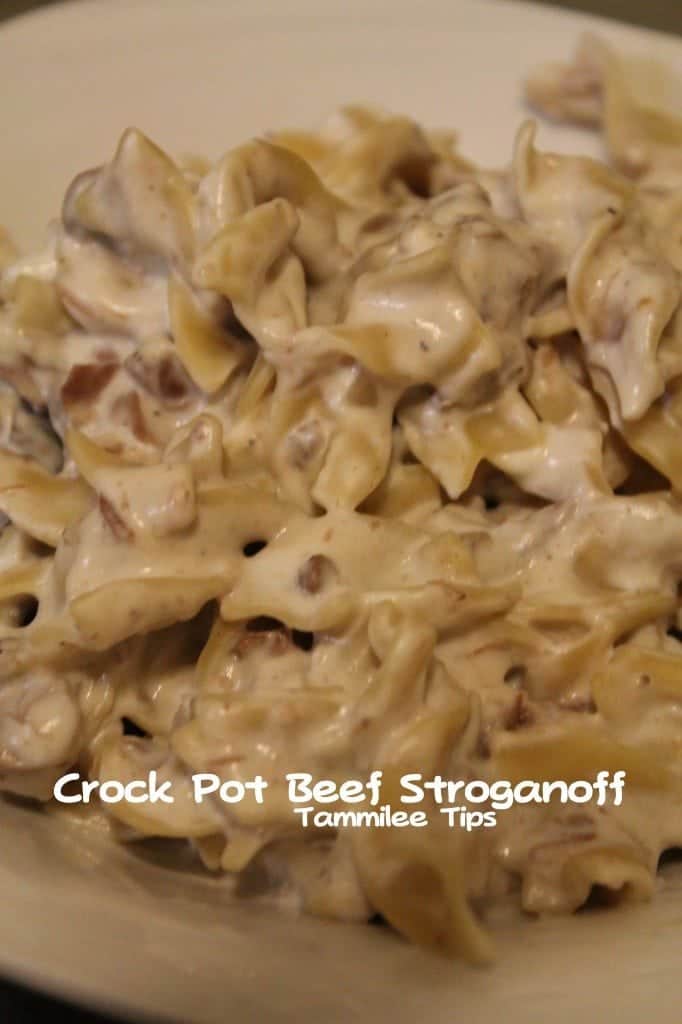 The next time I make this I think I will use a little less sour cream. John said that he could really taste the sour cream flavor over all of the other flavors.
Crock Pot Beef Stroganoff
Ingredients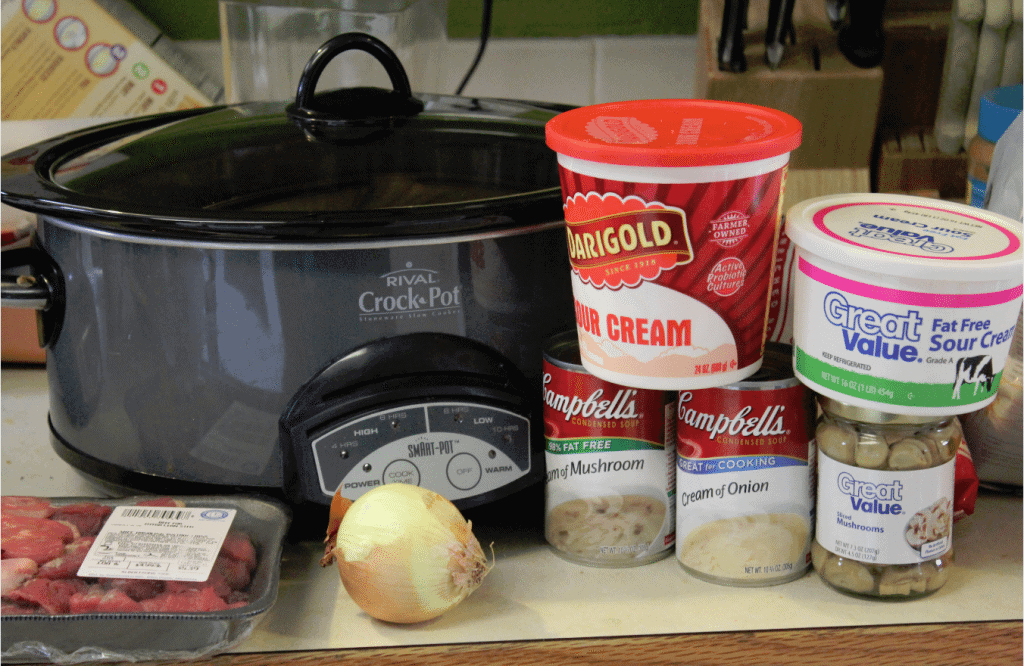 2 pounds beef stew meat
1 cup chopped onions
1 cup Cream of Mushroom Soup
1 cup Condensed Cream of Onion Soup
1 jar sliced mushrooms, drained
1/4 tsp pepper
1 package cream cheese
1 8oz container sour cream
6 cups cooked noodles
Directions
1. I browned the beef stew meat prior to placing it in the Crock-Pot

2. Add Beef, onion, Cream of Mushroom, Cream of Onion Soup, and Pepper to the Crock Pot
3. Cook low for 8-10 hours
4. Stir in Cream Cheese until melted
5. Stir in Sour Cream
6. Serve over the noodles or mix noodles into mixture depending on your choice
Do you love recipes? Check out our copy cat recipes, dessert recipes, and our Top 10 Crock Pot Recipes.
Top 10 Crock Pot Recipes
2. Crock Pot Tater Tot Casserole
5. Crock Pot Spicy Buffalo Ranch Chicken
6. Crock Pot Corned Beef and Cabbage
7. Crock Pot Spicy Barbecue Kielbasa
8. Crock Pot Bourbon Glazed Kielbasa
10. Crock Pot Cajun Boiled Peanuts

Crock Pot Beef Stroganoff Recipe
Ingredients
2 pounds beef stew meat
1 cup chopped onions
1 cup Cream of Mushroom Soup
1 cup Condensed Cream of Onion Soup
1 jar sliced mushrooms, drained
1/4 tsp pepper
1 package cream cheese
1 8oz container sour cream
6 cups cooked noodles
Instructions
I browned the beef stew meat prior to placing it in the Crock-Pot
Add Beef, onion, Cream of Mushroom, Cream of Onion Soup, and Pepper to the Crock Pot
Cook low for 8-10 hours
Stir in Cream Cheese until melted
Stir in Sour Cream
Serve over the noodles or mix noodles into mixture depending on your choice
http://www.tammileetips.com/2013/02/crock-pot-beef-stroganoff/