Cruising Glacier Bay on an Alaska Cruise is a bucket list travel moment for many! I am excited to share our best tips and tools for making the most of your day in Glacier Bay.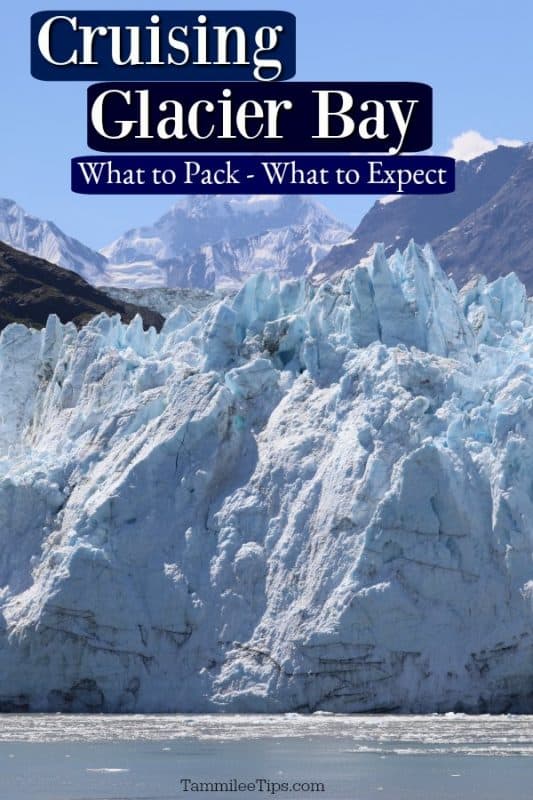 Cruising Glacier Bay
I was so enthralled with the scenery as we cruised along Glacier Bay. I was also frozen and would have paid a lot of money for a scarf and a warmer jacket. If you are planning on cruising Glacier Bay please pack more warm clothes than you think you will need. I did not pack appropriately for this day on the water.
At the last minute as we were leaving the house, I threw in a set of woven gloves and a hat for me and some gloves and a hat for John. I did not think to grab a scarf or really warm clothing. I knew we were going to be in Alaska but I was thinking it was June and so I had images of warm weather. OOOPS I was so wrong! It was downright cold and frigid on our cruise along Glacier Bay.
The day starts really bright and early! We were told that the best places to spot Humpback Whales were in the early morning as we entered the bay.
So John and I got up bright and early as the sun was rising and headed out to see if we could spot any whales. 2 hours of sitting with our faces pressed against the window and we saw an otter but no whales. The scenery along the way is breathtaking. It is so hard to describe the grandeur of the scenery you pass.
The trip into Glacier Bay starts really early in the morning. I highly suggest packing a couple of reusable coffee mugs that you can take out on the deck with you.
Once you find your spot on the deck you are most likely not going to want to move for a while. There are a lot of cruise passengers aiming for the best spots on the deck so if you find one you may want to hold onto it.
As we cruised up to the first glacier we headed to the front of the boat and pressed ourselves up against a railing so we could get a great photo. This was an unbelievable vantage point for the photo but there is nothing to protect you from the ice-cold wind that comes off the glacier.
Did I mention I would have paid dearly for a scarf and ski jacket? At this point, I was so cold that I just kept taking pictures. It was worth being cold for the photos but dang it is cold!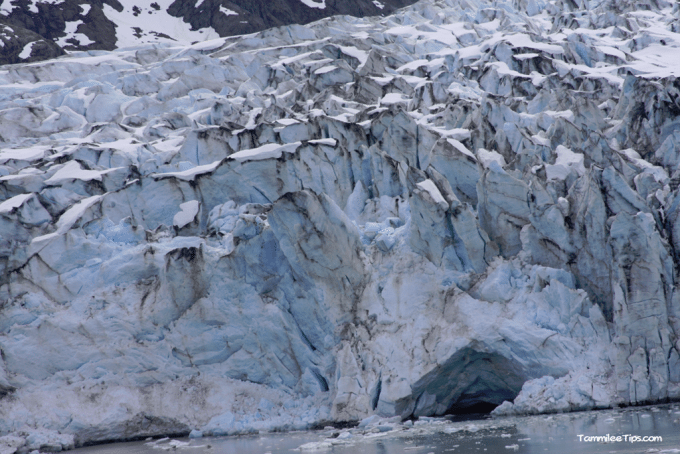 The cruise into Glacier Bay is a full-day event. One of the highlights for us was the National Park Service Rangers that boarded the boat as we entered Glacier Bay.
Glacier Bay National Park is a highlight of any Alaska cruise through the inside passage. Rightfully so, it is part of a 25 million-acre World Heritage Site and is one of the world's largest international protected areas.
They set up a miniature visitor center on the boat. They had books, t-shirts, and videos available for sale. I was incredibly excited to get my Glacier Bay stamp for our National Park book.
The Rangers provided commentary during the day of the sites we were seeing. They were really friendly and incredibly knowledgeable.
Glacier Bay is the second most visited National Parks in Alaska behind Denali.
Most visitors to this park spend a 9-10 hour day on a large cruise ship staring at the incredible scenery as their cruise ship travels inside the park to Tidewater Glacier.
Be prepared to spend all day out on the deck which includes cold weather in the shoulder seasons. Remember this is Alaska! They do not get these incredible glaciers in the tropics for a reason. Deck space fills up fast and when someone gets prime real estate they are not quick to give it up.
People sit in anticipation to see a glacier calf in hopes of capturing this moment on film.  Make sure to look up on occasion and don't forget to live in the moment as the day will go by fast.
Watching the icebergs float by the boat is a really odd sensation. More than once I thought about the Titanic. They look so small on top of the water and all I could think about was how big were they under the water. Don't worry though! The boat has such high tech equipment and spotters that I never felt like we were in any danger.
Watching and hearing the glacier calf is one of those moments you never forget. I wish I could even describe the sound that it makes. It starts with this eerie creaking sound and then cracking before you hear it rush into the water. Depending on the size of ice that is breaking off the glacier it can sound thunderous and echo through the bay.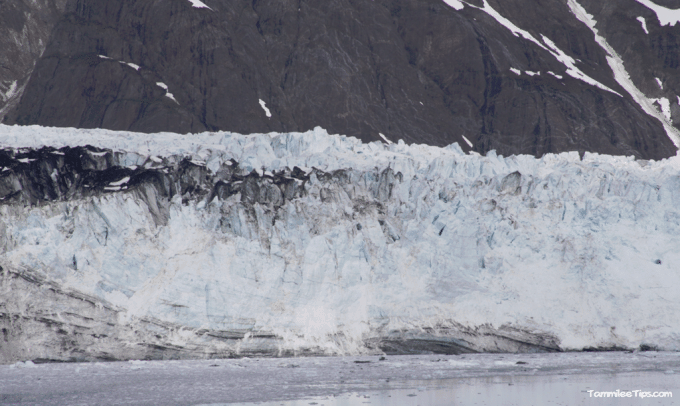 The great thing with being on the cruise ship is the boat does an almost 360-degree turn so everyone has a chance to see the glacier. The boat turned really slowly so you could see the glacier from any vantage point.
The size of the glacier ice wall is amazing. You are standing on a cruise ship that you know is crazy high looking out at ice that is almost as high as you are.
The cruise ship gets close enough to the glacier that you can get some truly amazing photos. Don't forget to walk around the boat to get different perspectives of the glacier. On the Golden Princess, we were able to walk on the deck above the bridge and get an amazing view of the glacier. There was also a fantastic view from the back pool deck as we were pulling out of Glacier Bay.
On our way out of Glacier Bay, we saw humpbacks off in the distance. We could see them breathing and their mist hanging in the air. We did see a pair of bears on the side of the hill as we cruised out of the bay. The bears were huge and you could see them without binoculars as we cruised by. I was happy to be on the boat looking at them from a distance and not right up next to them.
My best tip for cruising Glacier Bay is to pack lots of layers. That way you are prepared for whatever weather you find in the bay. We have met people who were able to wear t-shirts and jeans on their cruise and we wished we had ski jackets and scarves.
I also suggest bringing multiple camera batteries. The cold weather made our camera batteries run lower faster than they normally would. I was able to put them in my pocket and warm them up as we went along the glacier.
One of the things I love about being on a cruise ship is other passengers are always happy to take your photo. You can actually get a picture as a couple during the trip.
What to pack for Glacier Bay
Make sure to pack a Rain Jacket! I hate to say it but it will rain during your cruise at least once.  You could also pack one of these cute travel rain ponchos.
Binoculars -We liked having a pair of binoculars with us. They were great for looking for whales, seals, Bald Eagles and Bears.
Having extra camera batteries and SD Cards will make sure you can get that epic shot.
We loved having this Alaska Inside Passage Wildlife Guide with us. If you want help identifying the wildlife you see on your cruise we love these guide books.
I always carry a backup phone charger with me just in case. I wish we would have known this Alaska Cruise Tip on our first cruise! My phone was dead half the cruise.
ADDITIONAL ALASKA CRUISE TIPS
What to pack for an Alaska Cruise
First-time cruise questions answered
Cruising to Alaska National Parks 
TRACY ARM FJORD
Tracy Arm Fjord Glacier Explorer Excursion
JUNEAU, ALASKA
An evening at the Red Dog Saloon, Juneau Alaska
Visiting Mendenhall Glacier outside of Juneau Alaska
Our day in Juneau on our Alaska Cruise
SKAGWAY, ALASKA
See bears on the Wildlife Expedition Excursion
Driving to the Yukon Territory from Skagway on our Alaska Cruise
A stop at Yukon Brewing in Whitehorse during our Alaska Cruise
Red Onion Saloon, Skagway Alaska
Klondike Gold Rush Visitor Center in Skagway Alaska
A day in Skagway on our Alaska Cruise
KETCHIKAN, ALASKA
Spending the day in Ketchikan on our Alaska Cruise
Great Alaskan Lumberjack Show in Ketchikan
SEATTLE, WA
Leaving Seattle on our Alaska Cruise
ALASKA CRUISE SHIPS
Carnival Freedom – Photo and video tour along with info on this great cruise ship.
Carnival Miracle – Photo and video tour of the ship coming soon.
Tour of the Holland America Westerdam
10 things we loved on the Golden Princess