How to make Red Robin Campfire Sauce at home! This tangy barbecue sauce is the perfect dipping sauce.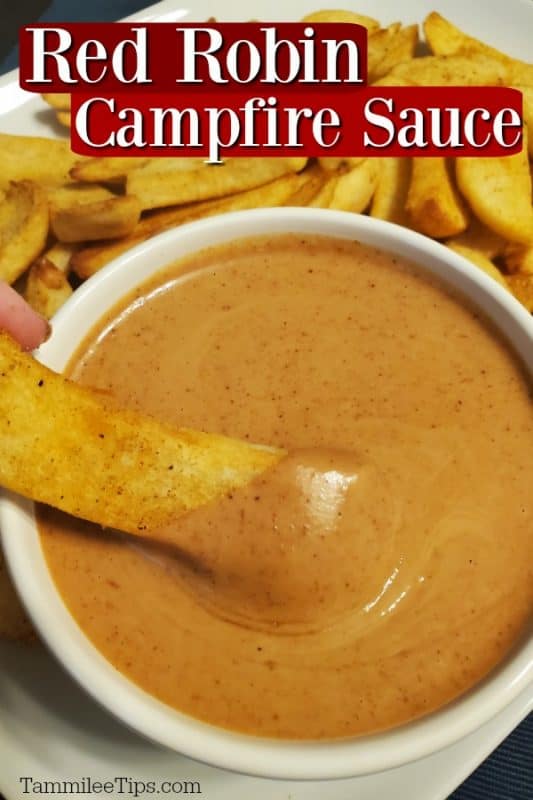 Red Robin Campfire Sauce
This how-to on Red Robin Campfire Sauce, a tangy barbecue-based dip, will quickly become your new favorite copycat dipping sauce!
This saucy dip came to fruition one week after my husband John was CRAVING Red Robin Campfire Sauce! He had been talking my ear off about it for weeks and finally broke down and ordered take-out Red Robin.
When we ordered, he was so sad to find a tiny container of campfire sauce that barely lasted for half his fries, and so began my mission to figure out how to make Campfire Sauce at home.
Did you know Red Robin started as Sam's Tavern in Seattle in 1969? The chain now boasts over 500 Red Robin restaurants across the United States and Canada.
Sam's Tavern owner, Sam, was part of a quartet that would sing "When the Red, Red Robin (Comes Bob, Bob Bobbin' Along)." He loved the song so much that he changed the name of Sam's Tavern to Sam's Red Robin.
When new owners took over in 1969, they dropped Sam's and changed the name to Red Robin.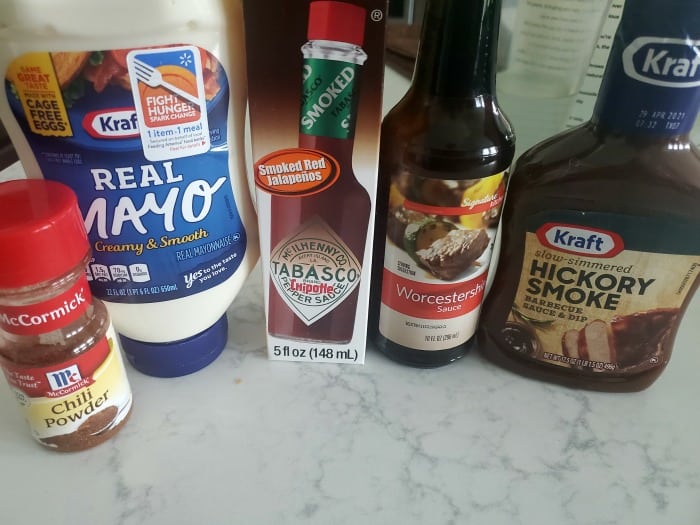 Ingredients
Here is a quick overview of the simple ingredients for making an epic Red Robin Campfire Sauce! The printable recipe card at the bottom of the post includes specific measurements and step-by-step instructions.
Mayonnaise

Hickory-Smoked Barbecue Sauce

Tabasco Chipotle Sauce

Ground Chili Powder

Worcestershire Sauce
Equipment Needed
Mixing Bowl: A cereal bowl or small to medium bowl works fine, depending on how much you're making.

Whisk, Fork, or Spoon (to combine the sauce)

Serving Dish or bowl
How to make Red Robin Campfire Sauce
You guys, this recipe is beyond easy to make! All that's needed is to put all the ingredients in a bowl, whisk and stir them until combined, and then chill the sauce in the fridge.
That is it! Five simple ingredients and less than five minutes of active work, and you are ready to go!
I've included complete instructions in the printable recipe card at the bottom of the post, but here's a quick version.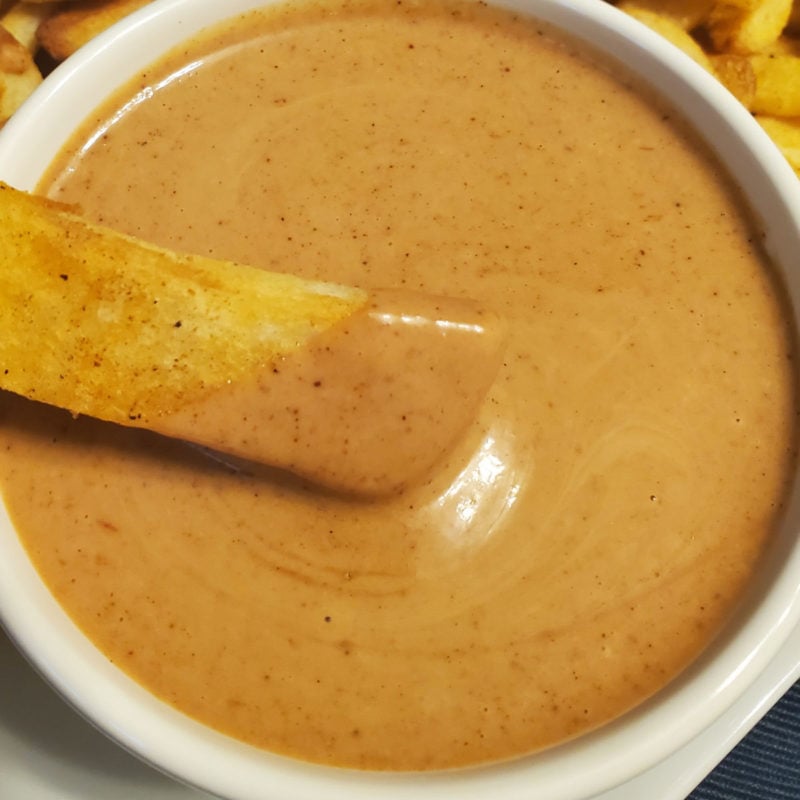 Preparation and Storage
Make Ahead: The sauce tastes even better after sitting in the fridge for at least an hour, as the chill time lets the flavors meld together. Hello yum!
Storage: In an airtight container, your Campfire Sauce can last about a week in the refrigerator. It only lasts up to one meal, maybe two, in our house.
Freezing/How to Freeze: From a food safety standpoint, there's nothing wrong with freezing a mayonnaise-based dip such as this copycat Campfire Sauce. However, its components separate upon thawing, making it grainy and unpalatable, so it's not recommended.
How to Reheat: This sauce is best enjoyed as a cold dip!
Recipe Variations
Substitutions: This twist on Campfire Sauce uses ranch dressing and mayo in equal amounts for a Ranch Campfire Mayonnaise Dip.
We used Kraft Hickory Smoke BBQ Sauce but you can change it up and use Sweet Baby Ray's Hickory Sauce, Smokey BBQ Sauce, or Whiskey River BBQ Sauce depending on the flavor you enjoy.
We use chili powder but I have also seen chipotle powder used.
Vegetarian Option: This recipe is vegetarian-safe!
Vegan Option: Use your favorite vegan mayonnaise to make this sauce plant-based.
Gluten-Free: Whether your Campfire Sauce is gluten-free depends on the ingredients you use to make it, so check each nutrition label if this is a dietary concern.
Smaller Serving Size + Larger Group/More Servings: Scale the written recipe up or down, depending on your desired quantity.
Make it Spicy: Add extra Tabasco sauce to make it spicier.
Sugar-Free: The hickory-smoked barbecue sauce in this dip is the largest sugar culprit, so check the nutrition label of this component and the rest of your ingredients if you're concerned about the sugar content.
Tips for the Best Red Robin Campfire Sauce
You can buy Red Robin Seasoned French Fries in the freezer section of many grocery stores. If your store doesn't have them, you can buy

Red Robin Signature Seasoning

and sprinkle it on steak fries if you want the whole Red Robin experience at home.

We like this sauce thick so that it stays on anything we dip it in, but you can increase the proportion of the liquid ingredients to taste to thin it out.

Nutrition information, including calories, protein, calcium, carbohydrates, fiber, vitamin c, potassium, cholesterol, sodium, trans fat, monounsaturated fat, polyunsaturated fat, and more, will vary depending on the products used.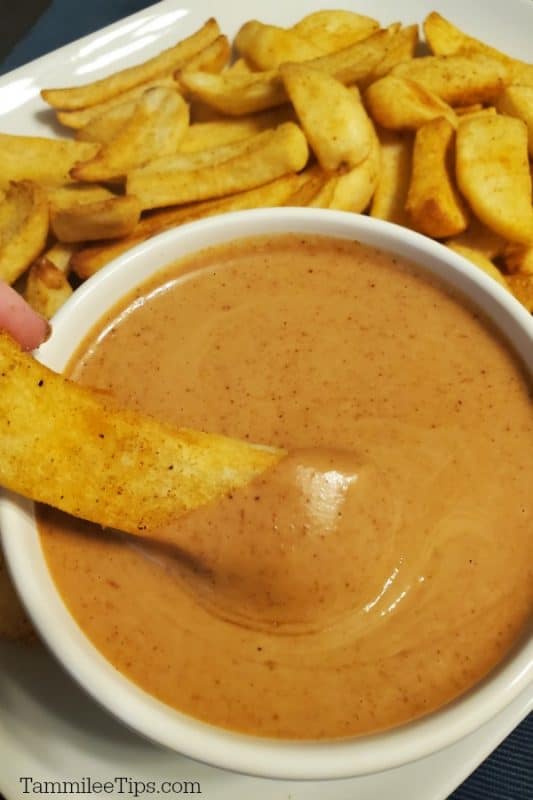 When to Serve + What to Serve With Red Robin Campfire Sauce
This Red Robin Campfire Sauce copycat recipe is fantastic for any salty, dippable treat, such as french fries, tater tots, or onion rings.
What to dip in this Copycat Red Robin Campfire Sauce Recipe - French Fries, Chicken Nuggets, Spread on burgers,
Sides: Brown Sugar Bacon Wrapped Smokies, Air Fryer Jalapeño Poppers, Pigs in a Blanket, Alabama Fire Crackers, Air Fryer Frozen Potato Skins, Air Fryer Egg Rolls, Air Fryer Popcorn Chicken, Pizza Monkey Bread, Homemade Baked Mozzarella Sticks
Main Dishes: Air Fryer Burrito, Air Fryer Frozen Chicken Tenders, Boiled Hot Dogs, Air Fryer Fish Fillets, Air Fryer Chicken Patties, Air Fryer Popcorn Shrimp, Easy Lunch Wraps
Additional Dipping Sauces - Fry Sauce, Zesty Sauce, Comeback Sauce, Polynesian Sauce, Big Mac Sauce, Zaxby's Sauce,
Great Copycat Recipes
Cracker Barrel Hashbrown Casserole
Do you love recipes? Check out our copycat recipes, dessert recipes, and our CrockPot Recipes.
Follow Tammilee Tips on MSN, Facebook, Instagram, and Pinterest for all our recipe posts.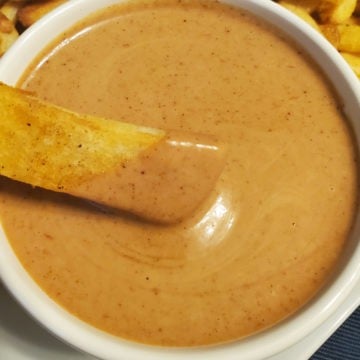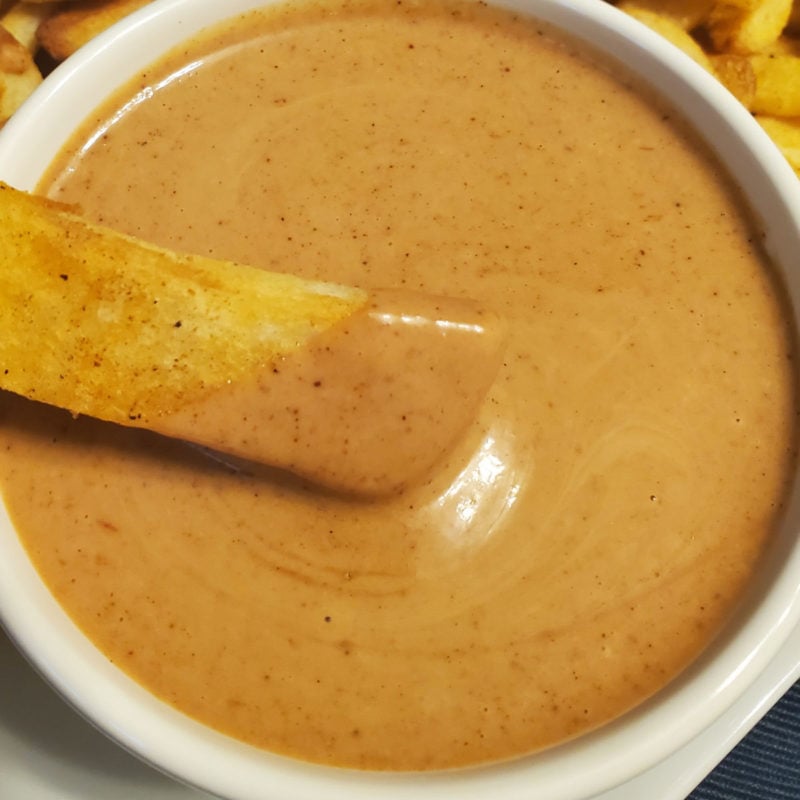 Red Robin Campfire Sauce Recipe
How to make Red Robin Campfire Sauce at home! Great for french fries, tater tots, onion rings, or anything you want to dip in them.
Print
Rate
Instructions
Combine ingredients into a bowl and whisk together