Delicious Banana Bread with Sour Cream is moist and tastes amazing. This recipe makes one loaf of epic sour cream banana bread!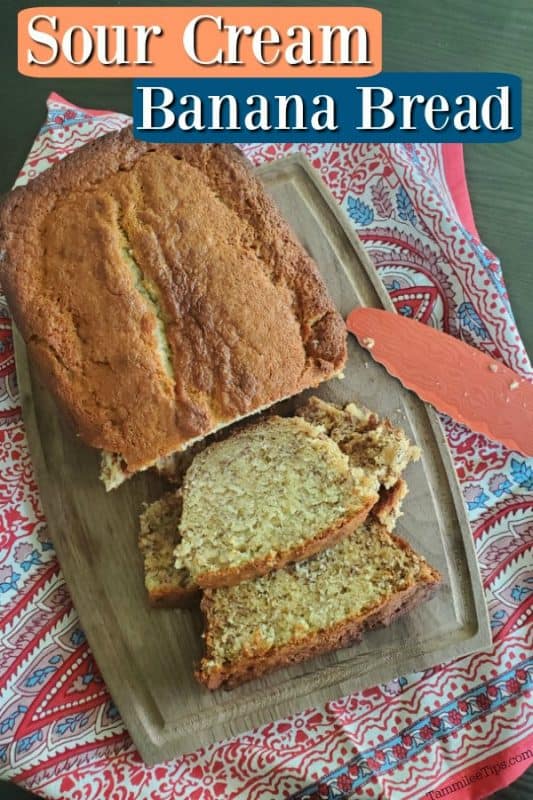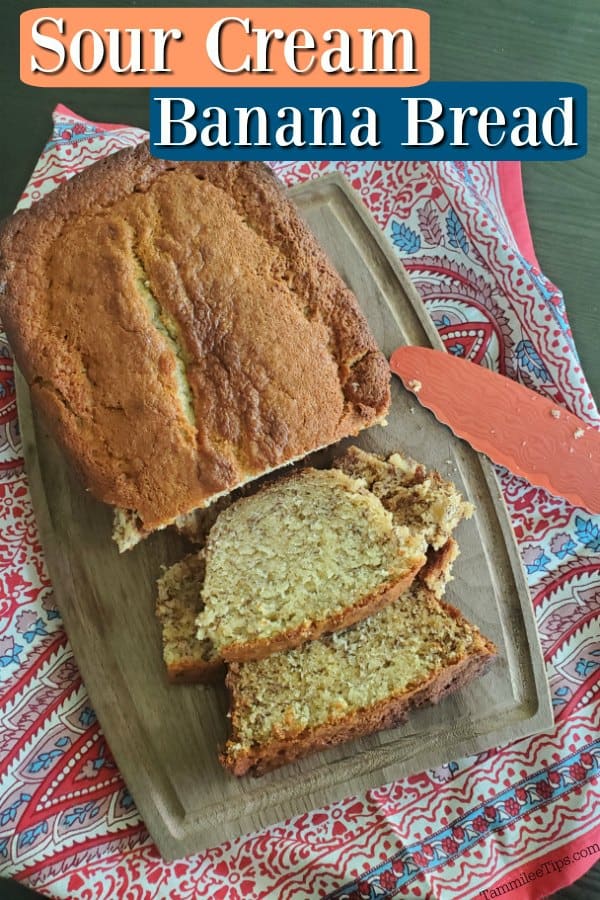 Banana Bread with Sour Cream
Can you tell I am on a banana bread kick? This is the 8th banana bread recipe we have shared in the ten years since we started the website.
Though I think the majority of them have been made in the past few months while we have been staying home.

I am not sure why staying at home meant I needed to bake ALL the banana bread but I feel like I am not the only one doing this.
I have actually received press releases talking about how much banana bread is being baked across the country right now.
The addition of sour cream to this banana bread recipe brings out such an epic flavor. This is one of the best banana bread recipes we have shared.
This moist banana bread makes an epic snack or is perfect for breakfast.
Ingredients 
Butter
Sugar
Eggs
Flour
Salt
Bananas
Sour Cream
Vanilla
Butter - Use unsalted butter! Trust me you do not want the surprise of biting into a slice of banana bread with salted butter. Don't forget to set your butter out so it can reach room temperature. You can swap the butter with applesauce if you are trying to make a healthier version.
Bananas - We like to use overripe bananas to get the best banana flavor in this Banana Bread with Sour Cream. You will want to mash them in a separate bowl to get them ready to go into the batter. I use a fork to mash the bananas or a potato masher if they need a little extra to get them the consistency I want.
Sugar - we use white sugar but you can use brown sugar for a different flavor. You can use a mix of both granulated sugar and brown sugar if you like.
Sour Cream - full fall sour cream will add the best flavor punch.
Optional - add-in ¾ cups of chopped pecans or walnuts. You can also add chocolate chips to this recipe to make chocolate chip banana bread. You can even add in dried fruit, toffee candy bits, the skies the limit.
This sour cream banana bread recipe can easily be adapted to your favorite flavors! It is the perfect way to use up ripe bananas and one of our favorite great recipes.
We have seen recipes that include nutmeg and other spices for additional flavors. We like the banana flavor to be our main flavor profile.
You could even smear a bit of cream cheese frosting on a slice if you want to turn it into banana cake. LOL
Equipment Needed
Hand Mixer/Kitchen Aid Mixer - Using a mixer will make it a lot easier to mix all of the ingredients together.
Measuring cups and spoons
Large bowl - If you are making this with a hand mixer or wooden spoon make sure to use a mixing bowl that is large enough to handle all of the ingredients.
Non-stick spray - nonstick cooking spray will make your life so much easier when it comes time to remove the sour cream banana bread from the pan. You can also line the baking pan with parchment paper.
Spatula - A good silicone spatula is perfect for getting every drop of batter out of the bowl and into the loaf pan.
Loaf Pan - A great loaf pan is perfect for this banana bread. I have used both ceramic and metal loaf pans for this recipe. The cooking time may differ by a small amount so make sure to check your bread. We make this in We make this in Standard size 8.5 x 4.5 inch loaf pans but you can easily switch to mini loaf pans and adjust the bake time for less time.
Toothpick - A toothpick works perfectly to check if your banana bread is done cooking. If batter sticks to the toothpick you will need to stick your sour cream banana bread back in the oven for a few minutes. I like a toothpick over a knife because it doesn't leave a gaping hole in your bread.
Serrated Knife - A serrated knife works best for nicely cutting banana bread or really any bread.
Wooden Cutting Board - I like to serve this on a cute wooden cutting board. It looks great and I can cut the bread right on it and not worry about messing up the tabletop.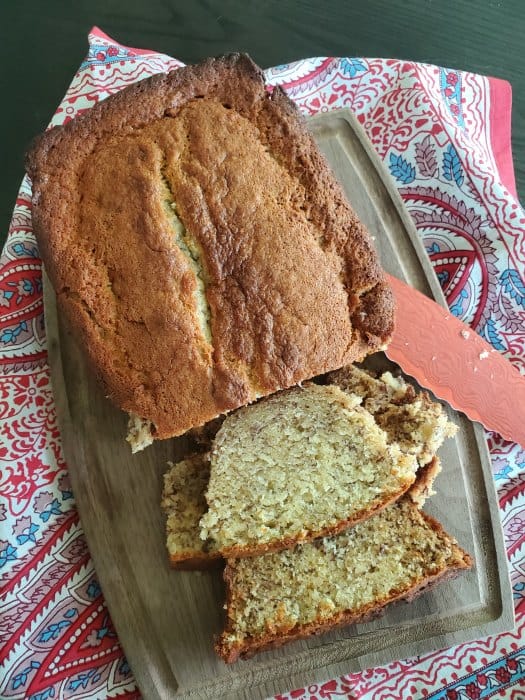 Recipe Tips for Banana Bread Recipe with Sour Cream
Make sure your butter is room temperature so it can easily cream with the butter.
Pre-measuring out all of the ingredients makes it a lot easier to make this recipe.
If you are using frozen bananas make are they are at room temperature. I try to set them out the night before I need them so they can get to room temperature. This will make them blend into the mix easier.
To make it easier to cut this moist banana bread recipe with sour cream you will want to let the banana bread cool completely. If you cut it to early the bread can fall apart as you cut it. That being said if you are not worried about having the perfect looking slice of banana bread dive right in.
This Banana Bread Recipe with sour cream is super moist! You can spread butter on it or enjoy it by itself. We love enjoying it with a hot cup of coffee to start the day.
If you don't have sour cream you can substitute the recipe with Greek Yogurt.
You can sprinkle cinnamon sugar on the bottom of the pan to get a bit more flavor in the crust of this bread.
If you notice the banana bread is getting to brown on top while baking you can cover it with foil for the last 10-15 minutes.
To make Sour Cream Banana Bread muffins add the batter ⅔ of the way full in a 12 cup muffin tin. Bake for 18-22 minutes until a toothpick comes out clean.
If you still have ripe bananas you can make another loaf or I like to pre-measure them out for banana bread and freeze them. This way I can always make delicious banana bread and don't have to worry about having ripe bananas on the counter.
We store this epic sour cream banana bread in an airtight container or on a plate wrapped in plastic wrap. You can also wrap it in aluminum foil. Just make sure to remove the aluminum foil if you are going to warm it in the microwave.
Can you freeze banana bread?
Yes, We wrap the banana bread in plastic wrap tightly and then put it into freezer bags. You can freeze full loaves or slices of banana bread.
Try to remove as much air as you can before placing the banana bread in the freezer. This will help prevent freezer burn.
When you are ready to enjoy the bread remove it from the freezer and place it on the counter. It should take about 4 hours for the bread to fully thaw.
If you are thawing slices of banana bread you can leave them on the counter for 20 to 30 minutes and they should thaw. Another option is to unwrap the bread and microwave it for 30 seconds.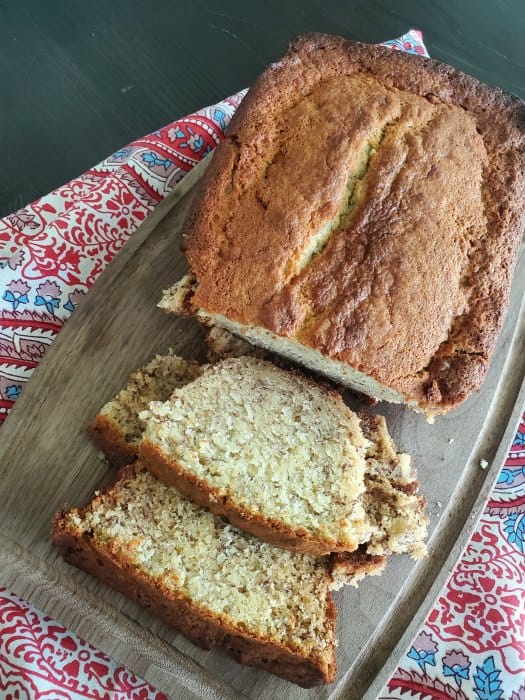 Banana Bread Recipes
This Banana Bread Recipe is the 8th banana bread recipe we have shared since starting the blog! Pretty sure you can tell banana bread is one of my favorite things to bake and have in the house. When it comes to recipes for banana bread we have you covered!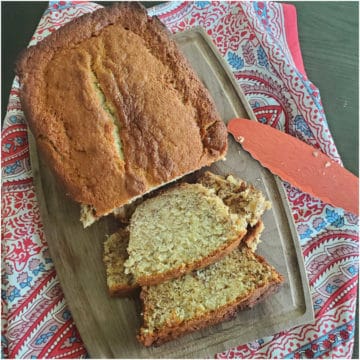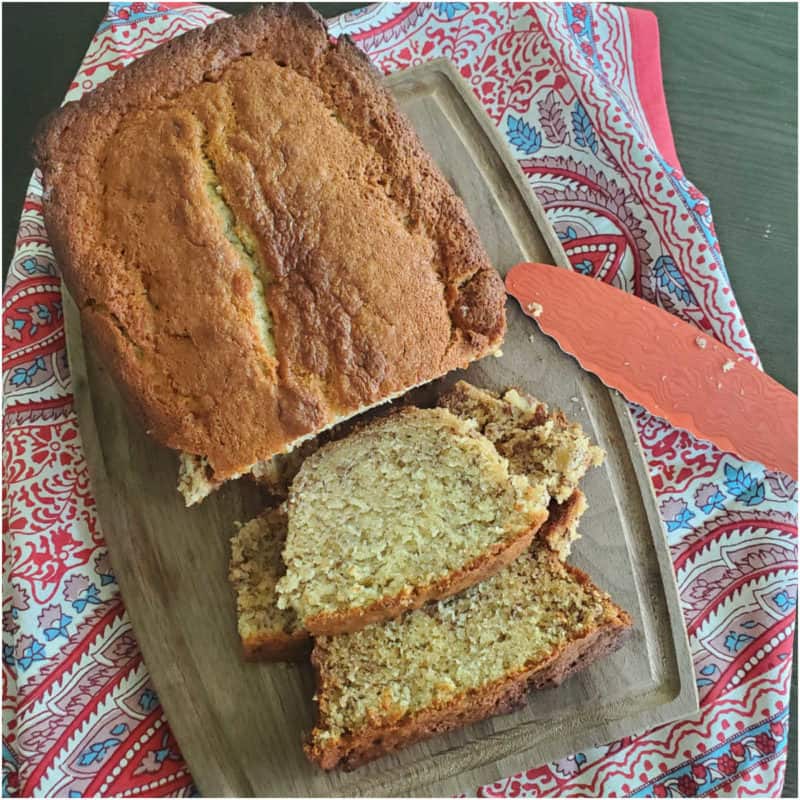 Banana Bread with Sour Cream
Best Sour Cream Banana Bread Recipe you can make! This moist banana bread tastes amazing! Super moist, easy to make, and tastes amazing!
Print
Rate
Instructions
Preheat oven to 350 degrees

Cream room temperature butter and sugar together

Add in the eggs and mix together

Add in the flour, baking soda, and salt. Mix together

Add in the bananas, sour cream and vanilla. Mix together

Spray bread pan with non-stick spray

Pour batter into bread pan, bake for 50 minutes, check to see if bread is done.

Cool the bread before slicing
Nutrition
Nutrition Facts
Banana Bread with Sour Cream
Amount Per Serving
Calories 230
Calories from Fat 90
% Daily Value*
Fat 10g15%
Cholesterol 53mg18%
Sodium 183mg8%
Potassium 85mg2%
Carbohydrates 32g11%
Protein 3g6%
Vitamin A 344IU7%
Vitamin C 1mg1%
Calcium 19mg2%
Iron 1mg6%
* Percent Daily Values are based on a 2000 calorie diet.