Delicious Crock Pot Beef Stroganoff is filled with tender beef, mushrooms, and a great creamy sauce served over egg noodles. This Beef Stroganoff Crockpot recipe is super easy to make! A true comfort food.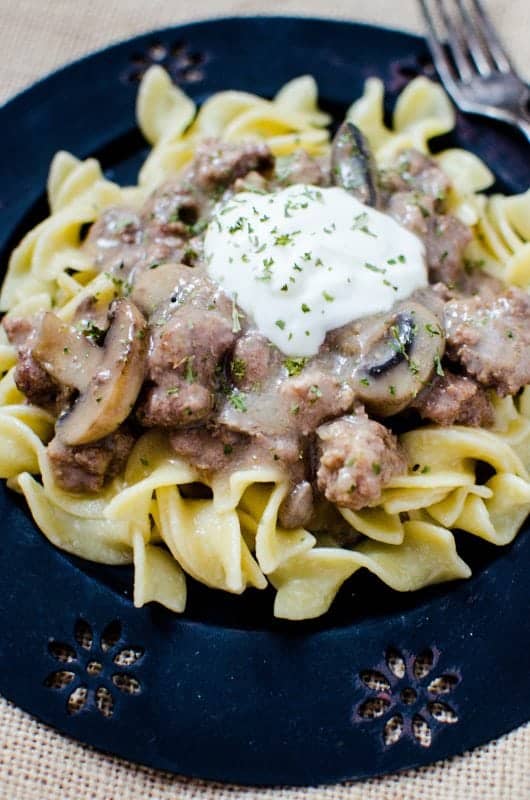 Crock Pot Beef Stroganoff
This Slow Cooker Crock Pot Beef Stroganoff Recipe was originally shared in February 2013. It is one of the first recipes we shared on Tammilee Tips. Thankfully since 2013, our photography has improved and I like to think it looks better than our original photography. I will let you be the judge of that. LOL!

John has been asking for this Beef Stroganoff Crock Pot meal for months. He absolutely loves Beef Stroganoff and wanted to see how it would turn out in the Crock-Pot
. I love that you can set up this easy beef stroganoff crockpot meal during the day and it cooks while you are working and spending the day, not in the kitchen.
It is super easy to prepare and made the house smell amazing. John came home and told me he was starving. Which was a good thing because there was quite a bit of Crock Pot Beef Stroganoff!
This is truly one of our favorite slow cooker recipes to make. It is so easy to make and tastes great on a cold winter night. I love that it is rich and creamy and oh so filling. A true comfort food.
You might also like this Slow Cooker Chicken Cheeseburger Pasta or Slow Cooker Beef and Broccoli Recipe.
This recipe pairs perfectly with Cracker Barrel Carrots.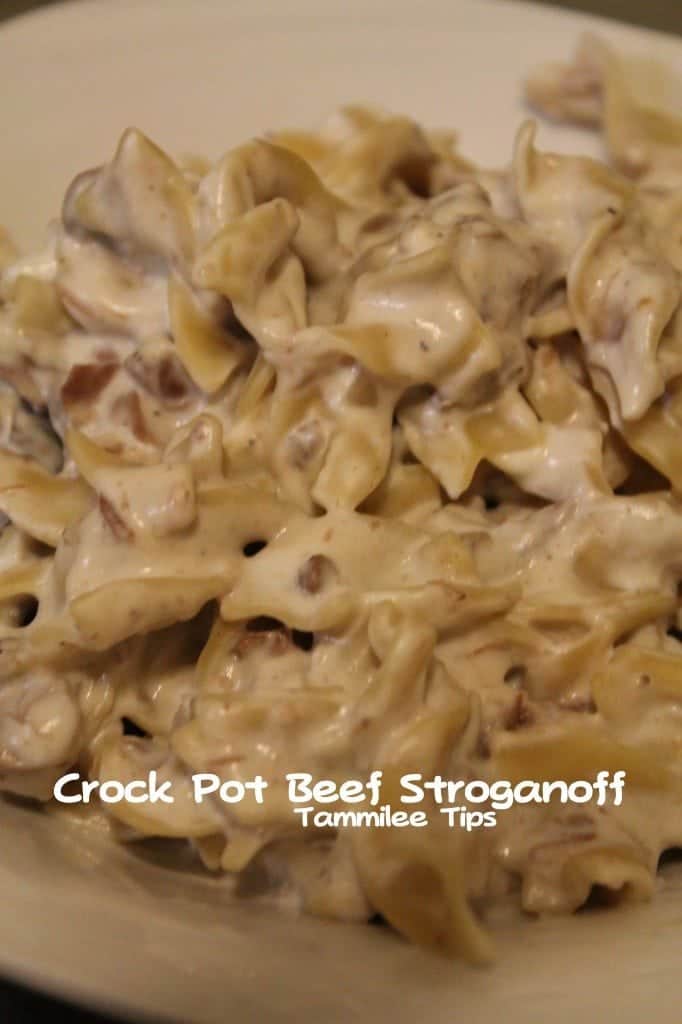 This picture is from when I made the original recipe way back in 2013! So delicious for dinner but thankfully our photography equipment has improved since then and we can show you how great this meal really looks. lol!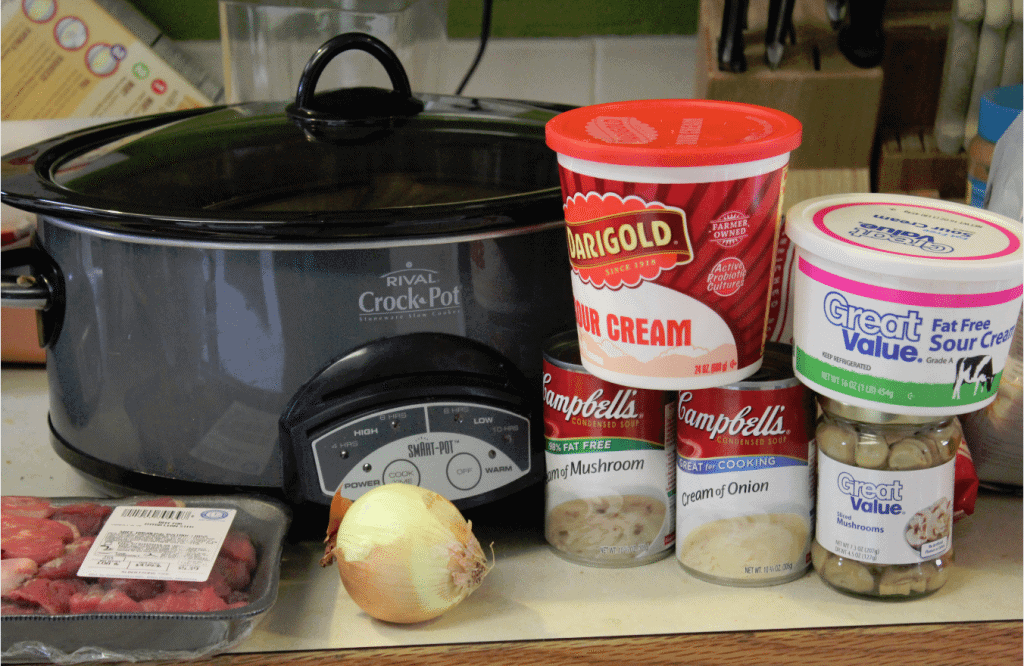 Ingredients needed 
Beef stew meat or chuck roast
Onion
Cream of Mushroom Soup
Condensed Cream of Onion Soup
Mushrooms
Pepper
Egg noodles
Salt and pepper
Garnish - fresh parsley
Optional - Cloves Garlic, Worcestershire Sauce, Beef Broth, Dijon Mustard
If you can't find Cream of Onion Soup you can use two cans of Cream of Mushroom. I had to make this change due to grocery store shortages and it worked great. The flavor is still great.
Beef Stew Meat or Chuck Roast - This meat is nicely marbled and cooks perfectly in the slow cooker. You will want to cut it into 2-inch pieces or ask the butcher if they have any pre-cut.
Egg Noodles - I like to use No Yolks Egg Noodles. I tried a generic brand of egg noodles one time to try and save a few pennies and I have to tell you it was not worth it. The egg noodles turned to mush. Stick with egg noodles you love and trust. If you don't have any egg noodles available you can use any short or small pasta.
Mushrooms - If you are not a fan of mushrooms on their own you can leave them out.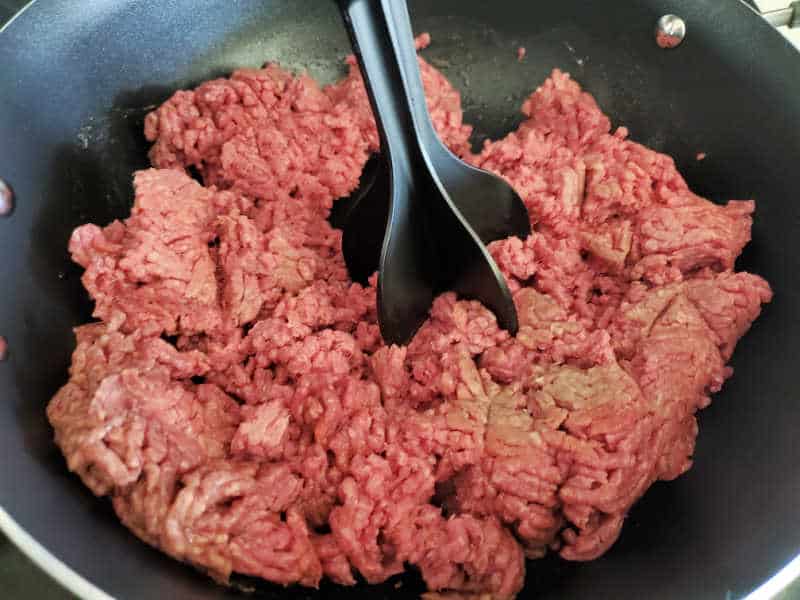 Equipment needed 
Crockpot - We suggest using a crockpot that has a digital timer that automatically switches the slow cooker to warm after a set amount of time. This helps make sure your dinner cooks perfectly and you don't have to stress about what time it is going to be done.
This Cuisinart Multi-Cooker allows you to brown the beef right in the pot and then change to slow cooking. Another great way to save on washing multiple dishes.
Mix n Chop - We use the mix n chop to break up the ground beef and love it.
Kitchen Tongs - These make it super easy to brown the beef and move them around.
Serving Plate
Steps to make Beef Stroganoff Crockpot Recipe
The first step is to brown the meat. You want to get a good browning on all sides of the cuts of beef.
Once the meat is browned you will add it to the crockpot, stir in the drained mushrooms, cream of mushroom soup, and cream of onion soup. If you can't find the cream of onion soup you can use two cans of cream of mushroom soup.
Cover and cook the meat and soup mixture for 8 hours on low or 4 hours on high  to make the beef stroganoff sauce. If you choose to cook it on high make sure to check it after a couple of hours to make sure it is not burning to the sides. You may need to stir it a few times.
After it has cooked in the slow cooker for 4 to 8 hours you will stir in the sour cream and cream cheese until they are melted and mixed in well.
Cook the egg noodles on the stovetop. It is up to you if you want to stir the egg noodles into the beef stroganoff or if you want to serve the beef stroganoff over the egg noodles.
This slow cooker beef stroganoff is so delicious and makes quite a bit! You can easily enjoy this for leftovers the next day.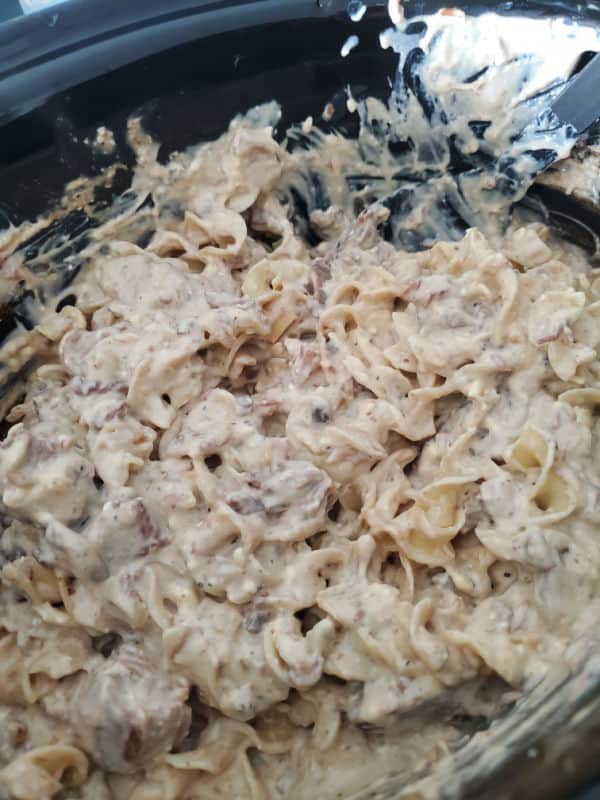 Recipe Tips
If you are short on time you can skip browning the beef and toss it in the crockpot.
You can replace the stew meat with ground beef to make a ground beef stroganoff. About 1.5 pounds of ground beef browned will work great.
If you need this crockpot beef stroganoff done "quickly" you can cook it on high for 4 to 5 hours.
For a creamier beef stroganoff, you can switch out the sour cream for cream cheese. You will need to stir it a bit more to get it melted and mixed into the stroganoff.
If you are not a fan of egg noodles you can also serve this over mashed potatoes.
You can mix the egg noodles into the stroganoff mixture or place the creamy beef mixture over the top of the egg noodles. It is up to you depending on how you enjoy it. We tend to mix the egg noodles into the mixture so everything is nice and creamy.
Leftovers should be stored in an air-tight container in the fridge
Printable recipe card instructions are below.
Nutrition information, including calories, protein, calcium, carbohydrates, fiber, vitamin c, potassium, cholesterol, sodium, trans fat, monounsaturated fat, polyunsaturated fat, and more, will vary depending on the products used.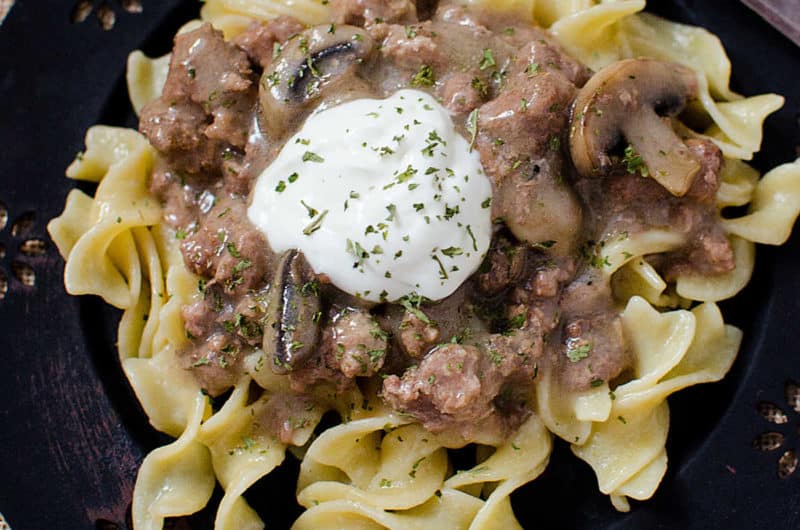 Great beef crockpot recipes
Crock Pot Chipotle Shredded Beef
Crockpot Cheesy Beef and Pasta
Do you love recipes? Check out our copy cat recipes, dessert recipes, and our Crock Pot Recipes.
Follow Tammilee Tips on MSN, Facebook, Instagram, Pinterest, and Twitter for all of our recipe posts.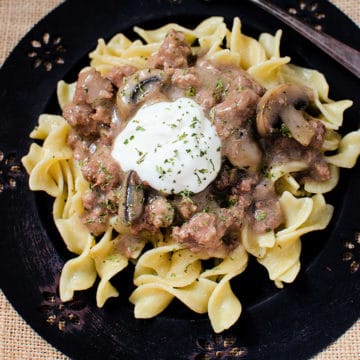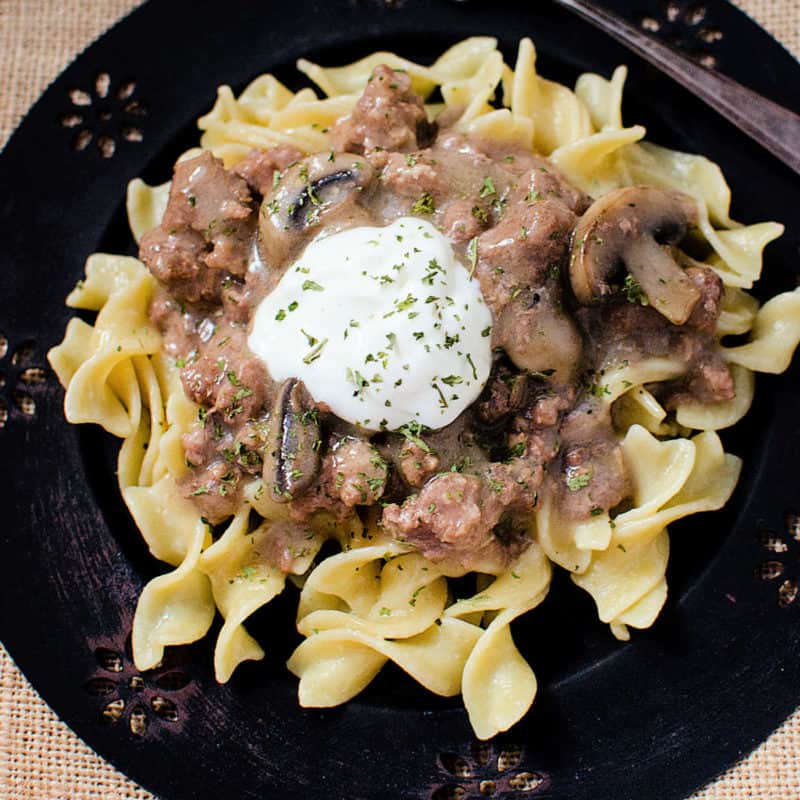 Slow Cooker Crock Pot Beef Stroganoff Recipe
Delicious easy Slow Cooker Crock Pot Beef Stroganoff that takes minutes to prepare. Great filling dinner recipe everyone will love.
Print
Rate
Instructions
Brown the beef stew meat prior to placing it in the Crock-Pot

Add beef, onion, Cream of Mushroom, Cream of Onion Soup, and Pepper to the Crock Pot

Cook low for 8-10 hours

Stir in Cream Cheese until melted

Stir in Sour Cream

Serve over the noodles or mix noodles into mixture depending on your choice
Nutrition
Nutrition Facts
Slow Cooker Crock Pot Beef Stroganoff Recipe
Amount Per Serving
Calories 395
Calories from Fat 207
% Daily Value*
Fat 23g35%
Cholesterol 96mg32%
Sodium 409mg18%
Potassium 662mg19%
Carbohydrates 37g12%
Protein 10g20%
Vitamin A 767IU15%
Vitamin C 3mg4%
Calcium 135mg14%
Iron 1mg6%
* Percent Daily Values are based on a 2000 calorie diet.
Originally posted in 2013, updated March 2020, and November 2022