This super easy crock pot pumpkin dump cake recipe is absolutely delicious! The slow cooker does all the work and you have a great fall dessert to serve! We are finishing off a month of Pumpkin recipes this week. I can't believe it has already been a month. I also can't believe next week is September already.
I am pretty sure we just celebrated Easter and the Fourth of July. 2018 is a year that is flying by and now it is time to start thinking about the holidays. Are you ready to dive into Halloween, Thanksgiving, and Christmas? EEK!
OK! Don't worry for today we will just savor all things pumpkin and not think of the upcoming holidays or the craziness that could start soon. Breathe in the pumpkin spice and savor all things Fall!
Just in case you missed them here are the other amazing pumpkin recipes
–Crock Pot Pumpkin Spice Latte
You can combine the Crock Pot pumpkin liqueur with the Crock Pot Pumpkin Spice Latte to make a boozy latte! Just a suggestion 🙂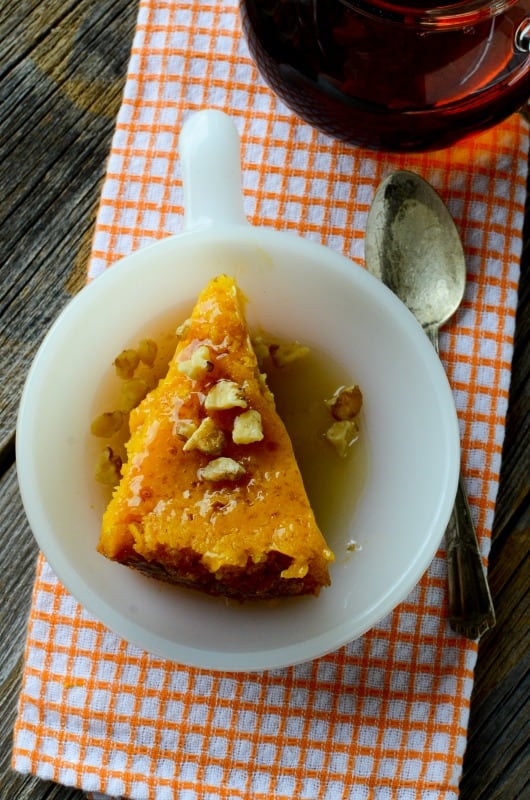 Crock Pot Pumpkin Dump Cake Recipe
Ingredients to make a Pumpkin Dump Cake in the Crockpot
1                             Yellow cake mix
1 can                     Pumpkin puree (15oz)
2 tsp                      Pumpkin pie spice
1 box                     Vanilla pudding
1 C                          Milk
½ C                         Cream (heavy whipping or table cream)
½ C                         Butter, melted
How to make a Crockpot Pumpkin Dump Cake
1. In a bowl, mix the cake mix, pumpkin pie spice and vanilla pudding dry mix together.
2. Add the butter, milk, and cream. Stir just enough to wet all ingredients
3. Pour into a parchment lined slow cooker bowl
4. Cover and cook on high for 2 to 2.5 hours, low for 4-5
5. Serve with drizzled maple syrup and chopped walnuts
We use either the Hamilton Beach Set 'n Forget Programmable Slow Cooker, 6-Quart

or Crock-Pot 5-Quart Slow Cooker

for all of our crockpot recipes
Do you love recipes? Check out our copycat recipes, dessert recipes, and our Crock Pot Recipes.

Follow Tammilee Tips's board Tammilee Tips Recipes on Pinterest.
Crock Pot Pumpkin Dump Cake Recipe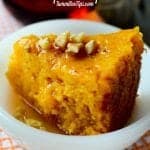 Delicious easy to make Crock Pot Pumpkin Dump Cake Recipe. The slow cooker does all the work and you have the perfect fall dessert
1 Yellow cake mix
15 oz Pumpkin puree
2 tsp Pumpkin pie spice
1 box Vanilla pudding
1 C Milk
½ C heavy whipping Cream
½ C Butter (melted)
In a bowl, mix the cake mix, pumpkin pie spice and vanilla pudding dry mix together.
Add the butter, milk and cream. Stir just enough to wet all ingredients
Pour into a parchment lined slow cooker bowl
Cover and cook on high for 2 to 2.5 hours, low for 4-5
Serve with drizzled maple syrup and chopped walnuts