Easy Dump Cake Recipes, including crockpot dump cakes and oven-based dump cakes! These are the perfect potluck and holiday desserts.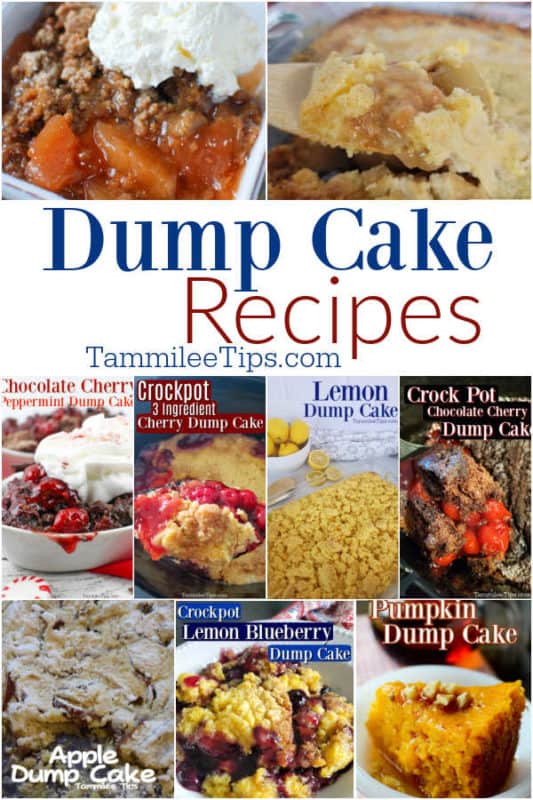 Everything you need to know about Dump Cake Recipes
The dump cake is the lazy baker's best friend. Whether you bake the fluffy cobbler-like dessert in the oven or use your Crock Pot to commandeer the process, the path to a sweet and decadent treat just got ten times easier.
Here we answer your questions about the dump cake and round up our best recipes for this easy Southern dessert staple.

Why Is It Called Dump Cake?
Though it doesn't have the prettiest name, the dump cake is a literal name for an ingenuous dessert. It is also a testament to the knack of Southern cuisine for making ordinary ingredients taste homemade.
As the name suggests, a dump cake is made by dumping cake mix and other pantry ingredients, such as canned pie filling, canned fruit, and butter, into a baking pan without mixing.
The butter melts as the dump cake bakes, and the fruit juices add moisture to the cake mix. The result is a two-layer baked dessert with the surface of a fluffy cake and a crumbly fruit cobbler on the bottom.
Cobbler is a less dense, scratch-made form of dump cake. It is made by pouring a fruit filling and a sweet batter or biscuity dough into a baking pan. As the mixture bakes, the batter or dough rises to fill the baking dish and give the top layer the texture of a crumbly cake.
There isn't a clear consensus as to when dump cakes initially appeared. Although the first mentions of the word "dump cake" date back to recipes from the 1920s, it is more likely that the dump cakes we are familiar with rose to popularity in the 1960s and 1970s as a way to market cake mixes, many of which emerged in the 1950s.
The original recipe for dump cake consisted of five ingredients: canned pie filling, yellow cake mix, chopped nuts, and butter. Canned crushed pineapple was a popular add-in, especially alongside cherry pie filling, due to pineapple's natural juices and fruity flavor making an amazing cherry-pineapple dump cake.
Dump cake can be served hot or cold. Hot dump cakes are delicious with whipped cream, vanilla ice cream, or any ice cream that matches the dump cake's flavor profile. Top cold or room-temperature dump cake with your favorite whipped cream. We also love using Cool Whip as a topping.
Can Dump Cake Be Made Ahead?
Yes, and dump cake leftovers are made to be prepared ahead of time! Once baked, a dump cake wrapped securely in plastic or aluminum foil keeps in the fridge for up to five days.
Dump cakes contain mostly shelf-stable ingredients and no raw eggs, so how you bake yours is part preference. Look for a golden brown surface and a bubbly fruit layer to know whether yours is baked through.
As with any cake, you can test its doneness by inserting a toothpick into the center. Take the dump cake out of the oven to cool if it comes out clean, and leave it in the oven for a few more minutes if it comes out with some residue.
Can Dump Cake Be Left Out?
The shelf-stable composition of dump cake also means leaving it at room temperature is generally safe.
However, if you don't plan to serve it immediately, wrap it securely in plastic and store it in the refrigerator for up to five days.
The exception is if you made your dump cakes with fresh fruit. Dump cakes made with fresh fruit should be refrigerated if not being served.
Can Dump Cake Be Frozen?
Yes! While dump cake is so easy to make that leftovers are unlikely, frozen dump cake keeps for up to a month. For extra protection against freezer burn, secure it with a layer of plastic wrap, followed by a second layer of aluminum foil and stored in an airtight container.
Before serving your frozen dump cake, defrost it at room temperature or refrigerate it overnight until fully thawed. Reheat it in the oven at 350°F or until warm.
You can also reheat individual servings in the microwave. Begin by heating each serving for 45 seconds, then depending on the power of your microwave, add intervals of 15 to 20 seconds as needed until warm.
Dump Cake Tools
Can Opener: Dump cake traditionally involves canned pie filling and fruit, so you'll need to open at least one can per dump cake you wish to make.
Microwave Butter Cover: We melt our butter in the microwave before adding it to the mixture, as this ensures a more even texture throughout with fewer dry spots. These keep the butter from splattering while it heats up.
Non-Stick Cooking Spray: Spraying your Crock Pot or baking pan beforehand makes serving and cleanup easier.
Spatula or Large Spoon: A spatula or large spoon will help you empty the contents of any cans you use, as well as help you combine ingredients as needed.
Heat-Resistant Potholders: Some of our dump cake recipes are made in the oven, which makes these handy for safely carrying your dessert once it's done.
9 x 13-inch Casserole Dish: You'll need this for our recipes that require baking in the oven.
Dump Cake Recipes
We love sharing easy dessert recipes! If you are looking for a sweet treat that is is easy to make and takes very little prep you are going to love these delicious dump cake recipes.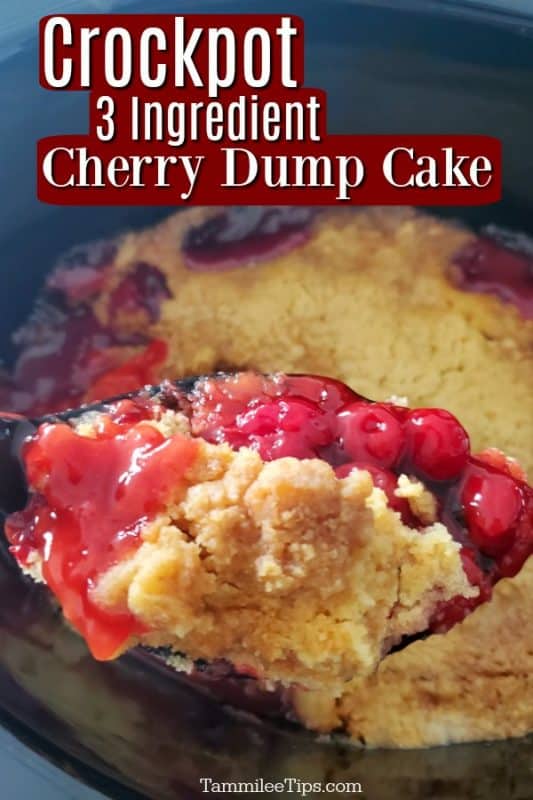 It's hard to believe that only three ingredients - cherry pie filling, yellow cake mix, and melted butter - can combine to make a dessert that rivals the classic cherry cobbler. We doubled the cherry pie filling to two cans since we wanted a thicker fruit bottom.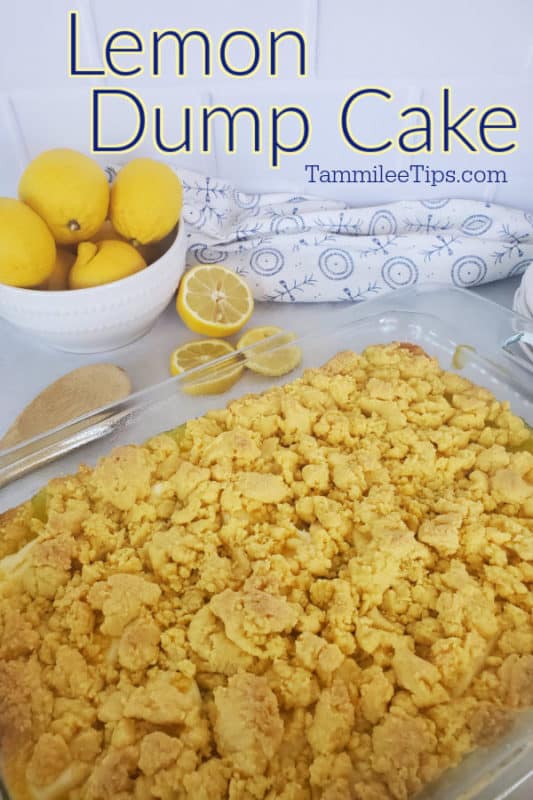 My mother-in-law loves lemons during the summer, and she enjoys this lemon dump cake with vanilla ice cream or Cool Whip. The lemon and cream cheese mixture is swoon-worthy when baked, as the cream cheese gets soft but doesn't melt. Use lemon cake mix instead of yellow cake mix for more lemon flavor.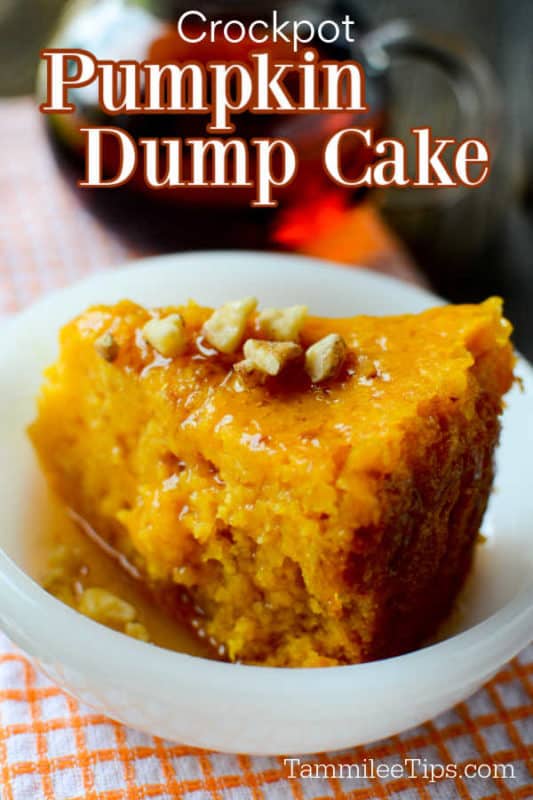 Our Crockpot Pumpkin Dump Cake is a cozy pumpkin-spiced dessert made effortlessly with the help of a Crock Pot. We love drizzling maple syrup over it. For a crunchy bite, add chopped walnuts on top.
Need more uses for the pumpkin puree you've stocked up for fall baking? We have a similar Crock Pot Pumpkin Pie Pudding Cake made with Bisquick Baking Mix.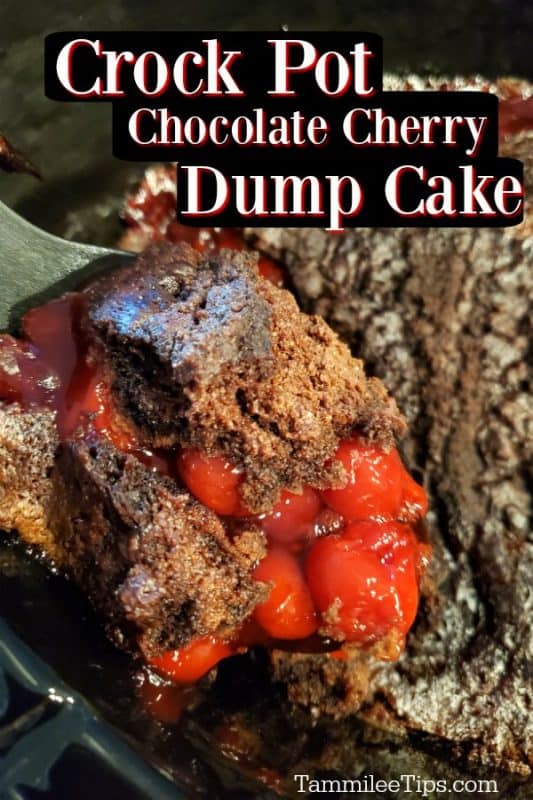 We've successfully paired the flavors of chocolate and cherry with chocolate cake mix to create the perfect cobbler-like Valentine's Day dessert. Chocolate cake mix and Devil's Food cake mix work in this recipe. Serve it with French vanilla ice cream, whipped cream, or chocolate sauce for more decadence.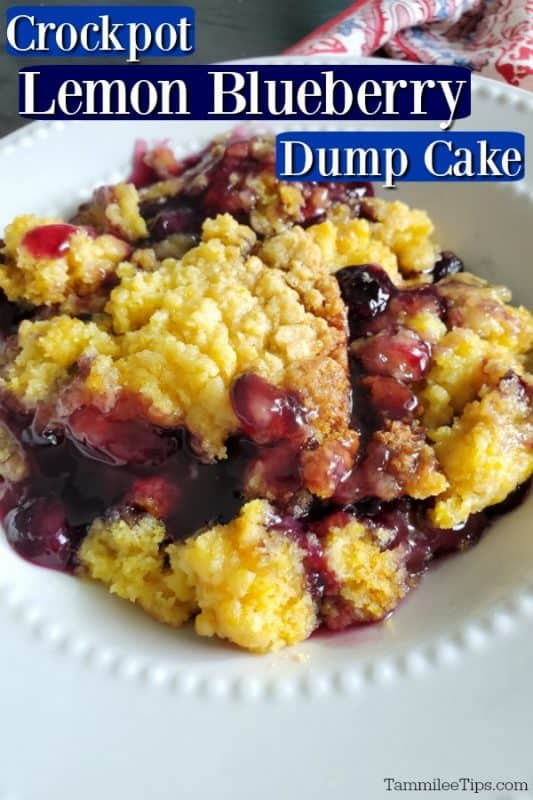 Our Crock Pot dump cake stars the winning warm weather flavor combination of tart lemon and sweet summer blueberries. As with our Cherry Dump Cake, we've added two cans of blueberry pie filling for an exceptionally fruity dessert. Serve it with vanilla ice cream or whipped cream.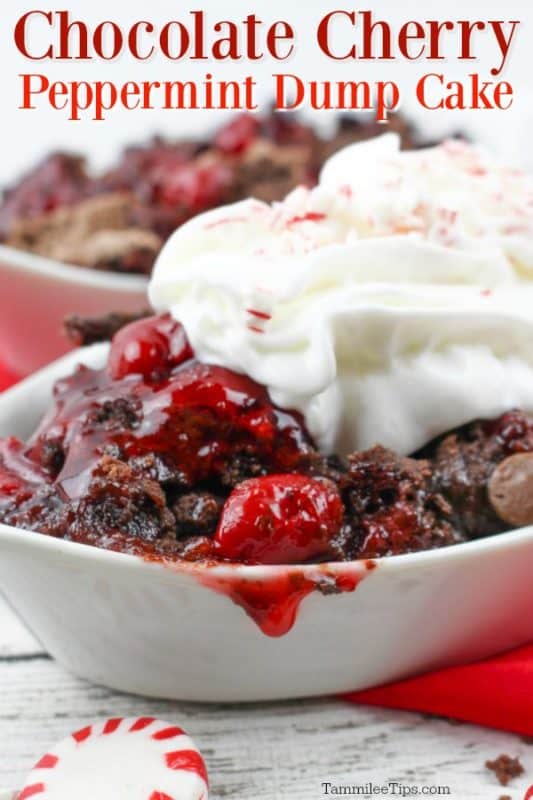 Delight your loved ones at your next holiday gathering with our five-ingredient chocolate peppermint cherry dump cake. Unlike our many dump cake recipes, which are made in the Crock Pot, we traveled off the beaten path and made this recipe in the oven. Garnish it with whipped cream and pieces of peppermint candy.
Plan to serve this close to Christmas? Top it with our Eggnog Whipped Cream.
This recipe is featured in our Cherry Pie Filling Recipes collection.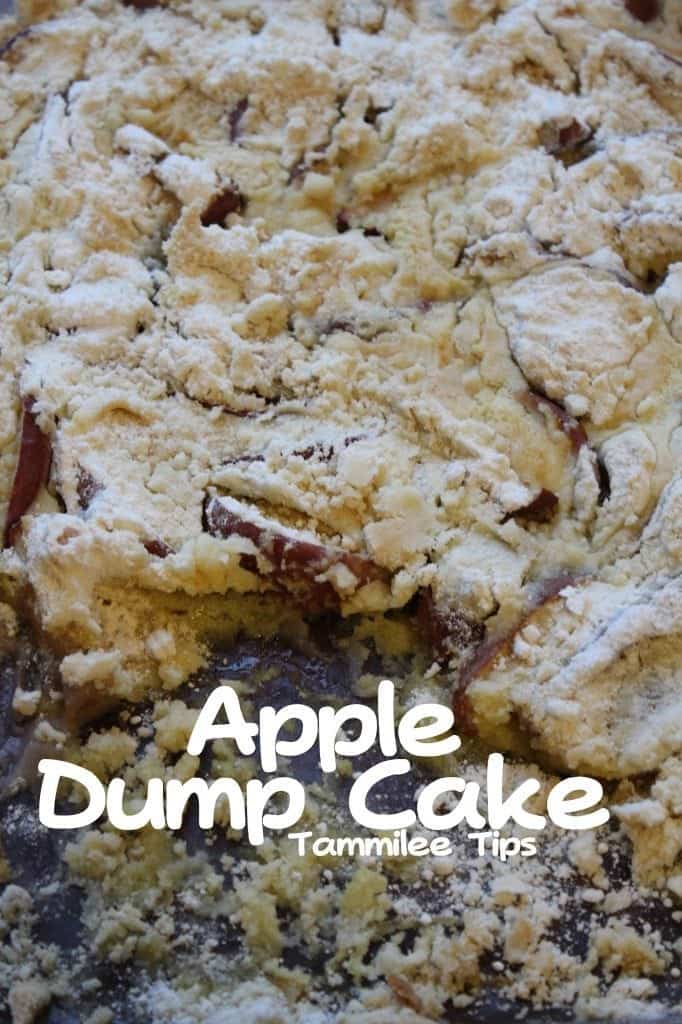 This is one of our most popular dump cake recipes. Pair this spiced apple dump cake with a generous scoop of vanilla ice cream and chopped pecans or walnuts for crunch for a classic touch.
We love the combination of apples and spices in this easy dump cake recipe.
Want more Spice Cake Mix Recipes? We've got some delicious options here.
This gooey dump cake combines the collectively dangerous chocolate and caramel. We melt chopped caramel squares into ours while baking to give it authentic caramel flavor, then drizzle the baked dump cake in swirls of melted chocolate chips. The instant chocolate pudding makes it deliciously moist.
Do Irish cream, rich chocolate, and sweet caramel tickle your fancy? Try this dump cake with our Bailey's Whipped Cream.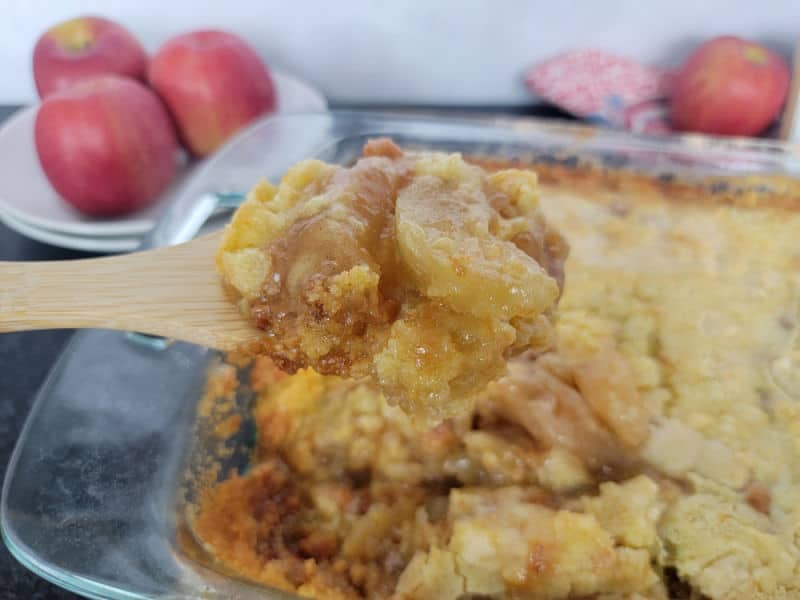 The warm fall flavors of caramel and apple take center stage in this no-fail, four-ingredient dump cake. Use a spice cake mix for a more intense spice flavor, and swap the canned apple pie filling for fried apples for a tastier treat.
As with our chocolate caramel dump cake, we melt caramel right into the batter. While vanilla ice cream is a classic pairing, butter pecan, maple walnut, and cinnamon ice cream are other yummy options for this dump cake inspired by a fairground dessert.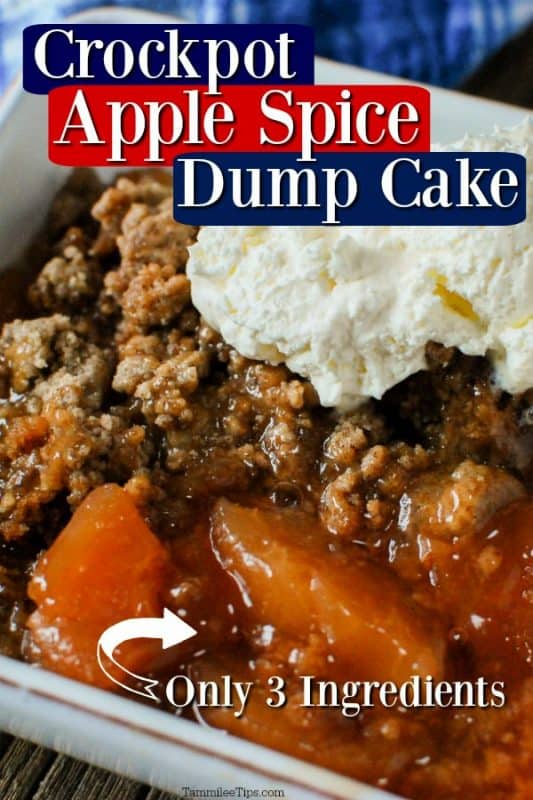 We shared this time-tested recipe almost nine years ago! For a classic pairing, serve this spiced apple dump cake with a generous scoop of vanilla ice cream or a dollop of whipped cream. Some folks also sprinkle brown sugar on top for a sweet boost.
Can't get enough apple goodness from your Crock Pot? We also have this Crock Pot Apple Cinnamon Oatmeal recipe to warm you on a fall day.
Recipe Tips
Printable recipe card are available on each individual recipe post.
Nutrition information, including calories, protein, calcium, carbohydrates, fiber, vitamin c, potassium, cholesterol, sodium, trans fat, monounsaturated fat, polyunsaturated fat, and more, will vary depending on the products used.
Do you love recipes? Check out our copycat recipes, dessert recipes, and our CrockPot Recipes.
Follow Tammilee Tips on MSN, Facebook, Instagram, and Pinterest, for all of our recipe posts.