Walla Walla Wine Country is the perfect weekend getaway or wine vacation! There is so much to see and do in Walla Walla. The city of Walla Walla is true Americana. Small, quaint and perfect! You can walk down the main street and visit 5-star restaurants, enjoy wine tasting at one of the many wineries right in town and pick up fresh fruits and veggies at the farmers market.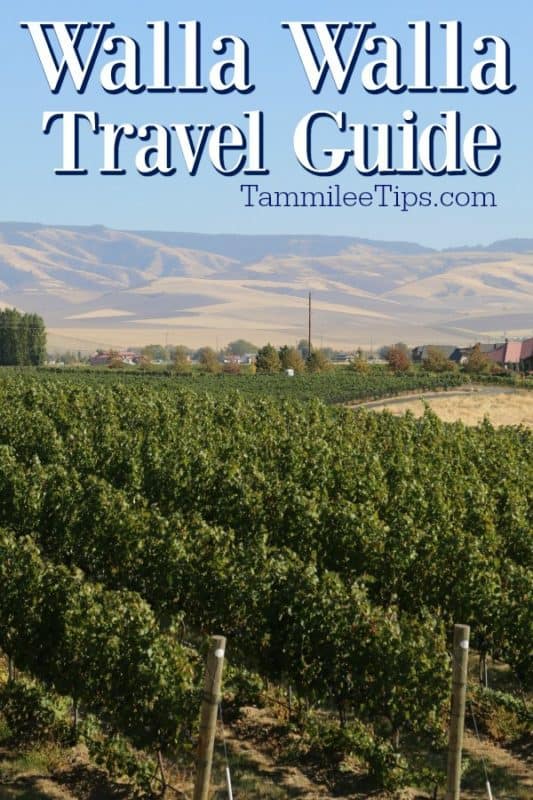 Walla Walla Wine Country Travel Tips 
Plan your trip ahead of time as much as possible. The city is easily divided into 4 geographical sections of wineries. Visiting a different section each day will give you time to enjoy the wineries and not just drive all over town and back.
Staying right downtown gives you the availability to visit downtown wineries that are open later at night along with the amazing restaurants. There are 20 tasting rooms right downtown that are open later than the wineries outside of the main street.
Plan to visit 2-4 wineries a day. Give yourself time to savor and enjoy each winery during your visit.
Walla Walla is not trying to be Napa. They are happy being Walla Walla and providing a great wine tasting experience.
Walla Walla's main street is completely walkable and easy to navigate. There are ample restaurants, hotels, and fun wine tasting rooms on Main Street.
There are restaurants for every price point. If you are conserving money so you can buy more wine make sure and look up the menus ahead of time. Some of the restaurants are $$$.
Walla Walla Resources
70% of visitors to Walla Walla return for another trip! We are already planning a return trip to check out more wineries and enjoy the amazing food scene. I dream of the apple pancake from the Maple Counter Cafe. There is a line to get in and it is SOOOOO Worth it!
If you are flying Alaska Air you can bring home a case of Walla Walla wine for free!
Check out all of the amazing Walla Walla Restaurants you can enjoy.