How to make easy Cinnamon Sugar that is great for baked treats, toast, or anything you want a sweet topping for.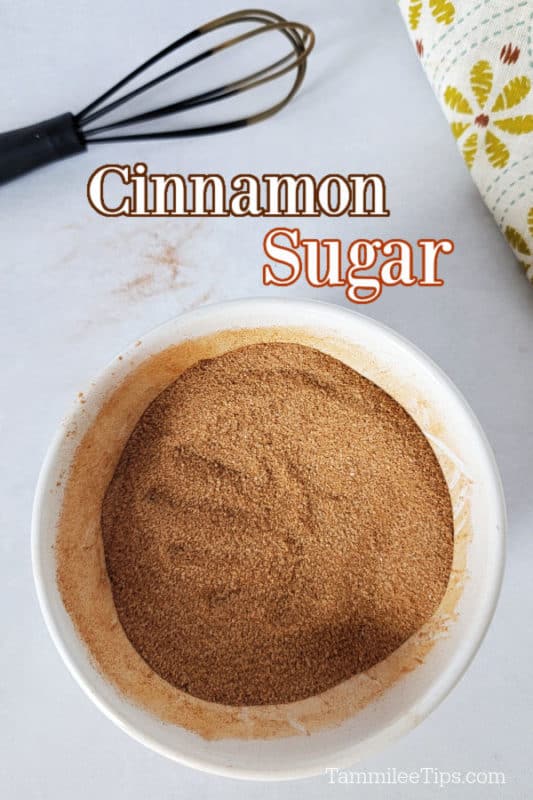 Cinnamon Sugar
I love to add Cinnamon Sugar to my toast, pancakes, french toast, and really anything.
One thing I have found is you have to get a great balance between the cinnamon and sugar. The cinnamon can overpower the mix if you add in too much. The perfect ratio of cinnamon to sugar is really up to you.
The recipe below is the best cinnamon sugar ratio we have made.
We love using this on cinnamon toast, buttered toast, crescent rolls, or really any warm baked good that needs just a little bit more flavor.
I know I am going to get emails and social media messages that this is just cinnamon and sugar combined in a bowl and why is it a recipe post. The one thing I have found in writing recipes for over 12 years is sometimes the easiest ingredients are the ones that need the most care and balance.
I have also learned that seeing a recipe written out carries a bit of reassurance that you are doing the right thing in your kitchen. There is comfort in knowing someone else makes their cinnamon sugar recipe just like you do.
We all need different things when it comes to recipes, ideas, and motivation to spend time in the kitchen. If this recipe makes you roll your eyes and shake your head I hope you take time to check out other recipes and see what they offer.
If this recipe gives you the inspiration to try something new or change your homemade cinnamon sugar ratios I am super happy you took time to read it.
Either way, I thank you for visiting the site and spending part of your day with us. I know that we are all busy and I truly appreciate the minutes you spend looking at our recipes and trying what we have created in our kitchen.
We recently used this mix on these Pie Crust Cookies! The perfect cinnamon flavor for the cookies.
This tastes amazing on pretzels, warm popcorn, French toast, pancakes, cookies, honestly all the things! This is perfect on our childhood favorite cinnamon toast!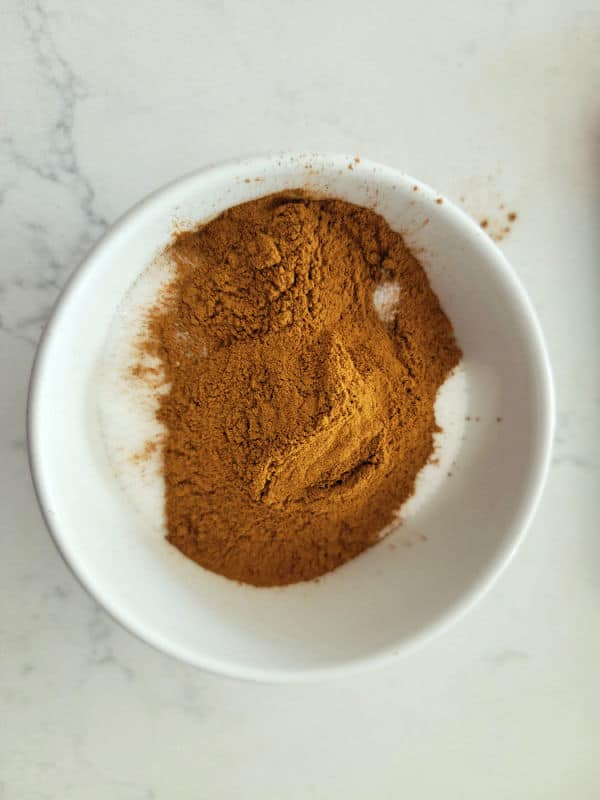 Ingredients
Ground Cinnamon
Granulated Sugar
We use white sugar but you can easily make this with brown sugar also.
Equipment needed
Small whisk - I love these mini whisks for combining spices and seasoning. You can also use a fork if you don't have a mini whisk.
Small Bowl - Depending on how big of batches you are making you may need a bigger bowl.
Small lidded jar - I use a small mason jar to store my cinnamon sugar mix.
I am going to be honest and say that this mix is always close in the kitchen. It is just so perfect on so many things.
Storage - You can store this in a spice jar so you have it ready whenever you need it. Make sure to use an airtight container to preserve the flavor.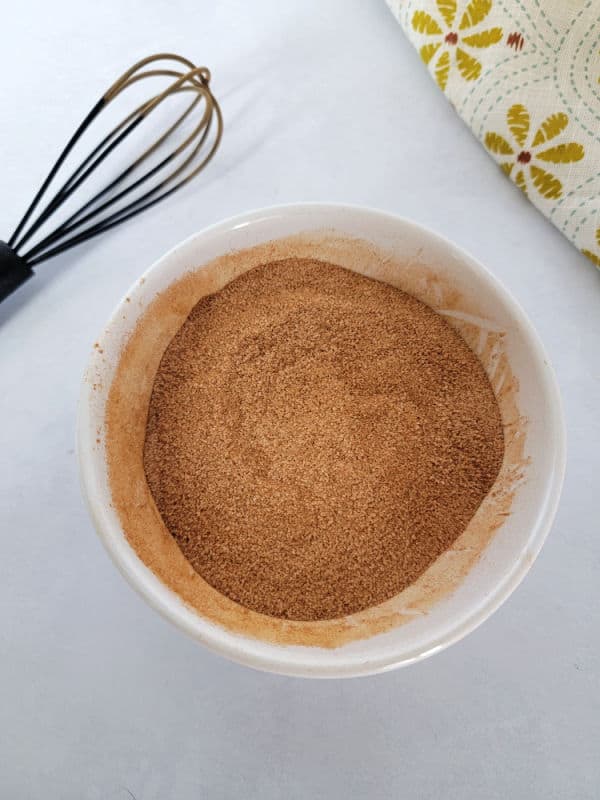 Recipe Tips
You can lower the amount of cinnamon if you want to change up the flavor.
For a larger serving you can use 4 tablespoon of cinnamon to a cup of sugar.
The recipe card below can be adapted for smaller or larger batches. Just move the serving size up or down.
Ways to use Cinnamon Sugar
Snickerdoodle Cookies - This makes the perfect topping for these epic cookies
Bacon - Sprinkle on raw bacon before baking to make a sweet candied bacon
Cinnamon Rolls - We love using this in our semi-homemade cinnamon rolls
Pretzels - We love making cinnamon sugar pretzels
Crescents - We make cute holiday cinnamon and sugar crescents in fun shapes
Cinnamon Toast Crunch Shot - Rim the shot glass for a sweet garnish
Apple Cider Margarita - Rim the margarita glass for a fun look
Cinnamon Toast - My favorite childhood snack. Did you know Cinnamon toast was first mentioned in the 1600s as a childhood favorite.
Oatmeal - Sprinkle on your morning oatmeal or porridge
Waffles - Add to the Bisquick Waffle Mix or sprinkle over the top.
Apples - Sprinkle over sliced apple or make baked apples.
Pie Crust Cookies - use leftover pie dough to make epic cookies.
Apple Cider Donut cake - Sprinkle over the cake for epic flavor.
Candied Pecans - Make epic crockpot candied pecans the perfect DIY Gift
Ice Cream - Sprinkle over your favorite ice cream for more flavor.
Crepes - The perfect breakfast treat
Churros - No other words are needed! Hello yum!
Homemade Whipped Cream - Take the flavor to the next level
Popcorn - Spritz with butter spray and then toss with this epic combination
Donut Holes - Roll donut holes in this mix for a fun coating
Air Fryer Donuts - We love to toss air fryer doughnuts in this mix.
Greek Yogurt - Swirl into yogurt for a great breakfast.
Muffins - Make snickerdoodle muffins with this great spice mixture.
Pumpkin Spice Donuts - top with this sweet spice mixture for a farm stand favorite.
There are so many ways to use this epic Cinnamon Sugar ratio!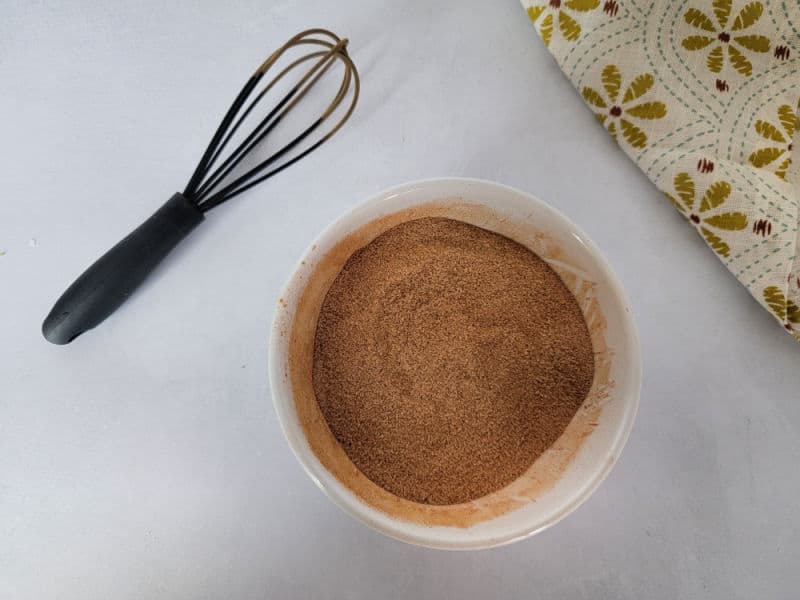 Great Dessert Recipes
Do you love recipes? Check out our copycat recipes, dessert recipes, and our CrockPot Recipes.
Follow Tammilee Tips on MSN, Facebook, Instagram, Pinterest, and Twitter for all of our recipe posts.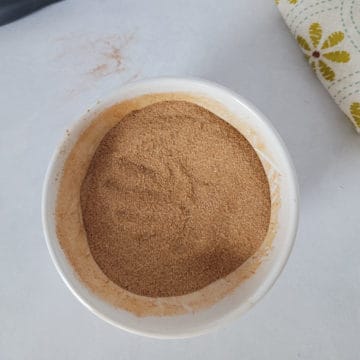 How to make Cinnamon Sugar
How to make Cinnamon Sugar with the perfect ratio. Perfect for buttered toast, french toast, or baked goods.
Print
Rate
Instructions
Add cinnamon and sugar to a medium bowl. Whisk together until combined evenly.
Nutrition
Nutrition Facts
How to make Cinnamon Sugar
Amount Per Serving
Calories 21
Calories from Fat 9
% Daily Value*
Fat 1g2%
Sodium 1mg0%
Potassium 4mg0%
Carbohydrates 6g2%
Protein 1g2%
Vitamin A 2IU0%
Vitamin C 1mg1%
Calcium 8mg1%
Iron 1mg6%
* Percent Daily Values are based on a 2000 calorie diet.