3 Ingredient Brown Sugar Bacon Wrapped Smokies Recipe is the perfect quick and easy appetizer recipe! Great for football parties, holiday parties, or a family snack.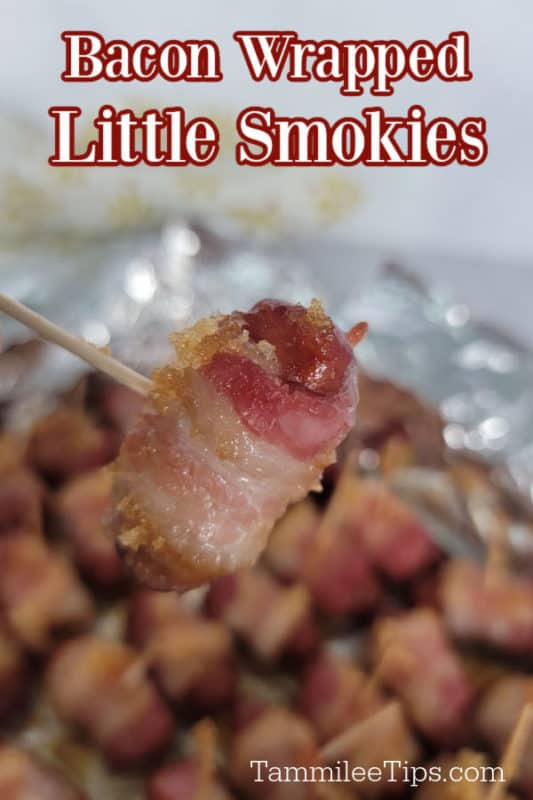 Brown Sugar Bacon Wrapped Smokies Recipe
I was talking with my sister-in-law right before Christmas and she was telling me she was pulling out her 3rd dish of bacon wrapped smokies with brown sugar.

I honestly had to ask her to send me a picture because I wasn't sure what she was talking about. As soon as I saw the photos and heard how she makes them I knew I had to try making them.
My first batch honestly did not look quite like hers did so I sent her photos and she called me and told me I didn't roll the bacon wrapped little smokies in the LOVE!
UHM....what? She told me that you have to roll them in the brown sugar so they are fully coated in the sugar love. I had sprinkled brown sugar over the top and it didn't turn out the way hers did so I proceeded to make multiple batched until I got them just right.
My husband has been enjoying quite a few bacon-wrapped little smokies with sticky brown sugar glaze. Thankfully he even enjoyed the ones that hadn't been rolled in the love but I knew they didn't look quite right.
My sister-in-law makes these every time she needs her teenage boys to help her with a house project. LOL! She said it is an annual tradition to make them before decorating the Christmas tree which I thought was amazing.
They are now going to be one of our go-to game day favorite appetizers. While they take a few minutes to prepare they are so worth it. I mean how can you go wrong with little smokies wrapped in bacon and dredged in a cup of brown sugar.
We are on a mission to make as many easy recipes as we can to make life just a little bit easier. I am loving all of the 3 ingredient recipes we have been working on.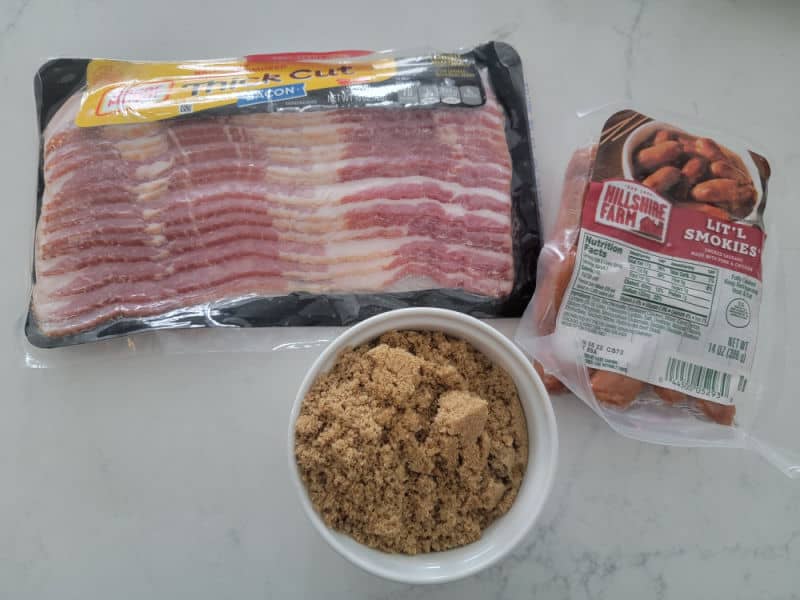 Ingredients
This is a quick overview of the simple ingredients that you'll need to make bacon wrapped little smokies! Specific measurements and step-by-step instructions are included in the printable recipe card at the bottom of the post.
Little Smokies - Mini smoked sausages that can be made with beef, chicken, or pork. They are normally fully cooked but need to be warmed up before serving. You can use Little Smokies, mini chicken apple sausages, turkey smokies, cheddar little wieners, or your favorite Hillshire Farm little smokies recipe.
Bacon - We use pork bacon for this appetizer recipe. Regular sliced bacon works best instead of thick sliced bacon. You can use any flavor of bacon you prefer including Applewood smokes, peppered, or hardwood smoked.
Brown Sugar - We use light brown sugar for this recipe but you can use dark brown sugar.
Optional - Drizzle with hot honey, and add in ground chipotle or ancho chili pepper or cayenne pepper for a bit of spice in the brown sugar mixture. Serve with a side of bbq sauce if you love it.
These can be served with a side of barbecue sauce if you want to dip them.
Equipment Needed
9x13 Baking Dish - We like to use a casserole dish so we can easily line it with aluminum foil and keep everything contained in the pan.
Aluminum Foil - Using aluminum foil will make clean up so much easier! Trust me the sticky brown sugar glaze is oh so fun to scrub off the pan.
Tooth Picks - The toothpicks help keep the bacon wrapped around the mini sausages. You can serve this easy appetizer with or without the toothpicks.
Measuring Cups - For measuring the brown sugar.
Sharp Knife - To cut the bacon slices easily.
How to make Bacon wrapped little smokies
I've included complete instructions in the printable recipe card at the bottom of the post but here's a quick version.
Preheat the oven
Line a casserole dish with aluminum foil set to the side near you. You want the baking sheet fully covered for easy clean up.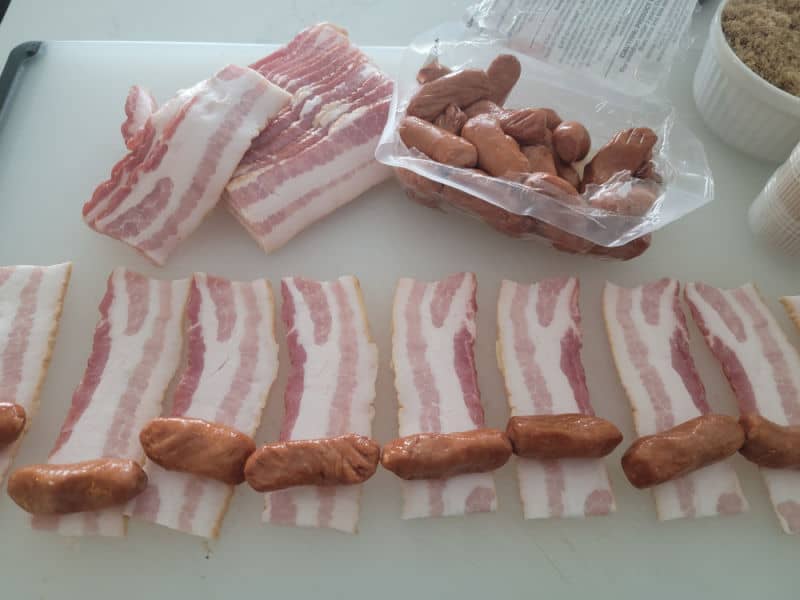 Step 1  -  Cut bacon slice in half or thirds depending on how thick you want the bacon. Wrap a single Lit'l Smokies in each a piece of bacon. Secure with a toothpick.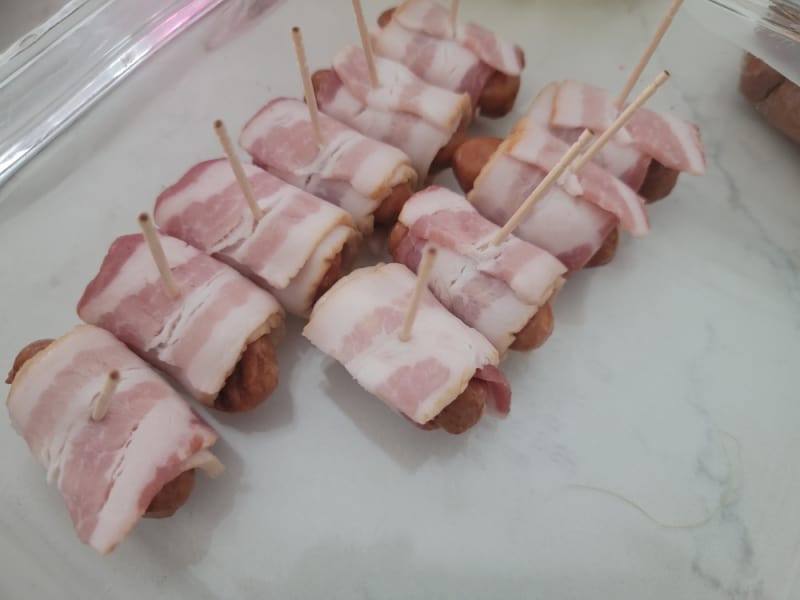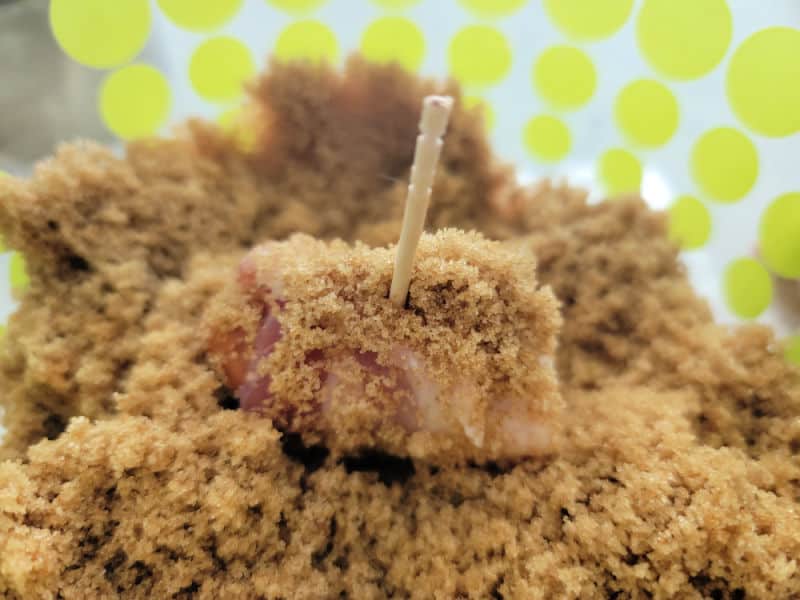 Step 2 - Roll the bacon wrapped little smokies in the brown sugar so they are evenly coated.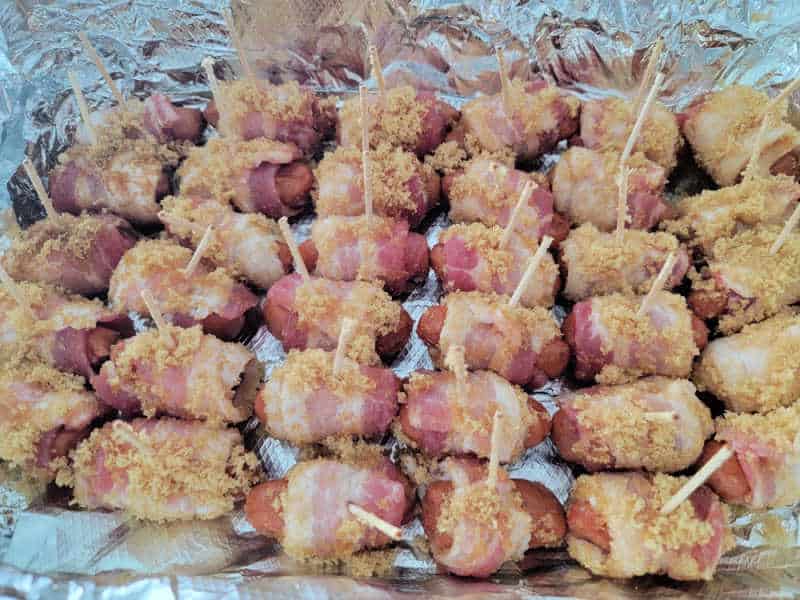 Step 3 - Line the bacon wrapped smokies with brown sugar in your 9x13 casserole dish in a single layer. They should perfectly fit in rows.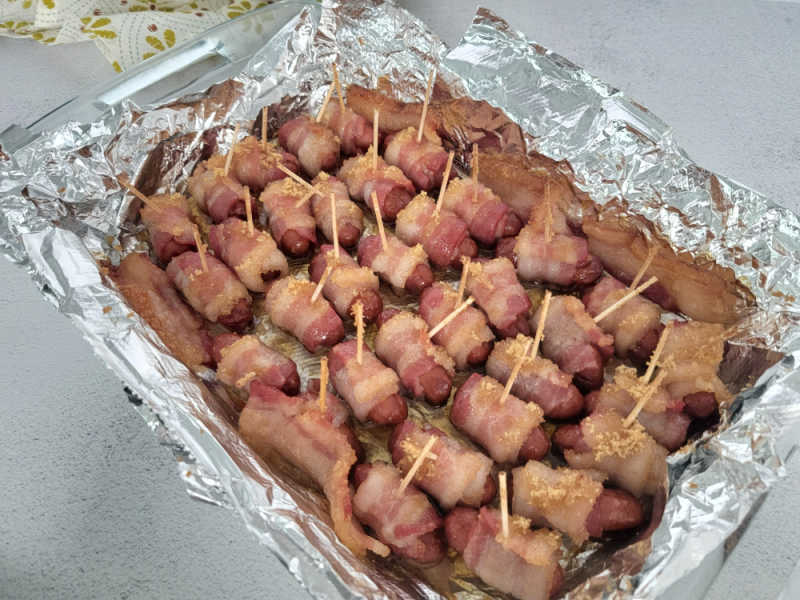 Step 4- Serve little smokies with bacon immediately or place the in a slow cooker to keep warm.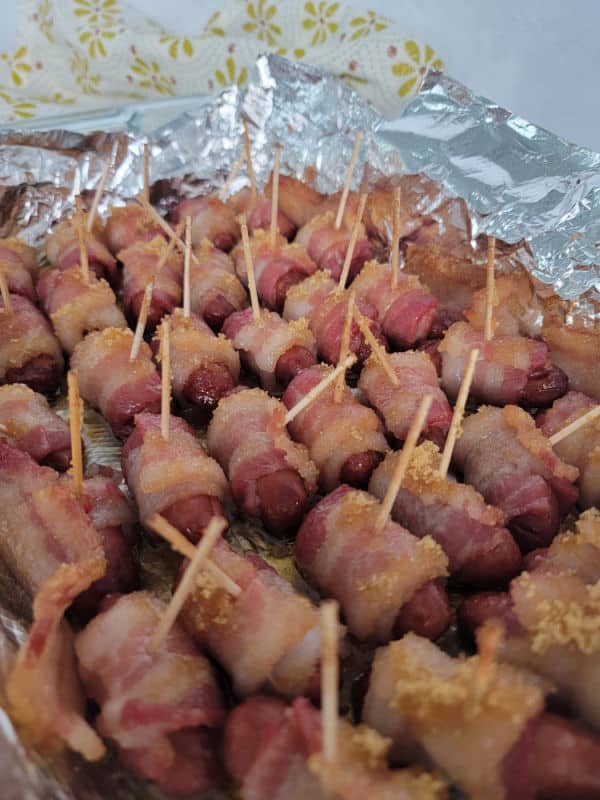 Preparation and Storage
Make Ahead - These can be made up to 3 days ahead of time if you are storing them in the refrigerator or up to a month ahead of time if storing in the freezer. Prep them but don't bake them before storing.
Storage - Store leftovers in an airtight container in the fridge for up to 3-4 days.
Freezing/How to Freeze - These bacon wrapped smokies are great to freeze. Place the bacon wrapped weenies on cookie sheets and freeze them for a few hours. Transfer them to a freezer storage bag and freeze.
How to reheat - To reheat the frozen bacon wrapped brown sugar smokies add 10 minutes to the normal baking directions.
To reheat leftovers you will want to lower the temperature to 325 degrees and bake them for 20 minutes. You can also microwave them.
Recipe Variations
Substitutions/Additions - For additional flavor add in ½ teaspoon of garlic powder, and ¼ teaspoon of cayenne pepper to the brown sugar before coating the candied bacon smokies.
Variations - Coat with barbecue sauce or ketchup and then broil for a few more minutes. Add jalapeno pepper slices or pineapple slices to the top of each cocktail weenie before adding brown sugar.
To make these Cajun style mix 1 teaspoon of Cajun seasoning in with the brown sugar.
Vegetarian Option - We have not found a great vegetarian option quite yet. You can use vegetarian bacon but we have not found a great vegetarian sausage weenie quite yet. You can use mini carrots soaked in barbecue sauce.
Smaller Serving Size – Use an 8x8 baking pan to make a smaller version of this recipe. You can change the serving number in the recipe card below to change the amounts needed.
Make it Spicy – Add in cayenne pepper to the brown sugar for a spicy kick to the sweetness.
Larger Group/More servings – Double this recipe and make them in two 9x13 baking sheets or in the crockpot.
Recipe Tips
Try to get really good bacon. The better the bacon the more it seems to crisp around the little smokies and taste amazing.
Cooking time will vary depending on how thick the bacon is. It is done when the bacon is crispy.
Printable recipe card instructions are below.
Nutrition information, including calories, protein, calcium, carbohydrates, fiber, vitamin c, potassium, cholesterol, sodium, trans fat, monounsaturated fat, polyunsaturated fat, and more, will vary depending on the products used.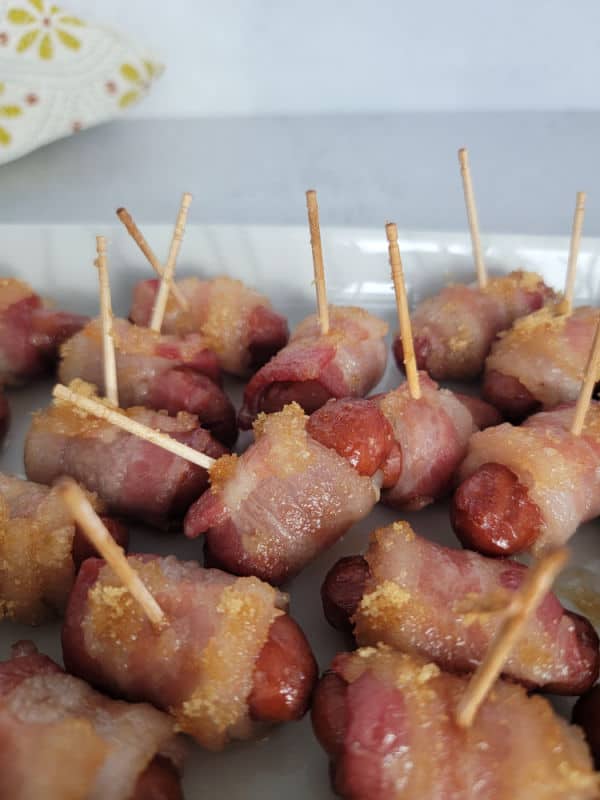 Great Appetizer Recipes
Sausage Cream Cheese Crescent Rolls - Only 3 ingredients and they taste amazing!
Franks Buffalo Chicken Dip - The perfect classic football game day appetizer.
3 Ingredient Ranch Dip - Hello yum!!! This easy dip recipe takes minutes to prepare.
Black Bean Salsa - A fun change from classic tomato salsa
BLT Dip - Bacon, Lettuce, and tomatoes in a creamy dip...yes please!
Pizza Monkey Bread - This fun pepperoni pizza monkey bread tastes amazing and is a great appetizer for crowds.
Check out all of our Appetizer Recipes and chip dip recipes
Do you love recipes? Check out our copycat recipe, dessert recipes, and our Crock Pot Recipes.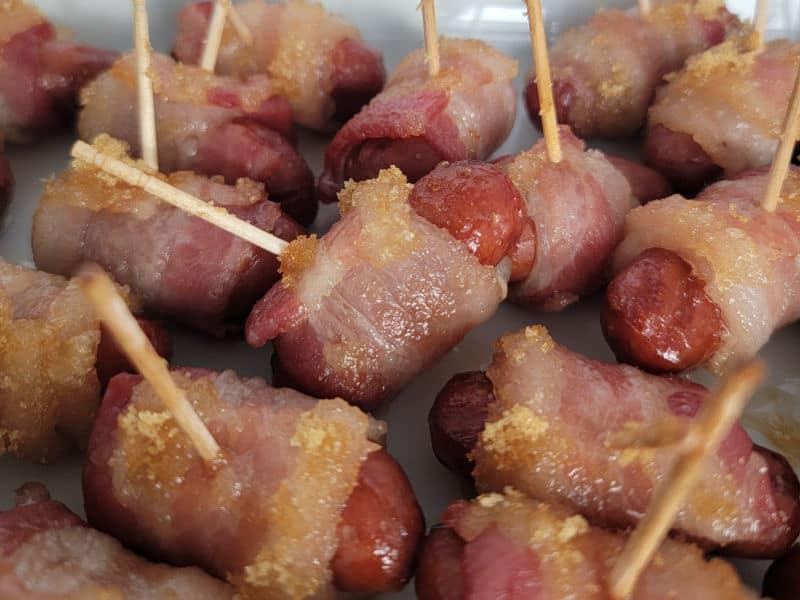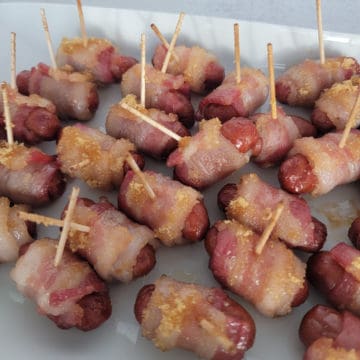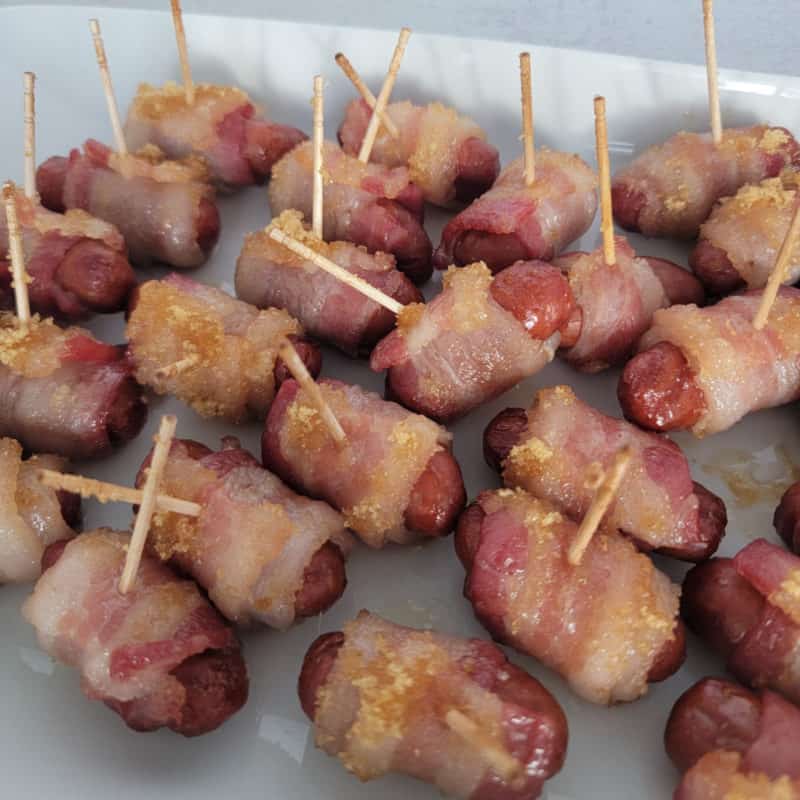 Brown Sugar Bacon Wrapped Little Smokies
Easy 3 ingredient brown sugar bacon wrapped little smokies are the perfect party appetizer.
Print
Rate
Instructions
Preheat oven to 350 degrees

Line a 9x13 baking dish with aluminum foil and set near you.

Cut bacon in ½ or ⅓ depending on how many little smokies you have.

Wrap bacon around smokies and secure with a toothpick. Coat with brown sugar and place in baking dish.

Bake for 30 minutes until bacon is crisp. Cooking time may take longer for thick bacon.
Nutrition
Nutrition Facts
Brown Sugar Bacon Wrapped Little Smokies
Amount Per Serving
Calories 131
Calories from Fat 90
% Daily Value*
Fat 10g15%
Cholesterol 18mg6%
Sodium 237mg10%
Potassium 63mg2%
Carbohydrates 8g3%
Protein 4g8%
Vitamin A 6IU0%
Calcium 8mg1%
Iron 1mg6%
* Percent Daily Values are based on a 2000 calorie diet.