Pizza Monkey Bread is packed with your favorite pizza toppings. The recipe is so easy to make! A great appetizer or entree depending on when you want to serve it.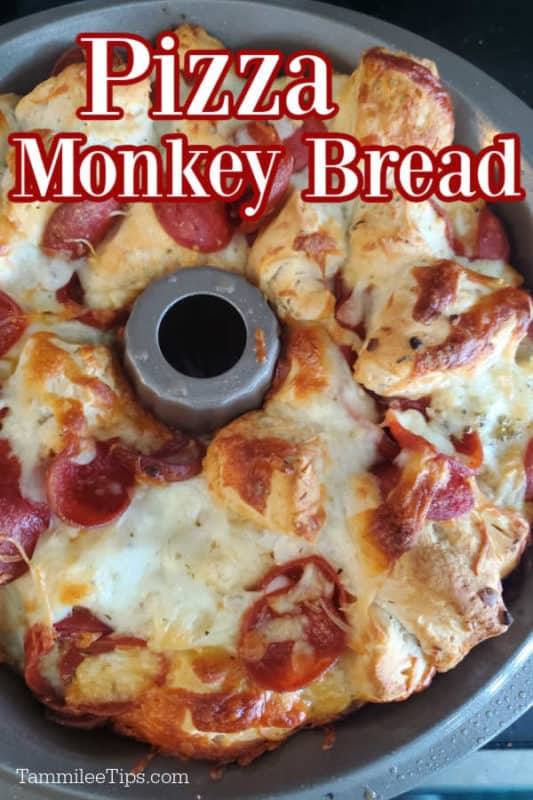 Pizza Monkey Bread
Do you ever make a recipe and then instantly start thinking about all the other ways you could make the recipe?
When I made the Crockpot Cinnamon Roll Monkey Bread it got my brain whirling with ideas.
What other types of monkey bread could I make? Could I switch from sweet to savory monkey bread?
My brain was on a roll at the same time I was having a strong craving for pizza...enter in Pepperoni Pizza Monkey Bread. LOL!
A craving turned into reality. We have been staying home as much as possible so I knew I wanted to make a recipe with ingredients we had in the fridge and the pantry. So this version of pizza monkey bread is pretty basic with pepperoni.
Future versions are going to be a bit more adventurous just to see if they work. Maybe a ham and pineapple pizza monkey bread...I know! I know!
Pineapple is supposedly not supposed to be on pizza but we like it.
No matter what ingredients you add this pizza pull apart bread is absolutely delicious! The combination of pepperoni and mozzarella cheese is always a good idea.
Add in marina sauce for dipping and you have an epic dinner or shareable snack.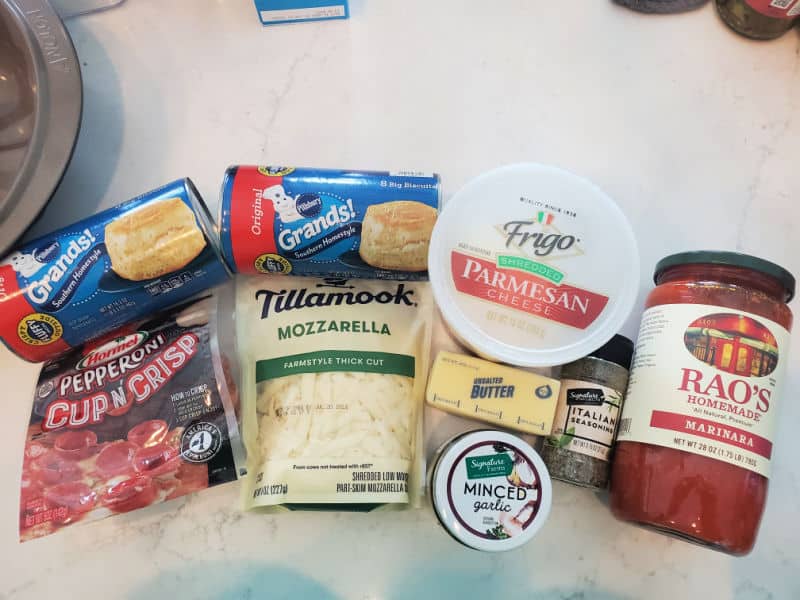 Ingredients
Refrigerated Biscuit Dough
Pepperoni
Olive Oil
Mozzarella Cheese, shredded
Parmesan Cheese
Italian Seasoning
Garlic Powder or minced garlic
Optional - Oregano, Basil, Fresh herbs
Marinara Sauce/Spaghetti Sauce/pizza sauce -  We love using Marinara Sauce for dipping.
Additional Toppings - You can add in your favorite pizza toppings including mushrooms or black olives. Feel free to add in cooked sausage
Refrigerator Biscuits - We used homestyle biscuits for our monkey bread but you could also use flakey layers. If you like a buttery crust you can easily use butter-flavored refrigerator biscuits.
Black Olives - Sliced Black Olives would work great if you have them. We only had whole black olives in the pantry so I cut them in half.
Pepperoni - I quartered the pepperoni so it would be in smaller pieces and spread more evenly throughout the biscuits. If you don't have time or don't want to cut the pepperoni you can easily just use whole circles. You can also use mini-pepperoni if you have it or can find it in the store.  Turkey Pepperoni or veggie pepperoni would also work for this recipe.
Parmesan Cheese - I used shaved parmesan cheese because that is what I had in the refrigerator. You can also use grated parmesan if you have that available.
This is one of those recipes where you can adapt it to what you have available in the pantry/refrigerator and also to what you like on your pizza.
Optional Garnish - Fresh Parsley, a bowl of ranch dressing, or other sauces.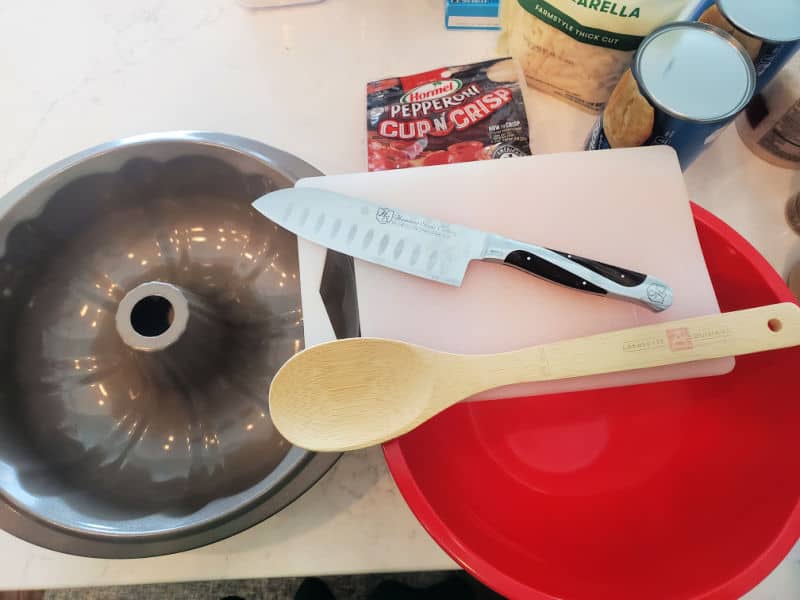 Equipment Needed
Non-Stick Cooking Spray - this will help ensure your pepperoni pizza monkey bread easily pops out of the pan.
Bundt Pan - I like the traditional look for Monkey Bread that comes with making it in a Bundt pan. If you don't have a bundt pan you can make this recipe in a 13x casserole dish. The cooking time will be shorter in the baking dish so make sure to check it after 25-30 minutes.
Large Bowl - make sure to use a bowl large enough to handle all of the ingredients. Even using a large bowl I had to catch a few biscuits and pieces of pepperoni that went flying out of the bowl.
Wooden Spoons - I like to use two wooden spoons to mix the ingredients together. You could use your hands but you want to make sure the ingredients do not mush together.
Knife/Cutting Board - to cut the biscuits into quarters.
Measuring Tools - teaspoons, tablespoons, cups
Serving Platter - I like to use a large enough circle serving plate so guests can easily reach the pizza bread and dip it in marinara sauce. Make sure it is easily held so you can invert the pizza monkey bread onto it.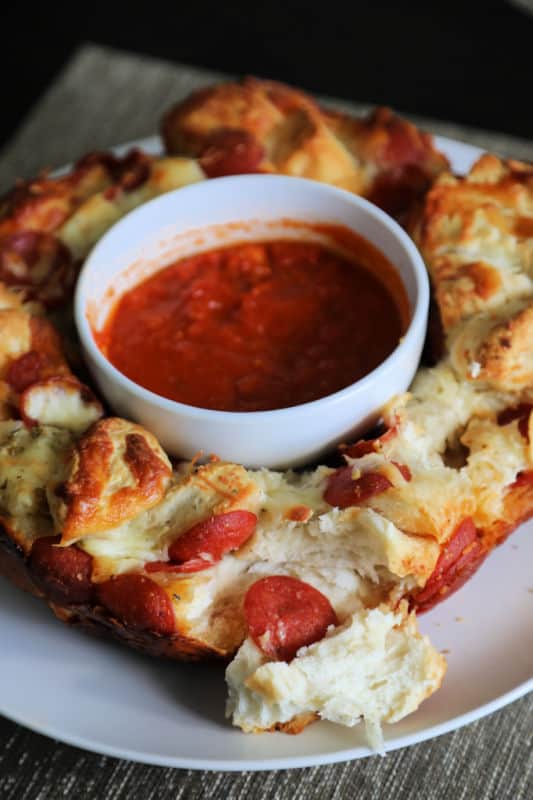 Recipe Tips
Don't forget to preheat the oven to 350 degrees.
Make sure you use a large mixing bowl so that the ingredients don't fly out as you are mixing them together. I put a large cutting board under the bowl so I could easily scoop up any pieces that flew out of the bowl.
Feel free to double the Italian Seasoning and Garlic if you want to add more flavor.
You definitely want to spray the bundt pan with non-stick spray. This will help make it so much easier to serve the pizza monkey bread.
If you want to add a bit more spice you can easily add red pepper flakes to this recipe. Onion Powder also works great.
Pizza Dough will work for this recipe but it may not puff up like the biscuit pieces.
Printable recipe card instructions are below.
Nutrition information, including calories, protein, calcium, carbohydrates, fiber, vitamin c, potassium, cholesterol, sodium, trans fat, monounsaturated fat, polyunsaturated fat, and more, will vary depending on the products used.
Recipe featured in our - Super Bowl Appetizers Collection.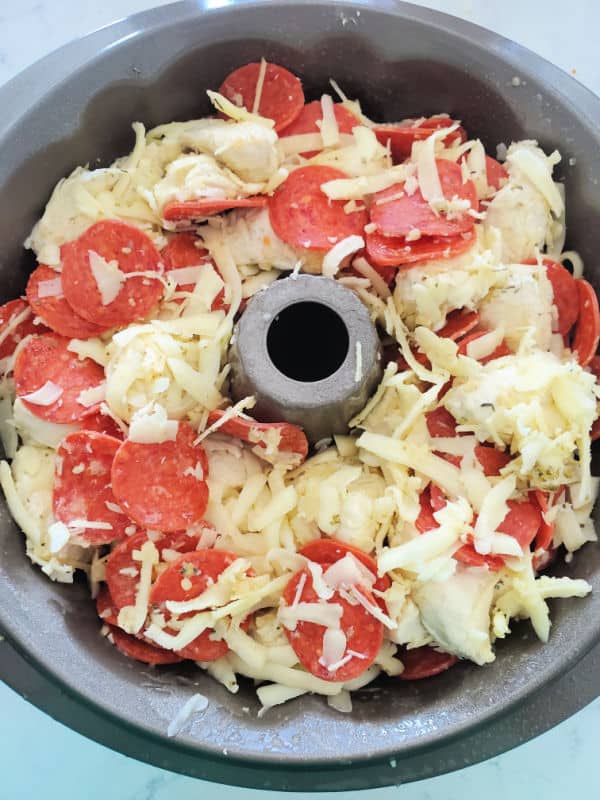 I like to make sure there are pepperoni slices and cheese on the top of the biscuit mix. This helps make sure that you can see the pepperoni when it comes time to serve your monkey bread.
If your monkey bread turns from golden brown to too dark you can cover the bundt pan with aluminum foil for the remaining baking time.
Nutrition information including calories, carbohydrate, sodium, fiber, cholesterol, protein, potassium, and more below in the printable recipe card.
Serve with a side salad for a great dinner.

Great Dinner Recipes
Baked Rigatoni with Mini-Meatballs
Do you love recipes? Check out our copy cat recipes, dessert recipes, and our Crock Pot Recipes
Follow Tammilee Tips on MSN, Facebook, Instagram, Pinterest, and Twitter for all of our recipe posts.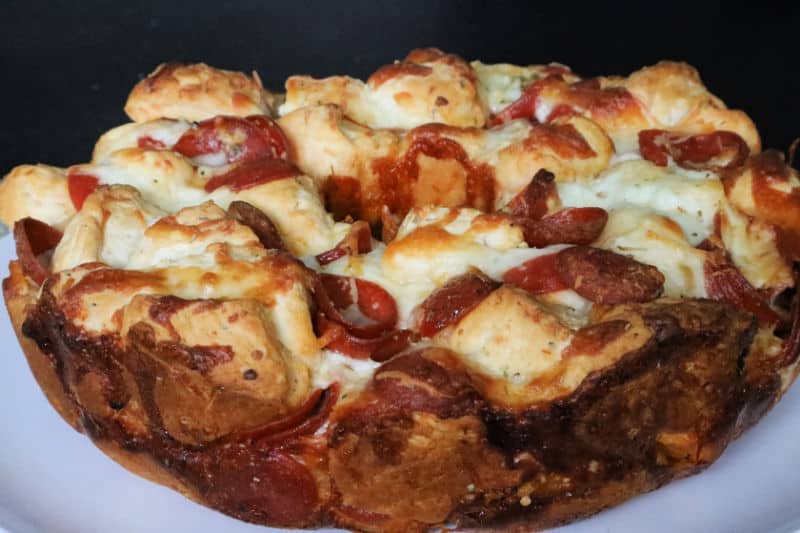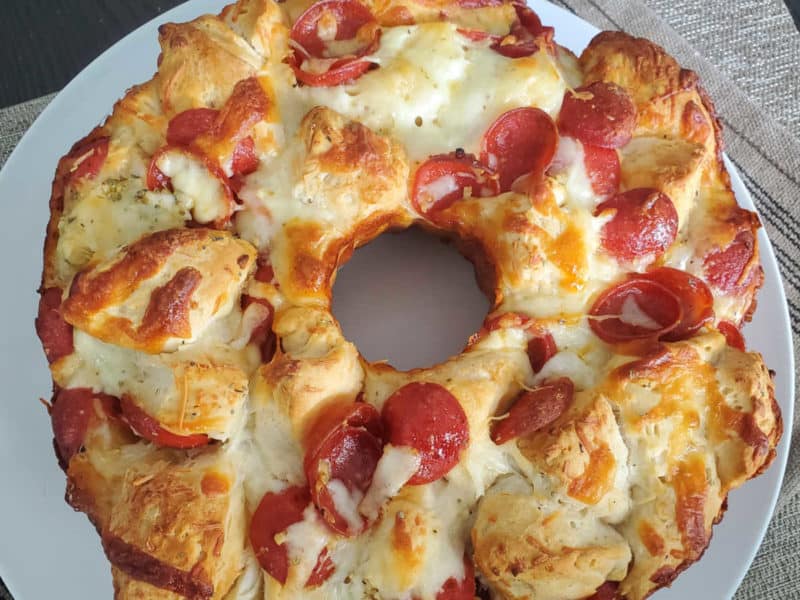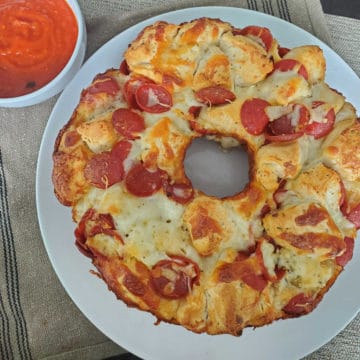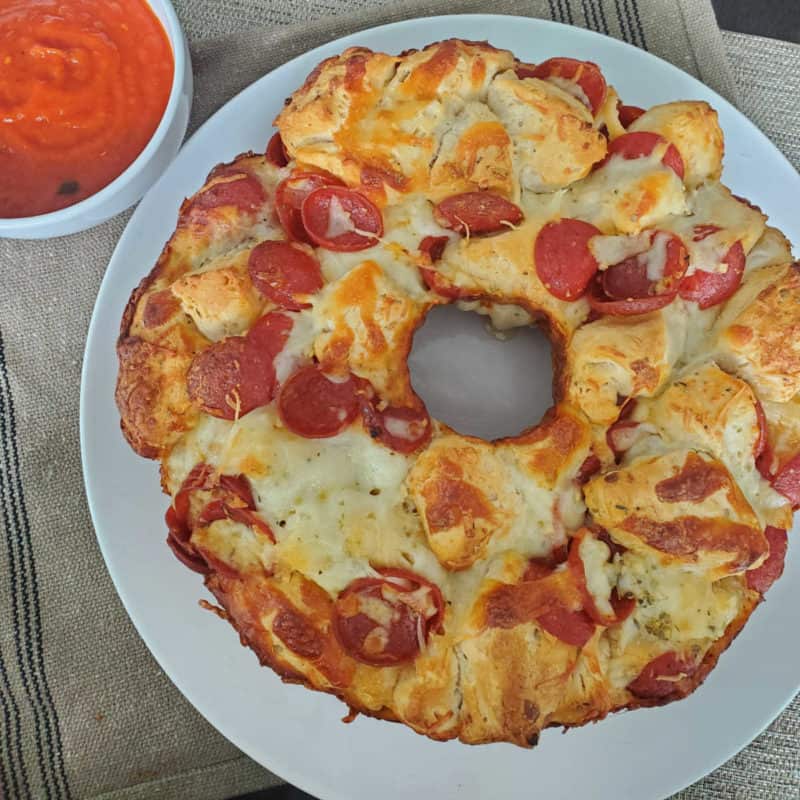 Pizza Monkey Bread
Pizza Monkey Bread is a great Italian Appetizer or entree. The slow cooker makes this recipe so easy to make.
Print
Rate
Instructions
Preheat oven to 350 degrees

Cut refrigerator biscuits into ¼ pieces

Add refrigerator biscuits, pepperoni, mozzarella, pamersan cheese, Italian Seasoning, and Garlic Powder in a large bowl and toss together.

Add mixture to a bundt pan that has been sprayed with non-stick spray

Bake at 350 degrees for 35-40 minutes. If the biscuits start to turn brown you can cover the pan wtih aluminum foil.

Serve with a bowl of Spaghetti/Tomato Sauce for dipping
Nutrition
Nutrition Facts
Pizza Monkey Bread
Amount Per Serving
Calories 636
Calories from Fat 315
% Daily Value*
Fat 35g54%
Cholesterol 46mg15%
Sodium 1999mg87%
Potassium 547mg16%
Carbohydrates 61g20%
Protein 21g42%
Vitamin A 517IU10%
Vitamin C 5mg6%
Calcium 295mg30%
Iron 5mg28%
* Percent Daily Values are based on a 2000 calorie diet.