Copycat Zaxbys Sauce is so easy to make and tastes just like the real thing! You only need a few minutes to prepare this restaurant dipping sauce! This creamy blend of zesty spices was created to perfectly pair with chicken fingers.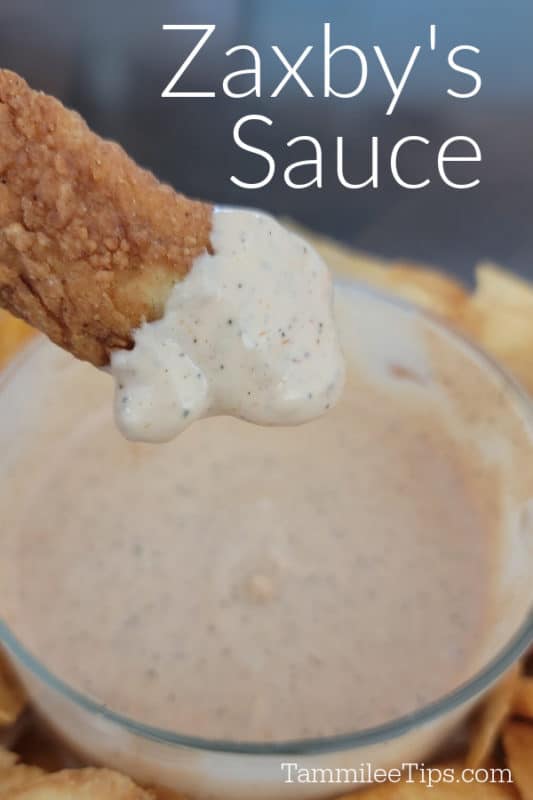 Copycat Zaxby's Sauce
Living in the Pacific Northwest we only get to enjoy Zaxby's when we travel. The closest location to us is in Utah. We always try to make it a point to pick up Zaxby's while we are on the road traveling since it is such a rare treat.
One of the things I always crave is Zax's Sauce. It has such an amazing flavor and is the perfect dipping sauce.
While we were in Gulf Shores, Alabama a few weeks ago I decided it was time to see if the Copycat Zaxby's Sauce recipe I had been working on actually tasted like the restaurant's sauce. LOL!
It had been a few years since we had been able to get it straight from the restaurant and I wanted to make sure that my copycat recipe was as good as you can get.
Since my sister-in-law was with us in Gulf Shores I had her do a blind taste test. She LOVES Zax Sauce and said she would be able to know instantly which sauce was the restaurant version versus my copycat version...
Guess what...She thought my recipe was the restaurant sauce! WOOOHOOO!!!!!
Now to work on perfecting making the Tater Chips which I could eat by the bucketful. Dang, they are delicious.
I was so excited our condo at Turquoise Place in Orange Beach had a kitchen so I could work on making this recipe. I never thought I would go to the grocery store to pick up ingredients for copycat recipes while traveling but somedays you just have to make sure the recipe is as good as you think it is.
We keep hoping Zaxby's will expand west more but until then we will keep making our favorite sauce at home.
Did you know the first Zaxby's opened in Statesboro, Georgia in 1990? Zach McLeroy who is the founder and CEO created the restaurant to enrich the lives of others. There are now more than 900 Zaxby's restaurants.
Thankfully it only takes a few minutes to whip up this restaurant sauce recipe. We try to keep it in the fridge as often as possible so we can dip air fryer french fries and air fryer tater tots in it.
We need to work on an air fryer chicken strips recipe so we can try it with this sauce. We made air fryer onion rings and hello yum!
I find the Zaxby's Zax Sauce Recipe to be a bit tangier than the fry sauce we get in the PNW. I have heard people calling it pink sauce or chicken finger dipping sauce also.
We are working on making a recipe for the new spicy zax sauce with red chili peppers. Other sauces available in the restaurants include hot honey mustard, wimpy sauce, tongue torch, nuclear, insane, sweet & spicy, teriyaki, BBQ, and ranch.
Scroll to the bottom for the full ingredient list and secret restaurant recipe. You can easily make this at home tonight.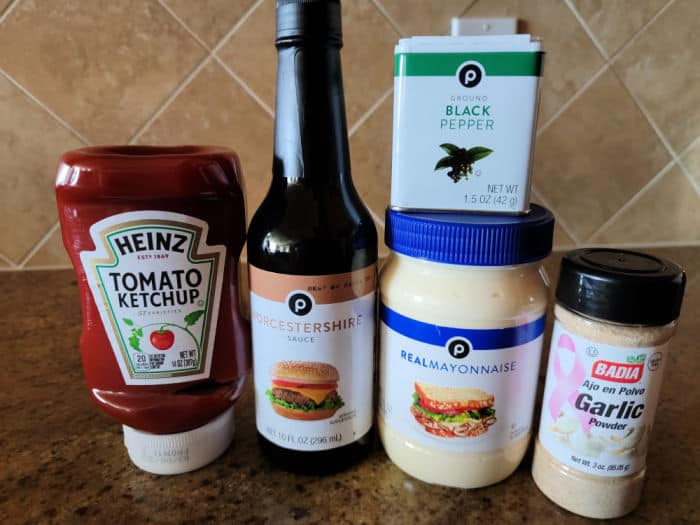 Ingredients
This is a quick overview of the simple ingredients that you'll need to make an epic Zax's Sauce! Specific measurements and step-by-step instructions are included in the printable recipe card at the bottom of the post.
Mayonnaise
Ketchup
Garlic Powder
Black Pepper
All you need is a few staple pantry ingredients to make this amazing dipping sauce for chicken fingers, French fries, or really anything!
Vegan Version - You can make this recipe by using vegan mayonnaise and a vegan Worcestershire Sauce.
Equipment Needed
Mixing Bowl
Spatula and/or a whisk
I try to use a medium-size bowl so there is enough room to fully mix the ingredients together. A small bowl will work but it can get a little messy.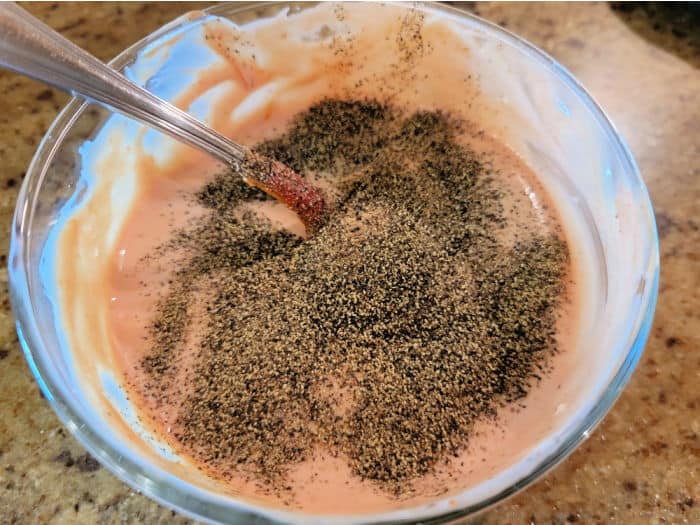 How to make Zaxby's Sauce
I've included complete instructions in the printable recipe card at the bottom of the post, but here's a quick version.
This Zaxby's Signature Sauce recipe is so dang easy to make at home! All you need to do is combine mayo, ketchup, and garlic powder in a bowl and stir. Add Worcestershire sauce and give it a mix and then cover the surface of the sauce with a layer of black pepper until just coated and mix together.
That is all it takes! Just plan a couple of hours for the sauce to rest in the refrigerator to get the best flavor. If you can't wait don't worry it still tastes great right when you make it. It truly has an amazing tangy taste.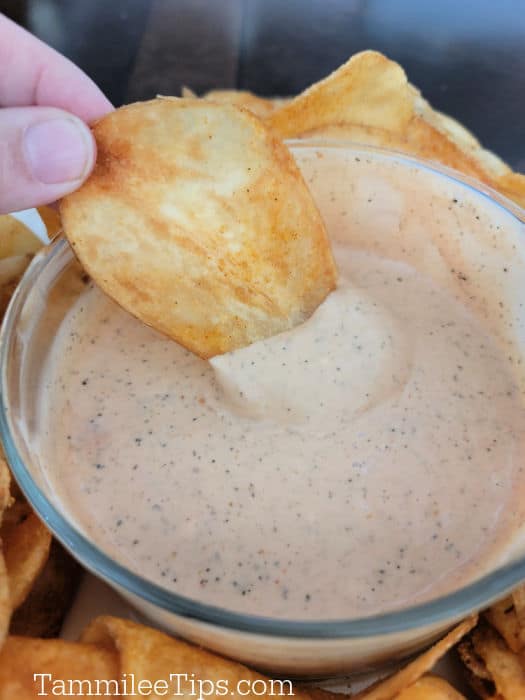 Preparation and Storage
Make Ahead – This sauce can be made ahead of time and stored in the fridge in an airtight container.
Storage – Store in the refrigerator in an airtight container.
Freezing/How to freeze – We do not suggest freezing this Zaxby's Sauce recipe. The texture will change. It is best made fresh.
Recipe Variations
Substitutions/Variations - Add in honey or maple syrup for a bit of sweetness. There are some versions that add in dried herbs like rosemary, Italian seasoning, or Thyme for extra flavor.
The secret blend of spices can be customized to your favorite flavors.
Vegetarian Option - Use vegetarian Worcestershire Sauce 
Vegan Option – Use vegan Worcestershire Sauce and vegan mayo (Homemade, Best Foods, Sir Kensington's)
Gluten Free - Check to make sure the Worcestershire Sauce is gluten-free.
Smaller Serving Size – This recipe can be made into a smaller serving size easily. Just change the serving size on the recipe card below.
Make it Spicy –Add in a sprinkle of red chili flakes or cayenne pepper. Add in a few drops of hot sauce.
Larger Group/More servings – This Zax's Sauce recipe can easily be doubled or tripled.
Tips for the Best Zax's Sauce
Make sure to plan time for this copycat Zax's Sauce recipe to rest in the refrigerator after you mix it together. This will give the sauce time for the flavors to meld together and really get the best flavor.
This recipe makes a small/medium-size bowl of sauce. You can easily double it or more if you are making it for a large barbecue or party.
Store the sauce in an air-tight sealed container in the refrigerator. Make sure to cover bowl with plastic wrap if you don't have a sealed container so you don't get a film on the surface of  sauce.
This sauce tastes great on a chicken sandwich. We also love dipping crinkle fries in this copycat zax sauce recipe.
Printable recipe card instructions are below.
Nutrition information, including calories, protein, calcium, carbohydrates, fiber, vitamin c, potassium, cholesterol, sodium, trans fat, monounsaturated fat, polyunsaturated fat, and more, will vary depending on the products used.
What to serve with Zaxby's Sauce
Sides - Air Fryer French Fries, Air fryer Onion Rings, Broccoli, Asparagus, Cole Slaw
Main Dishes - Chicken Fingers, Chicken Nuggets, Spread on Burgers, Grilled chicken sandwich, as a salad dressing, Popcorn Chicken
Desserts - Chocolate chip cake mix cookies, Texas Sheet Cake Cookies, Strawberry Lemonade Cookies
Drinks - Sweet tea, frosted lemonade, Peach Tea, Cherry Limeade, Dr Pepper Float
When to serve
Family dinner
Snack time
Potluck
Picnic
Summer barbecues
Frequently Asked Questions
What Sauces does Zaxby's offer?
Zax Sauce, Spicy Zax Sauce, Ranch, Honey Mustard, BBQ Sauce, Tongue Torch, Wimpy Sauce, Sweet & Spicy, Teriyaki, Buffalo Garlic Blaze, Hot Honey Mustard, and Nuclear.
Where are Zaxby's Located?
Most Zaxby's restaurants are located in the southeast with Georgia having the most locations. There are more than 1200 Zaxby's Fast Food restaurants world-wide.
With over 900 locations in 17 states currently. The 1st Zaxby's opened in Statesboro, Georgia in 1990.
We sadly do not have a location in Washington yet so we always enjoy this iconic Southern Brand while we are traveling.
What are Saucesicles?
Saucesicles were popsicles made with Zax's sauce. Yes you read that correctly. A few years ago Zaxby's partnered with Frios popsicles to create saucy popsicles.
They are no longer available.
Great Copycat Sauce Recipes
Do you love recipes? Check out our copy cat recipes, dessert recipes, and our Crock Pot Recipes.
Follow Tammilee Tips on MSN, Facebook, Instagram, and Pinterest, for all of our recipe posts.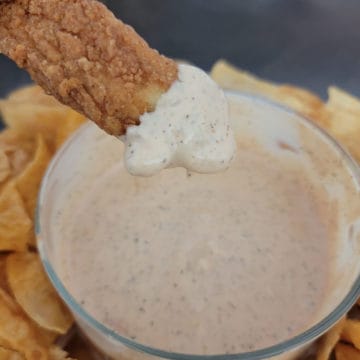 Copycat Zaxby Sauce Recipe
How to make Zax's Sauce at home! This easy recipe takes minutes to prepare.
Print
Rate
Instructions
Mix together Mayonnaise, Ketchup, Garlic Powder, and Worcestershire Sauce until well mixed.

Top with Black Pepper and mix together. Refrigerate for at least 2 hours for the flavors to meld together.
Nutrition
Nutrition Facts
Copycat Zaxby Sauce Recipe
Amount Per Serving
Calories 140
Calories from Fat 126
% Daily Value*
Fat 14g22%
Cholesterol 8mg3%
Sodium 212mg9%
Potassium 45mg1%
Carbohydrates 3g1%
Protein 1g2%
Vitamin A 65IU1%
Vitamin C 1mg1%
Calcium 5mg1%
Iron 1mg6%
* Percent Daily Values are based on a 2000 calorie diet.