There is nothing better than a classic Moscow Mule Recipe! The perfect combination of Vodka, Lime, and Ginger Beer.  This classic cocktail is really easy to make and tastes amazing.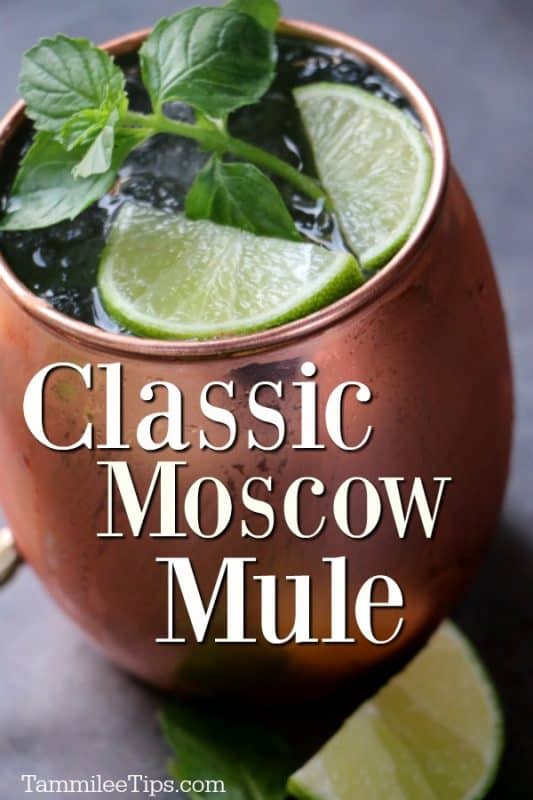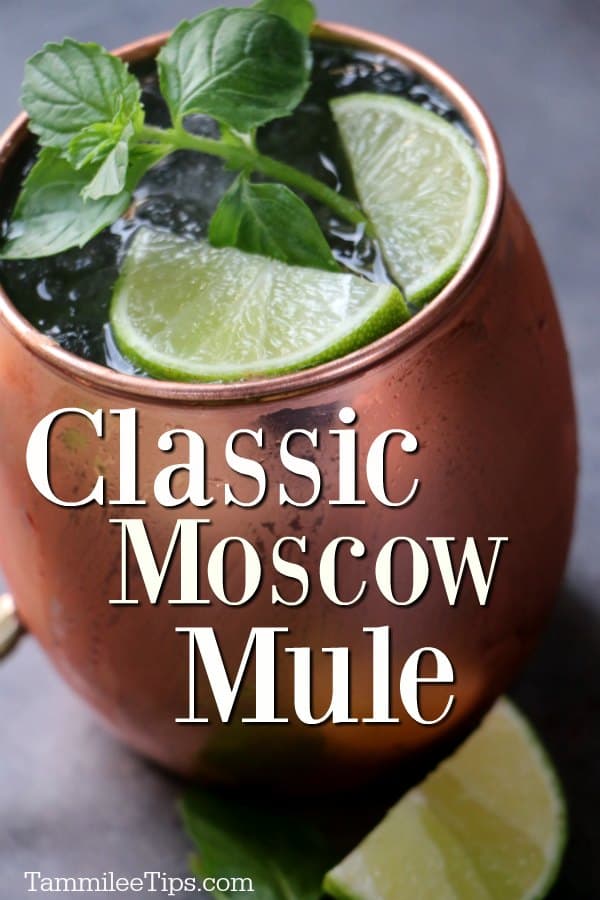 Classic Moscow Mule
Do you ever feel like the world is telling you that you need to try something?
That is how I feel about this recipe on how to make a Moscow Mule.
This summer every time I turned around I feel like someone was telling me that I needed to learn how to make a classic Moscow Mule. Our friend Amanda from Where's Amanda was raving about them while we were on the Carnival Freedom together.
Another friend came over a few weeks ago and told me they are her favorite vodka cocktail this summer. So what is a girl to do but dive into making this classic cocktail.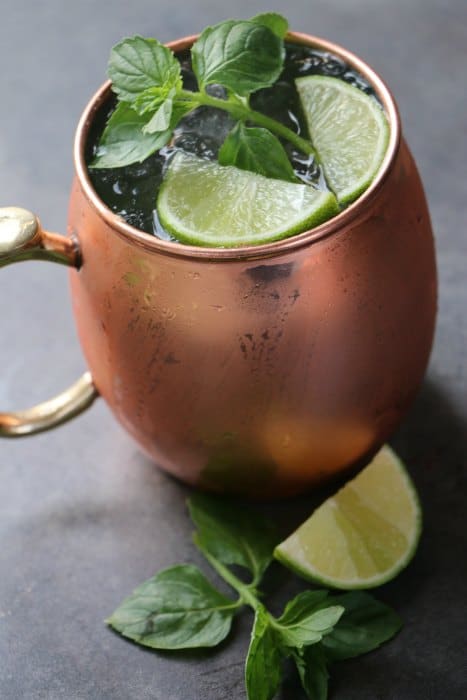 I went all-in when I decided to start creating a Moscow Mule. I bought the proper Moscow Mule Copper Mug
off of Amazon and got all of the ingredients ready.
Can I admit I went into making this Moscow Mule with a lot of excitement and trepidation at the same time.
What happens if we don't like it after everyone has told us it is the most amazing drink on the planet....will we be weird Mule outcasts.....
I hope you know I am totally kidding, well sort of kidding but here's the thing. I didn't have to worry because we really liked the Moscow Mules.
They really are a great refreshing drink on a hot summer day.
Since making this Classic Moscow Mule cocktail we have been diving into fun variations.
For a fun twist make an Irish Mule with Irish Whiskey.
Mexican Mule - With tequila
Kentucky Mule - With Kentucky Bourbon
Orange Mule - With orange juice
Cranberry Mule - With cranberry juice
Tennessee Whiskey Mule - With Tennessee Whiskey
Blue Mule - With Blue Curacao
Apple Cider Mule - With apple cider
What variation should we make next? Maybe a gin gin mule?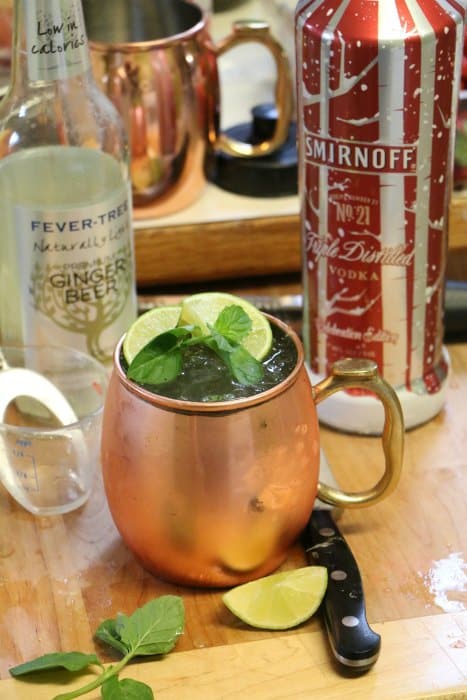 How to make a Moscow Mule!
It is quick and easy to make a classic Moscow Mule. You only need a few ingredients and supplies and you can make this classic cocktail in minutes.
What's in a Moscow Mule?
Vodka
Lime Juice
Ginger Beer
Mint
Lime Wedge
What kind of Vodka for Moscow Mule?
The classic Moscow Mule was invented in the 1940s by Smirnoff executive John Martin along with his friend bar owner Jack Morgan who owned Los Angeles's Cock and Bull Tavern.
The cocktail was created to sell vodka. It is hard to believe that before this cocktail vodka was not really well known.
I always feel like the best vodka to use is the one you have available. If you are looking to buy vodka specifically for this cocktail, you can use Smirnoff Vodka if you want to be historically correct.
Other vodka brands include Grey Goose, Tito's, Stolichnaya, Prairie Organic, Belvedere, Humboldt Organic, or a great local distillery.
What ginger beer to use for the best Moscow Mule?
Similar to vodka we feel like the best ginger beer is the one you have available. We tend to reach for fever tree ginger beer but there are a ton of options.
Other favorite ginger beers to try include Maine Root Ginger Beer, Q Ginger Beer, Bundaberg Ginger Beer, Gosling's Stormy Ginger Beer, or Reed's Extra Ginger Brew.
We suggest trying a few of them until you find the one that has the perfect ginger kick for you.
Is ginger beer the same as ginger ale?
The short answer is no they are not the same thing. Ginger beer is normally spicier and has a more robust flavor.
Ginger beer is made by fermenting fresh ginger and sugar. Ginger ale is produced by either fermenting whey or by mixing soda water/club soda with ginger syrup (real or artificial).
If you make a Moscow Mule with ginger ale it is technically called a vodka buck. A buck cocktail is defined as having a spirit, citrust, and either ginger ale or ginger beer.
Does Ginger Beer contain Alcohol?
Ginger beer is nonalcoholic. You can find it in the soda/soft drink aisle of the grocery store.
Equipment Needed 
Copper mugs - Copper mugs are the classic look. If you don't have any copper mugs you can use a collins glass or highball glass. =
Copper Jigger - For measuring the vodka
Black Matte Copper Mugs - these are totally different from the classic copper mugs. Such a fun twist.
Copper Pitcher - If you are making these for a party this copper pitcher is a cool way to make them ahead of time and serve them.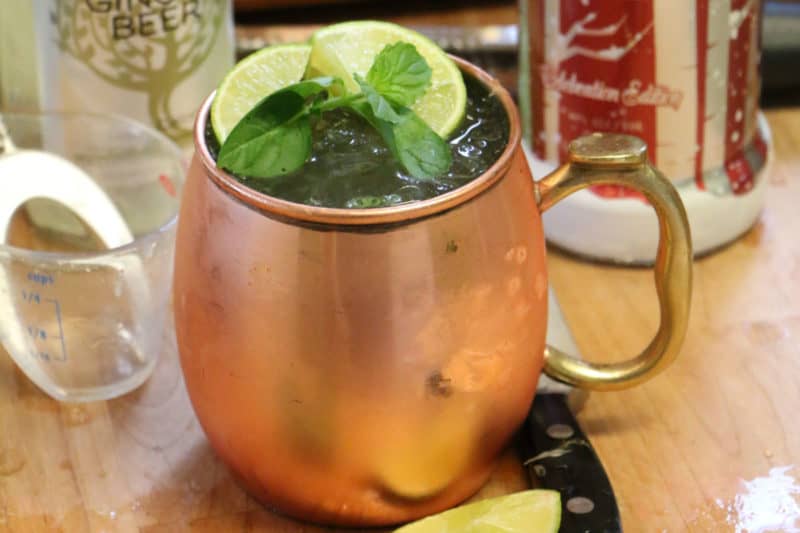 Why a copper mug for a Moscow Mule?
If you have been wondering why are Moscow Mules served in copper mugs you have come to the right place.
Copper mule mugs conduct temperature so when ice is added to them the glass actually helps keep the drink cold.
Recipe Tips
I placed our copper mugs in the freezer so they would be ice cold when I made them.
To make the drink a tad bit sweeter, you can add in a splash of simple syrup.
This recipe can easily be doubled for larger groups.
Printable recipe card instructions are below.
Nutrition information, including calories, protein, calcium, carbohydrates, fiber, vitamin c, potassium, cholesterol, sodium, trans fat, monounsaturated fat, polyunsaturated fat, and more, will vary depending on the products used.
How many calories in a Moscow Mule?
Calories will vary slightly depending on the products used. The average is around 183 calories per copper mug.
To lower the number of calories you can use less vodka or use a diet ginger beer.
When is National Moscow Mule Day?
National Moscow Mule Day is March 3rd in the United States, Canada and the United Kingdom.
National Vodka day is October 4th.
Great cocktail Recipes
Do you love recipes? Check out our copycat recipes, dessert recipes, and our CrockPot Recipes.
Follow Tammilee Tips on MSN, Facebook, Instagram, Pinterest, and Twitter for all of our recipe posts.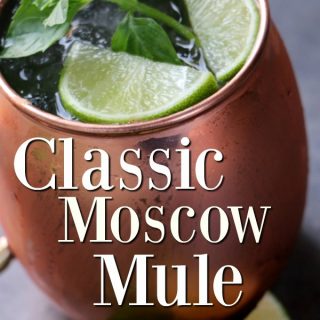 How to make a Moscow Mule!
Easy to follow instructions on how to make a classic Moscow Mule
Print
Rate
Instructions
Fill your Copper mugs with ice

Pour in Vodka, Lime Juice and Ginger Beer

Garnish with a sprig of mint and lime slices
Notes
I placed our copper mugs in the freezer so they would be ice cold when I made the Moscow Mules.
Nutrition
Nutrition Facts
How to make a Moscow Mule!
Amount Per Serving
Calories 183
Calories from Fat 9
% Daily Value*
Fat 1g2%
Sodium 11mg0%
Carbohydrates 14g5%
Protein 1g2%
Vitamin C 4mg5%
Iron 1mg6%
* Percent Daily Values are based on a 2000 calorie diet.
Recipe originally shared August 4, 2014, Updated on February 4, 2020, November 2022