This easy Cherry Bomb Shot recipe is the perfect blend of cherry vodka, Red Bull, and grenadine!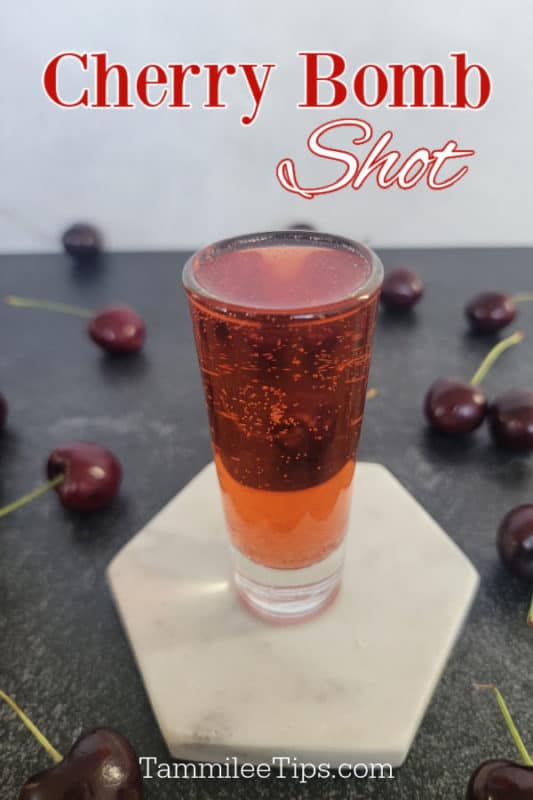 Cherry Bomb Shot Recipe
I love easy, delicious cocktail shots that take barely a minute to prepare. This Cherry Bomb Shot is flavor-packed.
This cocktail shot is excellent for parties. You can line the shot glasses up and pour them in a row so everyone can enjoy them together.
This delicious drink is quick and easy to make while tasting fantastic. You can't go wrong with a cherry cocktail.
There is no need for a cocktail shaker when making this recipe. You don't want to shake the red bull that is already carbonated and create a giant mess.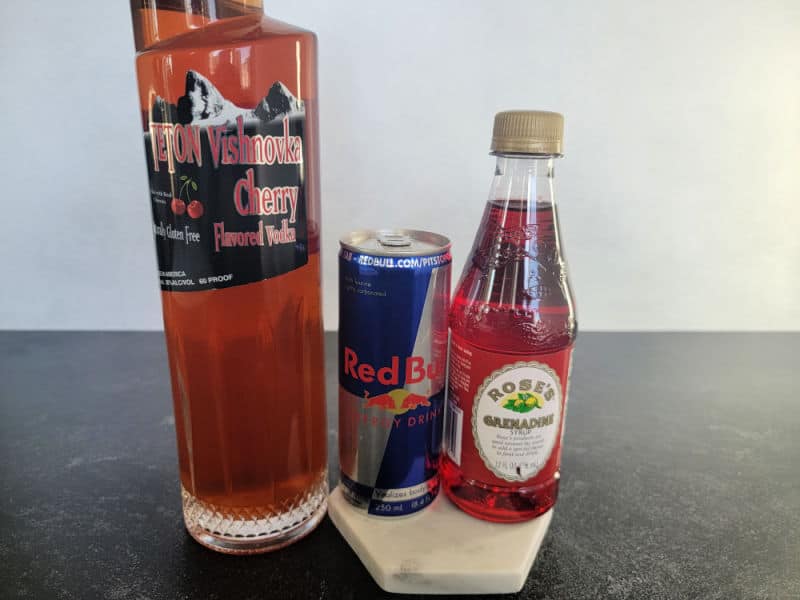 What is in a Cherry Bomb Shot
Here is a quick overview of the simple ingredients needed to make an epic Cherry Bomb Shot! The printable recipe card at the bottom of the post includes specific measurements and step-by-step instructions.
You only need 3 ingredients to make this great cherry shot cocktail recipe.
Cherry Vodka
Red Bull Energy Drink
Equipment Needed
How to make a Cherry Bomb Shot
I've included complete instructions in the printable recipe card at the bottom of the post, but here's a quick version.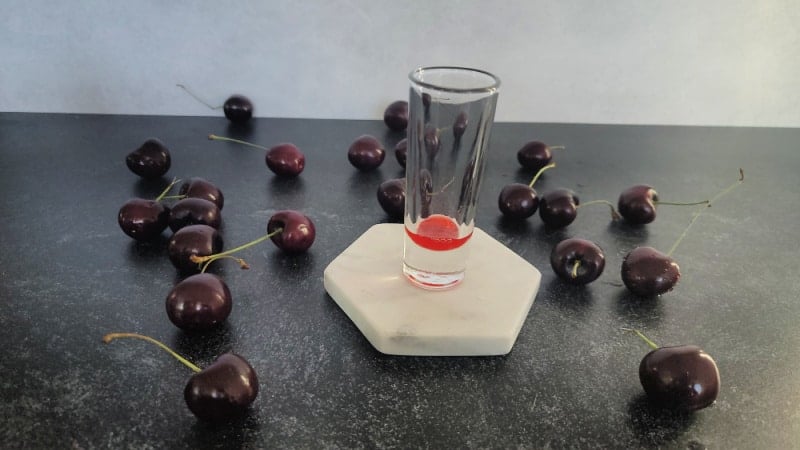 Step 1 - Add a splash of Grenadine syrup to the Shot Glass.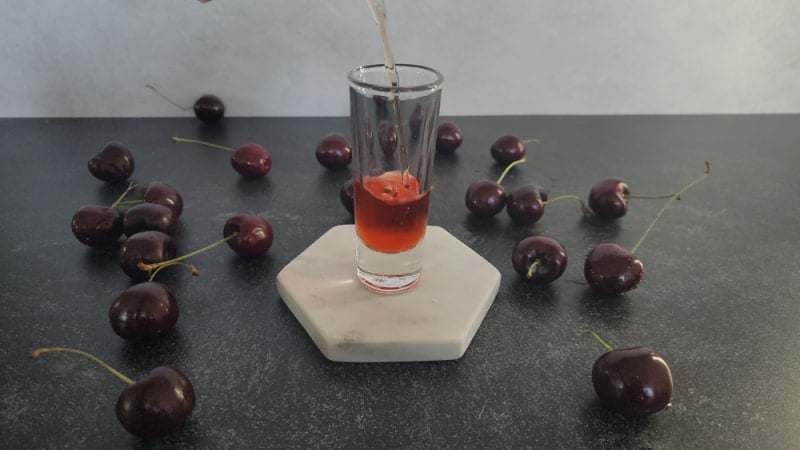 Step 2 - Pour vodka into the shot glass.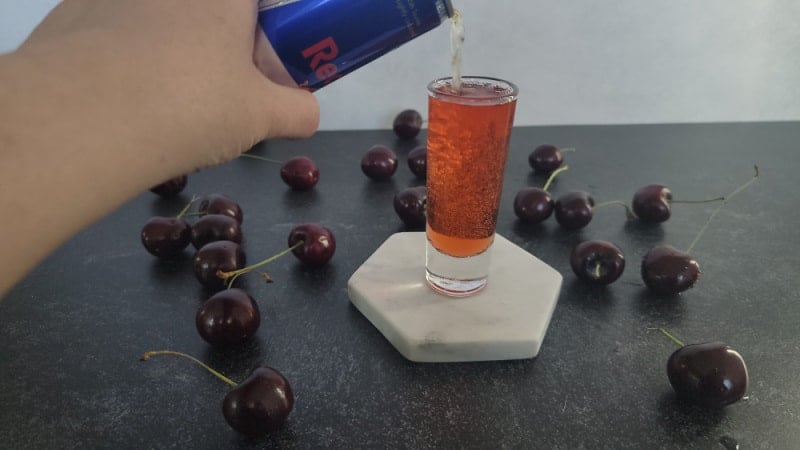 Step 3 - Top with Red Bull until you reach the top of the shot glass
Cheers!
Preparation and Storage
Make Ahead: For the best results, we recommend making the Cherry Bomb Shot to order. Red Bull is a fizzy ingredient that eventually goes flat.
Freezing/How to Freeze: We have yet to try it with this recipe, but we've seen people make slushies and popsicles from the cocktail ingredients as we did in our Black Cherry Lemonade Cocktail Popsicles.
Recipe Variations
Substitutions:
If you don't have cherry vodka, you can use regular vodka, cherry schnapps, or cherry liqueur. The shot will not have the same cherry flavor.
If you are not a fan of Red Bull, you can switch it to lemon-lime soda (Sprite or 7-up) or tonic/seltzer water to still have the bubbles in the cherry bomb cocktail.
We have seen this shot served with a maraschino cherry in the bottom of it. If you serve it this way, warn people before they shoot the drink quickly so no one chokes on the cherry. A safer alternative for serving this shot with a maraschino cherry would be to stick it on a cocktail pick and place it on top of the glass.
Another way to make this cocktail is to mix the grenadine and cherry vodka in a pint glass. Add Red Bull to a pint glass, then drop the cherry vodka and grenadine into the pint glass with the Red Bull.
This drink is similar to a Jager Bomb or a Vegas Bomb Shot.
Vegetarian Option: This cocktail recipe should be vegetarian, as none of its ingredients, including Red Bull, are animal-derived.
Vegan Option: Based on the ingredients, the Cherry Bomb Shot should also be vegan. Vegans may want to use a substitute for Red Bull, as the brand's statement confirms being vegetarian but does not confirm being vegan.
Gluten-Free: Gluten-free drinkers should use gluten-free substitutes for grenadine and cherry vodka, as they may contain flavorings unsafe for a gluten-free diet. Red Bull confirms being gluten-free and free of many common allergens.
Alcohol-Free Option: Swap the cherry vodka with an NA alternative to make this cocktail shooter non-alcoholic.
Smaller Serving Size + Larger Group/More Servings: The written recipe makes one Cherry Bomb Shot to fill a 2-ounce shot glass. Scale it up for a full-sized cocktail!
Sugar-Free: Use sugar-free grenadine and Red Bull to make this cocktail sugar-free.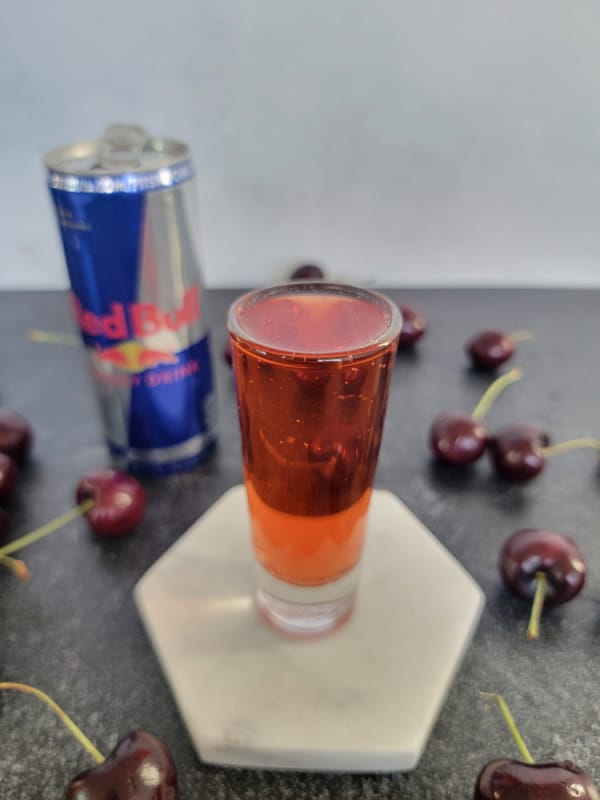 Tips for the Best Cherry Bomb Shot
What to Serve with a Cherry Bomb Shot
Serve this fruity and fizzy Cherry Bomb Shot with other party favorite appetizers and beverages for a Royal Flush of a party! Here are some menu planning suggestions.
Sides: 3-Ingredient Ranch Dip, 7-Layer Taco Dip, Funeral Potatoes, Candy Corn and Peanuts Snack Mix, CrockPot Mushrooms, CrockPot Bourbon Little Smokies, Super Easy Marinated Olives, Creamy Spinach Artichoke Dip, CrockPot Sriracha Chicken Dip, BLT Dip
Desserts: Chips Ahoy Cupcake, 3-Ingredient Marshmallow Fluff, Salted Caramel Rice Krispies Football Treats, Crock Pot Pecan Praline Dip, Chocolate-Covered Rice Krispie Treats
Drinks: RumChata Pudding Shots, Pink Starburst Shot, Bahama Mama Popsicle, Scooby Snack Shot, Girl Scout Cookie Shot, Mini Beer Shot, Tequila and Sprite Cocktail, Dill Pickle Martini, Sea Blue Martini, Snakebite Shot, Fuzzy Leprechaun Cocktail, Hawk-a-Rita Cocktail
When to Serve
Vegas Party 

Christmas

/The Holidays

Summer

Any celebration of red! 
Great Cocktail Recipes
Check out all of our cocktail recipes!
Find this featured recipe in our Spring Cocktails collection.
Don't miss all of our fun vodka shot recipes!
Do you love recipes? Check out our copycat recipes, dessert recipes, and our CrockPot Recipes.
Follow Tammilee Tips on MSN, Facebook, Instagram, Pinterest, and Twitter for all of our recipe posts.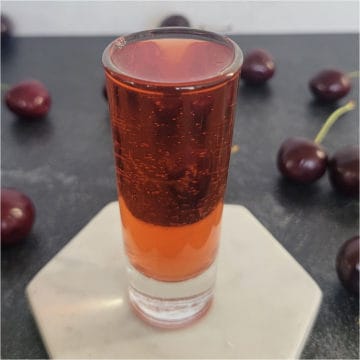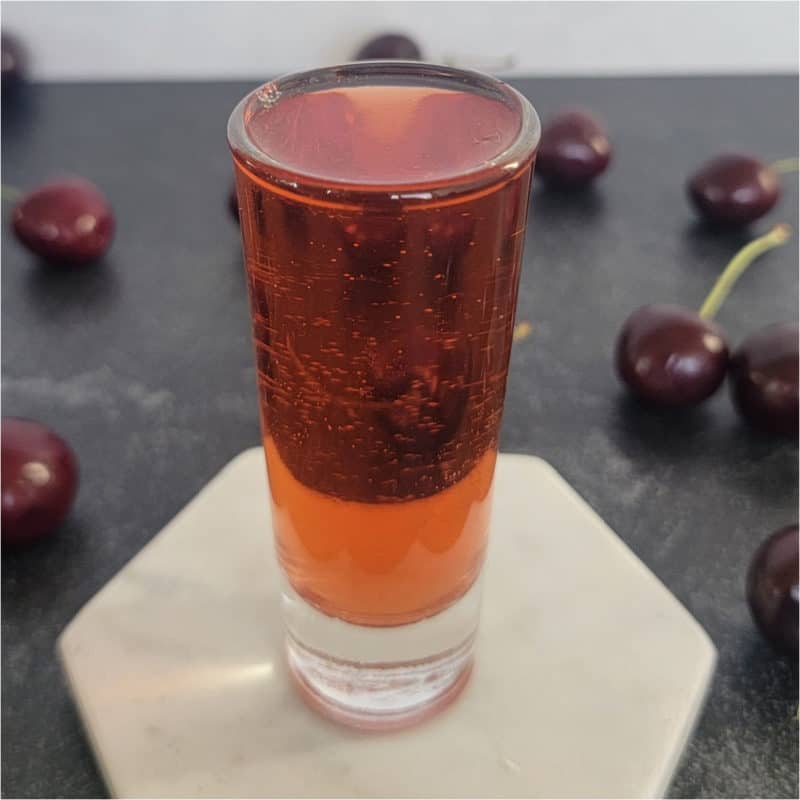 Cherry Bomb Shot Recipe
How to make a Cherry Bomb Shot Recipe that tastes amazing with Red Bull, Cherry Vodka, and Grenadine.
Print
Rate
Instructions
Add a splash of Grenadine to a 2 oz cocktail shot glass.

Top with Red Bull until you reach the top of the shot glass. Enjoy
Nutrition
Nutrition Facts
Cherry Bomb Shot Recipe
Amount Per Serving
Calories 65
% Daily Value*
Sodium 0.3mg0%
Potassium 0.3mg0%
* Percent Daily Values are based on a 2000 calorie diet.