Super easy two ingredient Vodka and Sprite Cocktail recipe tastes fantastic and is so refreshing. The perfect combination of Lemon-lime soda and vodka.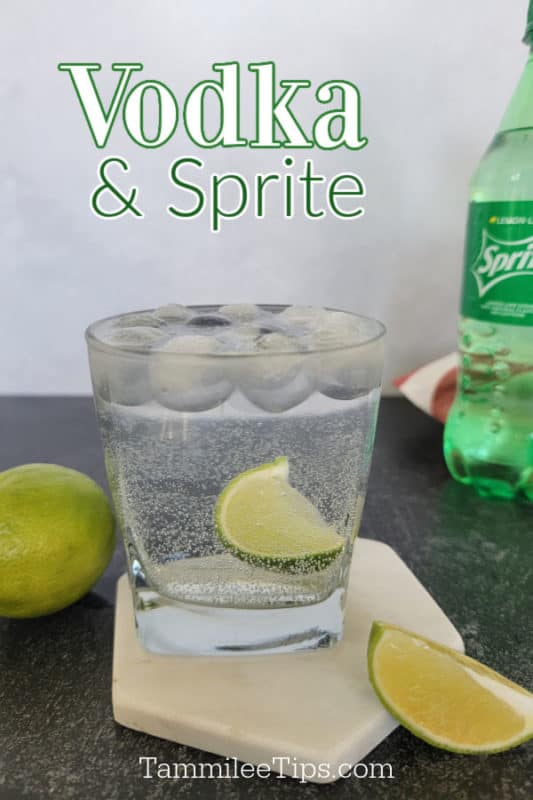 Vodka and Sprite Cocktail Recipe
We love quick and easy drink recipes that barely any time to prepare. This Sprite and Vodka cocktail is one of the easiest Sprite cocktail recipes.

Popular Vodka Drinks include a vodka martini,
Bloody Mary
, Screwdriver, Cosmopolitan,
Classic Moscow Mule
, White Russian, Harvey Wallbanger, and Espresso Martini.
You don't have to be a trained bartender to whip up this refreshing cocktail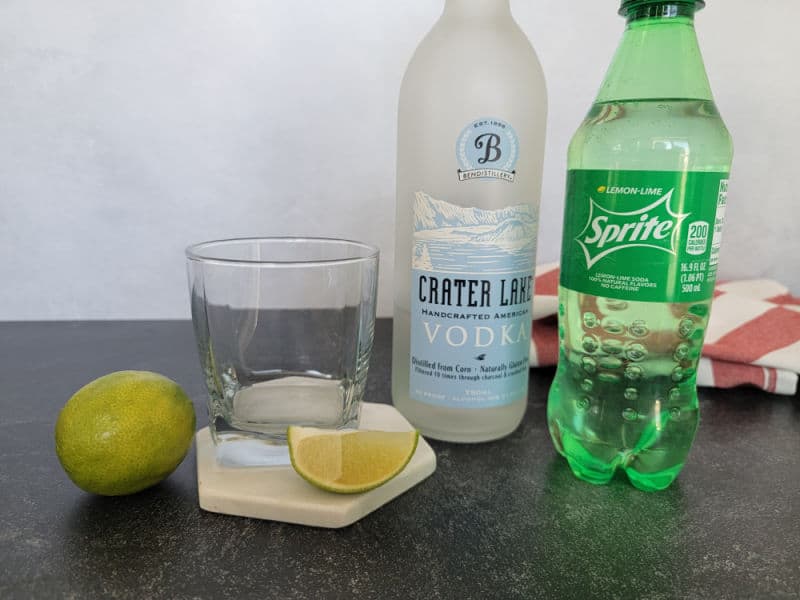 Ingredients
This is a quick overview of the simple ingredients that you'll need to make an epic Vodka Sprite Cocktail! Specific measurements and step-by-step instructions are included in the printable recipe card at the bottom of the post. 
Garnish - fresh Lime Wedge/lime slice
Optional - Splash of Grenadine, maraschino cherry
Vodka -  You can use plain vodka or any of the great flavored vodka available. You can use your favorite Vodka brand including Skyy, Smirnoff, Absolut, Grey Goose, Belvedere, Ketel One, Ciroc, Stoli, Tito's, Finlandia, Pinnacles, Three Olives, or a local distillery. 
Sprite - You can use regular Sprite, Sprite-zero, or any variation and flavor of Sprite you enjoy. This easy cocktail recipe would also taste great with grapefruit soda, coconut soda, cherry soda, or orange soda.
Equipment needed
Rocks Glass - Rocks glasses are also called lowball glasses or old-fashioned glasses.
Bartending Spoon - The long handle on a bar spoon makes it really easy to stir the cocktails and not make a mess.
OXO angled jiggers - these are our go-to measuring tools for cocktails. They work perfectly for pouring in layers for cocktails.
Ice Cube maker - This ice cube maker produces the most amazing cubes of ice perfect for cocktails. It easily fits in the freezer, and you can make up to 3 trays of round ball ice at a time.
How to make a Vodka Sprite Cocktail
I've included complete instructions in the printable recipe card at the bottom of the post, but here's a quick version.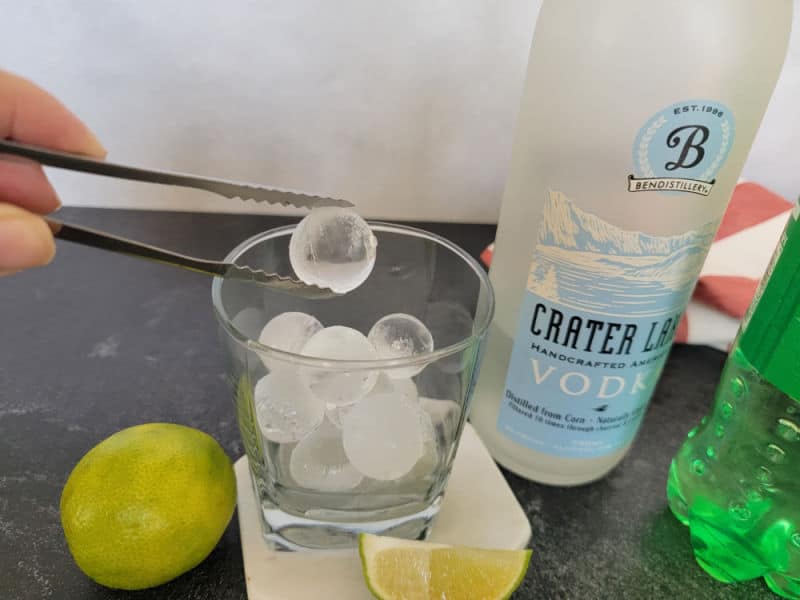 Step 1 - Fill a rocks glass with ice cubes.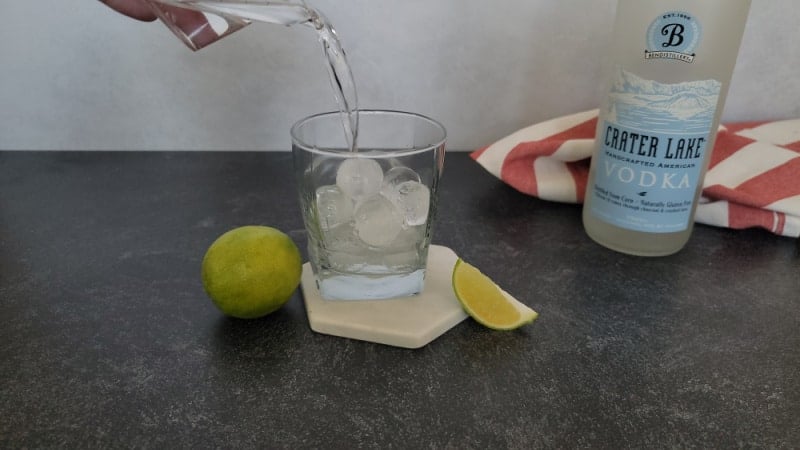 Step 2 - Pour in vodka, top with Sprite. Stir with a bartending spoon.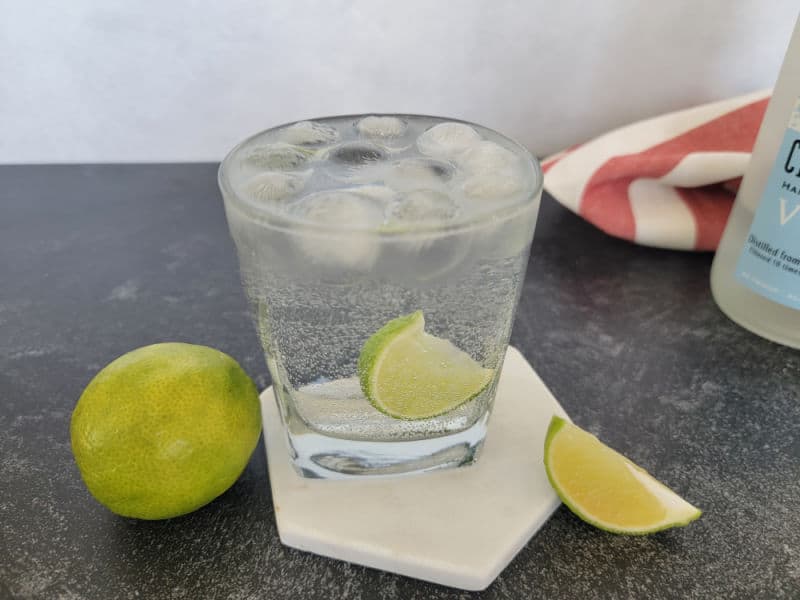 Step 3 - Garnish with a lime wedge.
Vodka Sprite Cocktail Variations
Cranberry Vodka - Garnish with floating cranberries or a splash of cranberry juice
Low-carb vodka
Peach Schnapps - Add in a half ounce of Peach Schnapps for additional flavor in this great vodka drink.
Blue Curacao - One of the key ingredients to turn this cocktail into the Sex in the Driveway Cocktail.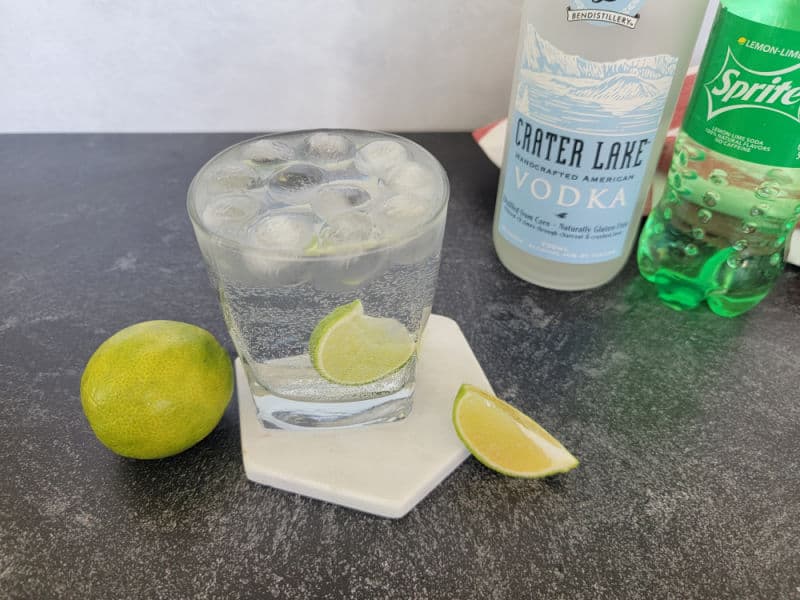 Preparation and Storage
Make Ahead - We don't suggest making this cocktail ahead of time. You don't want to lose the bubbles and carbonation from the Sprite drink. 
Storage – This is a cocktail that is hard to store due to the carbonation in the Sprite.
Recipe Variations
Substitutions -Try making this great Sprite Cocktail with flavored Sprite including Sprite Cherry, Sprite Tropical Mix, or Sprite Lymonade. This can also be made with tonic water to make a Vodka and Tonic.
Soda water can also be used but you will lose the citrus flavor that comes from te Sprite. 
Optional Garnish - mint leaves
Vegetarian Option - This recipe is vegetarian
Vegan Option – This recipe is vegan
Gluten Free - This recipe should be gluten-free. Double check for hidden gluten if you are concerned about the vodka 
Alcohol Free Option –NA Non-Alcoholic Vodka can be used for this recipe. There are some great zero proof vodkas on the market.
Smaller Serving Size – This recipe currently makes one cocktail. You can make a smaller serving or change the amount of vodka that is used.
Larger Group/More servings – This recipe can easily be doubled or more for larger events. If you are serving this for a large event make sure it doesn't sit out for to long so you don't lose the carbonation of the Sprite.
Sugar Free – Diet Sprite or Sprite Zero Sugar can be used to lower the calories and sugar
Recipe Tips
You can adjust the amount of vodka in your cocktail based on taste and how strong you want the drink to be.
Soda is a fantastic mixer for cocktails. We love mixing with 7-up, Coca-Cola, ginger beer, root beer, cream soda, and other flavors of soda pop.
There is no need for a cocktail shaker for this mixed drink recipe. Shaking the Sprite will create a mess of bubbles.
This recipe can easily be adapted to serve in a pitcher or punch bowl. Just double, triple, or more the recipe depending on how many guests you are serving.
This recipe is featured in our Spring Cocktails Collection and our vodka cocktail collection. 
Printable recipe card instructions are below.
Nutrition information, including calories, protein, calcium, carbohydrates, fiber, vitamin c, potassium, cholesterol, sodium, trans fat, monounsaturated fat, polyunsaturated fat, and more, will vary depending on the products used.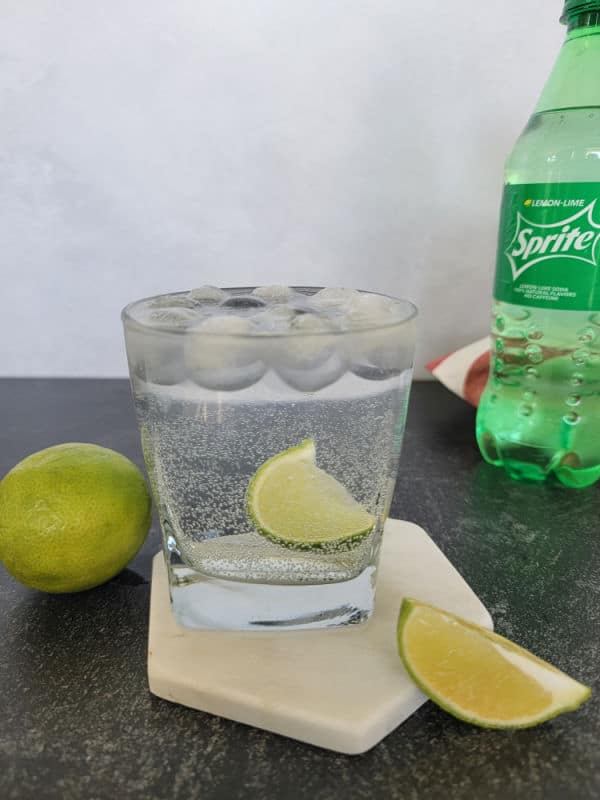 What to serve with
We love to pair light flavors with this cocktail. 
Appetizers - Strawberry Bruschetta, Chicken and Waffles, Bacon wrapped Jalapenoshttps://www.tammileetips.com/bacon-wrapped-jalapenos/
Desserts - Lemon Cheesecake Bars, Lemon Blueberry Dump Cake, Ooey Gooey Butter Cake, Pig Pickin Cake
When to serve
Cocktail party
Summer Cocktail
Happy Hour
Brunch
Girls Night In
Summer barbecues
Great Cocktail Recipes
Check out all of our Cocktail Recipes
Do you love recipes? Check out our copycat recipes, dessert recipes, and our CrockPot Recipes.
Follow Tammilee Tips on MSN, Facebook, Instagram, Pinterest, and Twitter for all of our recipe posts.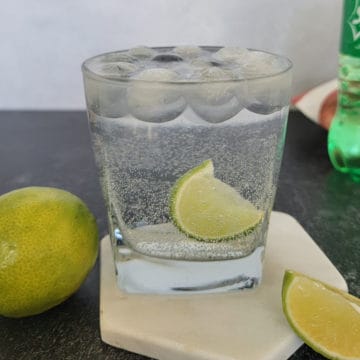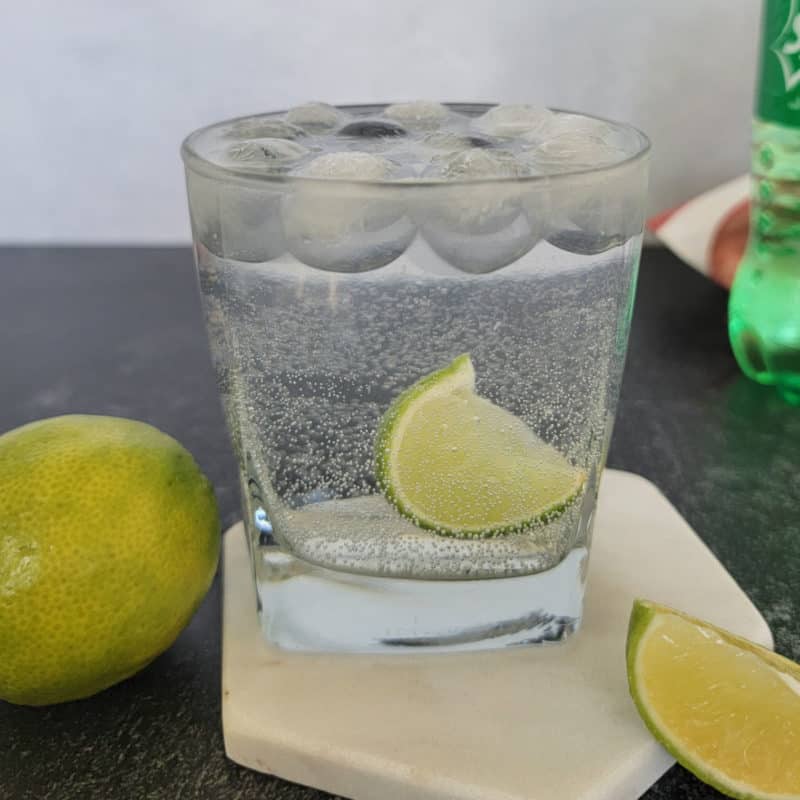 Vodka and Sprite Cocktail Recipe
Easy two ingredient Vodka and Sprite Cocktail Recipe that tastes super refreshing.
Print
Rate
Ingredients
1-2

Ounce

Vodka

4-6

Ounce

Sprite

Lime Wedge

Garnish
Instructions
Add ice to a rocks glass, add in Vodka

Top with Sprite and stir with a bartending spoon. Garnish with a lime wedge
Nutrition
Nutrition Facts
Vodka and Sprite Cocktail Recipe
Amount Per Serving
Calories 112
% Daily Value*
Sodium 12mg1%
Potassium 1mg0%
Carbohydrates 12g4%
Protein 0.1g0%
Calcium 2mg0%
Iron 0.02mg0%
* Percent Daily Values are based on a 2000 calorie diet.