Epic Guide to Fireball Cinnamon Whisky! This cinnamon-flavored whiskey has become one of the most popular mixers to use.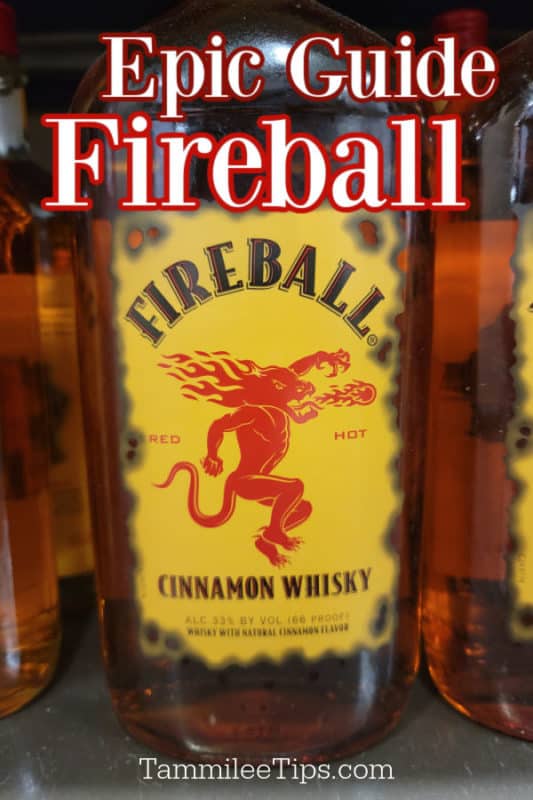 Epic Guide to Fireball Cinnamon Whisky
Fireball's slogan is "tastes like heaven, burns like hell", and just one sip will show you why.
You may have seen the red demon breathing red hot fire on the bottle in your local liquor store. This smooth whisky with a fiery kick of red hot cinnamon is one of the most popular liquors in the US and the world.
Fireball is the #1 shot brand in the U.S.
What is Fireball?
It is a spicy cinnamon-flavored whisky.
It is spelled whisky instead of whiskey because it comes from Canada where whisky is spelled without the letter E.
Yes, there is real natural cinnamon used to make this epic whisky.
There are two different types of Fireball depending on where it is sold.
A bottle/package with Fireball Cinnamon Whisky on the front label is a whisky-based product.
A bottle/product with Fireball Cinnamon on the front of the label without whisky is either malt or wine-based product.
One thing to know is Fire Ball is not technically a whisky. Whiskey is defined as a spirit with at least 40 percent alcohol by volume.
It is technically a specialty distilled spirit owned by the Sazerac company.
What to mix with Fireball?
It is a fantastic mixer! We are sharing some of our favorite mixed drinks below in this post.
Is Fireball Gluten-Free?
Fireball Canadian Whisky is not certified gluten-free. They do not use ingredients that include gluten but they have not been certified as being gluten-free.
It may be produced in a facility with milk, peanuts, tree nuts, and wheat.
How much is Fireball?
Currently, in Spokane, the prices are:
1.75 liters - $24.99
750 ml - $12.99-13.99 depending on if you buy a glass or plastic bottle
375 ml - $9.49
50 ml - $0.99
They also sell a whisky party bucket, candy cane, advent countdown calendar, ornament gift pack, trick or treat bag, ping pong balls and cup gift set, Friday party starter kit, and an anti-Valentine's Day gift pack.
They are also releasing a keg that holds five liters and has 3 pour spouts. This is equivalent to 115 shots in 1 container. Look for FireKegs at your favorite local stores.
There is also a Firebox which is a dispenser that holds two 1.75 Liter pouches. This is currently a limited release in late Summer /early Fall.
The availability of different sizes and product items may depend on the state that you live in.
They are continually bringing out new products and branded swag. We are thinking about picking up a fiery mule mug, or branded shot glasses for fun cocktail photos.
In Washington, we also pay a spirit sales tax and a spirit liter tax.
How many calories in a shot of Fireball?
1 shot is 108 calories
How many carbs in Fireball?
11 grams of carbs per shot.
How much Alcohol is in Fireball?
33% ABV (alcohol by volume)
There is also a 21% ABV version of the original Fireball Whisky 66 Proof (33% ABV). This ABV version allows it to be sold in Ohio locations that can only sell spirits below a certain alcohol content.
A bottle/product with Fireball Cinnamon on the front of the label without whisky is either malt or wine-based product. Wine-based (currently in Oregon only). Fireball Cinnamon products can be sold in beer, malt beverage and wine stores.
Fireball Cinnamon malt-based is 33 proof (16.5% alcohol by volume) and Fireball Cinnamon wine-based is 42 proof (21% alcohol by volume).
When did Fireball come out?
It started as part of the Dr. McGillicuddy Line.
When it was purchased by the Sazerac Company they refined the name of the product and marketed it hard.
It really became popular in the US around the late 2000's. While it has been around since 1984 it didn't become the cult liquor it is today until The Sazerac Company bought it and really pushed the branding.
You may also find these cinnamon whiskey products in your local stores: Catch Fire Cinnamon Flavored Whisky, Jim Beam Kentucky Fire, Sinfire Apple Cinnamon Whisky, Jack Daniels Tennessee Fire American Whisky, and Wild Turkey American Honey Sting.
What does Fireball taste like?
Ir tastes like cinnamon candy It is sweet with a strong cinnamon spice flavor.

Where is Fireball made?
It is made at multiple distilleries to keep up with the production needed to continue to meet the growing demand for this epic flavored whiskey.
They do not offer any distillery tours at this time.
Does Fireball go bad?
The only way for it to go bad would be for it to be stored open without a lid for a long period of time.
You may find over time that the flavor changes a tiny bit as the whisky is opened and air gets into the bottle.
There is no need to store the whiskey in the refrigerator or freezer unless you want a chilled cinnamon whisky experience.
It will not freeze unless the temperature is below -12 degrees Fahrenheit.
Is Fireball Vegan?
It is not completely vegan. There is an animal-derived binder in the yeast preparation used to ferment the whisky mash prior to distillation.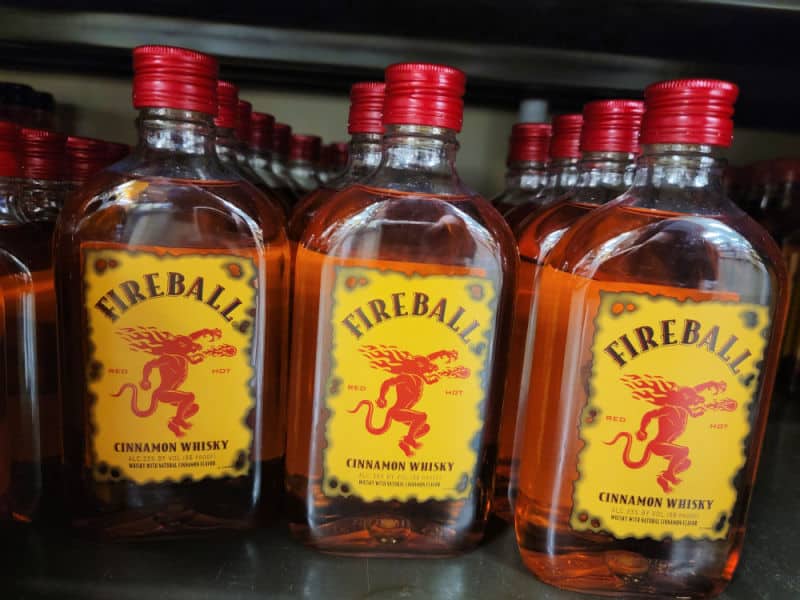 Epic Fireball Recipes
These are some of our favorite Fireball Drinks to mix! From a simple Fireball Shot to a mixed drink there are so many ways to use this great cinnamon-flavored whisky.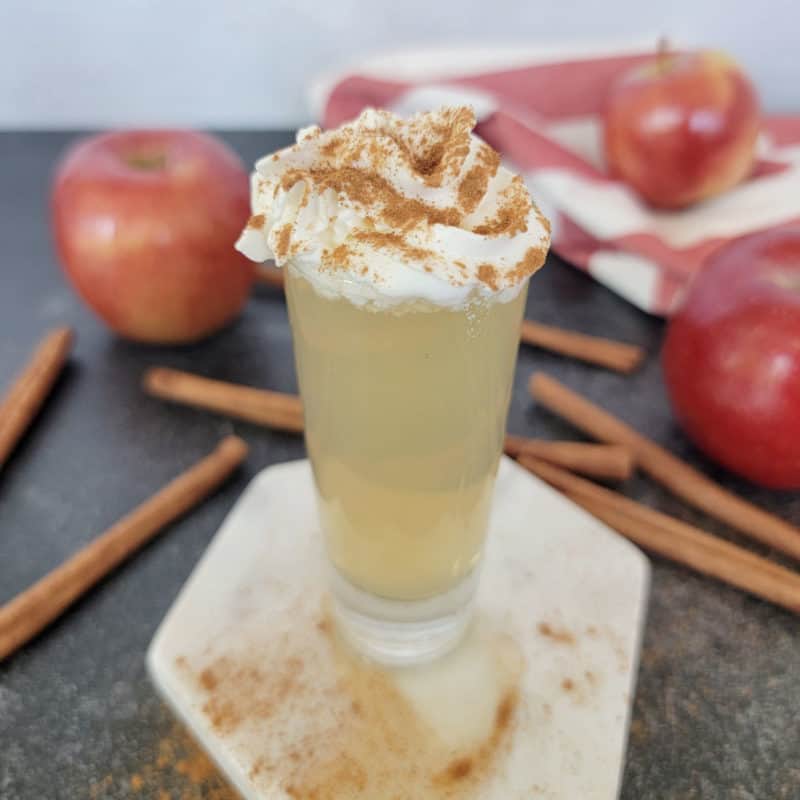 Ingredients: Fireball, Apple Cider, and Vanilla Vodka
This easy Apple Pie Shot recipe tastes just like a fresh apple pie. The perfect fall Thanksgiving cocktail shot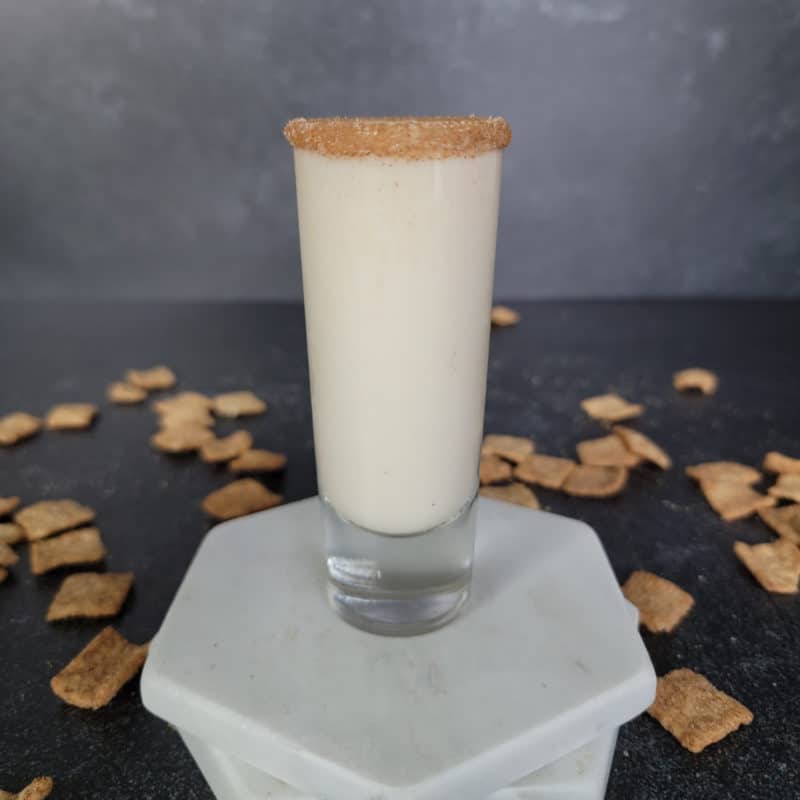 Ingredients: Rumchata, Fireball
This shot tastes just like Cinnamon Toast Crunch cereal. It is really easy to make and tastes amazing. A smooth easy to drink shot.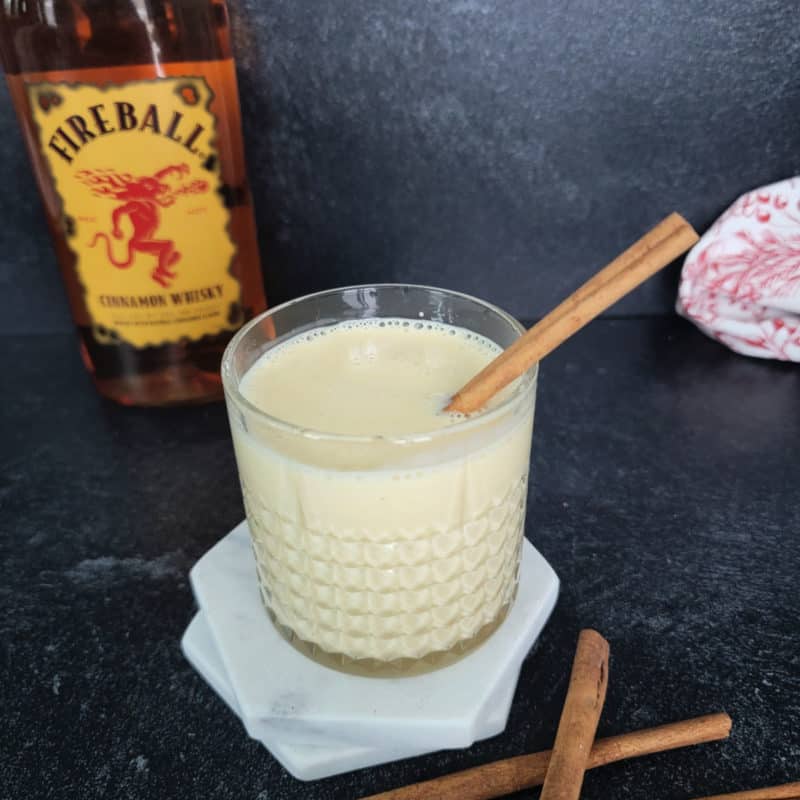 Ingredients: Fireball, Eggnog
This is the perfect Christmas cocktail. A great way to add cinnamon spice to eggnog.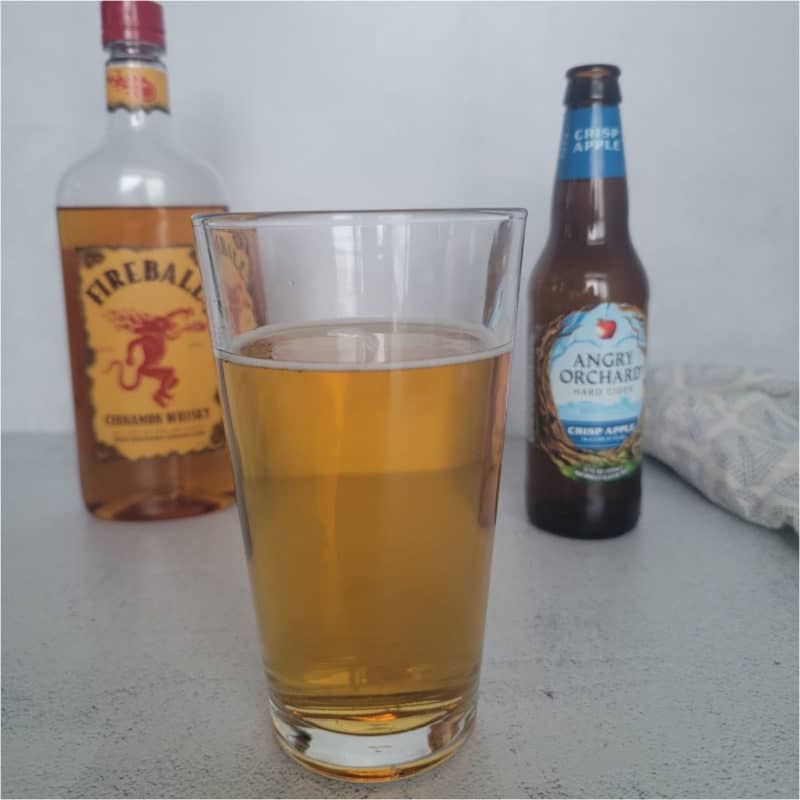 Ingredients: Fireball, Angry Orchard Hard Cider
This is a great refreshing apple spiced cocktail.
We are excited to share more recipes soon!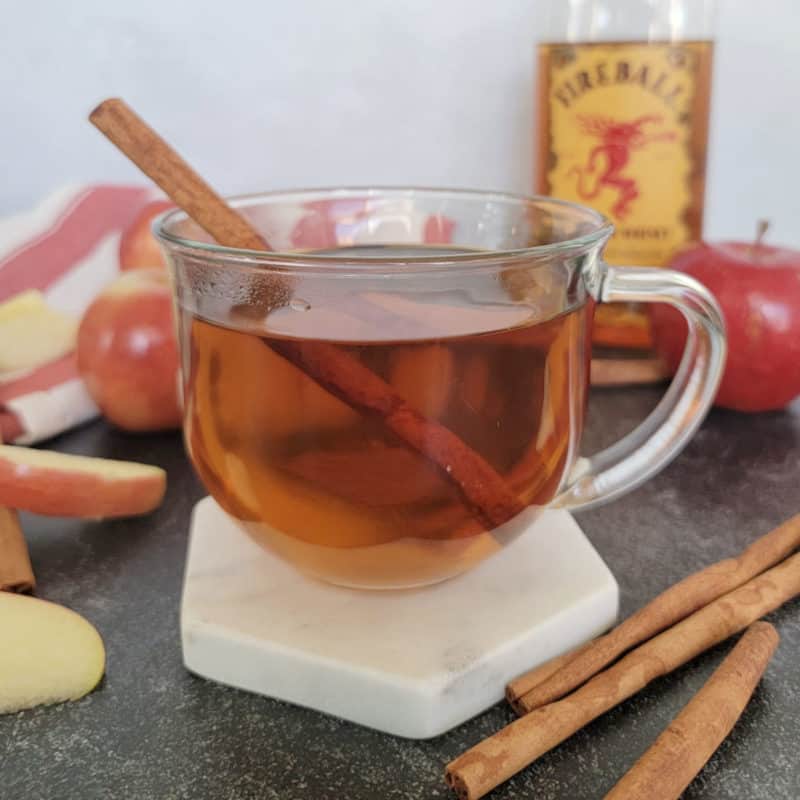 Ingredient - Fireball, Apple Cider
Epic Fall cocktail that takes a minute to prepare. Tastes absolutely amazing!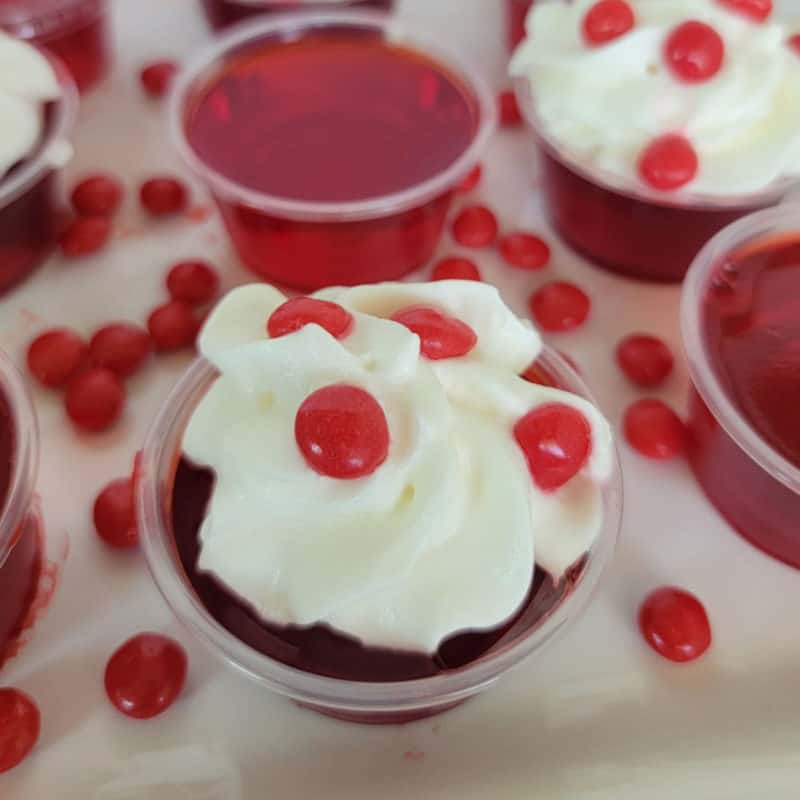 Ingredients - Cherry Jello, Fireball
These Fireball Jello Shots are the perfect party cocktail!
Cocktail Tools
Ice Cube maker - This ice cube maker produces the most amazing cubes of ice perfect for cocktails. It easily fits in the freezer and you can make up to 3 trays of round ball ice at a time.
2 ounce shot glasses - We love these 2 oz shot glasses especially for layered shots.
Bar Spoon - Bar spoons help to create layers in the cocktail shot. They fit perfectly into the cocktail shot glass.
Cocktail Shaker – This cocktail shaker comes with a fantastic set of tools
Stemless Martini Glasses - These stemless martini glasses are fantastic.
Jell-O Shot Cups - We suggest using two-ounce Jell-O shot cups.
OXO angled jiggers - these are our go-to measuring tools for cocktails. They work perfectly for pouring in layers for cocktails.
Margarita Glasses - We like the look of classic margarita glasses but you can use any glass for this great cocktail.
Hurricane Glass - For a truly tropical look serve this drink in a hurricane glass.
Copper Mule Mugs  - Copper Mule Mugs are the classic way to serve Moscow Mules. The copper mugs keep them nice and cold and look amazing. Check out all of our Moscow Mule Variations.
Check out all of our Cocktail Recipes
Do you love recipes? Check out our copycat recipes, dessert recipes, and our CrockPot Recipes.
Follow Tammilee Tips on MSN, Facebook, Instagram, Pinterest, and Twitter for all of our recipe posts.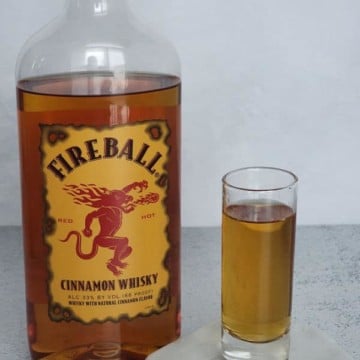 Fireball Shot
Epic Fireball Shot filled with cinnamon flavored whisky.
Print
Rate
Instructions
Pour 1 oz Fireball Whisky into shot glass. Enjoy
Nutrition
Nutrition Facts
Fireball Shot
Amount Per Serving
Calories 71
% Daily Value*
Potassium 1mg0%
Carbohydrates 1g0%
Iron 1mg6%
* Percent Daily Values are based on a 2000 calorie diet.
Official Website