Easy Vodka Shot Recipes that anyone can make! From classic cocktail shots to fun holiday shots, you will find the perfect drink.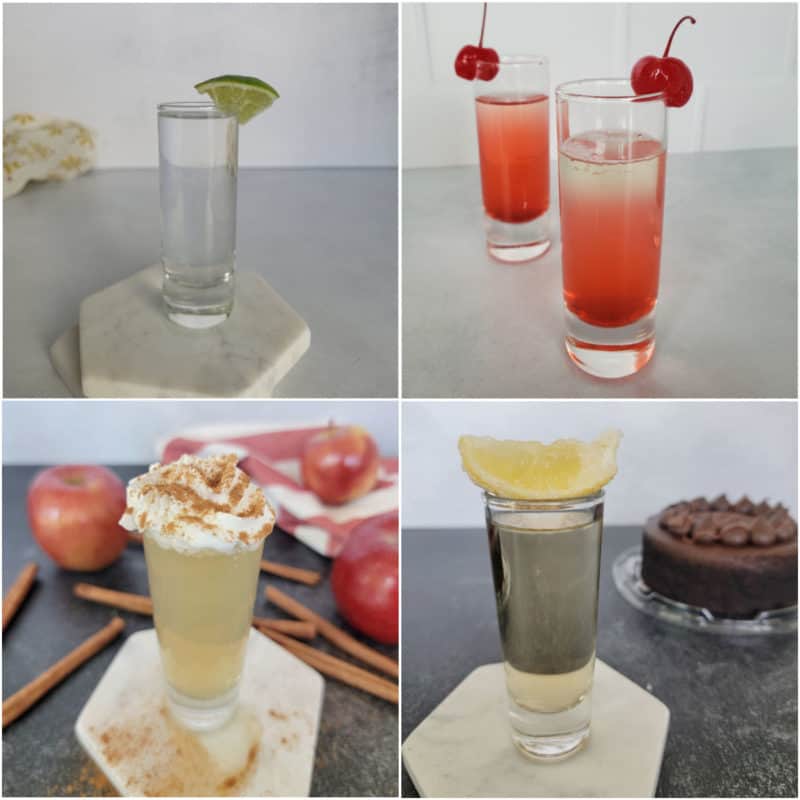 Vodka Shot Recipes
All of these recipes are vodka shots. We also have a huge list of vodka cocktail recipes if you are looking for a larger drink.
While you can do shots of vodka on their own, we prefer mixing the vodka with other ingredients to make a flavorful cocktail shot.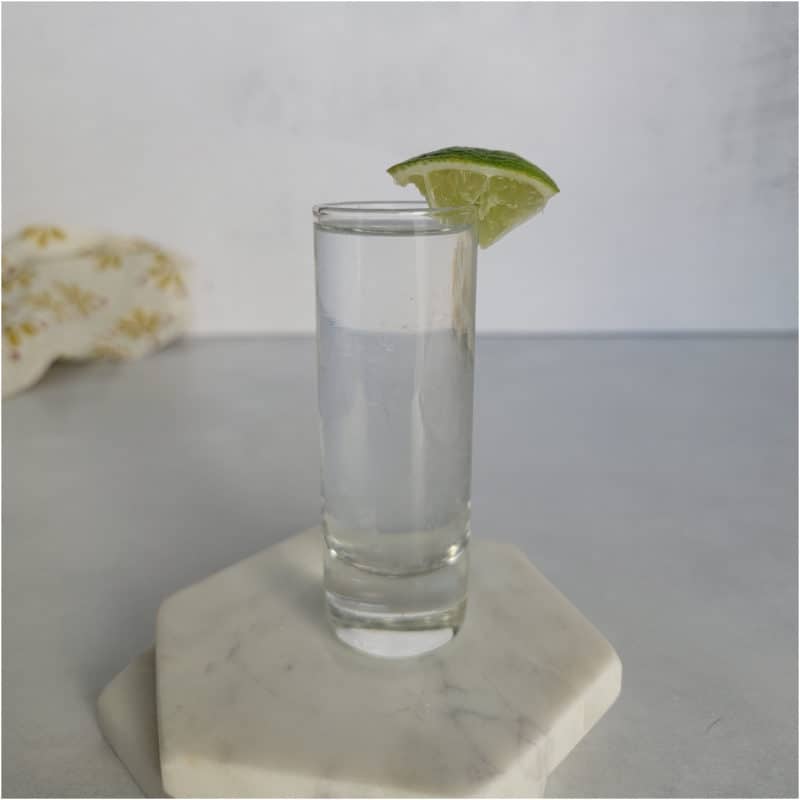 Ingredients - Vodka, Triple Sec, Lime Juice, lime wedge garnish
We've included five variations of this popular shooter developed in post-World War II Japan.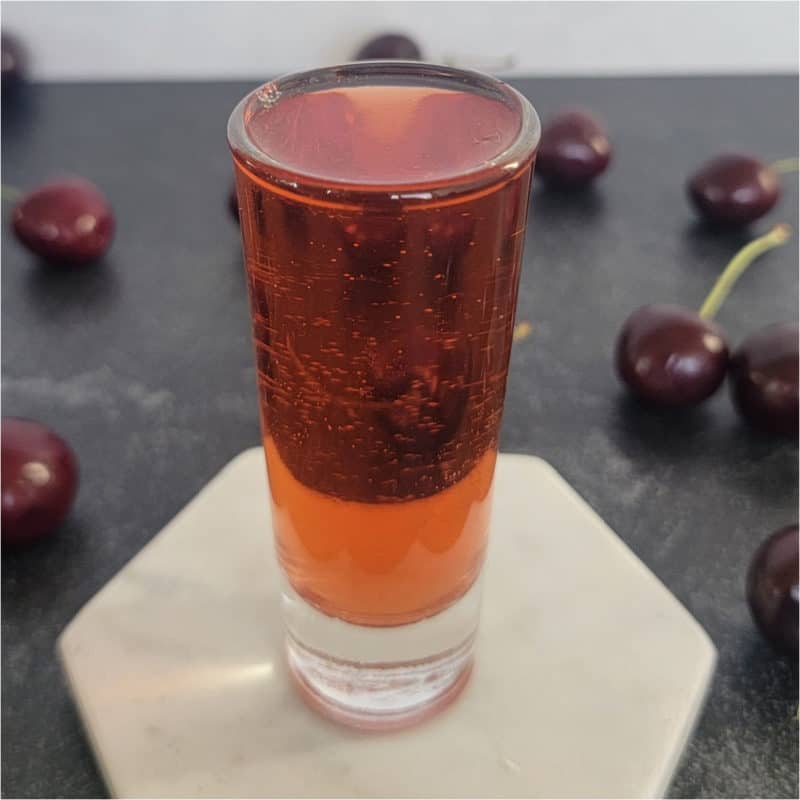 Ingredients - Grenadine, Cherry Vodka, Red Bull
The cherry in this ruby-red shooter comes from cherry vodka, while the "bomb" part is from the two ounces of Red Bull.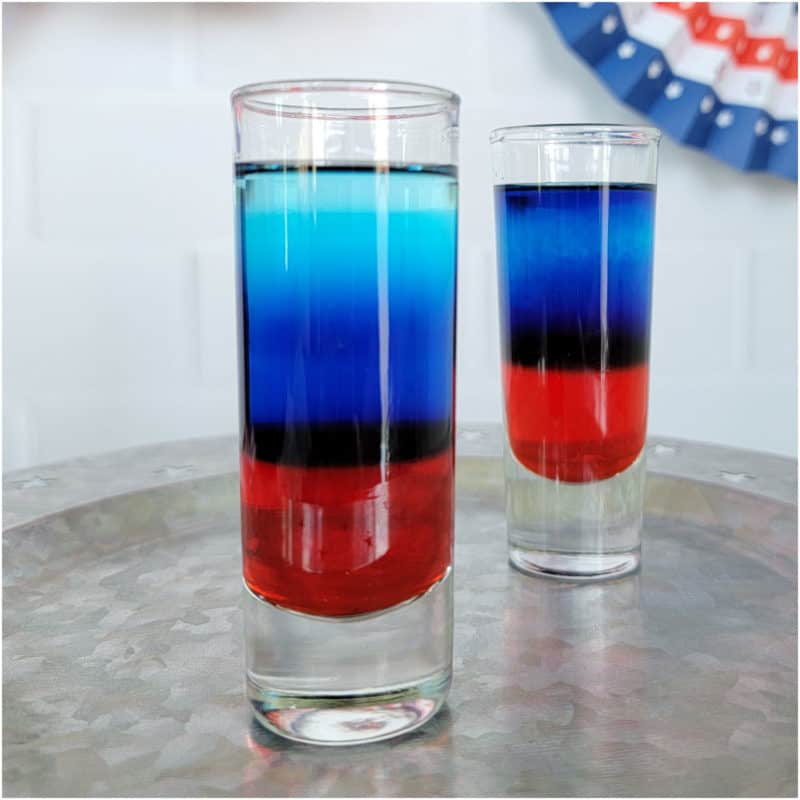 Ingredients - Grenadine, Blue Curacao, Vodka
Raise a glass to America's birthday with this layered red and blue shot made with equal parts grenadine, blue curaçao, and vodka. Here's how to make it pitcher-style.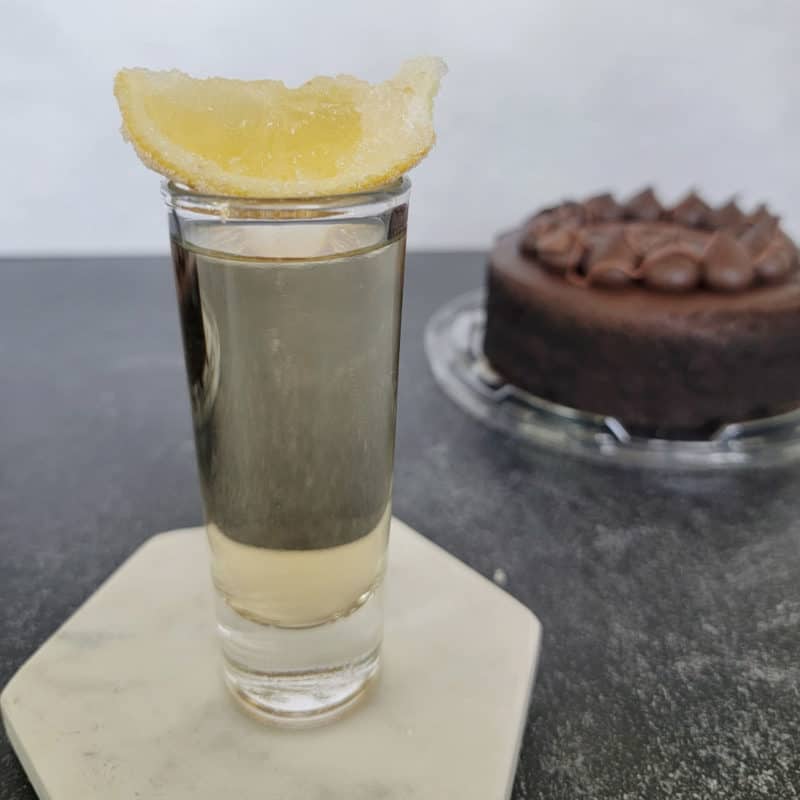 Ingredients - Vodka, Frangelico Hazelnut Liqueur, sugar-coated lemon wedge
The chocolate cake flavor of this mixed shooter comes not from any baked goods but from an ounce of Frangelico hazelnut liqueur. Don't forget the lemon wedge coated in sugar!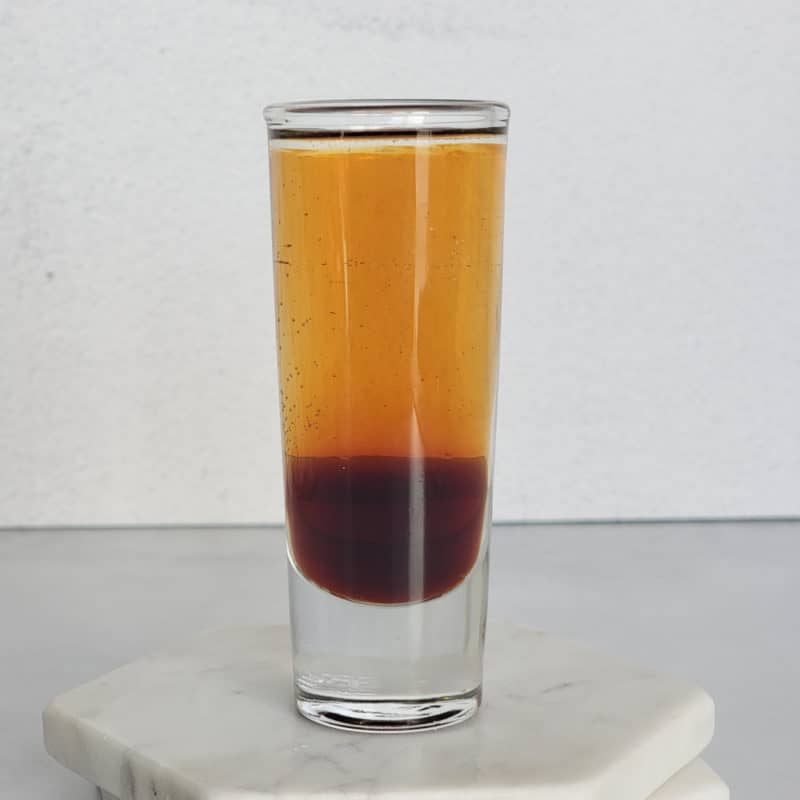 Ingredients - Vodka, Kahlua Coffee Liqueur, Club Soda
This fizzy vodka-Kahlúa shot gets its name because it's so tasty that it's easy to overindulge. The recipe post includes instructions for the layered shooter and cocktail and contains variations using different mixers.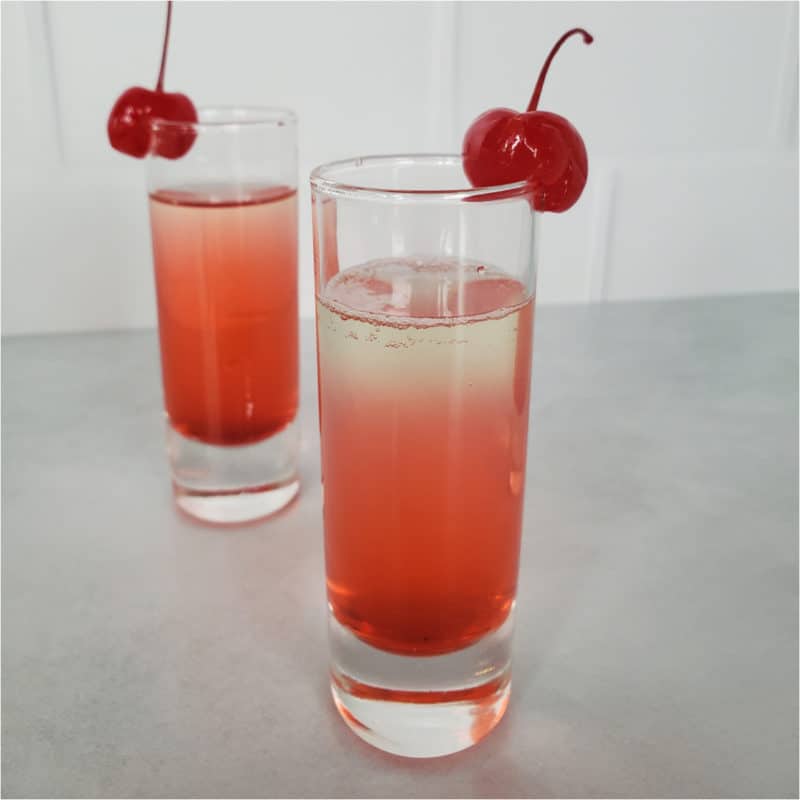 Ingredients - Vanilla Vodka, Pineapple Juice, Grenadine
Have your cake and drink it with this red shooter inspired by the fruit-topped cake of the same name. While we use vanilla vodka, a cake-flavored vodka would also be yummy.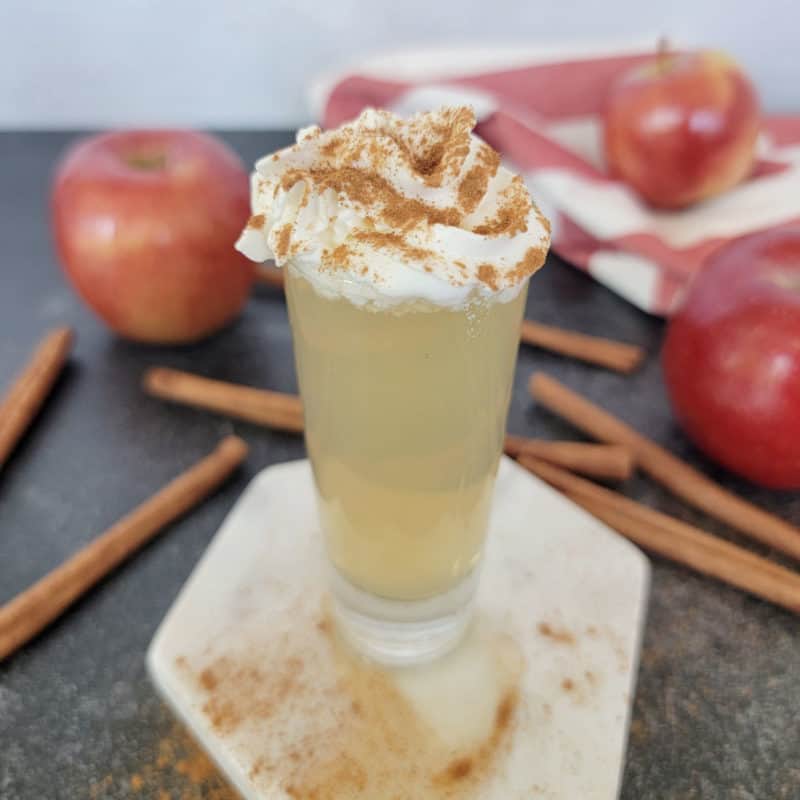 Ingredients - Apple Cider, Vanilla Vodka, Fireball Cinnamon Whiskey
Apple cider, vanilla vodka, and Fireball cinnamon whisky form the trifecta of fall flavors in this sweater-weather shooter. Serve them in these mini mason jar shot glasses for a touch of shabby chic.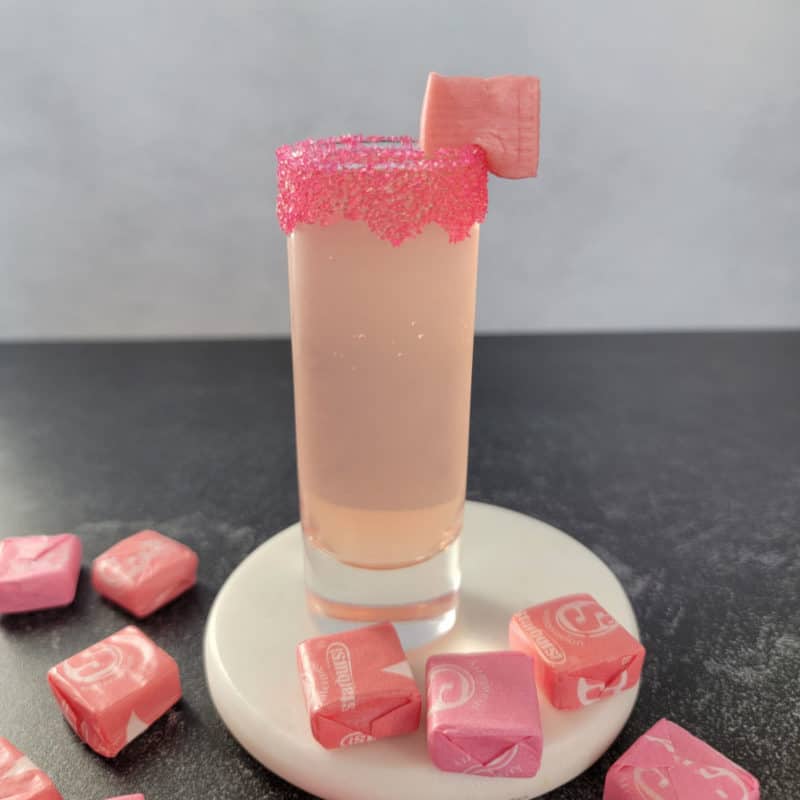 Ingredients - Vanilla vodka, watermelon schnapps/watermelon pucker, sweet and sour mix.
Easy Pink Starburst Shot recipe is perfect for Valentine's Day, Girls Night In, bachelorette party, Parties, or anytime you want a candy-inspired cocktail.
Upcoming shot recipes include Lemon Drop Shot, White Tea Shot, Gummy Bear Shot, Strawberry Vodka Shots, and more.
These vodka shot recipes can be adapted to use citrus vodka, plain vodka, raspberry vodka, or any other flavors.
Vodka Jello Shots
Vodka Jello Shots are the perfect party/festival cocktail. They are easy to make ahead of time and taste fantastic.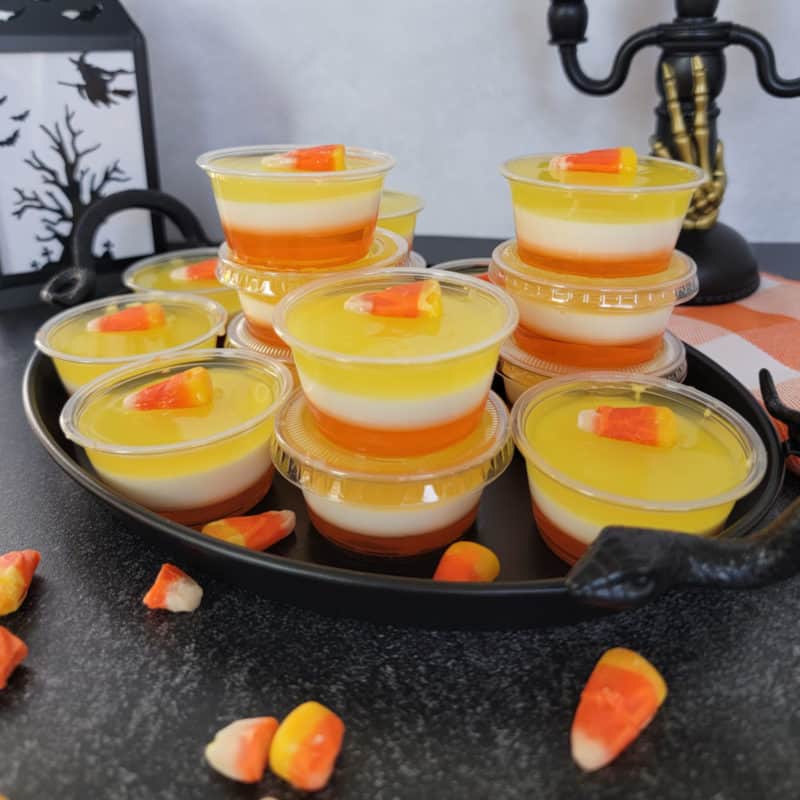 Any orange and yellow-colored gelatin mix works in this recipe; make sure you like the combination of flavors. As with our other Jello shot recipes, sweetened condensed milk is vital to its stability and sweet taste.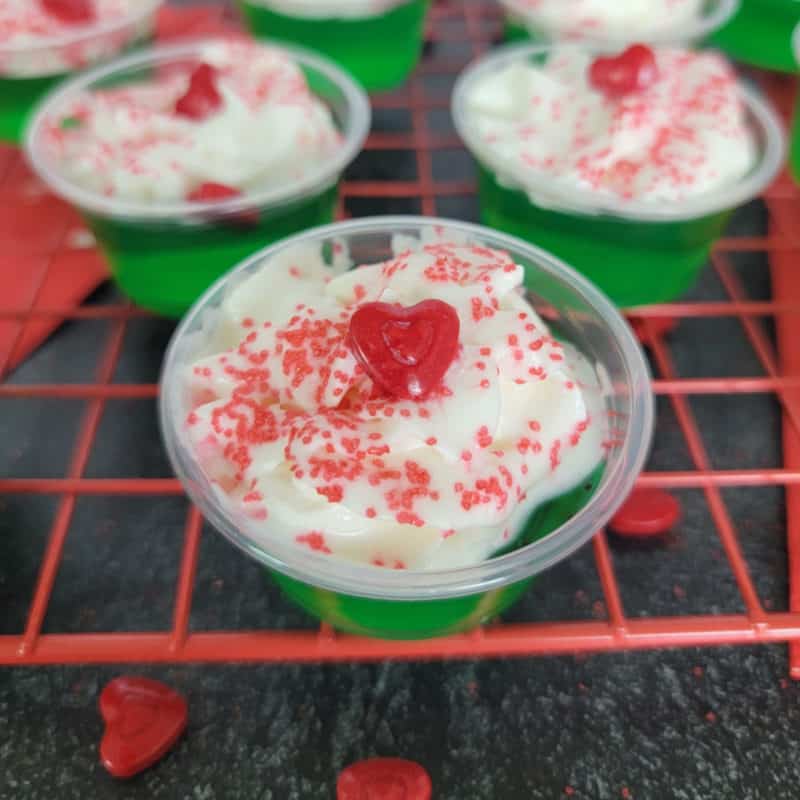 Serve these Jello shots alongside our strawberry daiquiri shots and Grinch bark for a sweet adults-only platter for holiday movie rerun night. We highly recommend using cocktail jiggers to ensure your pours are just right, as this affects the final consistency.
We love topping these Grinch Jello Shots with whipped cream and fun sprinkles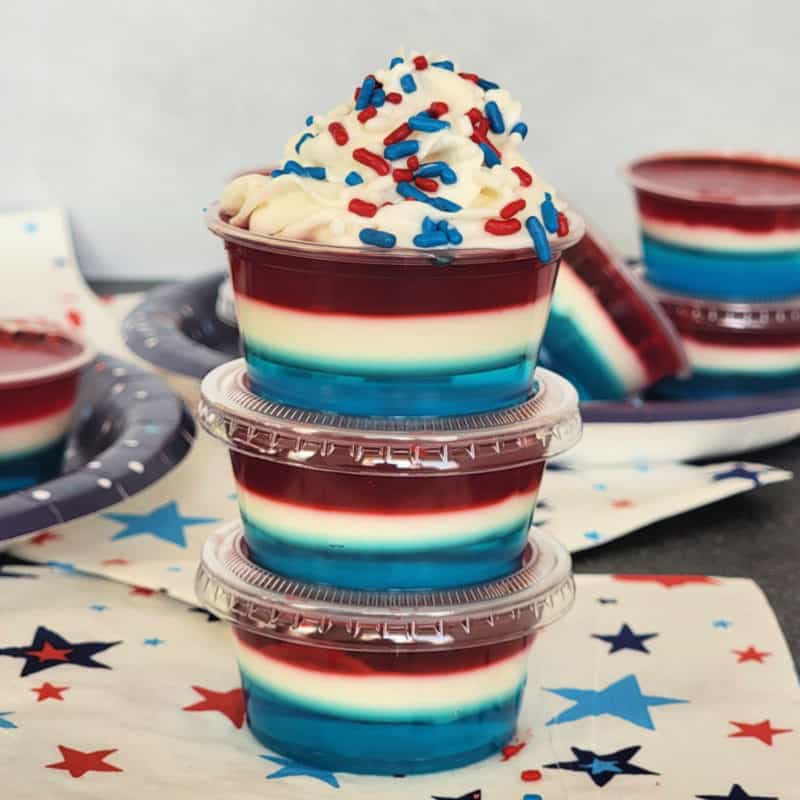 Need a refresher on layering shots and cocktails? Our guide here will help you prepare these patriotic shots to perfection. We recommend assembling these on a baking tray or dish to avoid unwanted spillage.
Favorite Bartending Tools
2 ounce shot glasses - We love these 2 oz shot glasses especially for layered shots.
Bar Spoon - Bar spoons help to create layers in the cocktail shot. They fit perfectly into the cocktail shot glass.
Cocktail Shaker – This cocktail shaker comes with a fantastic set of tools
Stemless Martini Glasses - These stemless martini glasses are fantastic.
Martini Glass - We like the look of the classic martini glass
Jell-O Shot Cups - We suggest using two-ounce Jell-O shot cups.
OXO angled jiggers - these are our go-to measuring tools for cocktails. They work perfectly for pouring in layers for cocktails.
Margarita Glasses - We like the look of classic margarita glasses but you can use any glass for this great cocktail.
Copper Mule Mugs  - Copper Mule Mugs are the classic way to serve Moscow Mules. The copper mugs keep them nice and cold and look amazing.
Recipe Tips
Printable recipe card instructions are available in each recipe post.
Nutrition information, including calories, protein, calcium, carbohydrates, fiber, vitamin c, potassium, cholesterol, sodium, trans fat, monounsaturated fat, polyunsaturated fat, and more, will vary depending on the products used.
Great Cocktail Recipe Collections
Easy Tequila Cocktails - Check out all of our cocktails recipes that feature tequila.
Easy Margarita Recipes - Epic Easy Margarita Recipes that everyone will love! From classic margaritas to fruity frozen margaritas we have a recipe you will love.
Ginger Beer Cocktails - All of our best cocktail recipes made with ginger beer.
Crème de Cacao Cocktails - All of our best cocktails made with light and dark Crème de Cacao.
Grand Marnier Cocktails -  Here we have answered your most important questions about this premium French liqueur and shared our favorite Grand Marnier Cocktails.
Baileys Irish Cream Cocktails - Epic Guide to Baileys Irish Cream Liqueur! How to mix it, what it tastes like, how to store it and so much more.
RumChata Cocktails - RumChata is a rum-based cream liqueur with a strong cinnamon flavor. We are excited to share our epic guide and the best RumChata Drinks you have to try!
Blue Curacao Cocktails - Epic Guide to Blue Curacao Drinks, including bright blue martinis, cocktails, and shots!
Follow Tammilee Tips on MSN, Facebook, Instagram, and Pinterest, for all of our recipe posts.