Epic Moscow Mule Cocktail Recipes! These variations of a classic Moscow mule are packed with flavor and so easy to make.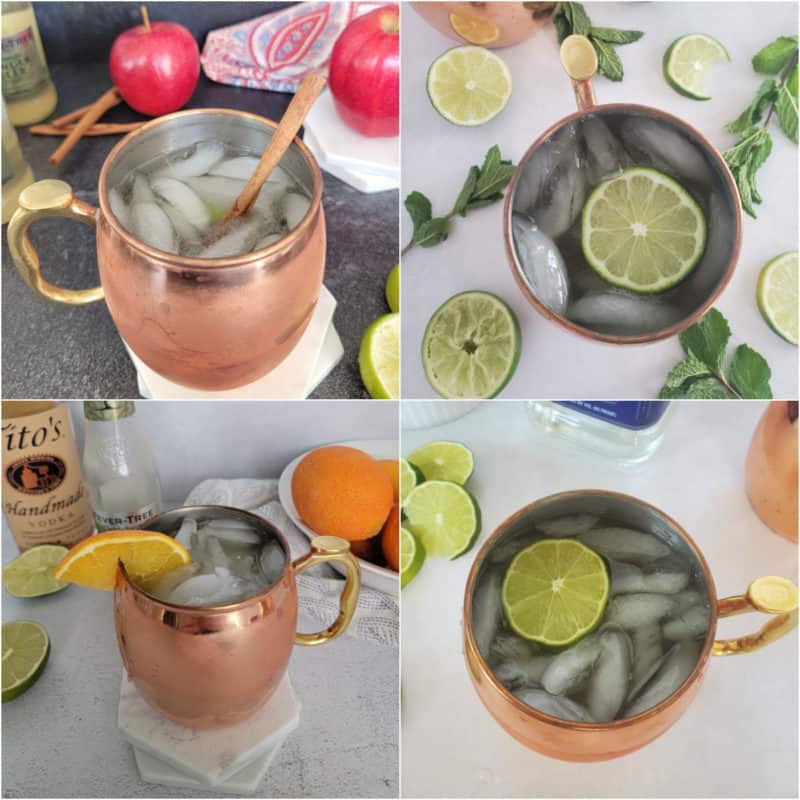 Made of vodka, ginger beer, and lime juice served in rustic copper mugs, the Moscow mule is a classic American cocktail with loose Russian ties.
Here we have answered all your questions about the mule cocktail and rounded up our favorite mule recipes.
What Is a Moscow Mule?
A Moscow mule is a mixed drink of ginger beer, vodka, and lime juice garnished with a sprig of mint and a lime wedge. Moscow mules are traditionally served in copper mugs.
What Are Moscow Mule Mugs?
Moscow mule mugs are copper mugs for serving mule cocktails. Though initial versions were made of solid copper, mule mugs on the market today are lined with food-safe nickel or stainless steel.
We recommend serving mule cocktails in copper mule mugs. Not only do they add a classic flair to your home barware set, but their conductive properties keep your mule cocktail cool, fizzy, and flavorful for longer. Since this also means that the ice in your mug melts more slowly, you'll have a less diluted drink for longer.
Are Moscow Mule Mugs Dishwasher-Safe?
The short answer is no - the copper mugs used for Moscow mules are not dishwasher-safe.
Copper tends to rust when exposed to moisture and air, so caring for copper mugs should focus on sanitizing them and removing any rust buildup. While the blue-green patina that forms on a rusted copper mug gives it an antiquated charm, high levels of copper exposure aren't considered safe for humans.
Fortunately, the two trusted methods for cleaning copper mugs use ingredients found in your kitchen.
Lemon wedges and salt are one way to clean copper mugs. When rubbed on tarnished copper, the acidity of lemon wedges cleans up rust, while salt adds some abrasiveness to help with the cleaning process.
Vinegar and baking soda are a second method for cleaning copper mugs. When acidic vinegar meets the chemically-basic baking soda, the two react to form a paste that buffs and sanitizes mugs.
We recommend using a toothbrush or soft dish towel for more detailed cleaning.
Whichever method you use, rinse your copper mugs with fresh water immediately after, dry them to completion with a towel, and store them in a cool, dry place.
Are Moscow Mule Mugs Good for Coffee?
Copper is considered an essential mineral for human survival. The element has been used in decor and tools since its discovery thousands of years ago.
Though drinking coffee using your copper Moscow mule mug may be safe, we recommend exercising caution about making the copper mug your daily go-to. The State of Iowa's Alcoholic Beverages Division released an advisory notice regarding copper mugs here.
Choose a newer copper mug lined with non-reactive stainless steel or nickel if you plan to use it for coffee. Coffee is slightly acidic, so it dissolves the copper ions of an unlined copper or copper alloy mug and infuses an unpalatable metallic taste into your beverage.
Ginger Ale vs. Ginger Beer
While ginger ale and ginger beer may seem like mutual substitutes, we recommend going for the more pungent and less sweet ginger beer when preparing a mule cocktail.
Ginger ale is a product of the soda fountain era brought to the masses by John McLaughlin, the Canadian behind Canada Dry. It is a carbonated drink flavored with ginger syrups and flavorings. McLaughlin originally touted his ginger ale product as a cure-all for many ailments.
A Moscow mule made with ginger ale is technically a vodka buck.
Ginger beer is, on the other hand, a fermented product made with fresh ginger and sugar. Nowadays, it is more of an artisan product made in small batches.
We use Fever Tree Ginger Beer in our mule cocktail creations, but feel free to experiment with what's available to you. Some ginger beer varieties fall on the sweeter side, while others have a deeper spice level.
Check out all of our Best Ginger Beer Cocktails
Mule Recipes
These are our favorite Moscow Mule Variations!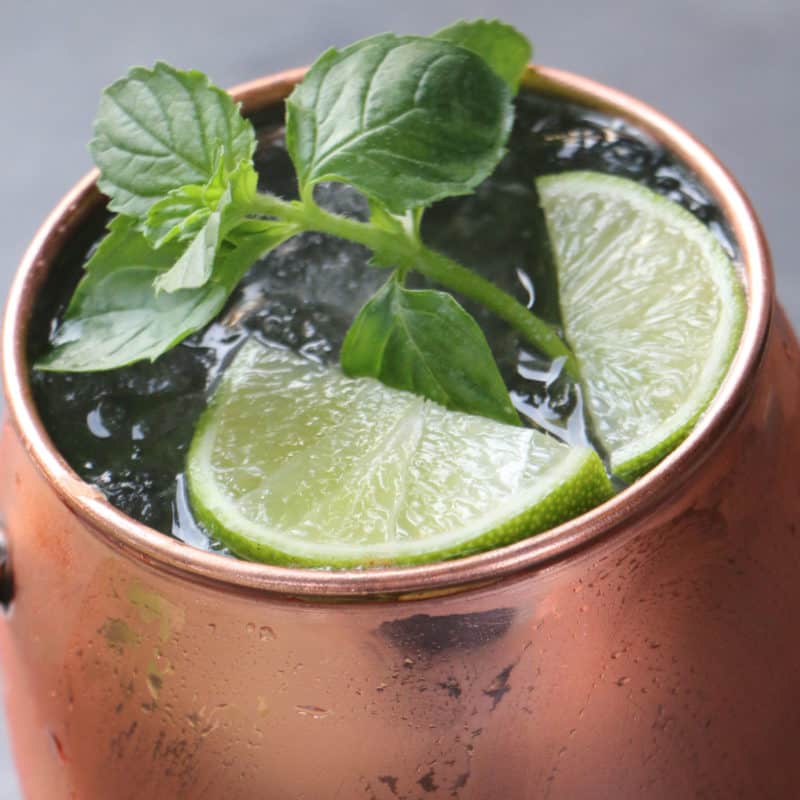 Ingredients: Vodka, Lime Juice, Ginger Beer, ice cubes; Lime and Sprig of Mint for Garnish
This classic cocktail recipe is where it all began. We first learned about the Moscow mule from our friend Amanda while sailing aboard the Carnival Freedom. This post includes a how-to video to guide you in making your Moscow mule.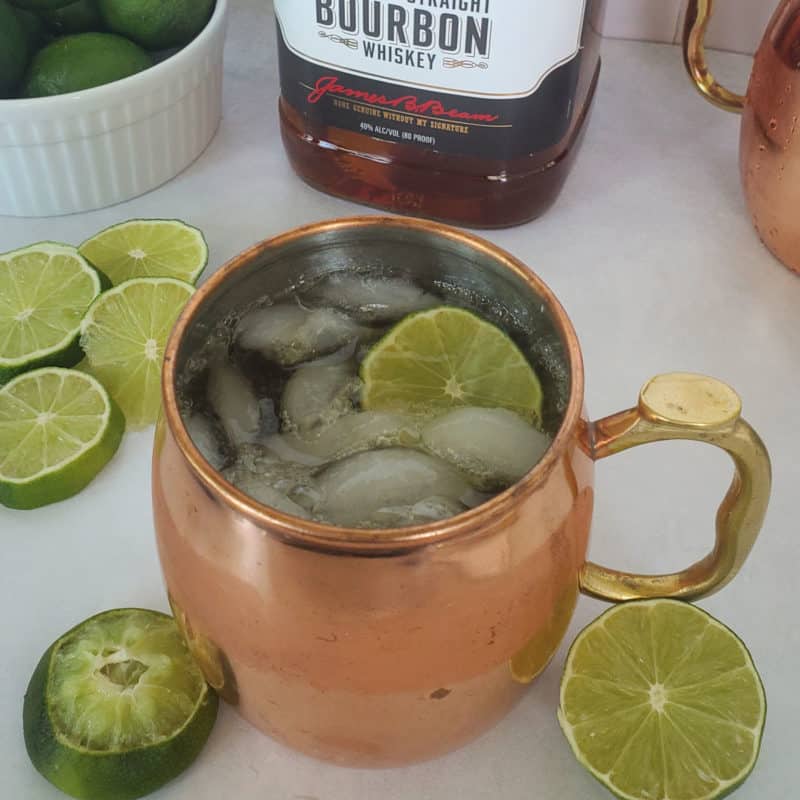 Ingredients: Bourbon, Lime Juice, Cold Ginger Beer, Lime Wedge for Garnish
This version of the time-tested mule cocktail is made using the boozy pride and joy of the state of Kentucky. We used Jim Beam in ours, but feel free to substitute using your favorite bourbon.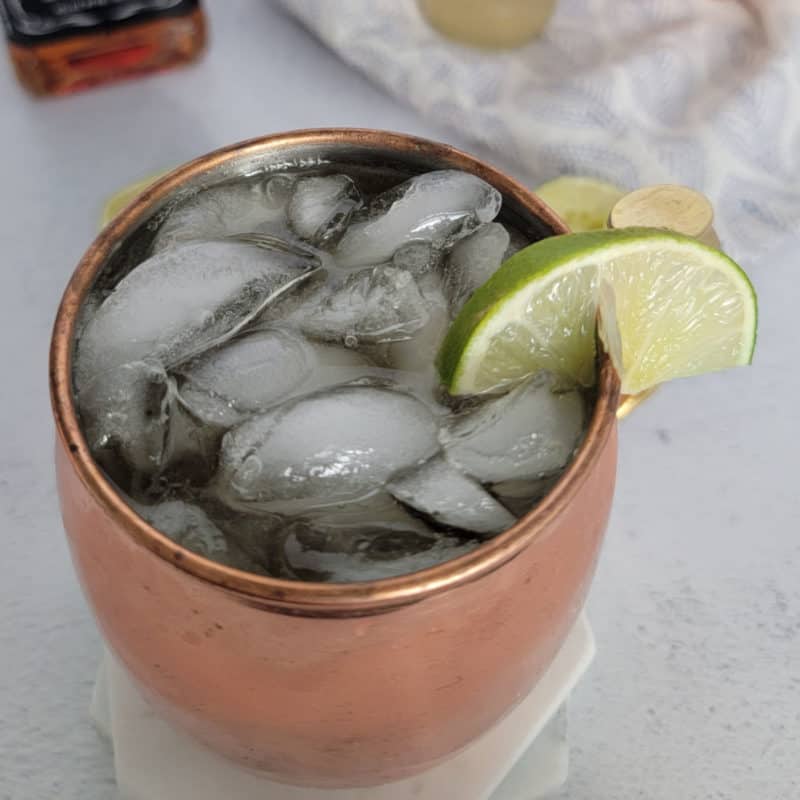 Ingredients: Whiskey, Fresh Lime Juice, Ginger Beer, Lime Wedge for Garnish
This Tennessee-inspired take on the classic mule can be made using any whiskey of your choice, from the ever-popular Jack Daniels to other small-batch Tennessee whiskey brands like Heaven's Door, Uncle Nearest, and Corsair.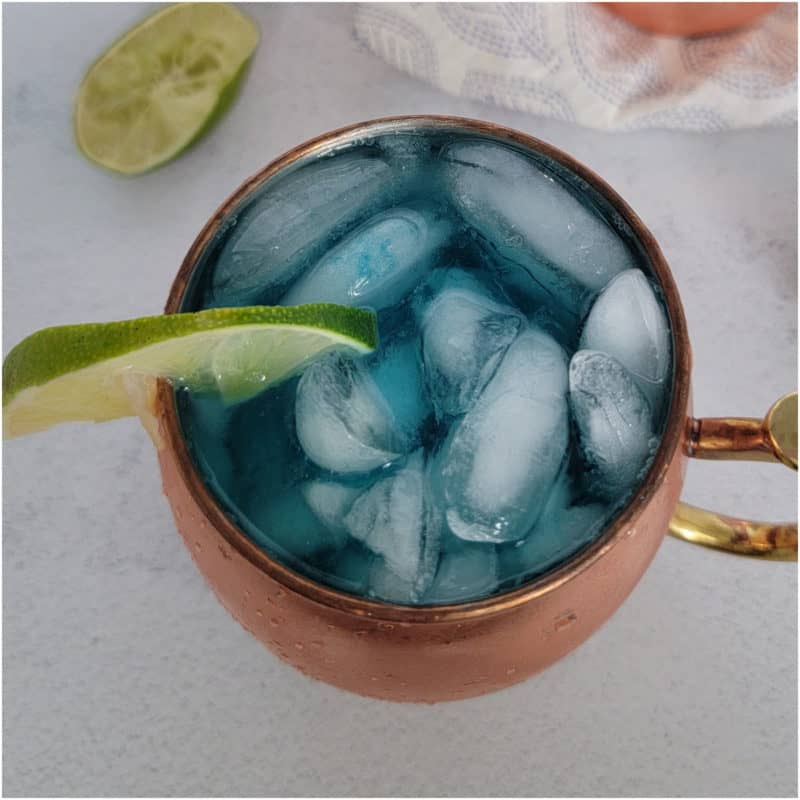 Ingredients: Blue Curaçao, Vodka, Fresh Lime Juice, Ginger Beer
Our blue curaçao-infused mule will leave you feeling anything but blue. The ocean-colored Caribbean liqueur is made using dried Laraha citrus peels from the island of Curaçao, which infuse the mule with a unique bitter orange essence.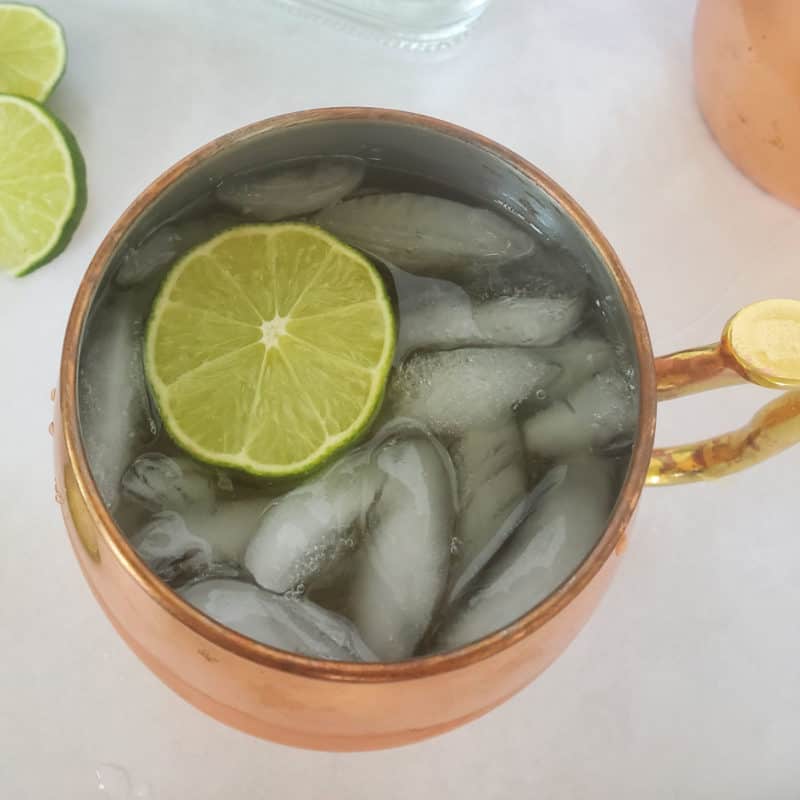 Ingredients: Tequila, Lime Juice, Ginger Beer, Lime Wheel for Garnish
Celebrate National Tequila Day south-of-the-border-style with the Mexican Mule. Spice lovers can add jalapeño slices to the bottom of the copper mule mug when preparing this mule cocktail.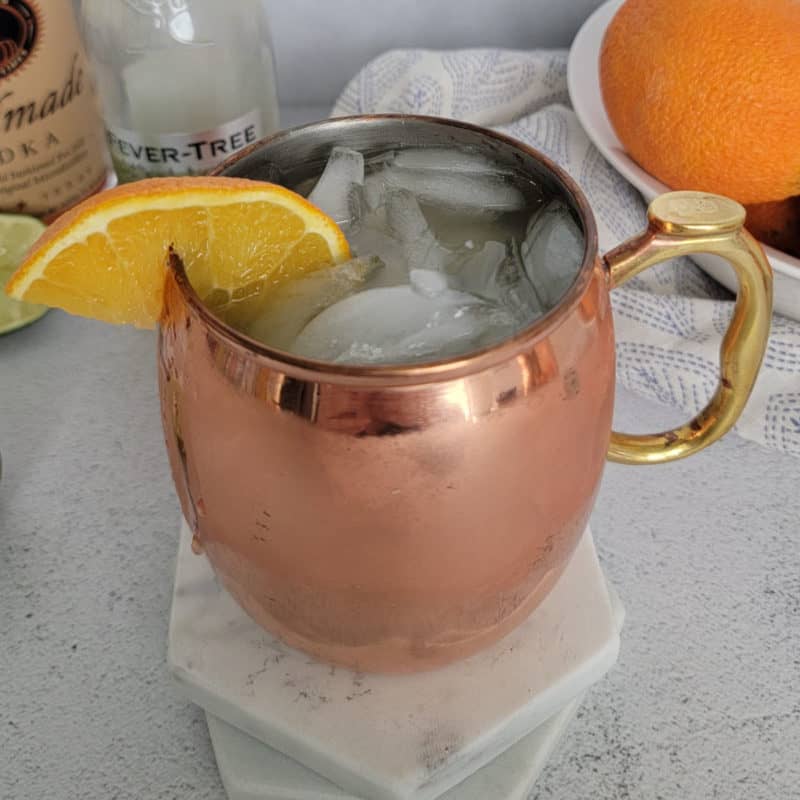 Ingredients: Vodka, Orange Juice, Ginger Beer, Lime Juice, Orange Slice for Garnish
Although we use orange juice, this zesty mule can be adapted to any citrus juice, such as blood orange juice and tangerine juice.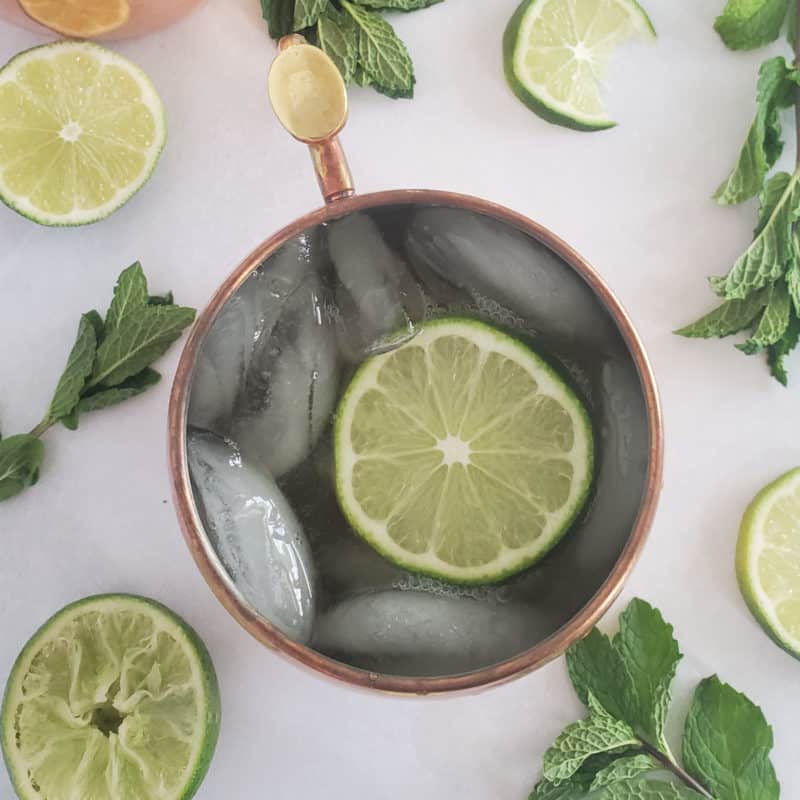 Ingredients: Irish Whiskey, Fresh Lime Juice, Ginger Beer; Lime Slice and Mint Sprig for Garnish
St. Patrick's Day is the holiday to incorporate Jameson into anything imaginable. Ireland's beloved whiskey is the star of this whiskey-based mule cocktail.
This is one of our favorite Mule Cocktail Recipes. The Irish Whiskey tastes amazing! The perfect St. Patrick's Day Cocktail.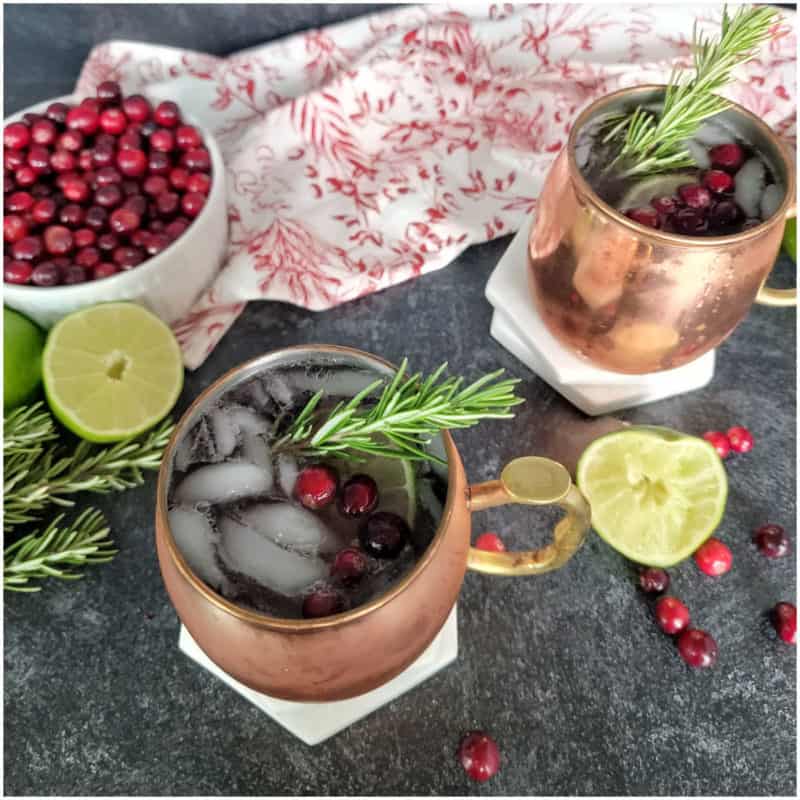 Ingredients: Ice, Fresh Lime Juice, Vodka, Cranberry Juice, Ginger Beer; Lime Wheel, Cranberries, and Rosemary Sprig for Garnish
Tart cranberry pairs beautifully with spicy ginger beer in this holiday-friendly play on the classic mule. Add a dash of orange bitters for more complexity.
If you are looking for a Christmas Mule Cocktail Recipes this Cranberry Mule is perfect.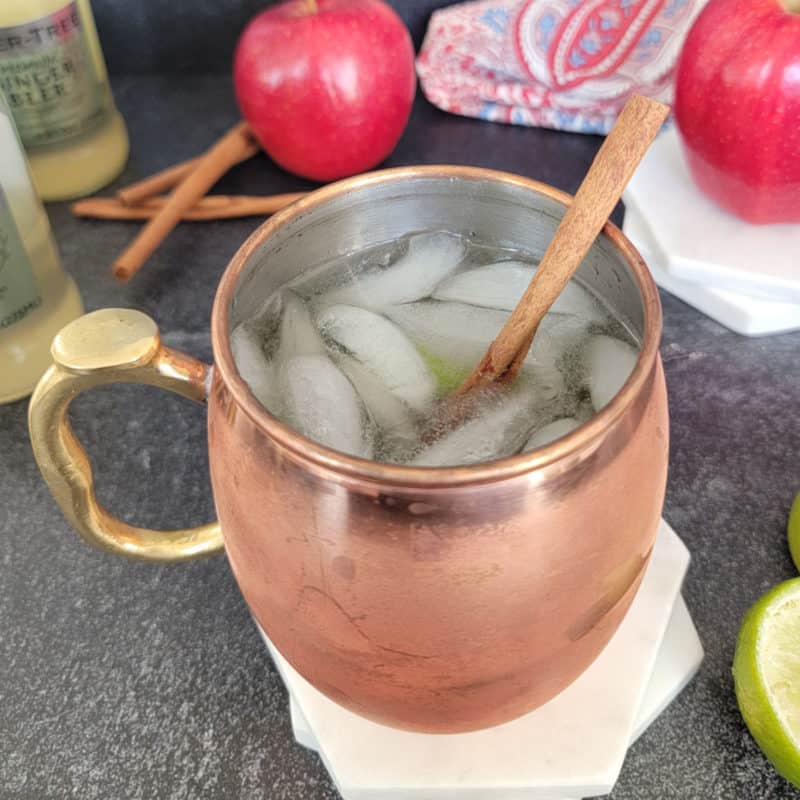 Ingredients: Vodka, Apple Cider, Fresh Lime Juice, Ginger Beer; Lime Wheel, Apple Wedge, and Cinnamon Stick for Garnish
The apple and ginger combination will warm your spirit once sweater weather hits. Add hard cider instead of the non-alcoholic kind to up the ante on this fall-friendly mule cocktail.
We also love this IPA Moscow Mule Cocktail.
Upcoming Mule Variations include the gin-gin mule, pineapple mule, cucumber mule, dark n stormy, and so many more!
Recipe Tips
Printable recipe card instructions are available in each recipe post.
Nutrition information, including calories, protein, calcium, carbohydrates, fiber, vitamin c, potassium, cholesterol, sodium, trans fat, monounsaturated fat, polyunsaturated fat, and more, will vary depending on the products used.
Great Cocktail Tools
These are some of our favorite cocktail tools to make Mule Cocktail Recipes!
Copper Mule Mugs  - Copper Mule Mugs are the classic way to serve Moscow Mules. The copper cups keep them nice and cold and look amazing.
2 ounce shot glasses - We love these 2 oz shot glasses especially for layered shots.
Bar Spoon - Bar spoons help to create layers in the cocktail shot. They fit perfectly into the cocktail shot glass. They are also perfect to stir the best Moscow Mule Recipe.
Cocktail Shaker – This cocktail shaker comes with a fantastic set of tools
Stemless Martini Glasses - These stemless martini glasses are fantastic.
Martini Glass - We like the look of the classic martini glass
Jell-O Shot Cups - We suggest using two-ounce Jell-O shot cups.
OXO angled jiggers - these are our go-to measuring tools for cocktails. They work perfectly for pouring in layers for cocktails.
Margarita Glasses - We like the look of classic margarita glasses but you can use any glass for this great cocktail.
Great Recipe Collections
Funny Cocktail Names - From Duck Farts to Nutty Irishmen, this funny drink names collection will have you giggling and finding tons of great new cocktails to enjoy!
Blue Curacao Cocktails - Epic Guide to Blue Curacao Drinks, including bright blue martinis, cocktails, and shots!
Grand Marnier Cocktails - we have answered your most important questions about this premium French liqueur and shared our favorite Grand Marnier Cocktails.
Fireball Cinnamon Whisky - Epic Guide to Fireball Cinnamon Whisky! This cinnamon-flavored whiskey has become one of the most popular mixers to use.
Cocktails with Grenadine - One of the most popular mixers for cocktails and mocktails. How to mix with it, what it tastes like, and how to use it.