RumChata is a rum-based cream liqueur with a strong cinnamon flavor. We are excited to share our epic guide and the best RumChata Drinks you have to try!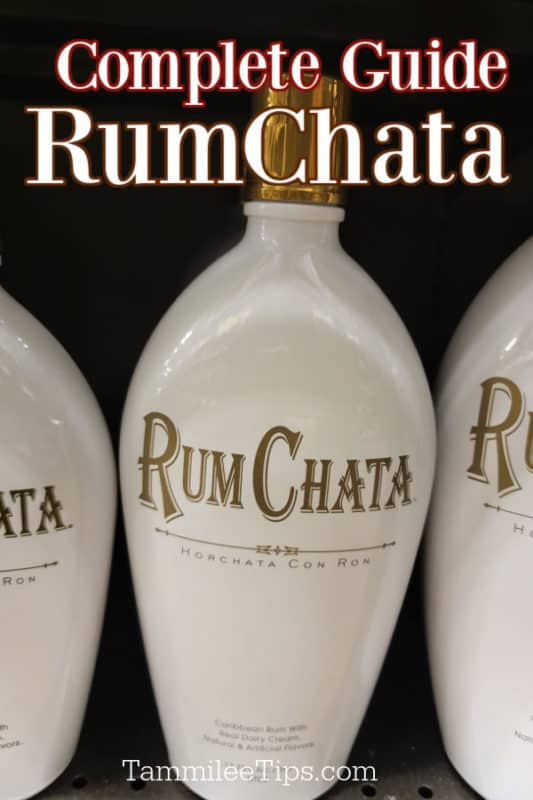 Epic Guide to RumChata
You can't miss the bright gold cap on the bright white bottle in the store.
Seeing the bottle and knowing what to do with it, how long it lasts, and what it tastes like is a totally different thing.
One of the things I find is when I visit our large wine and liquor stores I always find something interesting but some of them I have no idea what they taste like or what to do with them.
I decided to start writing Liquor Guides to help answer questions and share what we have learned from mixing with each of these liquours.
What is RumChata?
It is a delicious blend of Mexican spice, five-time distilled Caribbean rum, and Wisconsin dairy cream.
It was inspired by the drink horchata.
It is worth noting that it is made in Pewaukee, Wisconsin, and has been since 2009.
Even though the bottle says "Horchata con Ron"  there is no actual horchata in the bottle.
Horchata is a traditional drink from Mexico and Spain that dates back to ancient Egyptians.
Traditionally horchata does not contain dairy.
Founder - Tom Maas
Founded in - 2009
Distillery Location - Pewaukee, Wisconsin
What does RumChata taste like?
A distinct cinnamon flavor in a sweet creamy liquor.
It is often compared to Baileys Irish Cream. Which is another top-selling cream liqueur.
Baileys has more of a chocolate and Irish Whiskey flavored compared to the cinnamon vanilla flavor notes found in RumChata.
The closest thing to describing the flavor is the milk at the bottom of the bowl of Cinnamon Toast Crunch cereal.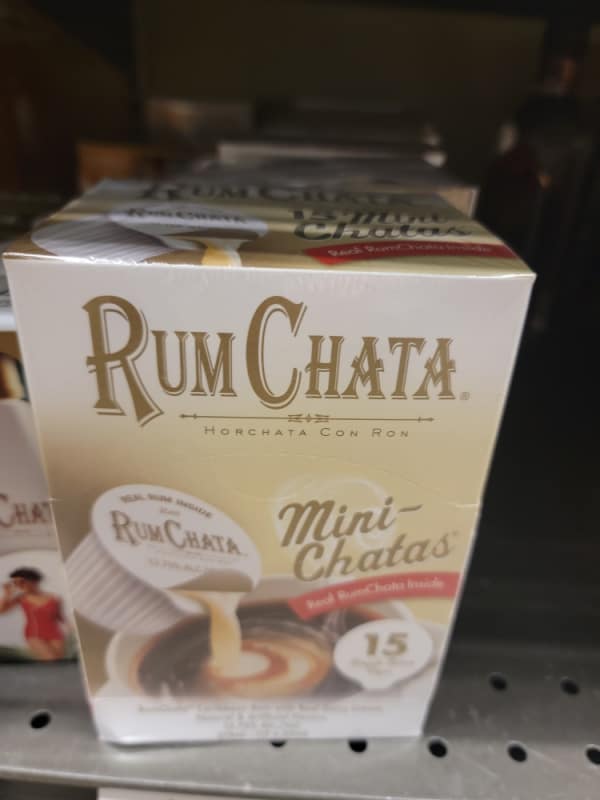 How much alcohol is in RumChata?
It is 13.75% ABV (Alcohol by Volume)
27.5 proof
RumChata Drinks
These are some of our favorite recipes we have shared mixed with RumChata.
All of these RumChata cocktails are easy to make at home and taste fantastic.
The cinnamon and vanilla flavor mixes to make epic cocktail recipes.
It makes amazing dessert cocktails along with super easy cocktails to mix!
It is worth noting that Rum Chata can curdle when mixed with high acid and citric acid mixers. Examples of this would be fruit juices and some sodas.
It doesn't look great when it curdles but the taste is normally not affected.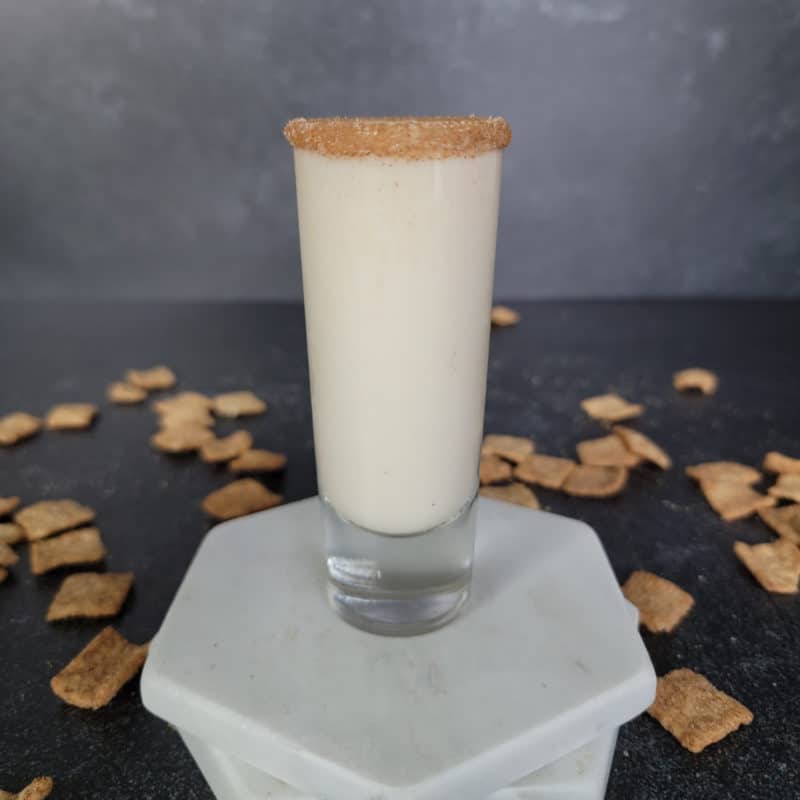 Ingredients: Fireball Cinnamon Whisky, cinnamon sugar
These Cinnamon Toast Crunch Shots are the perfect shooter cocktail! So easy to make and they taste amazing.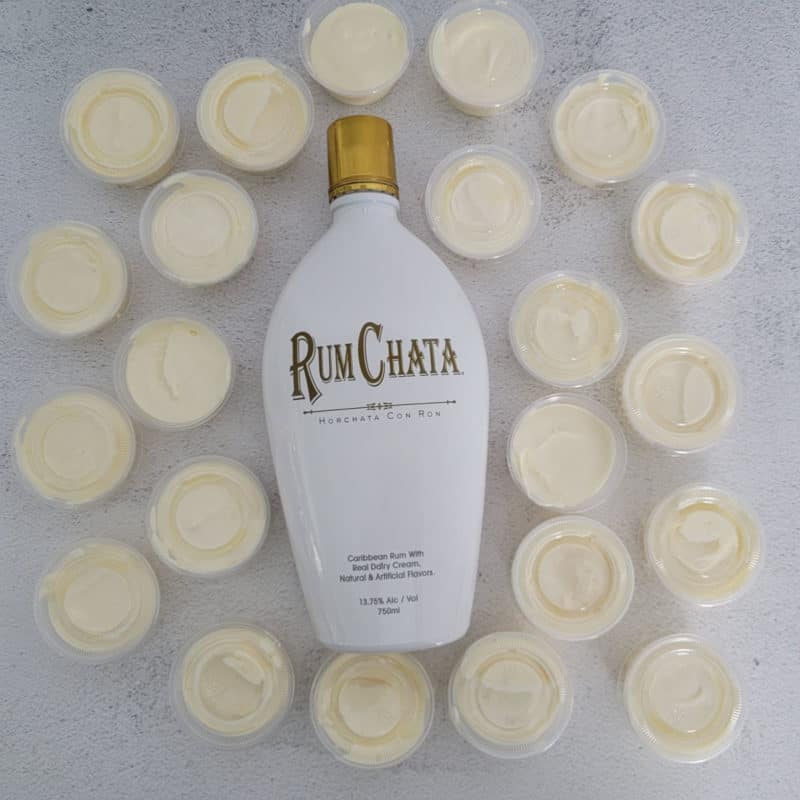 Ingredients: Milk, Vanilla Instant Pudding Mix, Cool Whip
Easy Rum Chata Pudding Shots only take a few ingredients and a couple of hours to chill. The perfect party pudding shot that tastes amazing.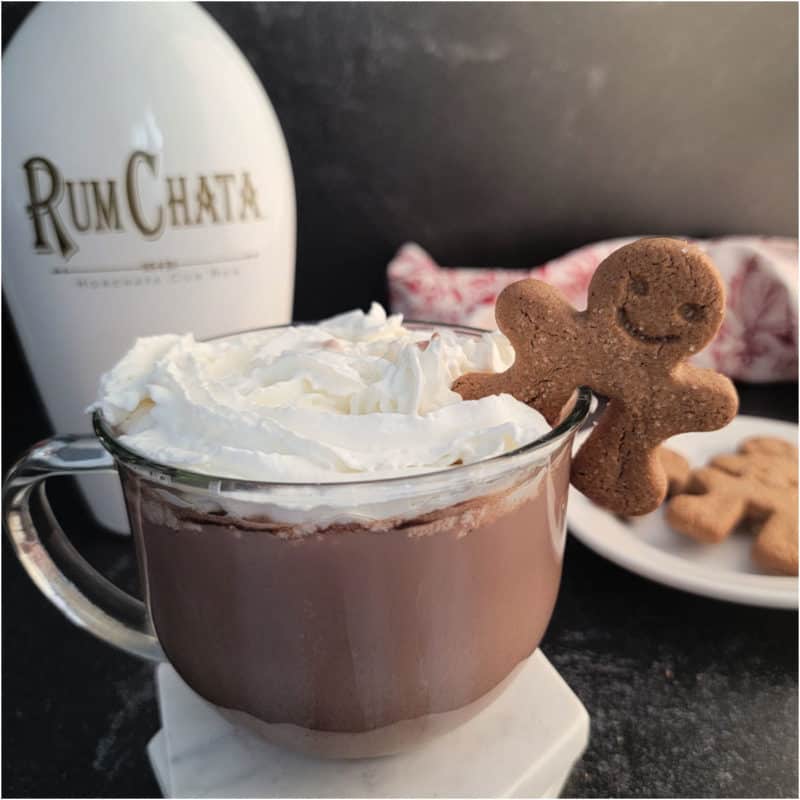 Ingredients: Hot Chocolate
Easy RumChata Hot Chocolate Recipe that takes minutes to prepare!
This Rum Chata and Hot Chocolate Recipe can be made with homemade hot cocoa or a boxed mix.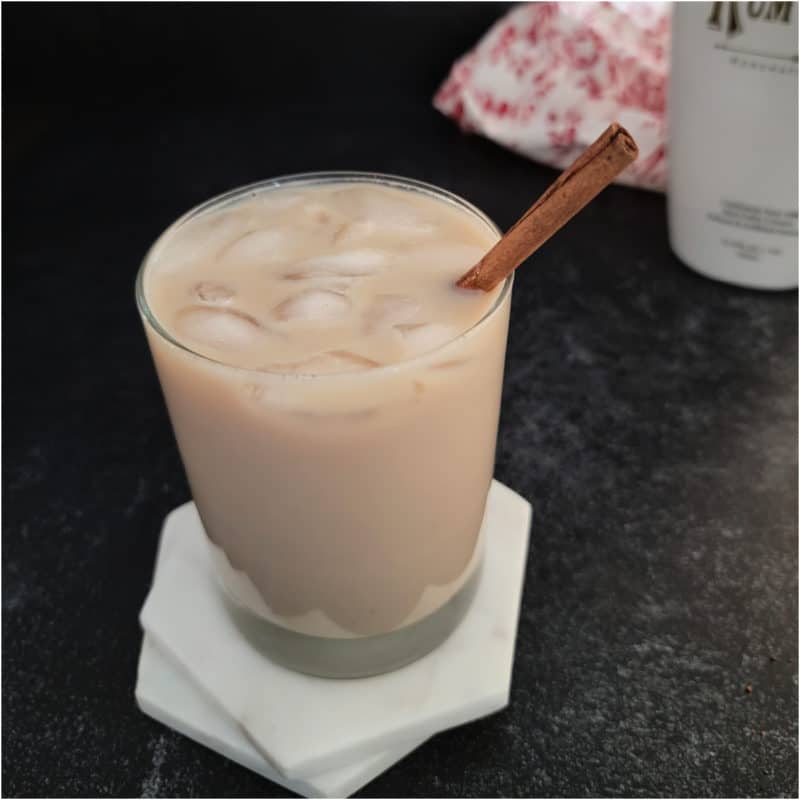 Ingredients: Coffee
Easy Rum Chata Iced Coffee Recipe is the perfect winter iced coffee!
Creamy deliciousness that only takes a couple of ingredients to make.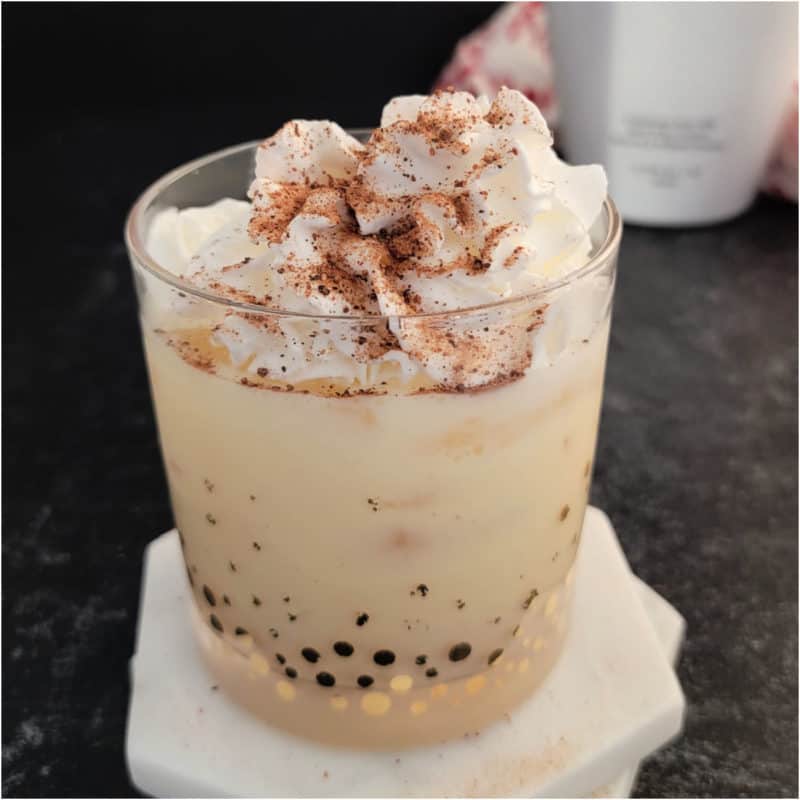 Ingredients: Eggnog, Whipped Cream, Ground Nutmeg, Cinnamon Stick
The perfect twist on an eggnog cocktail that takes a minute to prepare.
We also have RumChata Fudge for a fun dessert.
We hope this epic guide to Rum Chata cocktails helps you fall in love with this creamy rum liqueur.
Does RumChata need to be refrigerated?
No! It should be stored at room temperature or below.
How many calories in RumChata?
A 1.5 oz serving has 140 calories
How many carbs in RumChata?
A 1.5 oz serving has 16g of carbohydrates.
Does RumChata go Bad?
It will easily keep for several years unopened. Once opened it may lose some of its flavors after twelve months as more air hits the liquor.
You do want to make sure that it is not exposed to extreme heat.
The company says that it will stay good for around 6 months at room temperature.
Where to buy RumChata?
You can find it at your local liquor store. Depending on the state you live in you may also be able to find it at your local grocery store if they can sell alcohol.
It is available in all 50 states.
Is RumChata Gluten-Free?
Yes, there are no grain ingredients involved in the production.
Is RumChata vegan?
No, it is made with real dairy cream.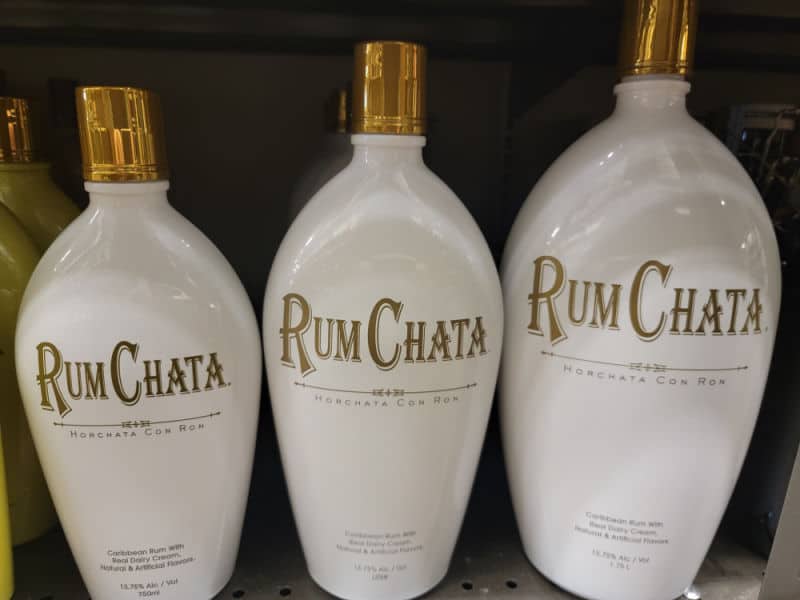 How much is RumChata?
These prices are from a large liquor store in Spokane, Wa. Prices may vary slightly depending on where you live and the store you are purchasing from.
You may need to add in liquor taxes depending on the state you live in.
1.75 liter bottle - $47.99
1 liter bottle - $30.00
750ml bottle - $23.99
375ml bottle - $15.00
3 100ml bottles - $10.99 labeled as Rum Chata go Chatas
RumChata Mini 15 containers of 25 ml shots - $17.99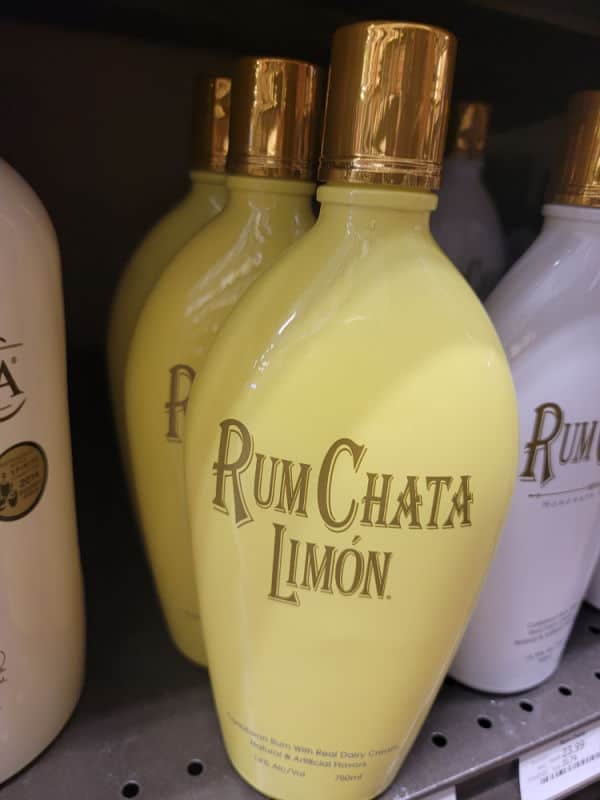 What varieties are produced?
Limon - with a hint of lemon. RumChata Limón works as a recipe ingredient for brunch favorites such as French Toast and pancakes. The perfect citrus flavor.
Peppermint Bark - peppermint and chocolate
Cocktail Tools
Ice Cube maker - This ice cube maker produces the most amazing cubes of ice perfect for cocktails. It easily fits in the freezer and you can make up to 3 trays of round ball ice at a time.
2 ounce shot glasses - We love these 2 oz shot glasses especially for layered shots.
Bar Spoon - Bar spoons help to create layers in the cocktail shot. They fit perfectly into the cocktail shot glass.
Cocktail Shaker – This cocktail shaker comes with a fantastic set of tools
Stemless Martini Glasses - These stemless martini glasses are fantastic.
Jell-O Shot Cups - We suggest using two-ounce Jell-O shot cups.
OXO angled jiggers - these are our go-to measuring tools for cocktails. They work perfectly for pouring in layers for cocktails.
Margarita Glasses - We like the look of classic margarita glasses but you can use any glass for this great cocktail.
Hurricane Glass - For a truly tropical look serve this drink in a hurricane glass.
Copper Mule Mugs  - Copper Mule Mugs are the classic way to serve Moscow Mules. The copper mugs keep them nice and cold and look amazing. Check out all of our Mule Cocktails.
Official website 
Great Cocktail Recipe Collections
Winter Cocktails - The perfect winter drinks to warm up with. Find the perfect cold weather drink.
2 Ingredient Cocktails - These easy cocktails are made with gin, rum, vodka, and other great spirits.
Chambord Cocktails - Great cocktail recipes made with delicious Chambord Liqueur.
Fall Cocktails - Easy Fall Cocktails everyone will love! These Fall Cocktail Recipes include apple cider, Fireball, Cinnamon, Pumpkin, and all of the best fall flavors.
Great Martini Recipes - Shake or stir your favorite martini with these great recipes.
Vodka Cocktail recipes - Pour yourself an amazing drink featuring vodka.
Peppermint Schnapps Cocktails - Are you wondering what to make with a bottle of Peppermint Schnapps? Don't worry these easy Peppermint Schnapps Drinks taste amazing
Check out all of our Cocktail Recipes
Do you love recipes? Check out our copycat recipes, dessert recipes, and our CrockPot Recipes.
Follow Tammilee Tips on MSN, Facebook, Instagram, and Pinterest, for all of our recipe posts.