Easy Fireball Jello Shots are the perfect combination of spicy cinnamon flavor and cherry jello! So easy to make and everyone loves them!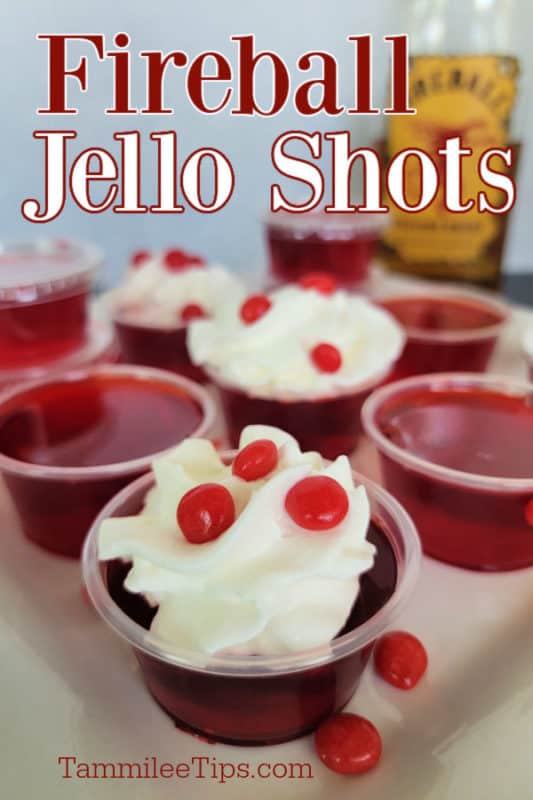 Fireball Jello Shots
We love mixing with Fireball Cinnamon Whiskey. The spicy flavor mixes perfectly with so many different flavors.
I challenged myself to make some new fun Jello Shots this year. It has been way too long since I shared new cocktail Jello Shots that are perfect for parties and events.
I absolutely love that you can make these ahead of time, so you have time to actually enjoy your party and seeing friends.
One thing I love about this Fireball Jello Shot recipe is you can make it in one easy step. You don't have to worry about layers like we did in our Candy Corn Jello Shots and Red, White, and Blue Layered Jello Shots.
These Cherry Fireball Jello Shots are perfect for Christmas parties. Just make sure that everyone knows they are an adult party dessert.
They are natural party starters as everyone enjoys them. Plus the spicy kick is perfect for cold December nights or really any night you want a fun Jello Shot.
We put together a great list of Christmas Cocktails to help you plan an amazing holiday party! There are full size cocktails and alcoholic shot recipes!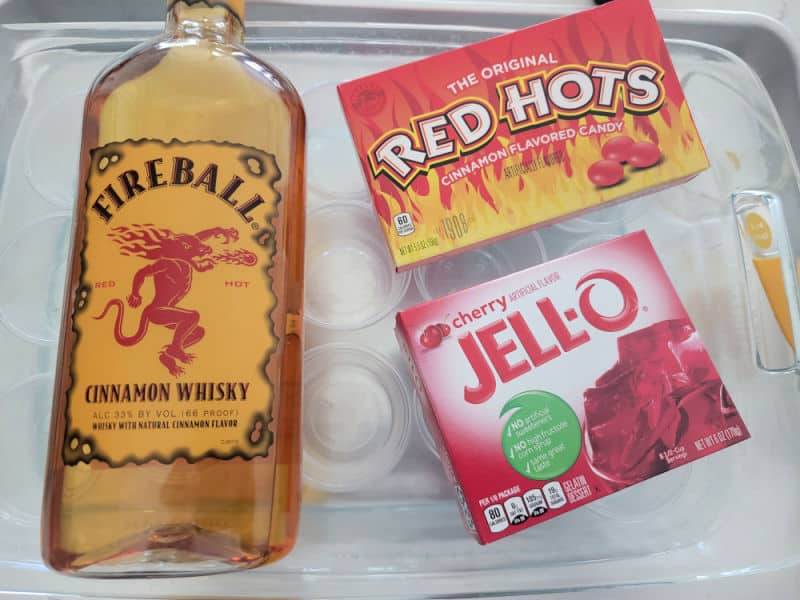 Ingredients
This is a quick overview of the simple ingredients that you'll need to make an epic Fireball Cherry Jello Shots! Specific measurements and step-by-step instructions are included in the printable recipe card at the bottom of the post.
Cherry-flavored Jello
Boiling Water and Cold Water
Optional Garnish- Whipped Cream, Sprinkles, Red Hots Candy, Cinnamon
Equipment Needed
Jell-O Shot Cups - We suggest using two-ounce Jell-O shot plastic cups. You can make these in regular shot glasses but will need to make sure guests can enjoy them. Tall shot glasses can be difficult without a small spoon.
Measuring Cups
Whisk/Spoon to stir everything together.
OXO angled jiggers - these are our go-to measuring tools for cocktails. They work perfectly for pouring in layers for cocktails. You want something with a spout to easily pour with.
Heat resistant microwave safe bowl - We use a 4 cup Pyrex large measuring cup, and it works fantastic. You can also use a small or medium saucepan and heat the water on the stovetop on medium heat.
9x13 casserole baking dish – We put the Jello Shot Cups in a casserole dish to help keep them contained and catch any splashes that may happen.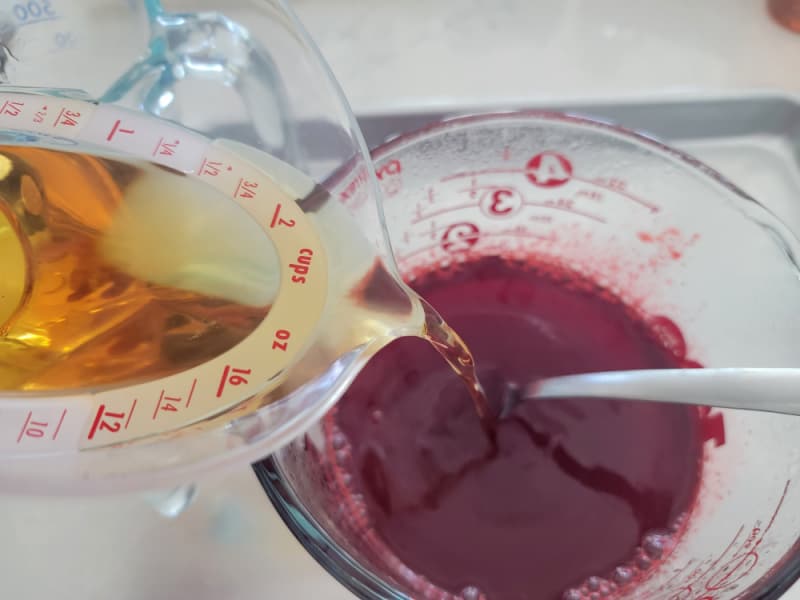 How to make Fireball Jell-o Shots
I've included complete instructions in the printable recipe card at the bottom of the post, but here's a quick version.
Step 1 - Gather all of the ingredients and supplies. We like to make these on top of a Cookie Sheet with sides so any splashes are contained.
Step 2 - Bring water to a boil, add in Cherry Jello mix whisk together until completely dissolved
Step 3 - Pour in Fireball Cinnamon Whiskey and Cold water, mix until combined.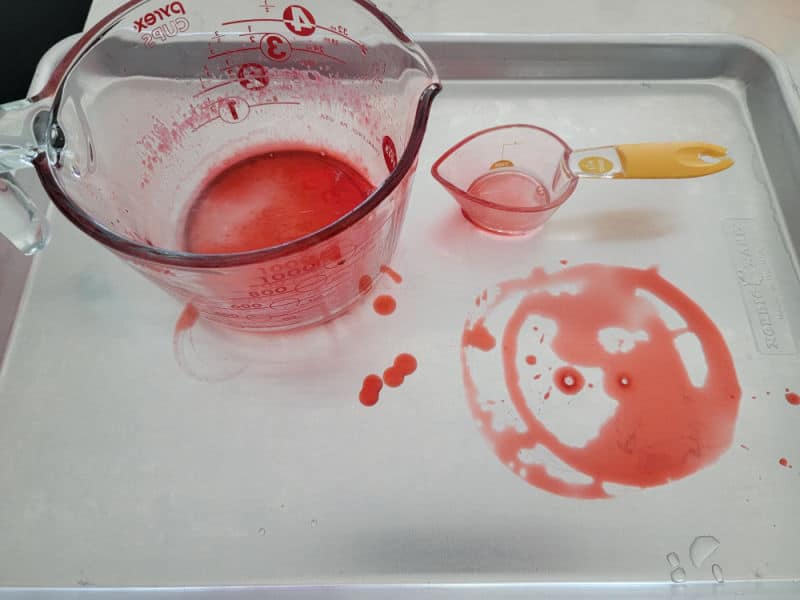 Step 4 - Carefully pour the liquid into the 2-ounce Jell-O Shot Cups
We do not put the lids on the Jello Cups until they have cooled down to prevent condensation from dripping down into the Jello Shots.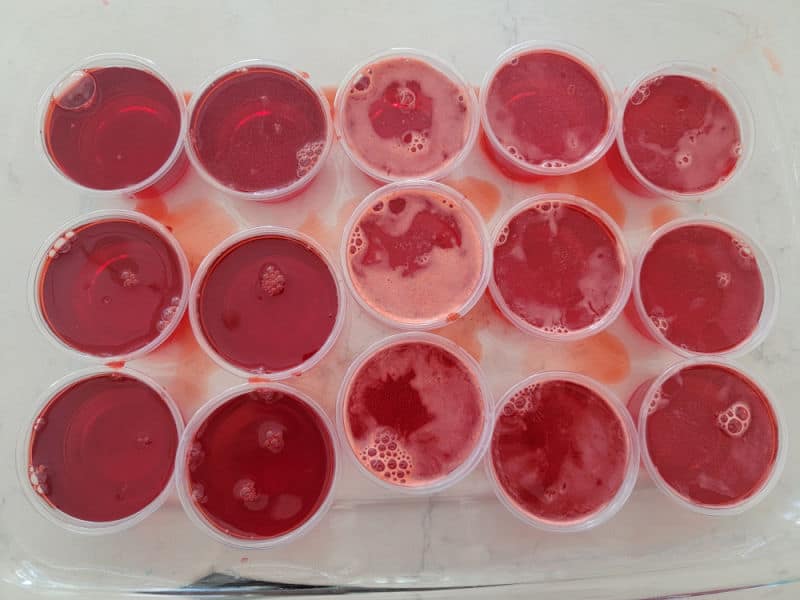 Step 5 - Refrigerate until set.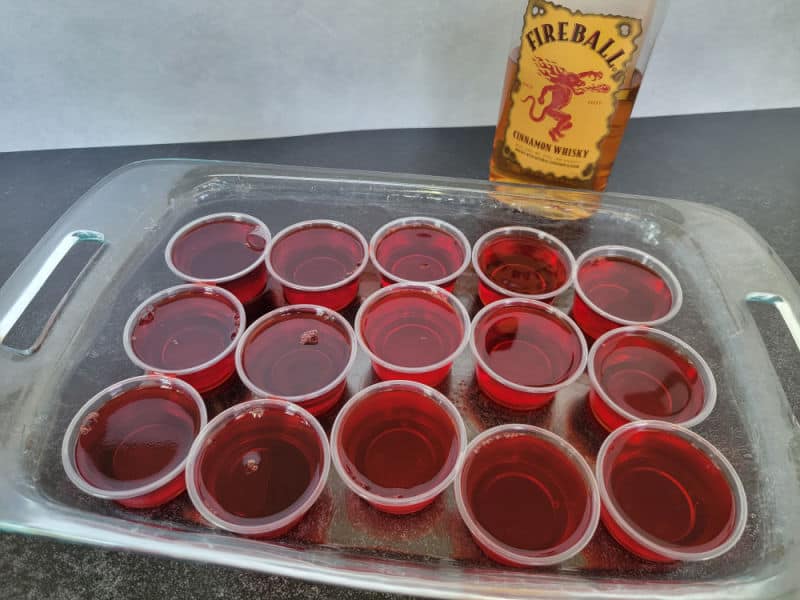 How many Jello Shots per Box?
Small 3 oz box of Jello should make 10-12 two ounce Jello Shots depending on how full you fill each container.
A large 6 oz box of Jello should make 20-24 two ounce Jello shots again depending on how much you fill each container.
How Long do Jello Shots Last?
You can store the Jello Shots in the refrigerator for up to 5 days without the flavor really changing. We tend to make them the day before an event.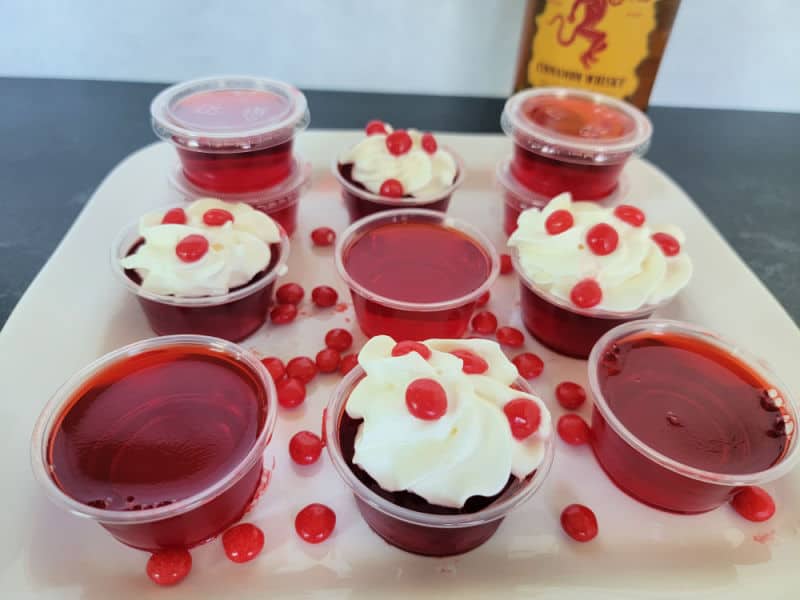 How long do Jello Shots take to Set?
If you are wondering how much time it will take for your Jello Shots to set it is going to depend on the type and size of Jello Shots you are making.
On average we find most Jello Shots set in around 2 hours. If you can leave them in longer that will help you get a solid Jello shot.
Can you Freeze Jello Shots?
Jello Shots do not freeze well!
Preparation and Storage
Make Ahead – These Jello Shots can be made a couple of days ahead of time. Just wait to garnish them until serving.
Storage –
Store with the lids on the Jello Shot Cups in the fridge.
Freezing/How to freeze – We do not suggest freezing Jello. The texture will change and it will not taste as great.
Recipe Variations
Substitutions - Feel free to change up the Jello Flavor. If you are not a fan of cinnamon whiskey you can use vodka
Vegetarian Option - Plant based gelatin can be used to make these vegetarian.
Vegan Option –Vegan Jello mixes can be used to make these vegan.
Gluten Free - Jello is considered Gluten Free
Alcohol Free Option – Non-Alcoholic Cinnamon Whiskey can be used to make a NA Jello Shot.
Smaller Serving Size – The serving size on the recipe card below can be change to make a smaller serving.
Larger Group/More servings – This recipe can easily be doubled or tripled for large events.
Sugar Free – Sugar Free Jello can be used to lower the sugar content.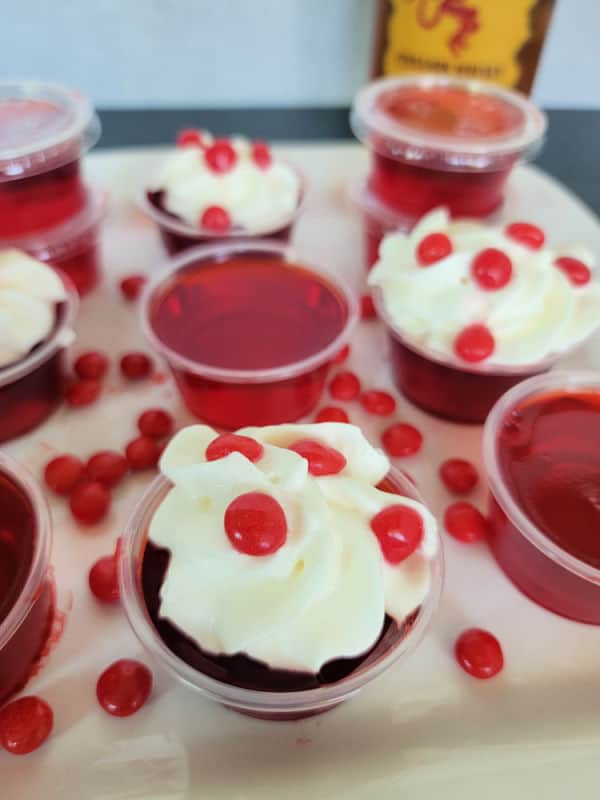 Recipe Tips
This recipe can easily be doubled or more depending on how many people you need to serve.
If you are not a fan of Cherry jello you can change this recipe up for any flavor or use unflavored Gelatin powder.
We prefer serving these Fireball Cherry Jello Shots in plastic Jello Shot cups but they can be served in regular shot glasses or plastic shot glasses. Make sure you give guests a mini-spoon or way to enjoy the jello mixture.
This recipe was featured in our Valentine's Day Cocktails collection.
Nutrition information including calories, protein, calcium, carbohydrates, fiber, vitamin c, potassium, cholesterol, sodium, trans fat, monounsaturated fat, polyunsaturated fat,  and more will vary depending on products used.
Printable instructions below.
What to serve with Fireball Cherry Jello Shots
Snacks - Buffalo Pretzels, Sugar and Spice Almonds, Old Bay Goldfish, Alabama Fire Crackers
Finger Foods/Appetizers - Buffalo Chicken Wontons, Bacon Wrapped Jalapenos, Bacon wrapped lil smokies, Candied Bacon
Sweet Treats - Cinnamon Sugar Pretzels, Candied Walnuts, Fried Apples
Drinks - Apple Cider Margarita, Beer, Cherry Bomb Shot
When to serve
Christmas Parties
Holiday events
Bachelor/Bachelorette parties
Halloween Parties
New Year's Eve
College Parties
Birthday party
Tailgating/Football Parties
Fall Harvest events
Great Fireball Cocktails
Check out all of our Cocktail Recipes and layered jello shots.
Do you love recipes? Check out our copycat recipes, dessert recipes, and our CrockPot Recipes.
Follow Tammilee Tips on MSN, Facebook, Instagram, Pinterest, and Twitter for all of our recipe posts.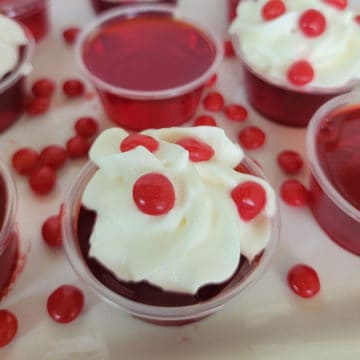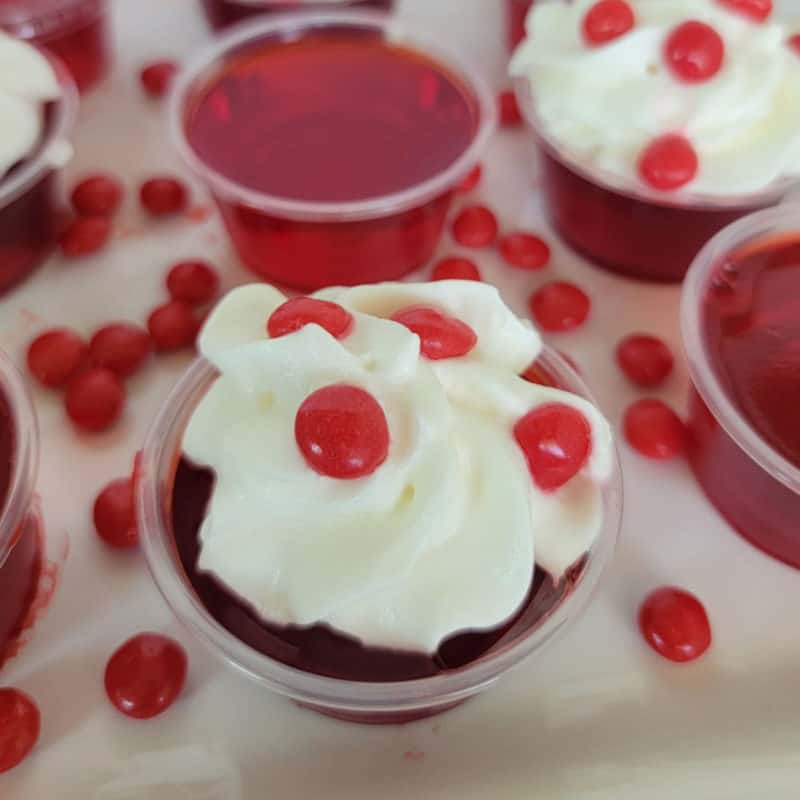 Cherry Fireball Jello Shots
Easy Cherry Fireball Jello Shots are the perfect party appetizer or dessert.
Print
Rate
Instructions
Combine boiling water and Jello mixture in a bowl until dissolved.

Pour in Fireball Whiskey and Cold water and stir to combine

Carefully pour liquid into jello shot cups until ¾ of the way full.

Refrigerate for 3-4 hours minimum until set.

Garnish with whipped cream, red hot candy, and sprinkles if desired.
Nutrition
Nutrition Facts
Cherry Fireball Jello Shots
Amount Per Serving
Calories 39
% Daily Value*
Sodium 26mg1%
Potassium 0.4mg0%
Carbohydrates 5g2%
Protein 0.4g1%
Calcium 1mg0%
Iron 0.01mg0%
* Percent Daily Values are based on a 2000 calorie diet.